This outrageously easy and craveable baked feta pasta (aka TikTok Pasta) is too good to be allowed to be just a passing trend!
For the record, I have never been on TikTok. I've seen the occasional "reels" cross platform users have uploaded to Instagram, but I've never been onto the platform myself. When it comes to the social media app TikTok, I actually have a lot of concerns based on what I have seen. Because of those concerns, Josh and I do not have accounts on the app, nor have we allowed our kids to have one (I know, we're definitely not the cool parents in this respect!). That said…I am sharing a recipe that apparently got popular (I've never seen the original video for myself!) and went viral during the original 2020 quarantine (much like this Dalgona Whipped Coffee!).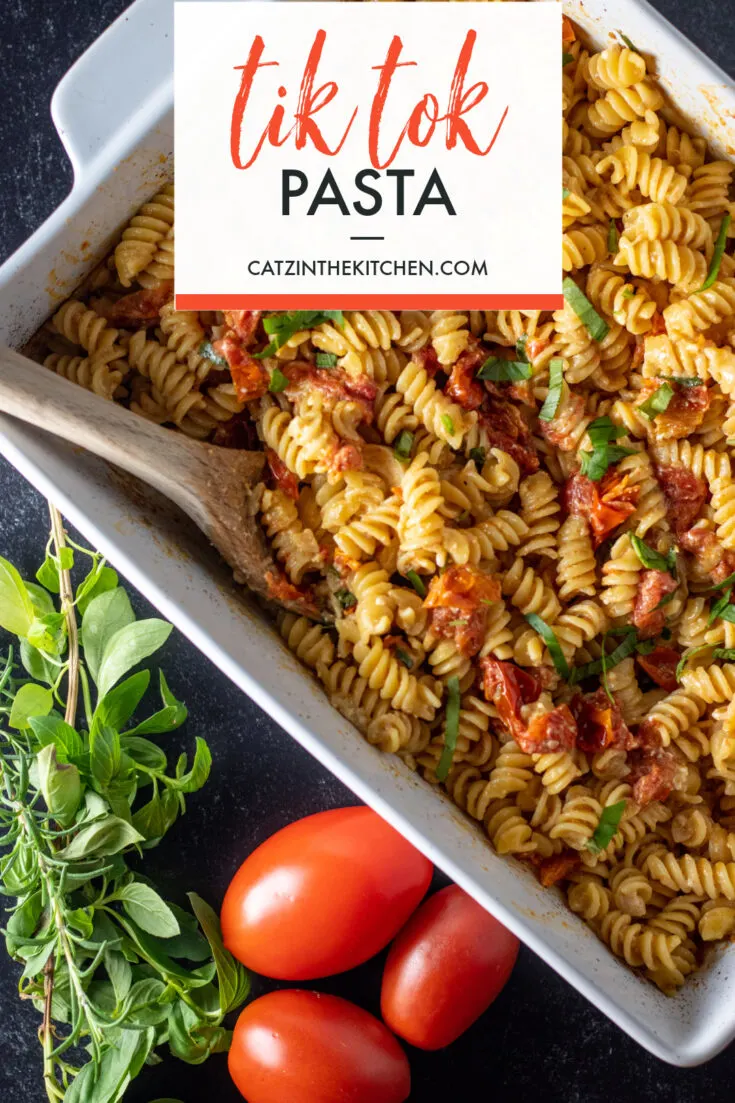 Okay, TikTok disclaimers complete, I was first introduced to this pasta in May when my sisters, my girls, and my mother-in-love all went down to the beach for a girls' getaway. We all divided and conquered meals. One of my sisters made this baked feta pasta for our first night at the beach and I was hooked. I went back for seconds. I needed the recipe. My sister was like, oh, it's that TikTok Pasta. You can google it and find a recipe for it everywhere. And that is true…there are a ton of blogs that have a TikTok Pasta somewhere in their recipe archive.
So why am I, yet another food blog, sharing yet another another post for this insanely over-popularized recipe? Good question! Well much like the Dalgona Coffee craze, we made it and loved it and felt we ought to share. Apparently, The Pioneer Woman agrees with that because she also included a recipe for Dalgona Coffee in her brand new cookbook! And, actually, we were really surprised when we shared that coffee recipe how many people reached out and said, what is this? I've never heard of it! I guess we aren't all on social media all day. Thank goodness.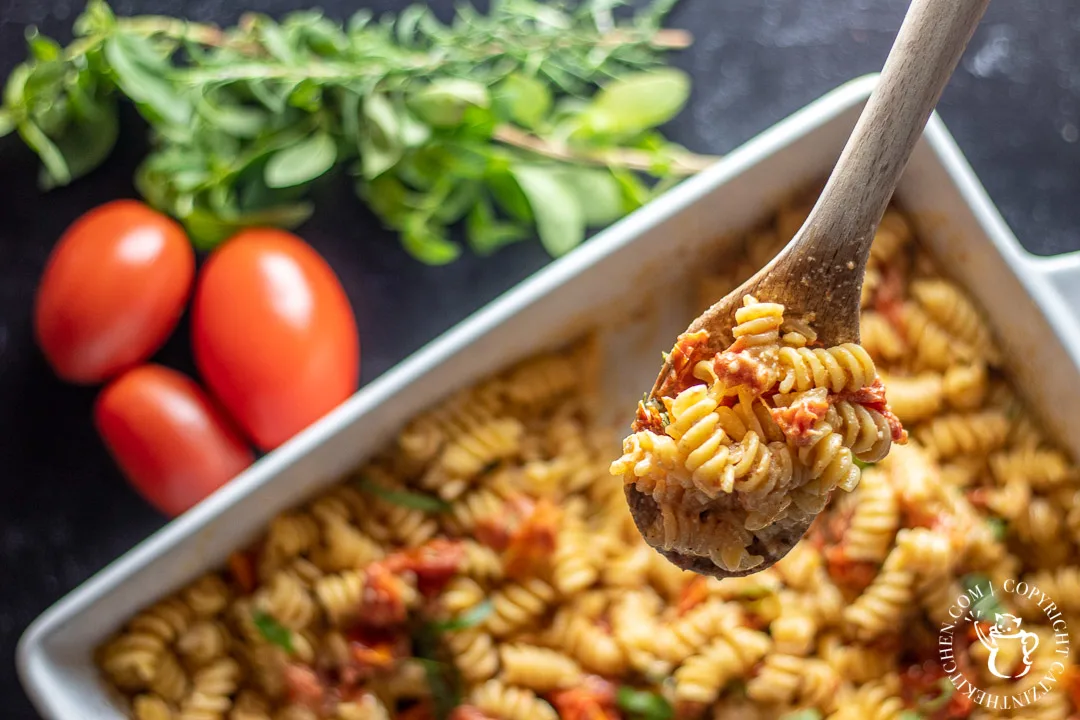 Or, maybe you're like me, living under a rock without TikTok and you haven't heard of this pasta…and if that is the case, well, I just really want to share it with you! No TikTok account required!
Reasons to love Baked Feta Pasta (aka TikTok Pasta):
One Pan + one pot (for the pasta to cook in) for the win! No need to dirty a million dishes. You need like two for this recipe which makes this perfect for that crazy weeknight.
Use your favorite short-cut pasta. I used rotini, but farfalle, orzo, penne, elbow, or rigatoni would be perfect.
Grape or cherry tomatoes work. Buy whatever's on sale without any regrets.
Get creative with herbs. While I do top my finished pasta product with chopped basil, I used a few sprigs of fresh rosemary during the cooking process – I happen to have a ton from my mini herb garden that I decided to throw in there.
Easy to double and feed an army with, so not only pantry friendly, but also hospitality friendly.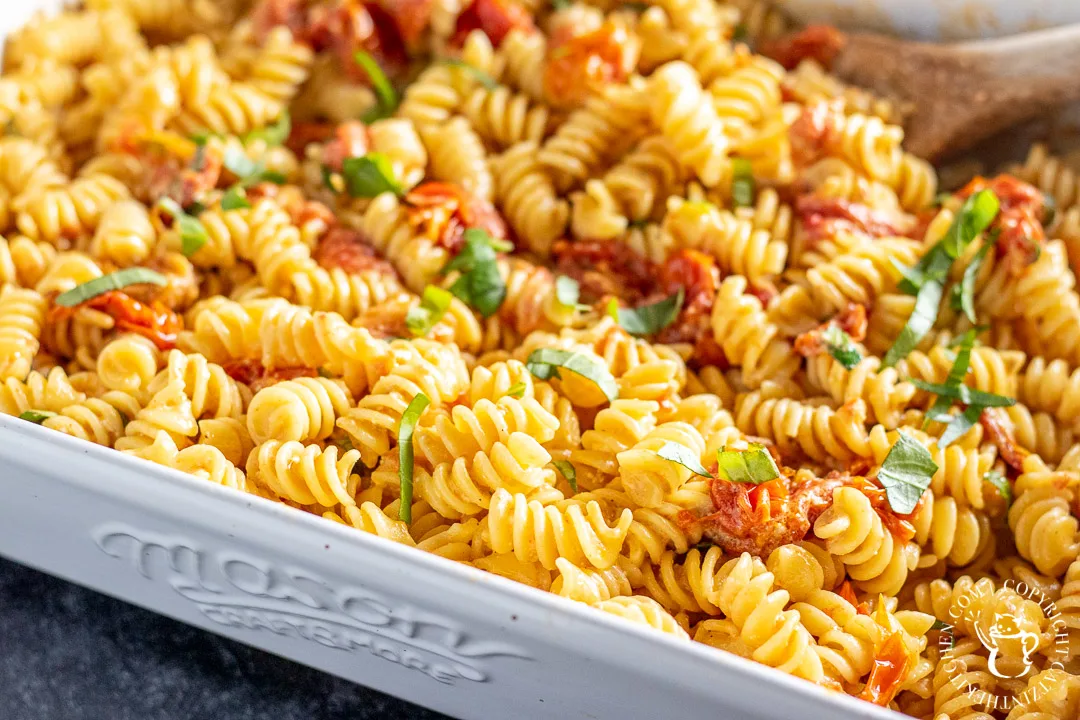 I love to share recipes that our family has really come to love and crave. Sometimes that is one of our own original recipes and sometimes we like to share others' creativity and highlight it. This is the latter, of course. I can't seem to decide which part of this recipe I enjoy more – the creamy, sharp, tangy flavor of the feta, or the savory and sweet flavor of the roasted tomatoes. I mean, both are delightful, but together…mouthwatering.
If you haven't made this super popular pasta or even heard of it, here's your chance. Throw the ingredients onto your grocery list and make this soon, because as the holidays approach, what we all really want is more time to linger with our friends and family instead of standing around in the kitchen slaving over the stove.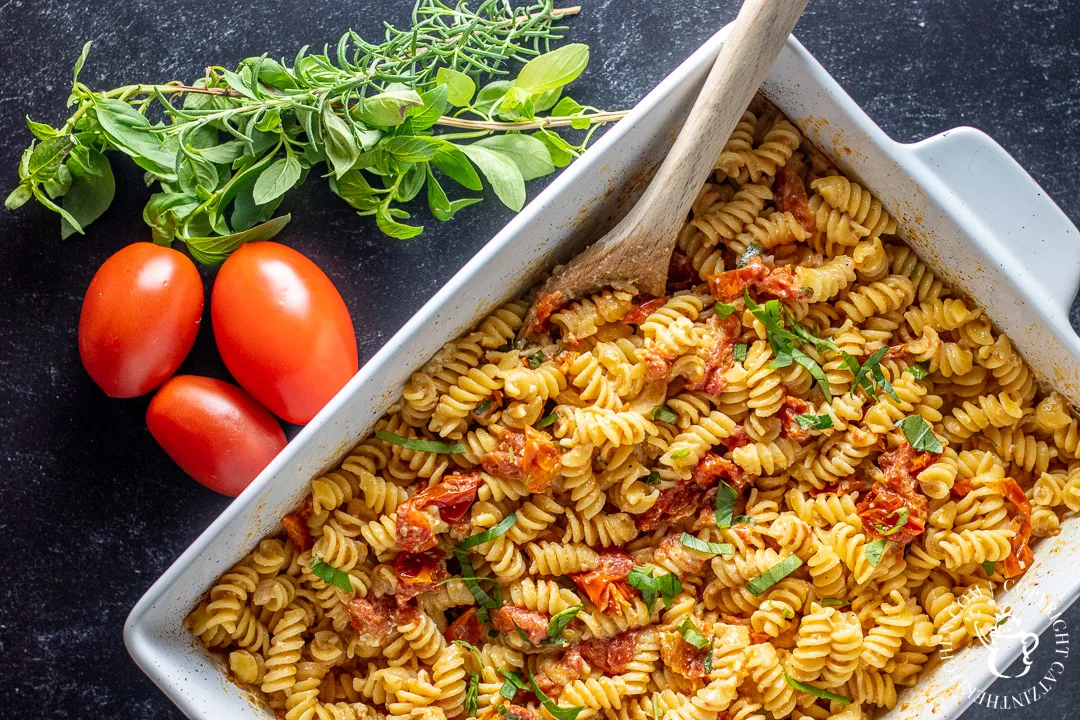 Make your meals work for you, not the other way around. Enjoy, friends! And, hey, hopefully we'll all still be making this delectable dish long after TikTok has moved on to, um…eating corn on the cob off of a rotating drill bit…or whatever…apparently.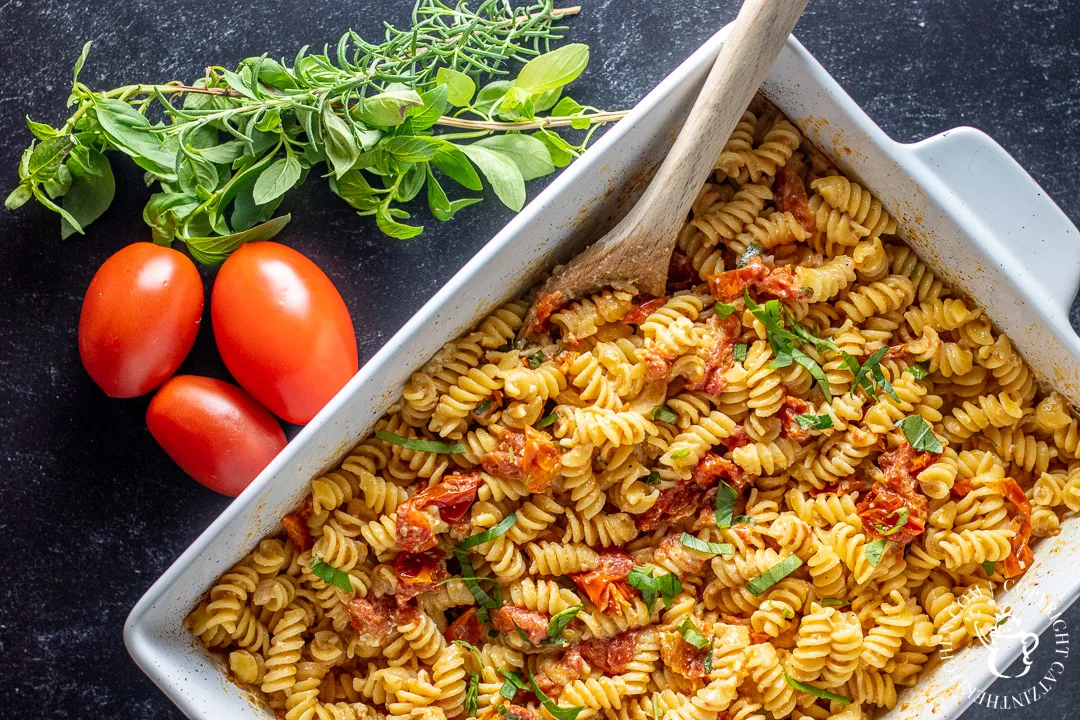 Baked Feta Pasta (aka TikTok Pasta)
This outrageously easy and craveable baked feta pasta (aka TikTok Pasta) is too good to be allowed to be just a passing trend!
Ingredients
2 pints of grape or cherry tomatoes
3 halved garlic cloves
1/2 cup olive oil, divided
8 oz feta cheese block
1 tsp salt
1/2 tsp freshly ground pepper
2-4 sprigs fresh rosemary *optional
16 oz rotini pasta
1/4 cup freshly chopped basil
Instructions
Preheat oven to 400 degrees. In a 13x9 baking dish, combine 2 pints of cherry tomatoes, garlic clove halves, and 1/4 cup olive oil. Place 8 oz feta in center of baking dish, nestling the tomatoes around the cheese. Drizzle the feta with another 1/4 cup olive oil; sprinkle with 1 tsp salt and 1/4 tsp pepper. Lay sprigs of rosemary on top of the tomatoes.
Bake in oven until tomaotes split and garlic softens, about 30-40 minutes. Meanwhile, while the cheese and tomatoes are cooking, cook the pasta according the the package directions for al dente. Reserve 1 cup of starchy cooking water before draining and set aside.
Stir feta mixture, lightly pressing tomatoes, until combined. Add cooked pasta; toss to combine. Stir in enough reserved water to achieve the desired consistency. Sprinkle pasta with freshly chopped basil.
Notes
Recipe Source: Slightly adapted from Taste of Home
Nutrition Information:
Yield:

6
Serving Size:

1
Amount Per Serving:
Calories:

452
Total Fat:

27g
Saturated Fat:

8g
Trans Fat:

0g
Unsaturated Fat:

17g
Cholesterol:

34mg
Sodium:

738mg
Carbohydrates:

44g
Fiber:

2g
Sugar:

18g
Protein:

11g
Nutrition information isn't always accurate.