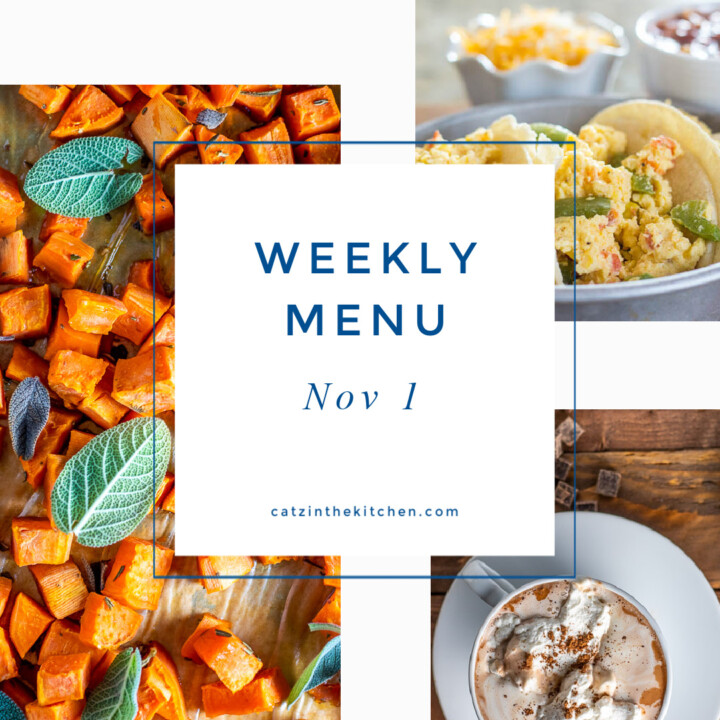 Hello and WOW! It's November and we're on for the holidays. I told my kids the other day when they were baffled as to why Christmas decorations were being displayed in October, that as soon as November 1st shows up, it's GO TIME for the holidays.
So true!
I'm actually really excited about the holidays this year. In recent years I've struggled a bit with holiday enthusiasm, but I cannot wait to decorate this year and (hopefully) bake a ton.
I got a head start on this week's menu (which, for our family, is always a mixture of what is on the menu we publish and recipes I'm testing), and after going through the fridge last night, I've decided to NOT cook dinner tonight. Instead, we're eating leftovers because I've got French Toast, Chili, Chicken Divan, and Pizza that all needs to be eaten up. It just never makes sense to make more food when I can just serve the family meals we've already made.
But, you may not be in the same boat I'm in, and so for you, I've got recipes I think you will love.
Here's what's on the menu this week:
If you're excited about the holidays like me, I'm going to share the Thanksgiving Pinterest board. Things are getting pinned to it nearly every day right now, so make sure you check it out!
Have a great week everyone!