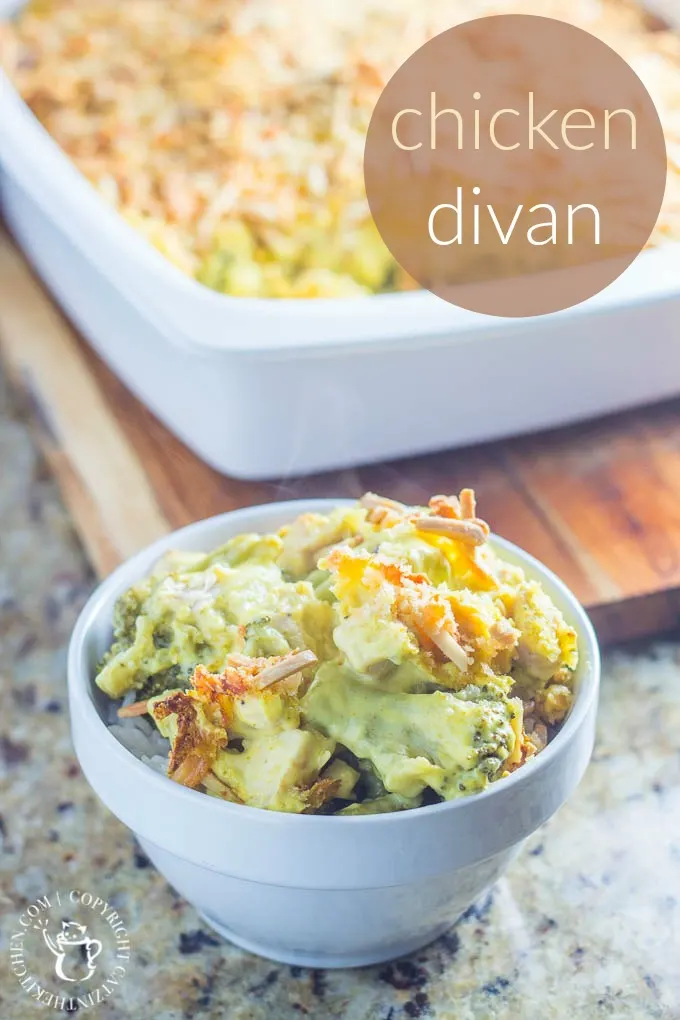 Just to be clear, I've never made this recipe.
I've always been spoiled enough to have someone make it for me. Over the last few years, Chels has been indulgent enough to make it on a regular basis, making small tweaks here and there that make it even better, and before that, my wonderful mother made it for me growing up (in fairness, she made it for all of us…but I kind of felt like she made it mostly for me…). It was always one of my favorite dishes as a boy – the variety of flavors and textures, the exotic flavor of the curry powder to my young American palate, the way it retains its heat long after being scooped out onto your plate. However, I didn't realize until very recently that it was actually my great-grandmother who first made and served it to our family, when I was very young and visiting her at her incredible old tudor-style home in San Jose. I remember her roast beef, her green beans, and even her oatmeal, but somehow I had forgotten her Chicken Divan!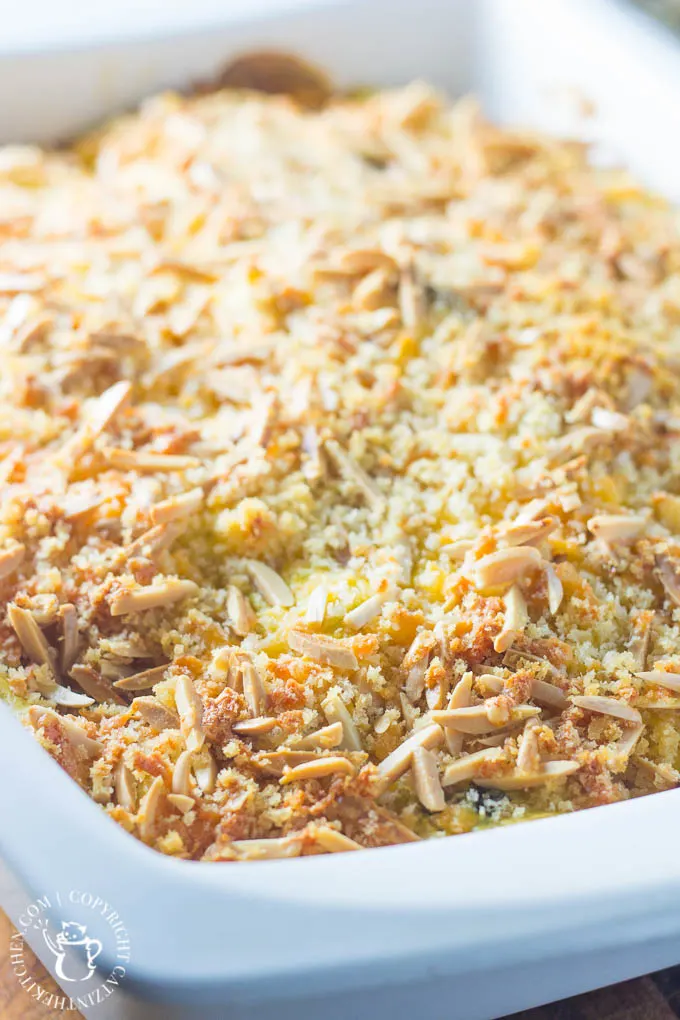 My great-grandmother lived to be 100 years of age, seeing an amount of change I can barely fathom from 1902-2002, but, sadly, I was never able to introduce my lovely bride to her – we missed her by just one year! I have so many fond memories of visiting her, and now that I know she introduced us to this wonderful little casserole, enjoying it from time to time is just one more reason to recall them. My mother still has the hand-written recipe card my great-grandmother copied the directions down on for her!
So, now you know why this recipe is special to me, but I had no idea how popular it was! Supposedly, Chicken Divan was invented by a chef at the Divan Parisienne Restaurant at the Chatham Hotel in New York City sometime after the turn of the century. I have no idea if that's true or not, and I have no idea where my great-grandmother got her recipe, but there are a multitude of variations of this classic American dish floating around out there today! Some are quick and simple, some are lofty and elegant, and some are just plain homey and snacky.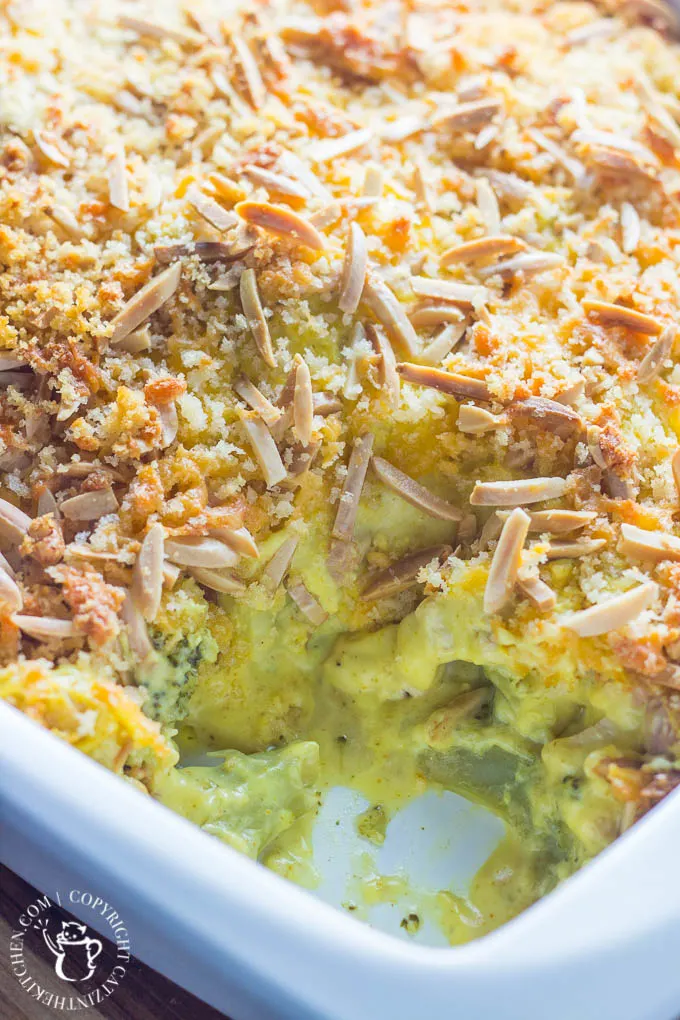 But this recipe is the one our family makes, and has made for many more years than I've been around! It's casually elevated comfort food – just sophisticated enough to be special, but not enough to be intimidating. I'm so happy we're able to share it with you, and I hope you love it as much as I do!
Chicken Divan
Total Time:
1 hour
10 minutes
This simple recipe for classic American Chicken Divan casserole will feed your whole family and then some! It has a wonderful variety of textures and flavors, with a tantalizing hint of curry.
Ingredients
2 (10 oz) pkgs frozen broccoli, cooked
3 cups cooked chicken breast, diced
1/2 cup mayo (I used light)
1/2 cup greek yogurt
2 cans cream of chicken soup, reduced sodium
4 tbsp lemon juice
2 tsp curry
2 tbsp melted butter
3/4 cup Panko bread crumbs
3/4 cup shredded cheddar cheese
1/2 cup toasted slivered almonds
Instructions
Preheat oven to 350 degrees. Place cooked broccoli in a greased 9x13 baking dish. Layer cooked chicken over broccoli.
In a medium sized bowl, mix together mayo, greek yogurt, cream of chicken soup, lemon juice, and curry and pour over chicken and broccoli, spreading into an even layer.
In a smaller bowl, combine melted butter, bread crumbs, cheese, and almonds. Spoon over the top of the other ingredients, evenly.
Bake for 50 minutes - one hour, until heated through and the bread crumb mixture turns golden brown. Remove from oven and allow to cool for 5-10 minutes before serving over rice.
Notes
For the cooked chicken, I usually dice up 2-3 boneless skinless chicken breasts and season it with a little salt and pepper and sauté it in extra-virgin olive oil. But using a rotisserie chicken in a pinch works great too!

This is a great dish to serve to someone who just had a baby or is in need of meal. Leftovers heat up beautifully.
Slightly adapted from recipe by Beth Chinchen
Nutrition Information:
Yield:

12
Serving Size:

1
Amount Per Serving:
Calories:

273
Total Fat:

18g
Saturated Fat:

5g
Trans Fat:

0g
Unsaturated Fat:

11g
Cholesterol:

50mg
Sodium:

558mg
Carbohydrates:

11g
Fiber:

1g
Sugar:

2g
Protein:

17g
Nutrition information isn't always accurate.