Love the classic combo of steak, cheese, and fried onions? Turn that sandwich craving into pie form with this easy and quick Philly Cheesesteak Pizza!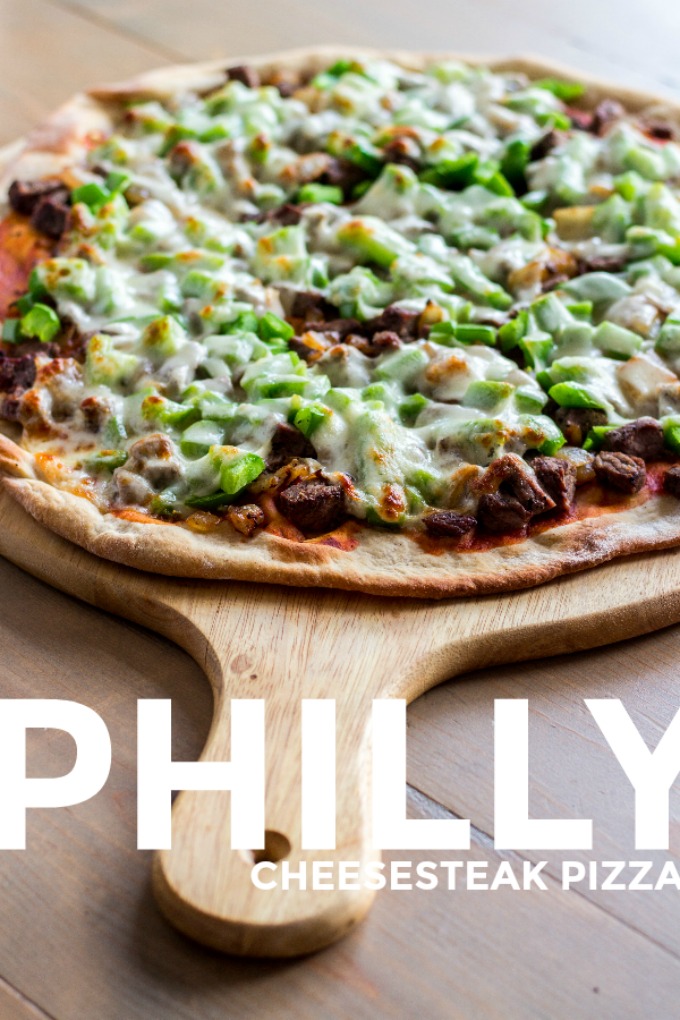 Let's be clear from the get-go here – this is a Philly cheesesteak inspired pizza at best, much like our Philly cheesesteak panini (still one of our favorite sandwiches to make around here). After all…it's a pizza. How authentic a Philly cheesesteak could it possibly be? Running afoul of cheesesteak aficionados seems like a bad idea for some reason, so I'll say again, as I did in the panini post, I've had a cheesesteak in Philadelphia, it's amazing, and nothing quite compares. If you need a refresher on what makes an authentic Philly cheesesteak authentic, here you go. That said, the flavor combination (mainly steak, provolone cheese, and grilled onions) is pure genius…so why not find more applications for it?
Enter this Philly Cheesesteak Pizza.
Chels and I really enjoy playing with pizza toppings and flavors. Frankly, we haven't blogged nearly as many pizzas as we ought to have, and that is definitely something we should work to rectify (I suppose this post is a step in that direction). This one was pretty dang simple. First, I grabbed a pack of stir fry steak (basically, thin, pre-sliced steak packed at the deli counter), salted and peppered it well, and panfried it.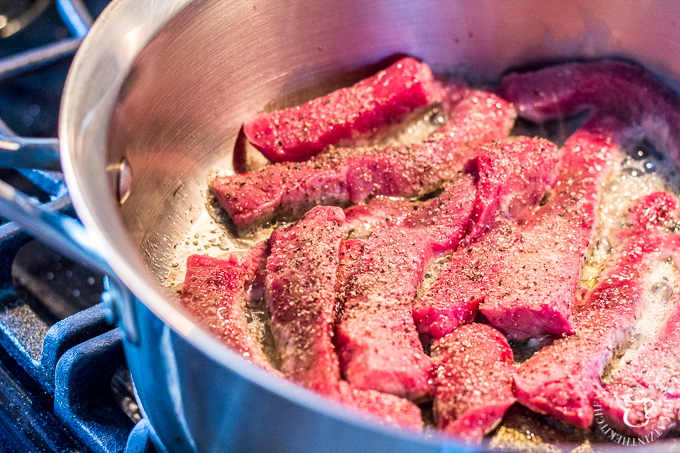 I found it was simplest to use the fat from the beef to fry the onions. Certainly, you could make proper caramelized onions for this pizza, and they would be superb, but let's be real here – the Philly cheesesteak is a sandwich for the common man, and the pizza it's inspired might as well be, too. So, throw your chopped onions in the leftover grease from the steak and fry 'em till they're browned.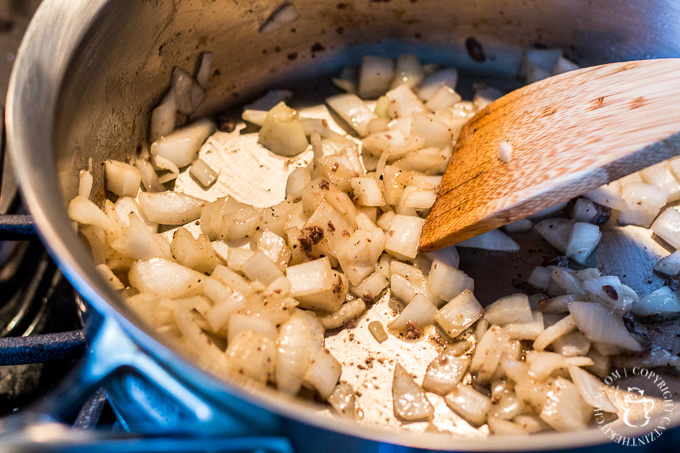 While the onions are frying, you can chop up your steak slices into smaller pieces if you like – we found that it makes the pizza a bit easier to eat (especially for the little mouths around our table).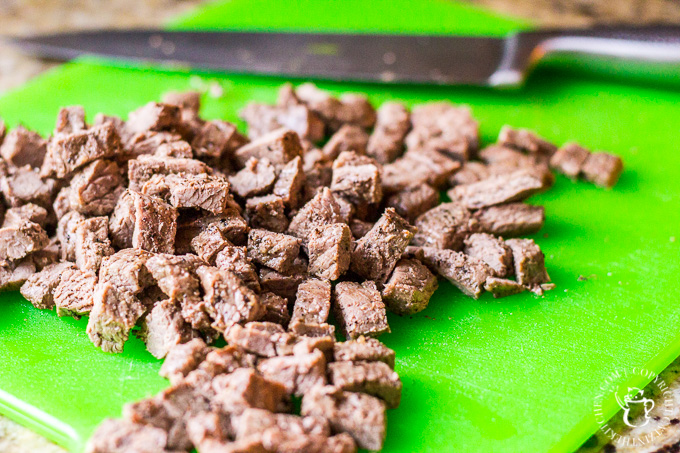 Other than chopping up a bell pepper, that's really about it for ingredient prep. You'll spread a bit of pizza sauce (we use Trader Joe's) on either homemade or store-bought pizza crust (par-baked, typically), and top it with steak, onions, and chunks of bell pepper.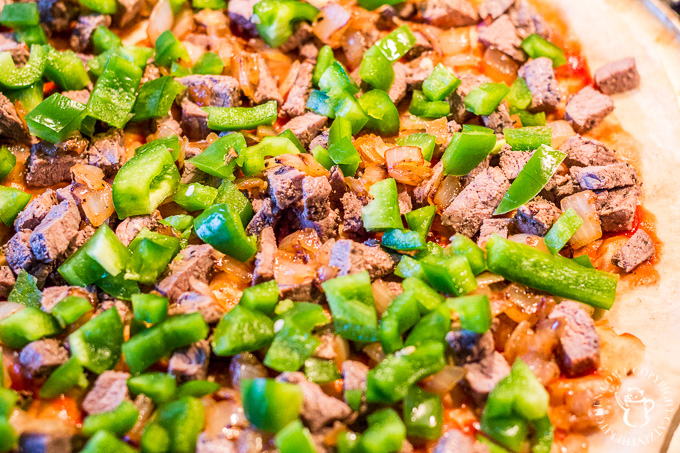 We like whole slices of provolone for the topping – the way it melts over the top in "sheets" is rather yummy – but shredded would work brilliantly also.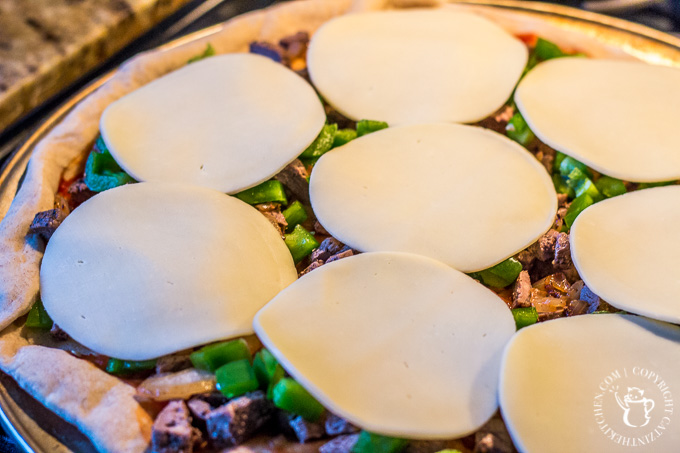 A few minutes later, you'll have yourself a downright craveable Philly cheesesteak pizza. You'll want to be a bit careful with the cutting and separating of the slices, as the topping like to pull off, especially if you use the big slices of provolone like we do.
It's got just a bit of spice to it, from the heavy peppering and the bell peppers, and it's cheesy and satisfying with the chunks of steak and the melted provolone.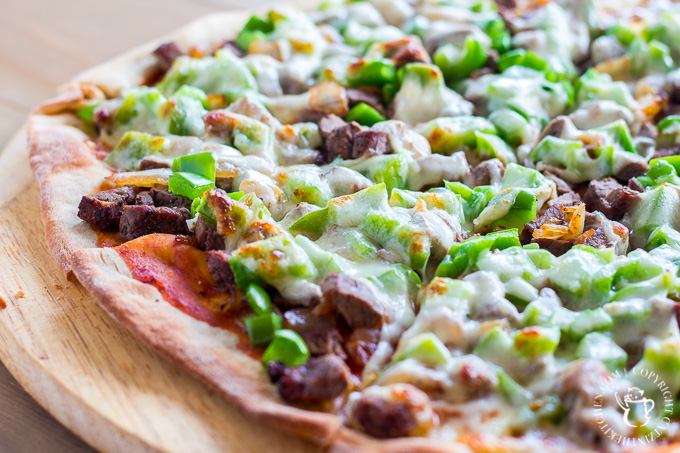 We've found it rather addicting, to be honest – hope you find it to be the same!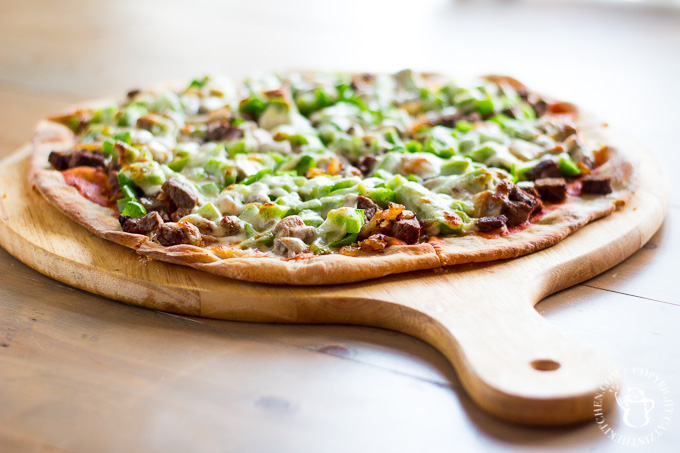 Philly Cheesesteak Pizza
Love the classic combo of steak, cheese, and fried onions? Turn that sandwich craving into pie form with this easy and quick Philly Cheesesteak Pizza!
Ingredients
1 pizza crust, homemade or store-bought, preferably thin
1 lb thin-sliced stir fry steak
1/2 cup pizza sauce (more or less, adjusted for personal taste)
1 green bell pepper, chopped
1 sweet onion, chopped
8 oz provolone cheese, sliced or shredded
salt and freshly ground pepper to taste
Instructions
Preheat oven to 425 degrees.
Season steak generously with salt and pepper, and fry in pan over medium heat until lightly browned.
Remove steak to a plate using a slotted spoon or tongs, and add onions to pan. Chop steak into small chunks.
Fry onions in leftover fat from steak, moving around frequently with spatula, until browned. Remove from heat.
Par-bake pizza crust in for about 6 minutes, until just very lightly golden brown.
Remove crust from oven, spread pizza sauce thinly, leaving about an inch around the outside edge, and top with steak, onions, and bell pepper. Spread provolone cheese over pizza and place in oven.
Bake for another 6-8 minutes, or until cheese is melted and slightly browned in places.
Remove from oven, allow to rest for 3-5 minutes, and then slice and serve immediately.
Nutrition Information:
Yield:

8
Serving Size:

1
Amount Per Serving:
Calories:

393
Total Fat:

18g
Saturated Fat:

7g
Trans Fat:

0g
Unsaturated Fat:

9g
Cholesterol:

41mg
Sodium:

787mg
Carbohydrates:

39g
Fiber:

3g
Sugar:

5g
Protein:

20g
Nutrition information isn't always accurate.