These fun, easy, quick English muffin pizzas are a family favorite – we make them all the time! The kids love designing their own mini pizza masterpieces!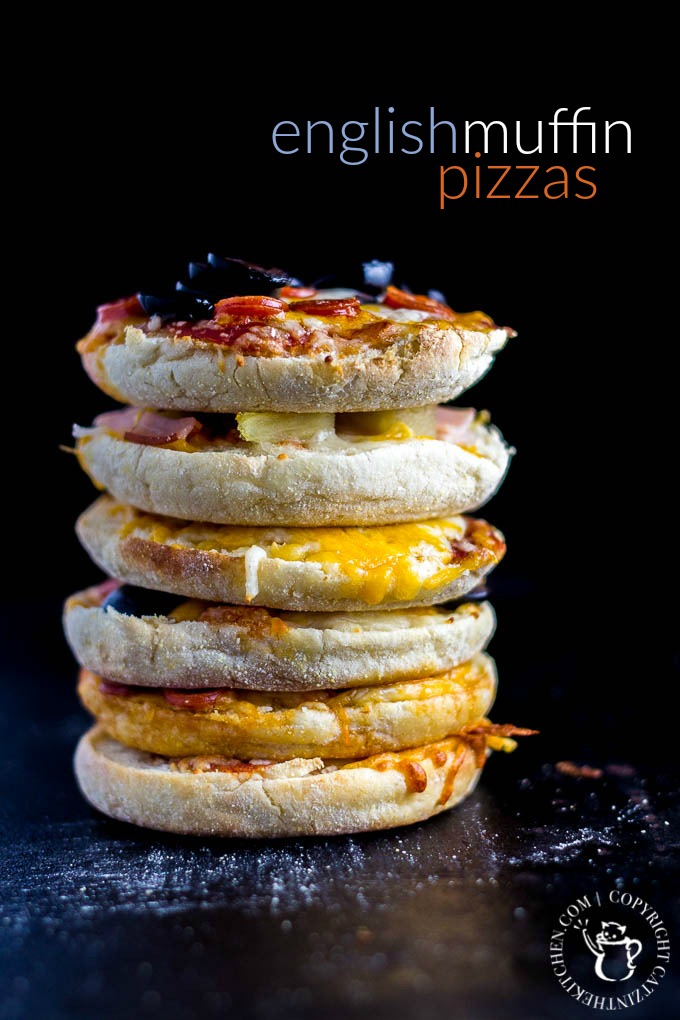 These silly, easy, little English muffins pizzas are one of our favorite "throw together" dinners. They are ready in about 15 minutes, and you really just have to have a few key ingredients on hand. Best of all, they require exactly zero finesse to put together. They are designed to be prepared by clumsy, inexperienced little hands. Get the kids involved. Heck, let the kids run the table. You can't mess these up.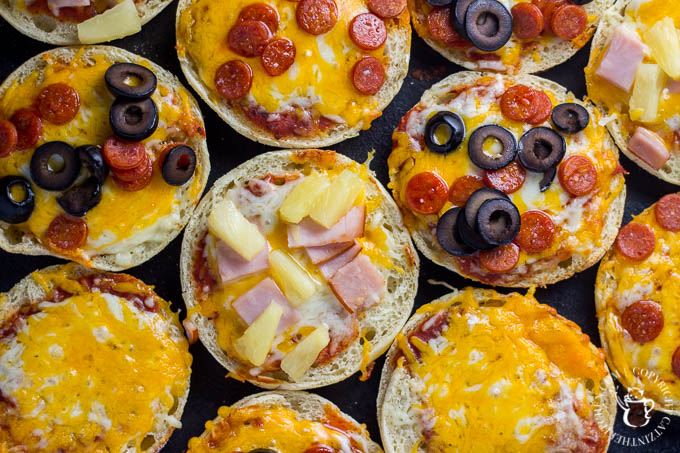 We're aware that these are not an original idea. Many, many families make them. Chels and I both grew up chowing down on these little guys. But, just in case you happen to be in one of those households where nobody ate English muffin pizzas as children (sad for you!), we figured we should write a little something about the process…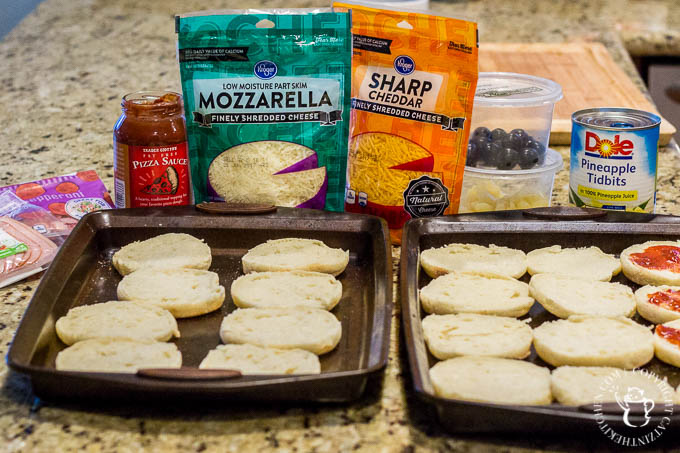 What's the ingredients list? Well, that is up to you (and your kids)! You're going to need English muffins, but I'm betting you figured that out already. And cheese. Cheese is good. Probably pizza sauce. After that? Up to you. We like olives, Canadian bacon, mini pepperonis and pineapple tidbits, but you could do beef, sausage, bell peppers, chicken, go for a Thai-style pizza with a peanut sauce…anything you might find in a pizza parlor will work here. (Sorry these pics are a little grainy! The sun sets early in the Pacific Northwest during the winter…)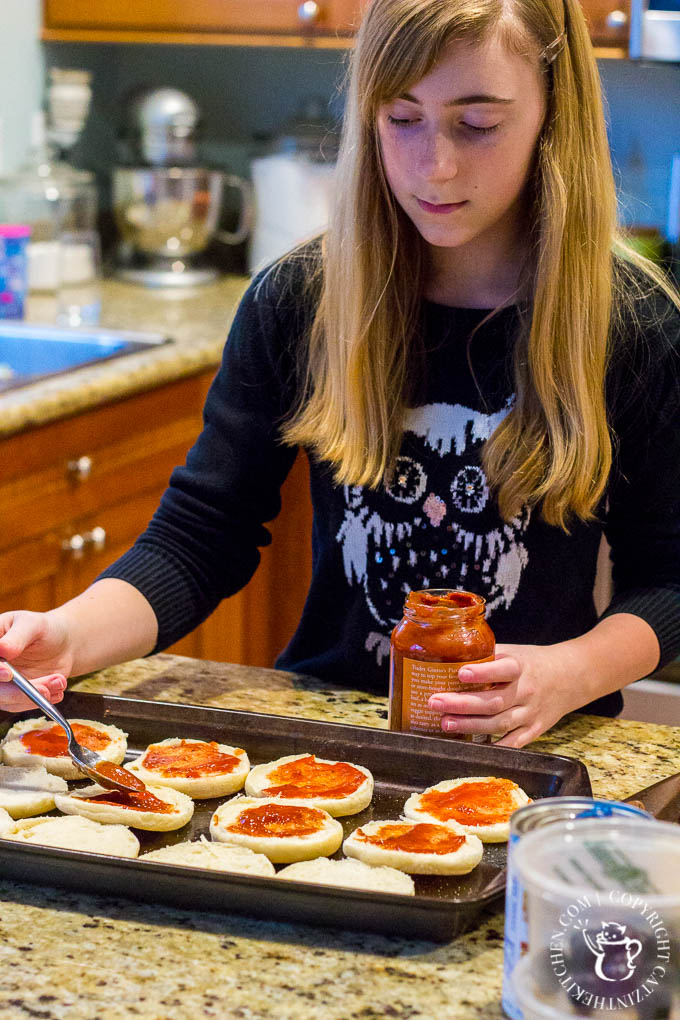 This is no exercise in precision or restraint. Put on the amount of sauce that appeals to you (okay, okay, typically about a tablespoon will do you…). Pile on the ingredients that make you happy. For me, that's mini pepperonis with cheddar and mozzarella cheeses. For Chels, it's Canadian bacon and pineapple. For Christian…it's something, anything really, shaped like a smiley face.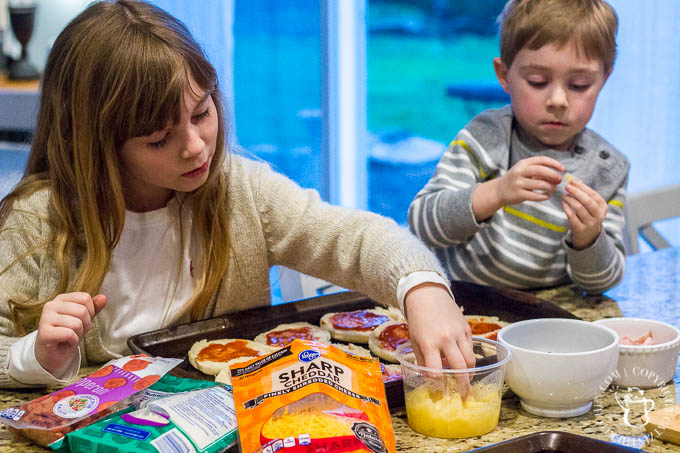 In our experience, the kiddos really get into this. Not only are they allowed to "get their hands dirty", they can actually make whatever sounds good to them. They get to create and be the chef. Chels typically lets them pick out some toppings at the grocery store before a week with English muffin pizzas on the menu, and they love that!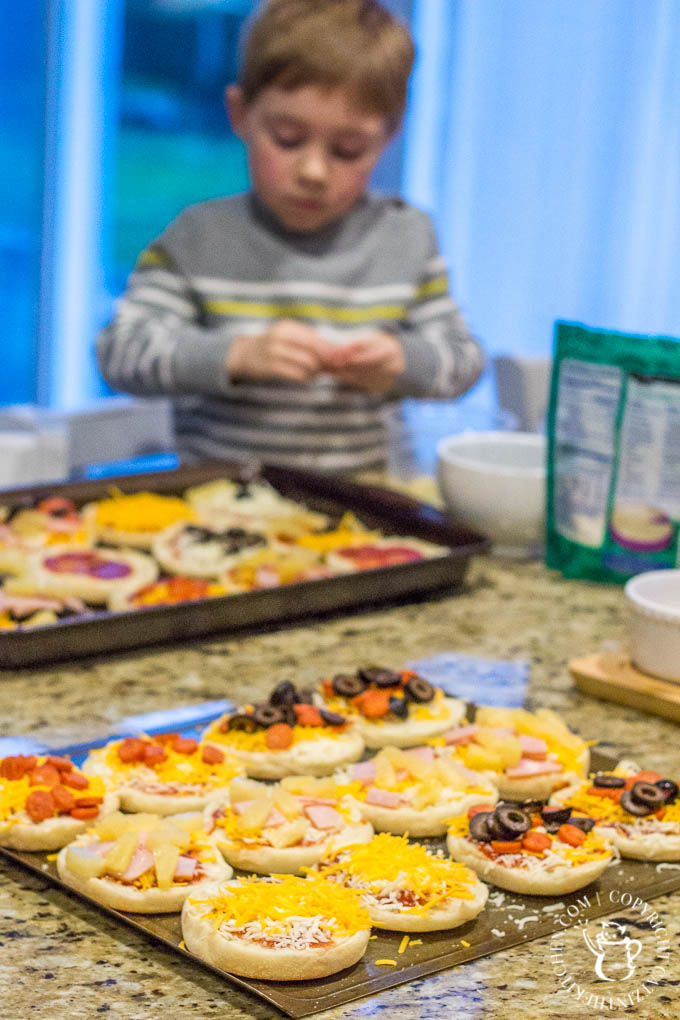 So, bottom line here is this: these are fun, super easy, totally customizable meal the kids can basically make for you. How great is that? A couple of quick tips – if you have a convection setting on your oven, now is a great time to use it. It will help with delicious crispy edges! If not, a broiler will work quite well for that, too. Secondly, you want to eat these when they're hot! So, if you make a batch and you have a bunch left, throw them back into the warm oven between servings. Cold pizza is yummy; cold English muffin pizzas…not so much.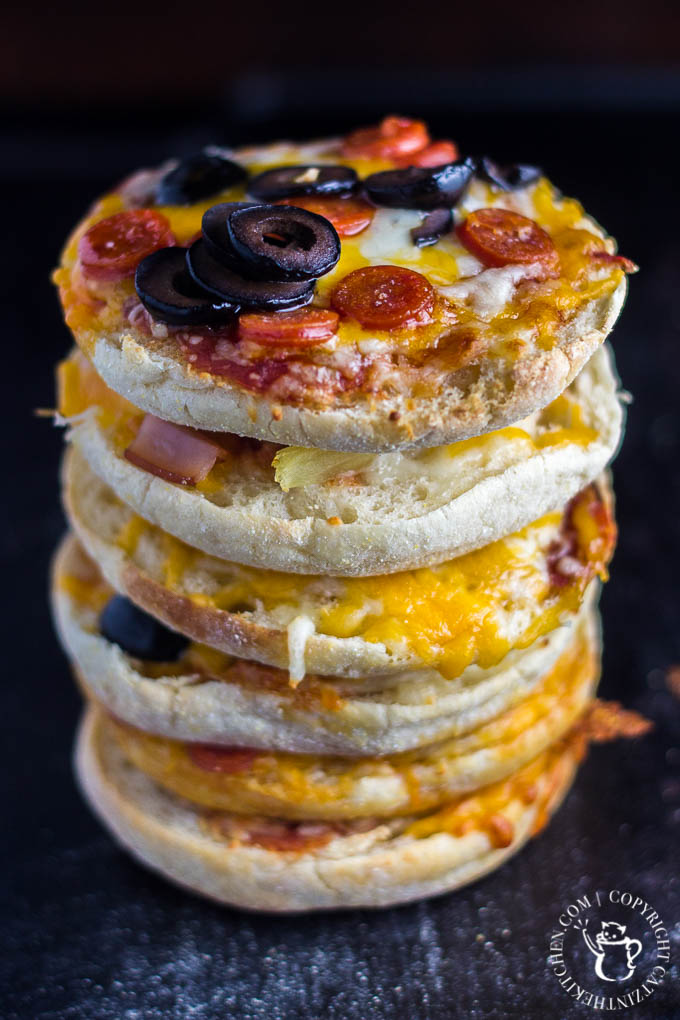 We hope your family adopts this idea and loves it as much as we do! If you come up with any fun new combinations of toppings, please let us know. No bad ideas here. Well, there's shrimp. Don't do that. No seafood on these mini pizzas, please.
English Muffin Pizzas
These fun, easy, quick English muffin pizzas are a family favorite - we make them all the time! The kids love designing their own mini pizza masterpieces!
Ingredients
About 12 English muffins
About 1 cup of pizza sauce
Suggested Toppings
1 can sliced olives
1 cup shredded cheddar cheese
1 cup shredded mozzarella cheese
1 can pineapple tidbits
1 pkg (about 4 oz) mini pepperoni slices
1 pkg (about 6 oz) Canadian bacon slices, chopped into pieces
Instructions
Preheat convection oven to 350 degrees, or preheat broiler.
Slice English muffins in half. Lay crust side down on a large baking sheet.
Spread about 1 tbsp of pizza sauce on each muffin half (or to desired "sauciness").
Sprinkle with shredded cheese and top as desired.
Bake for about 10 minutes (less under broiler), or until cheese is melted and edges of muffins are slightly crispy.
Serve immediately, keeping any remaining muffins warm for additional servings.
Nutrition Information:
Yield:

12
Serving Size:

2
Amount Per Serving:
Calories:

218
Total Fat:

6g
Saturated Fat:

3g
Trans Fat:

0g
Unsaturated Fat:

3g
Cholesterol:

15mg
Sodium:

469mg
Carbohydrates:

31g
Fiber:

2g
Sugar:

2g
Protein:

9g
Nutrition information isn't always accurate.