Wanting to make your own pizza but a little intimidated by making your own dough? Try this easy, flexible recipe for pesto French bread pizza!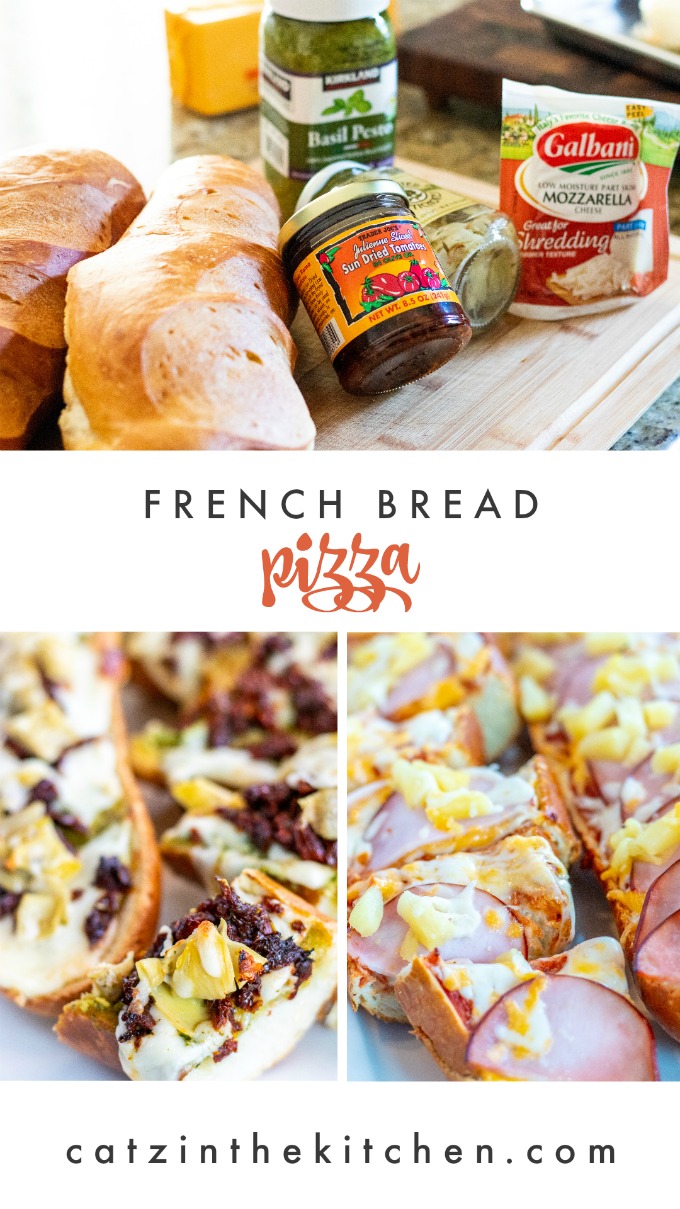 Continuing my "Pantry to the Rescue" series, I bring you a French bread pizza recipe. Now, I totally get that having a loaf of French bread in your pantry at all times is probably unrealistic. Don't worry, I don't keep loaves of French bread laying around in my pantry either. I do keep everything on hand for pizza nights, though, and that includes the ingredients to make pizza dough and a variety of toppings, like canned olives, jarred pizza sauce, artichoke hearts, roasted bell peppers, pesto, and sun-dried tomatoes. I also keep cans of pineapple in my pantry for those Hawaiian pizza nights, too.
If you've watched my YouTube video or read about my Trader Joe's faves, then you know that I just keep those items on hand all the time. When I run out, I just re-add them to my list and pick them up the next time. I could of course, buy all of these ingredients at my normal grocery store or even Costco. However, I use Trader Joe's as my "specialty" store because these types of ingredients are typically better quality and often so, so much cheaper!
I realize, though, not everyone keeps grilled artichoke hearts and sun-dried tomatoes on hand…but you should! They are so versatile. You can always add them to any kind of grilled sandwich, pizza (of course!), salads, or add them to your fave chicken dinner for a little pizazz. Those are just a few examples of the applications I use them in…so you can see why they are in my pantry.
I want to mention that in addition to this pizza, we did make a Hawaiian-style French bread pizza for the kids, because variety is the spice of life and I had all the ingredients (minus the bread – bought that day of) on hand. I'm all about using up ingredients right now.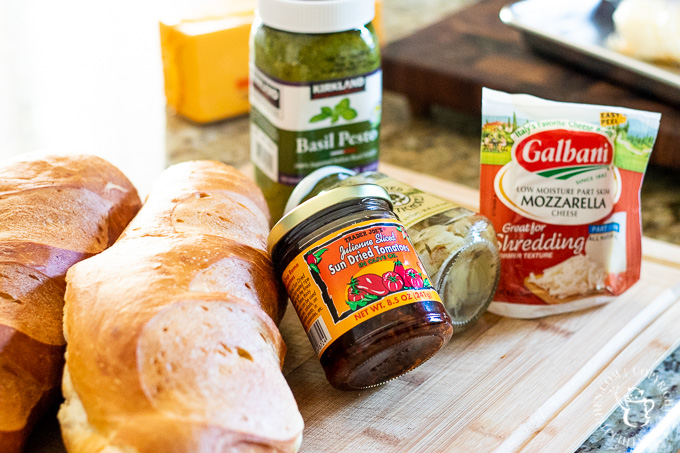 Let it be known, however – YOU DO NOT NEED TO MAKE TWO SEPARATE FRENCH BREAD PIZZAS! While we have 6 people in our family, really only 5 of us are eating pizza and one loaf of French bread would have been more than enough. So unless you're having a big pizza party with a ton of kids and adults, one loaf of French bread should be enough for your family.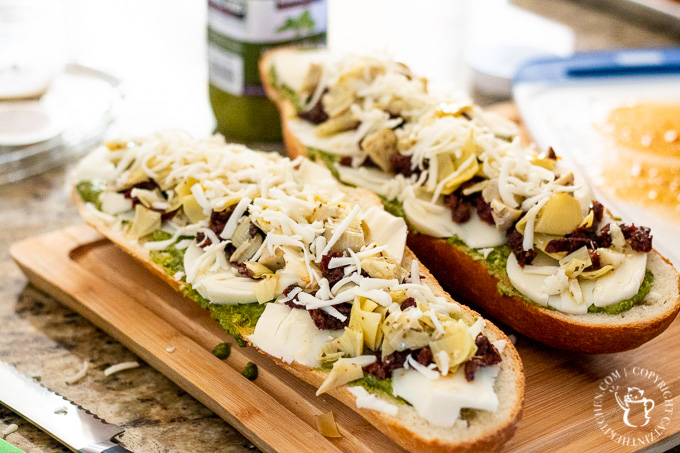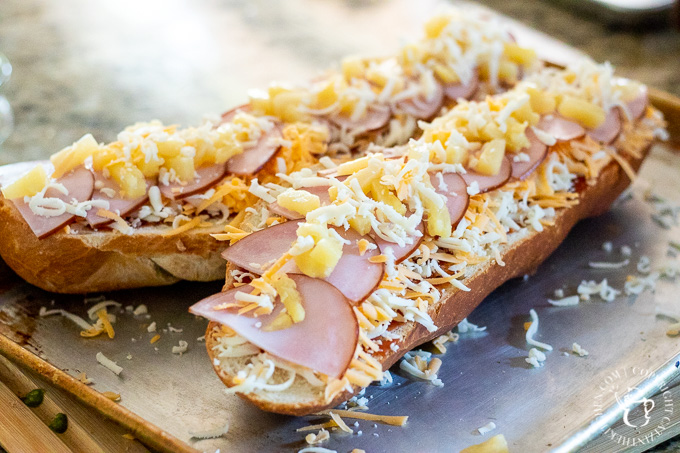 (Nearly) every Friday, we have a pizza night, and we usually watch a movie or a show as a family. However, I'm on a mission right now to create more time together as a family – I think with Ruby getting so big so fast and realizing that we could potentially only have Grace living in our home for a few more years, I just want to spend as much time with them as I can and part of that is creating an environment in the home where they want to be. Let me just say…easier said than done. It's a heck of a lot easier to turn on a show when you're tired at the end of the week. But, I suggested to Josh that we forgo our coffee table dinner plans and instead camp out at the kitchen table with our pizza and a board game.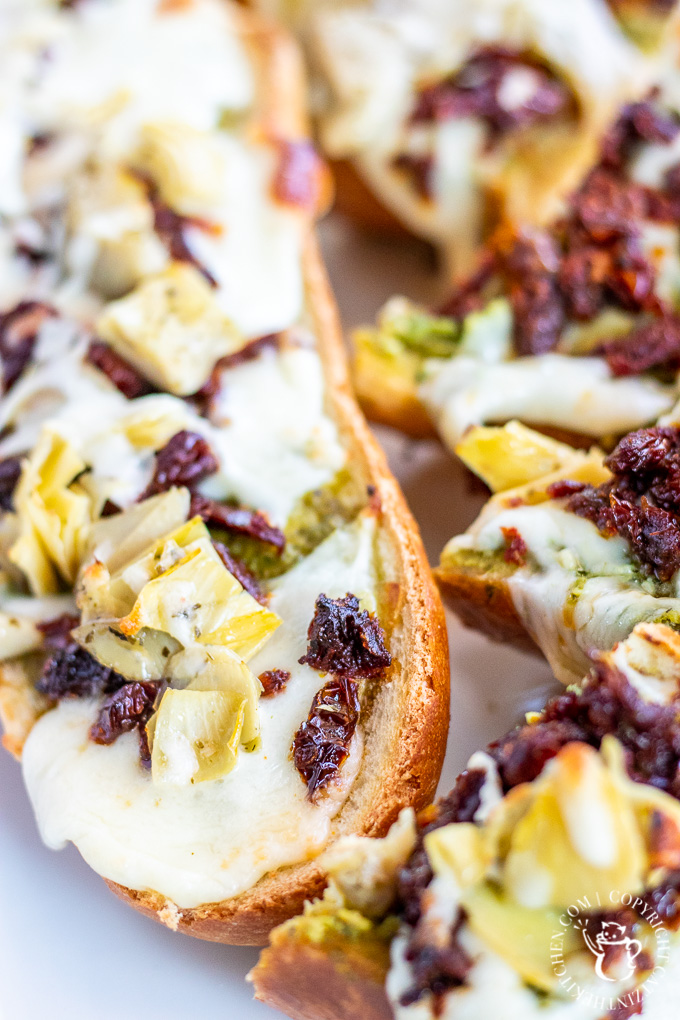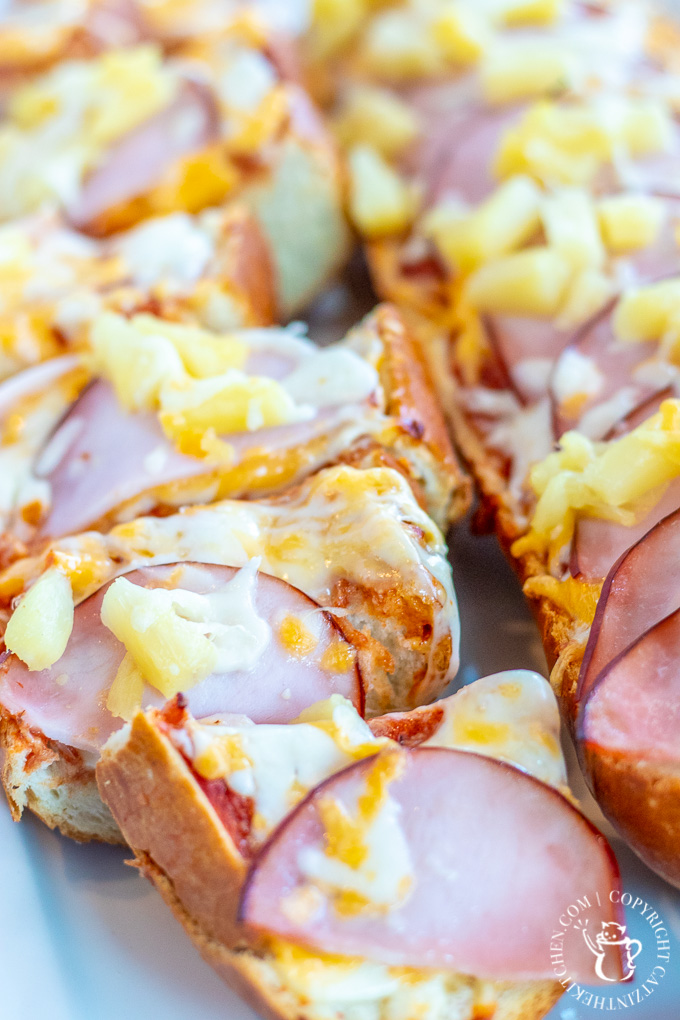 So that's what we did! And in this application, creating a pizza this simple was really just as easy as picking up a pizza from Papa Murphy's or waiting for the pizza delivery guy – we were able to get on with our game night rather quickly. Of course, we did have to take a break and get Ruby ready for bed. She's teething currently, so she just gets frustrated with life more easily right now and is typically ready for bed by 7:30pm.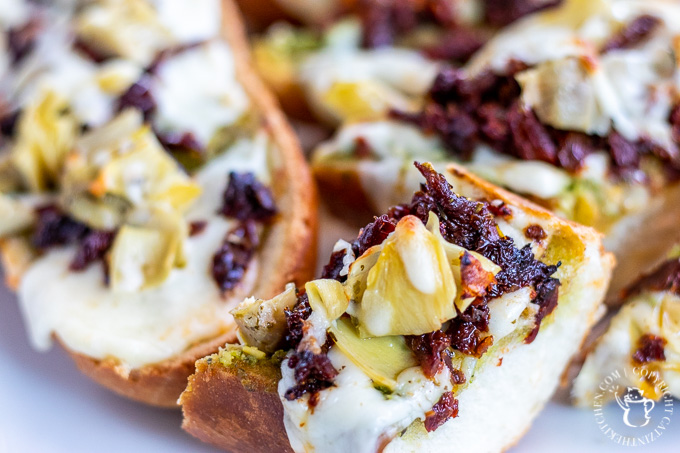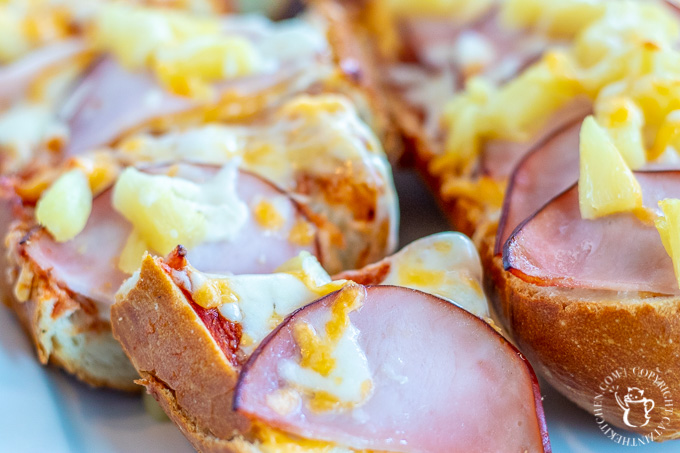 In short, dinner was a huge success on two fronts! The first being that we created a dinner with what we had on hand and the other being that it saved us money…and the kids had a blast. So, three fronts? If you're interested in making your own pizza, but are a little intimidated by the idea of making your own dough, start with something simple like this and ask the kids what they would like the toppings to be. It's a lot like making those English Muffin pizzas on our blog, but a little more fun and different.
French Bread Pizza
Wanting to make your own pizza but a little intimidated by making your own dough? Try this easy, flexible recipe for pesto French bread pizza!
Ingredients
1 loaf freshly baked French Bread, halved lengthwise
1/2 cup pesto, divided
12-14 slices of Mozzarella cheese + 1/2 cup shredded mozzarella cheese (for topping)
1/3 cup sun-dried tomatoes (oil packed), chopped
1/3 cup grilled artichoke hearts, drained and chopped
Instructions
Preheat oven to 425 degrees. Place both halves of sliced side up of French bread on a baking sheet. Spread 1/4 cup of pesto on each side of the sliced bread, evenly. Layer sliced mozzarella cheese on each side of the bread over the pesto. Top with the chopped artichoke hearts and tomatoes. Finally, layer the shredded mozzarella cheese (about 1/4 cup on each loaf) over the artichoke and tomatoes. This helps the topping from sliding off when you bite into it.
Place the cookie sheet in the oven for 10-12 minutes, until cheese is melted. Turn the broiler on and brown the cheese lightly, for 1-2 minutes.
Remove from oven and cut into slices and serve immediately.
Nutrition Information:
Yield:

8
Serving Size:

1
Amount Per Serving:
Calories:

415
Total Fat:

22g
Saturated Fat:

9g
Trans Fat:

0g
Unsaturated Fat:

11g
Cholesterol:

46mg
Sodium:

787mg
Carbohydrates:

35g
Fiber:

2g
Sugar:

4g
Protein:

21g
Nutrition information isn't always accurate.