This carbonara pizza recipe is easy, quick, and inexpensive, with some strategic substitutions! Eggs, cheese, and bacon – how can you go wrong?
It's not a secret that Friday nights are family nights reserved for eating pizza around the coffee table (and salad – balance y'all!) and watching a movie (or Fixer Upper or Chopped or Next Food Network Star or The Great Food Truck Race…you get the picture) as a family. This has been a weekly tradition for as long as I can remember and one that I'm all about.
And while all of that has certainly been happening over the course of the last seven months, our pizzas have mainly been prepared by Papa Murphy's. Like I mentioned in the weekly menu post, I really haven't had a lot of energy to cook, and while homemade pizza is probably one of the easiest things you can make, so is ordering a pizza that's made with fresh ingredients just for you on Fridays after grabbing your groceries! (No sponsorship from Papa Murphy's here – just a fan!)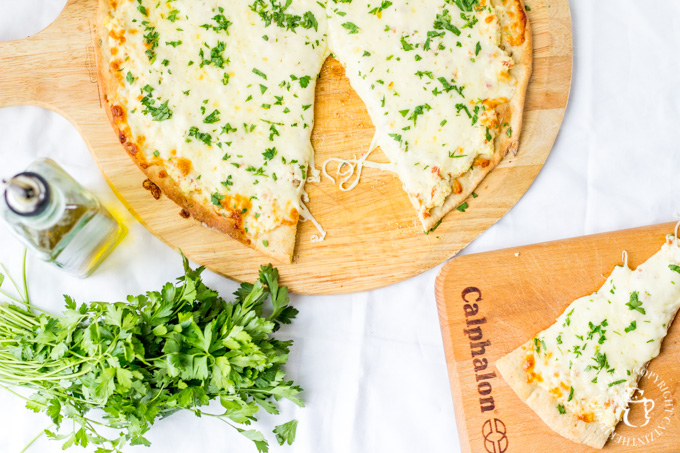 Let's talk carbonara for a moment. While any carbonara recipe is traditionally made with pancetta, that delectable Italian meat can be a hard ingredient to find – or just an expensive one! What we do with something as flexible as pizza is substitute bacon for the pancetta and up the ante of how much we use while we're at it. We also sub in bacon with our spaghetti carbonara recipe on the blog (aka Grace's fave pasta recipe) just like we do in this pizza version.
I also want to mention that the original recipe calls for Romano cheese, which is heaven in cheese form…but also kind of spendy, unless you buy it in bulk at Costco. Which we don't. (Editor's Note: Why not?!) So, we sub in grated parmesan cheese which has the same consistency and similar flavor, but is much more affordable!
And you know what? You cannot go wrong with bacon and parmesan. Just saying!
Unless you're a vegetarian. And if that's the case, this recipe isn't for you, but we've got a whole (huge!) meatless section on the blog, including pizza without any meat at all!
We've probably made this particular pizza recipe dozens of times – it's not our own recipe, it's a Rachael Ray, and hers always turn out fabulously. Go figure, carbonara happens to be her husband John's favorite meal, too!
But I digress.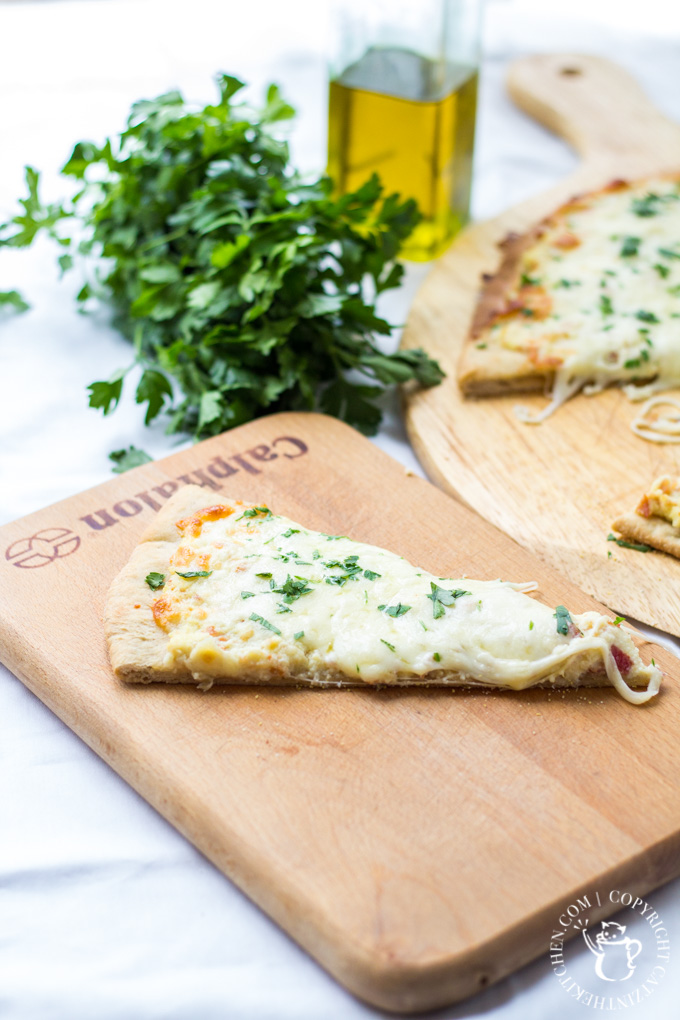 I don't know what happened – I looked in the fridge one day, I had all of the ingredients on hand to make this pizza, and I've always got some of our homemade dough in the freezer, so it was meant to be – here it is for you, too!
I think one of the things I love about this pizza is the creamy white sauce which, unlike a traditional red pizza sauce, is made with ricotta – YUM! And then we've got the aforementioned parmesan cheese, a little provolone cheese (which makes the most perfect, silky strands of melted cheese), and then, of course – ALL THE BACON!!!
This is one of those meals that would also work well for any time of day! Yes, not only dinner, but how fun for breakfast or lunch? Have you ever had pizza for breakfast? It's kind of one of the best things since sliced bread…you know, technically actually also being sliced bread…and stuff…
Basically, what I'm saying is the only thing wrong with this pizza…is if you don't make it at all.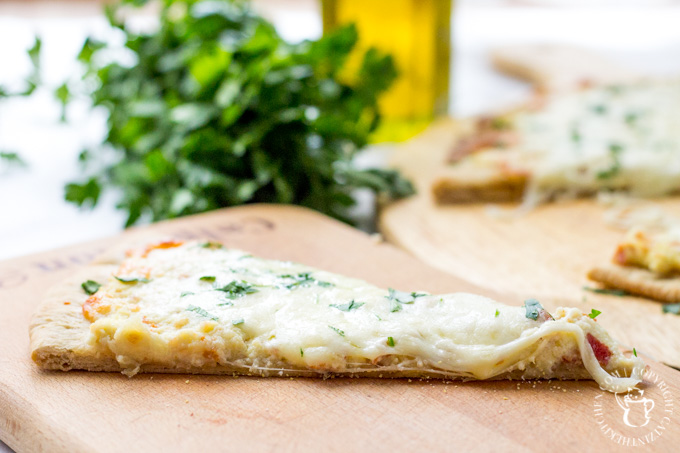 Carbonara Pizza
This carbonara pizza recipe is easy, quick, and inexpensive, with some strategic substitutions! Eggs, cheese, and bacon - how can you go wrong?
Ingredients
Cornmeal, for sprinkling
1 lb. pizza dough, at room temperature
Extra-virgin olive oil
1/2 lb. bacon chopped, divided
1 cup ricotta cheese
1/4 cup grated parmesan cheese
2 large egg yolks, beaten
1 clove garlic, grated
Black pepper
2 cups shredded provolone cheese
1/3 cup chopped fresh flat-leaf parsley
Instructions
Preheat oven to 450 degrees. Sprinkle a little cornmeal on a pizza pan or baking sheet. Place the pizza dough on the pan and either roll is out to stretch and make it round (if using homemade) or stretch it to make a rectangle if using store-bought dough. Drizzle with extra-virgin olive oil and par bake the dough until puffed and golden, about 8 minutes.
In a small skillet, heat some more extra-virgin olive oil over medium heat and add all the chopped bacon. Cook and stir often until crisp, about 5-7 minutes. Transfer to a paper-towel lined plate and cool. In a medium sized bowl, stir to combine the ricotta, parmesan, egg yolk, garlic, pepper, and half of the bacon.
Spread the ricotta mixture over the partially baked pizza dough, leaving 1/2 inch border all around. Top with the shredded provolone and remaining amount of bacon. Bake until the crust and topping are golden and cooked through, about 12 minutes. Sprinkle with chopped parsley and cut into slices.
Nutrition Information:
Yield:

8
Serving Size:

1
Amount Per Serving:
Calories:

538
Total Fat:

28g
Saturated Fat:

12g
Trans Fat:

0g
Unsaturated Fat:

15g
Cholesterol:

131mg
Sodium:

1064mg
Carbohydrates:

42g
Fiber:

2g
Sugar:

2g
Protein:

29g
Nutrition information isn't always accurate.