This simple recipe for Spiral Ham with Cranberry Glaze is an easy holiday dinner that won't have you on your feet in the kitchen all day!
We're done with that Thanksgiving turkey and now it's time to move onto that Christmas ham! I actually love ham, which is not surprising since I adore bacon, but I think there is something special about ham…and I'm not sure what it is. For many years, my dad would send us a Honeybaked Ham as our family Christmas gift and I always looked forward to that…because ham leftovers are pretty much the best thing ever.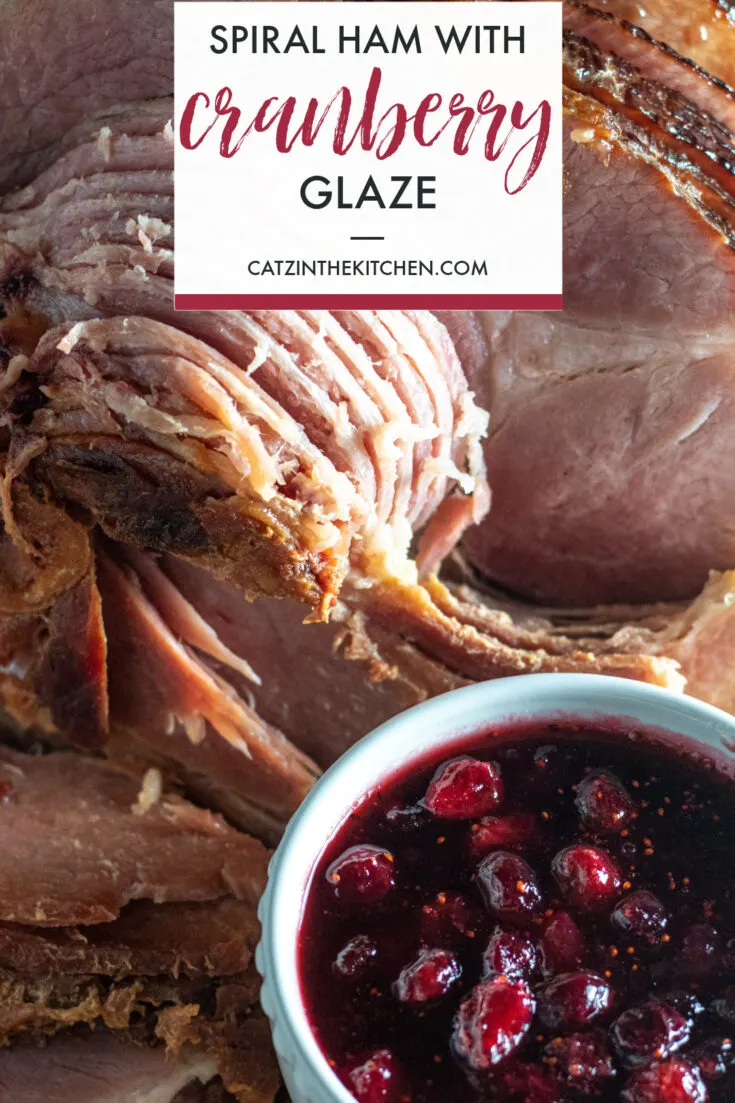 Now for the record, I don't cook a ton of ham. Like I just don't buy it very often. But when I do buy it. I'm always left puzzling why don't I buy it more often! This recipe is just really simple, though it does require the use of your oven, which like on Thanksgiving can always be kind of stressful because other dishes are usually competing for the oven space as well. If you're looking for a main ham dish that doesn't use the oven, check out this recipe for Sweet Slow Cooker Chai Ham. It's also really simple with minimal ingredients, but with a lot of flavor. I love a good recipe that doesn't skimp on flavor!
This recipe uses a spiral ham which is pretty easy to find around Easter or Christmas – although this is definitely more of a Christmas recipe because of the cranberry glaze. Spiral hams generally have the bone-in and are fully cooked, so you're essentially going to just be warming the ham up without drying it out (which is really easy to do with pork). My best advice is to watch it once you get close to the 90 minute mark of cooking. This recipe calls for a cooking time of up to around 2 1/2 hours, but I would be surprised if it actually needed to go quite that long. I cooked mine for about 2 hours and it was just right.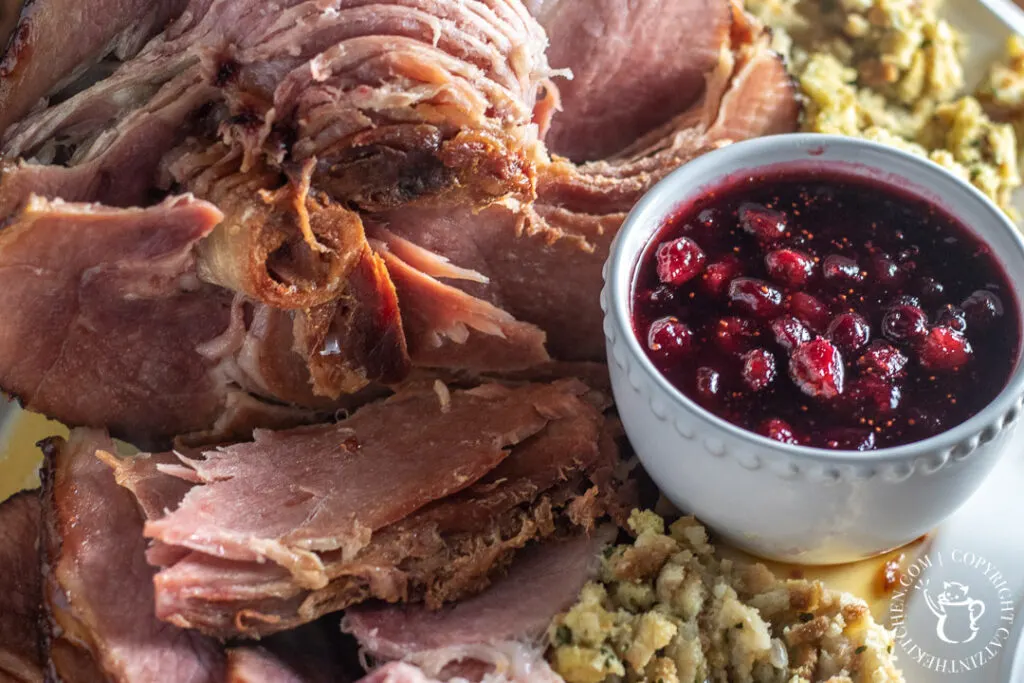 The glaze for this recipe is simple and if you double it, you may have way more than you need. All you need for the glaze is cranberries, concord jam, light corn syrup, ginger, and a splash of lemon juice. Sounds delightful, doesn't it?
You'll end up with about 1 1/2 cups of glaze and you won't use a ton to baste the ham with, so there should be plenty leftover to drizzle over your sliced ham (and whatever else you pair it with).
Let's talk about what goes with this ham (serve on the side):

You could even mix and match a few of those ideas!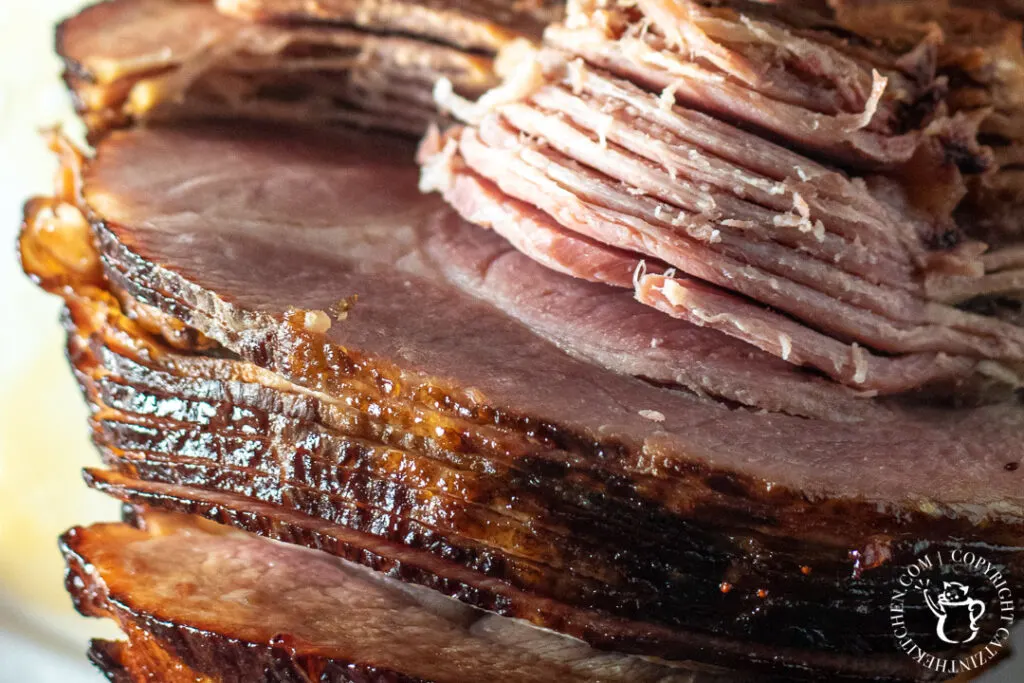 Here's why I think you should make this ham. Thanksgiving, in my opinion, is the hoopla holiday, the big show when it comes to food! We spend days slaving over homemade rolls and pies and sauces and side dishes and by the time Black Friday rolls around – we're exhausted. Although this year was a good one for me. I had a ton of help in the kitchen. But that's not the case for everyone, I recognize.
On Christmas, we like our slow, lazy present-opening mornings. We don't want to stand around in the kitchen all day or for the days leading up to it. We want to linger in our pj's eating cookies and take our time. A recipe like this allows you to do that, and bonus, if you're having family over for a big meal that evening – you prepare the main dish and they bring the sides and cookies are dessert. Done and Done.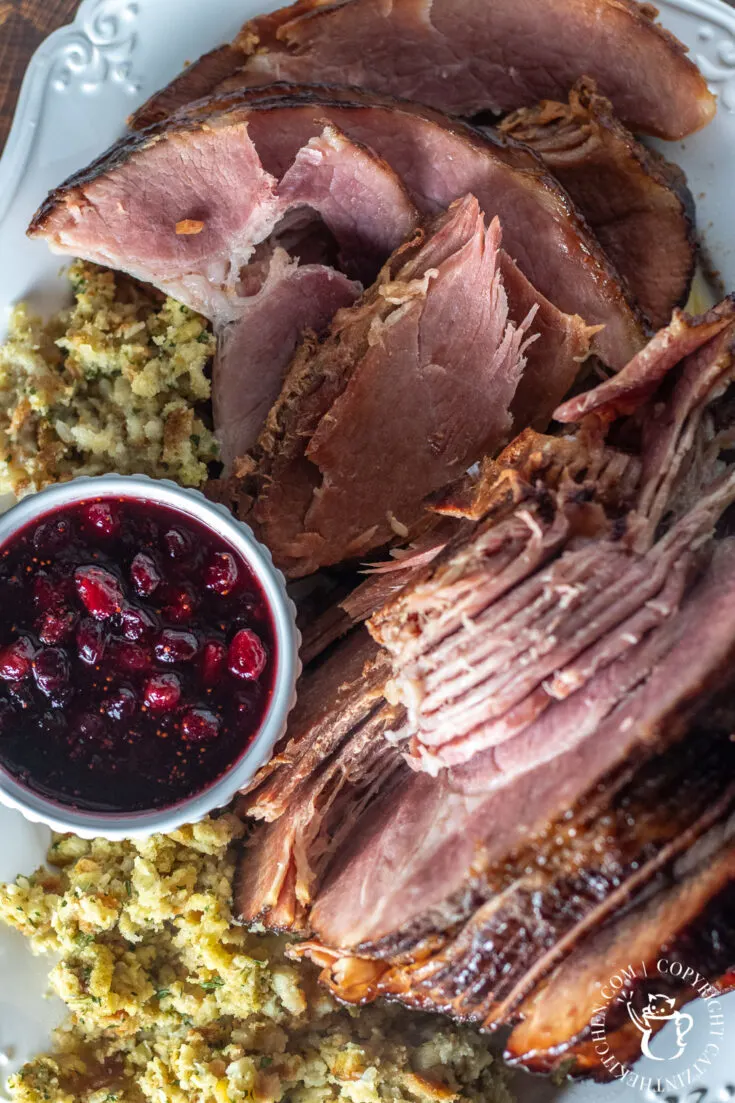 A recipe like this invites a different kind of gathering, and it's the kind I sincerely want to invite you all to enjoy as we close out the year 2021…and maybe, just maybe, this slow, lingering feeling will stick with you instead of the hustle and bustle, and I pray it creates a positive shift in your own family culture as you enter the New Year!
That's why I like recipes like this one, and that's why I share them, too.
I'm wishing you all a very Merry Christmas with a lot of good eating…that doesn't require too much time on your feet in the kitchen!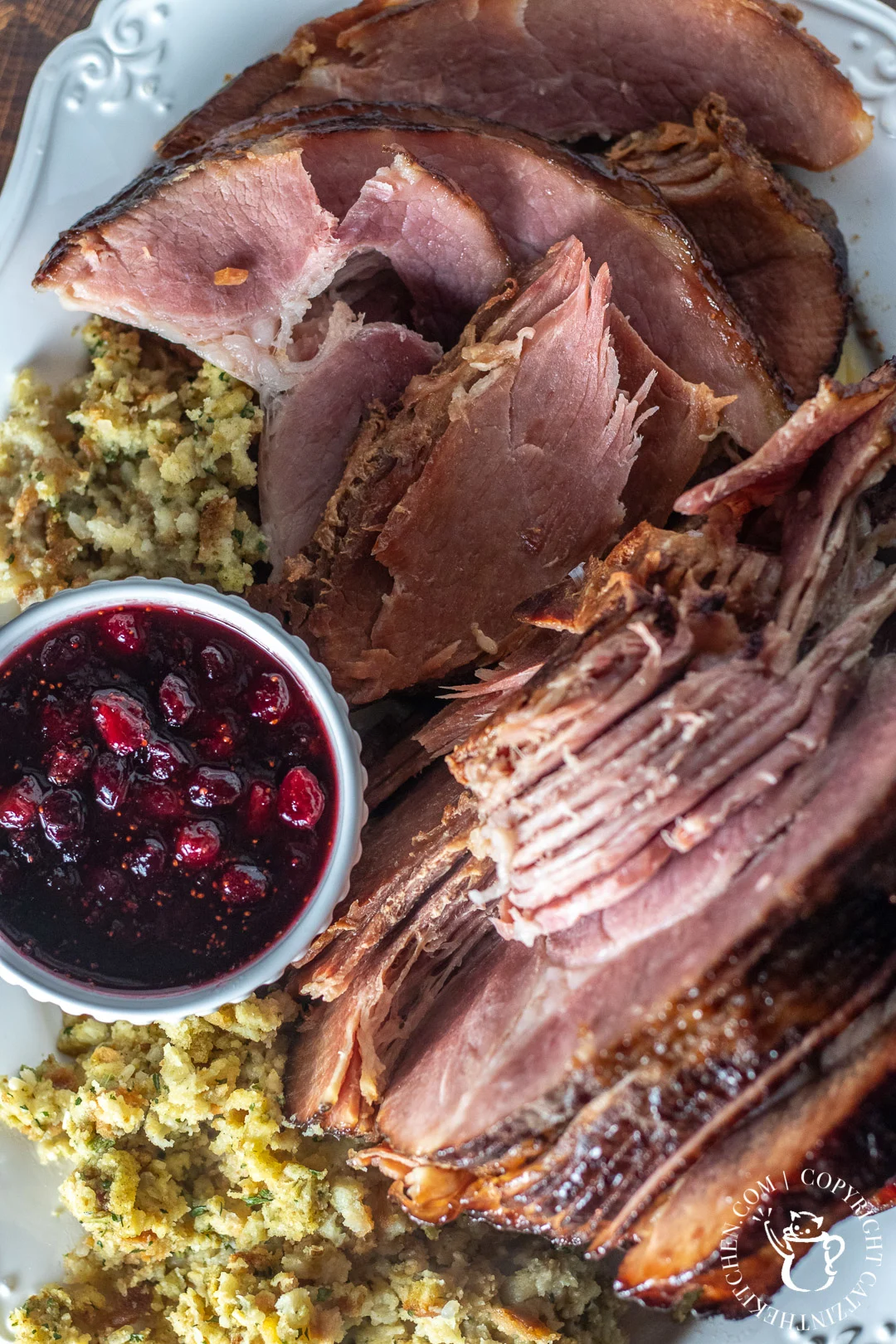 Spiral Ham with Cranberry Glaze
Total Time:
3 hours
15 minutes
This simple recipe for Spiral Ham with Cranberry Glaze is an easy holiday dinner that won't have you on your feet in the kitchen all day!
Ingredients
1 bone-in fully cooked spiral-sliced ham (8 lbs)
1 can (14 oz) whole-berry cranberry sauce
1 pkg (12 oz.) fresh or frozen cranberries
1 jar (12 oz) Concord grape jam
1 cup light corn syrup
1/2 tsp ground ginger
2 tbsp fresh lemon juice
Instructions
Preheat oven to 325 degrees. Place ham on a rack in a shallow roasting pan. Cover with foil and bake for 90 minutes - 2 1/2 hours. I'd start check it around 90 minutes.
While the ham is roasting, make the glaze. Combine the remaining ingredients in a saucepan. Bring to a boil. Reduce heat; simmer uncovered, until cranberries pop, stirring occasionaly. Remove from the heat; set aside.
Uncover ham; bake until a thermometer reads 140 degrees, about 30 minutes longer, basting twice with the reserved glaze. Serve remaining glaze with ham.
Notes
Recipe Slightly adapted from Taste of Home
Nutrition Information:
Yield:

16
Serving Size:

1
Amount Per Serving:
Calories:

99
Total Fat:

0g
Saturated Fat:

0g
Trans Fat:

0g
Unsaturated Fat:

0g
Cholesterol:

2mg
Sodium:

40mg
Carbohydrates:

25g
Fiber:

0g
Sugar:

23g
Protein:

1g
Nutrition information isn't always accurate.