Growing up, fish was a regular meal at dinnertime. I guess it was one of the perks to having a grandfather who was always fishing and having a father who preferred fish over beef any day of the week. I grew up loving fish and never understood why others didn't. I guess that's also why one of my favorite memories was me and my dad fishing up at Blue Lake in the Middle of May. Our families would go up there every year and rent A-frames with my grandparents and my Aunt and Uncle and we would have a blast. My dad and I would always take our little boat out onto the lake and catch rainbow trout and then, later we would have it for dinner. Soooo good!!! As a parent, it's important for me to instill the same healthy eating habits with my kids. I want them to get excited about fish. But unfortunately, fish (other than canned Tuna) is not a cheap meal.
I first had the fish called, Swai last May when we took Grace down to the beach for a few days for her birthday. One of my Grandmother's friends drove to Tillamook to get the fish and later came back to our beach house and made us an amazing feast, and ever since then, I've been craving it. But it's hard to find…not as hard as it was maybe a year ago, but still it's not in all stores. It's a relatively new fish to the seafood market and it comes from Vietnam. The great things about this fish is the flavor and the price. The flavor is light and delectable. The price…cheap! Our grocery store was selling it for $3.99lb and we were able to get two beautiful fillets.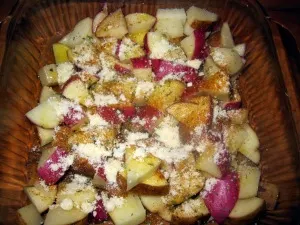 I would of cooked this meal much sooner since we had bought it on Saturday, but with the weekend activities, it had to take the backseat. And now, I've come down with some sort of stomach bug which is no fun and though I was able to get all the chores done today, cooking fish was the last thing I wanted to do. I wanted to just lay in bed. But I knew the fish had to be cooked or it would go bad, so while the kids were napping, I searched out inspiration and found myself completely caught up in my movie Julia & Julia and by the end of the movie I was looking forward to cooking my dinner tonight. Per the instructions of my mom (who has cooked this fish more than once) I felt more than ready to jump in. I started with my side dish first though. I knew it would take the longest because I was going to fix my roasted parmesean potatoes so I quickly got busy cutting up my potatoes into wedges and seasoning them with garlic powder, salt, Paprika, Parsley, and mixing it throughly with some EVOO before sprinkling some Parmesean Cheese over them. This recipe was a concoction of mine and one I don't make often enough for the family. I kind of always forget about it.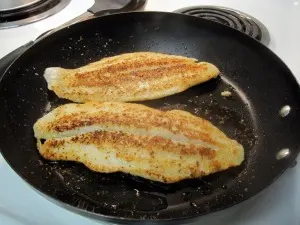 I had Josh pick up some broccoli for me on the way home and once I had them washed and cut up and placed in the steamer, I got busy on the fish. After washing the fish off and patting it dry with a paper towel, I sprinkled it lightly with salt, then I added Garlic Powder and Lemon Pepper. Laying it seasoned side down in the frying pan with some Evoo- I just had to wait till it was time to flip it, which gave me plenty of time to set the table. Normally, that would be Gracie's job, but she was doing a good job of entertaining Eden for me. Once I flipped the fish though, both of the girls ran into the kitchen and inhaling the aroma. It smelled amazing!
Dinner was coming along so nicely, that I even entertained the idea of making a dessert, but Josh told me to hold off…which is fine, because I can make the dessert for later in the week when I make one of the new Italian dishes I'll be trying out. As I predicited the potatoes took longer than the fish, but only by about 5minutes so once the were done I started serving our plates up while Josh started divvying up the fish. The finished product looked amazing and tasted even better. Grace was in fishie heaven, Josh was chowing down, Eden was munching on potatoes and I tasted the sweet victory of not over cooking the Swai and wasting our money.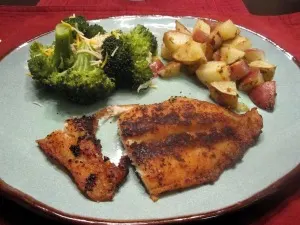 Swai Fillets
Swai
salt
lemon pepper
garlic powder
evoo
Rinse the fish off and pat dry. Once dry season lightly with some salt. And then more liberally with the Garlic Powder and Lemon Pepper and place season side down in a frying pan with a decent amount of EVOO. You don't want the pan to hot so a medium heat is good. On the top side of the fish repeat all the seasoning and flip when browned on the bottom. Cook for about 4-7 minutes on each side and is done when the fish has a nice white flake to it
Enjoy
Roasted Parmesean Potatoes
Potatoes-whatever you have on hand and enough to feed everyone. I used two baking potatoes and 2 red potatoes
salt
Parsley
Garlic Powder
Paprika
Evoo
Parmesean Cheese
Dice the potatoes into wedges, leaving the skin on. Season the potatoes with Salt, Garlic Powder, Paprika, and parsley. Pour evoo over the potatoes and mix well with your hands so that everything gets coated. Then sprinkle some Parmesan cheese over the top. Place in an oven at 450 for 20-40 minutes until softened and you could eat them with a fork.
Enjoy