Fish. Some people love it and some people hate it. I have always been a fish lover. Thank goodness, I married a man who has an equal appreciation for fish as well or I don't know what I would do. I feel kind of bad for my kids…they don't really stand a chance when it comes to eating the meals I prepare. Grace is not a picky eater…but I think she would be if Josh and I weren't so determined for her to keep an open mind and to just try everything. Grace has always been a good eater…even when she was a baby. But as she got older, some things didn't always look good to her. But, Grace loves fish (she gets really excited when we make it), she likes tomatoes ( something I didn't really even like till a few years ago), and she likes bell peppers (something else I was never fond of). Grace is a kid who always cleans her plate and I think the key to having a kid who likes food is repetition. Just keep offering it to them. Eden on the other hand is so different. She is picky. But, repetition is the way we work. And I know that the older she gets, she will embrace the meals I like and grow a healthy appreciation for them as well.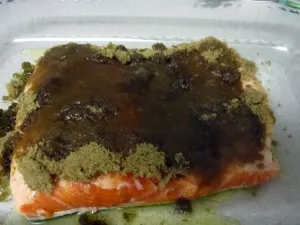 Last night, I made another fish meal and yet another recipe of my mom's. At some of the grocery stores around town, Steelhead was the most wanted fish. He was on sale and lookin tasty. At $4.99lb, I was not about to pass him up (yes, my fish is a he). For those of you who are not familiar with Steelhead, Steelhead is a trout…basically a bigger version of the Rainbow Trout, but more similar to a Pacific Salmon… and it tastes more like Salmon than a trout. Trust me on this, I've eaten a lot of Rainbow Trout ( I used to catch it with my dad) and I've eaten a lot of salmon…there is a difference in flavor…but not so much with the Steelhead. So if it's on sale again…buy it, you won't be sorry, but please take my mother's advice…when at the seafood counter as for a section that is not part of the tail. I don't know why, but this is what she told me to do and when it comes to fish…she pretty much knows her stuff. So last night, I got to work on my handsome (remember he's a boy fishy) pink fish. The first thing you should always do when preparing fish is rinse it off and pat it dry with paper towels. Josh didn't believe me, but when he went to cook fish a week ago, the cookbook told him so and I won! When he was nice and dried off I put him in a 9×13 baking dish and drizzled some EVOO over him. I didn't measure, but just enough for him to have a nice swim in it. Next get out your S&P ( salt and pepper) and season him. Then comes the yummy part…Brown Sugar. Who doesn't love a little brown sugar? Sprinkle some over your fish and then pat it down…and then take some lemon juice, and you don't need a ton…maybe 2 Tablespoons is good…but you just want enough to give the fish a good flavor.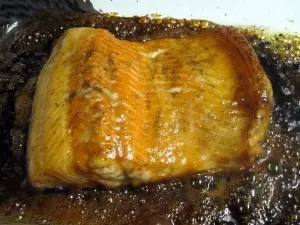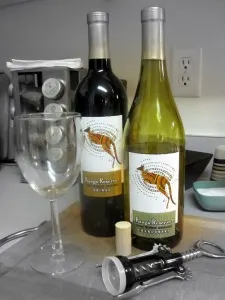 Once you've got your fish all prepared…all you have to do is stick him in the oven and your nose will tell you when he's done. Have the oven preheated till 400 degrees and put him in the oven for about 20-25minutes. I cooked mine for 25 minutes and he turned out beautiful. The brown sugar, evoo, and lemon juice work as a glaze for the fish and really that is all you need. My dad likes a little tarter sauce with his though. At about 20 minutes into the cooking your home will have a delicious cooked fish aroma ( not a stinky aroma). Josh and I bought a little over a o1 lb and that was just enough for me and him and the kids. For side dishes, I made a beautiful spring salad which consisted of green leaf lettuce, radishes, carrots, croutons, and craisins. And I also made ahead of time this afternoon my mom's homemade macaroni and cheese. It's the perfect side dish because it also cooks at 400 degrees and takes about 45-60 minutes to cook. So there wasn't a lot of prep work with this meal. Josh perfected the meal even more by running to the store to pick up a bottle of wine… Chardonnay, which goes very well with a Salmon…but since this was close to Salmon we figured it would do.
Josh and I always work together to get all the plates dished up with the food while our hungry munchkins look on and giggle at the thought of yummy food being only secs away. Dinner time is important for families and I know that by making healthy and tasty meals I am also creating memories for my darling children, which is really what dinner time is all about. Grace is becoming more interested in food and Josh and I, only grow closer…whether I'm doing the cooking or were doing it together. It's a bonding time for us all. My mother did it for all of us kids, and now I am following suit and it's one of the most rewarding things I can do as mom.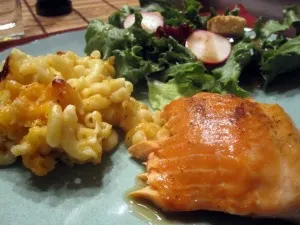 Steelhead fillets
Evoo
lemon juice
salt and pepper
brown sugar
Rinse off the Steelhead and pat dry. Place in a baking dish and drizzle evoo all over the top. Season with Salt and Pepper. Sprinkle Brown sugar over top and pat down so there is a layer of brown sugar over the fish. Add some lemon juice for flavor. Bake in oven at 400 degrees for 20-25minutes. Fish is done when the fish flakes!