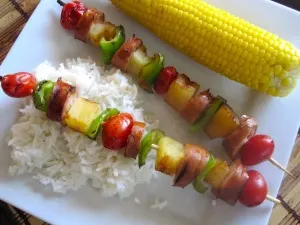 I'm so glad to be home from our vacations! It feels really good to fall back into the routine of things and to be cooking in our home once again. I didn't realize how much I had missed it, until I was getting dinner together last night. Sometimes, I think I take for granted being able to cook in my home and really enjoy it. It's always nice to be reminded about the simple things that you enjoy.
While going through the fridge last week, I was looking for inspiration with some of the things we had leftovers of. I had about 3/4 left of a sausage Kielbasa and I wanted to use it up before it went bad, so I took to the internet to see if I could find something there. I went to the Hillshire Farm site to look for recipes there on what to do with the leftover meat because usually, we use the Kielbasa in breakfast meals. The site offered a lot of helpful ideas but the one that caught my eye was very easy and looked delicious.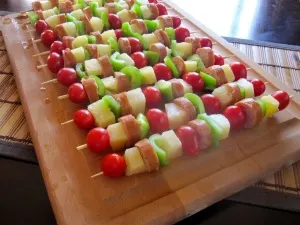 Kabobs are such a fun way to eat dinner. The kids think they are getting away with something and for us adults, we really are getting away with something…that whole messy clean-up thing. What's easier than throwing little wooden sticks away after you've used them? This is a cheap, quick, and fun summer dinner to throw together with your family.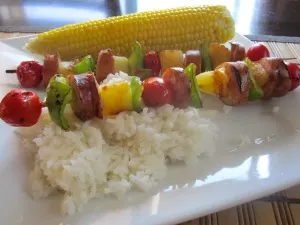 Smoked Sausage Kabobs
(Source: Hillshire Farms)
1 pkg. Hillshire Farms smoked sausage
1 large onion, cut into 1″ pieces (optional)
1 large green bell pepper, cut into 1″ pieces
cherry tomatoes
1 can (8oz) pineapple chunks, drained and reserved
1/2 cup teriyaki marinade sauce
Cut sausage into slices. Thread sausage, onion, pepper, tomatoes, and pineapple, leaving a small space in between each item.
Grill over medium heating, turning frequently for 10 minutes. While grilling, brush skewers with teriyaki sauce and pineapple juice. Grill until vegetables are crisp tender.
Serve over white or brown rice and enjoy!