1. My cat thinks she's a person. Every time I start to cook she's jumping up on the kitchen counter and trying to sniff/ eat whatever I'm doing. Friday, she tried to eat the Chili I was making in the crockpot.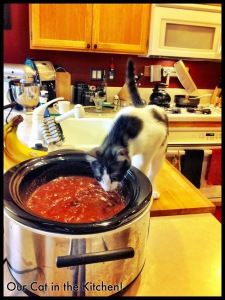 Saturday morning, she stole a lone blueberry that fell off one of my daughter's bagels. She is endlessly entertaining I tell ya!
2. This past week Jennifer Garner and Ben Afleck had their 3rd baby- A boy after 2 little girls! There is hope for my parents yet that at some point the streak of grand-daughters will be broken. ( They have 5 grand-daughter's so you can see why they are concerned, lol)!
3. Target recently started carrying Rachael Ray products, this could possibly be the death of me!
4. We're all sick here except for little Eden. Nothing makes me sadder than when my kiddos are under the weather.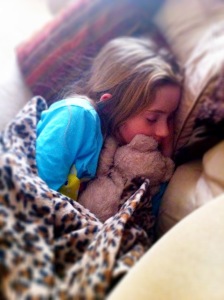 5. My 3 yr old is addicted to Adele- all day long she runs around the house singing," Someone like you, Rumor Has it, and Rolling in the Deep." I'm thinking about making a video of her and sticking it on youtube.
6. Am I the only one who gets emotionally involved in Soap Operas???
7. I'm getting cavities filled later this week- I'm considering taking Benadryl to help knock me out before the visit and ask for laughing gas to help ease my pain.
8. I'm thinking about binging out on sweets before my dentist appointment :)
9. Is it Spring yet?
10. The Kardashians drive me crazy!