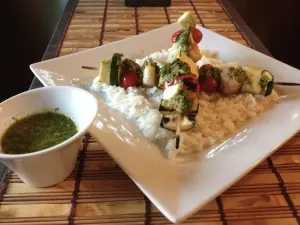 I am always looking for fun new grilled dinners. I love playing with skewers, too. There is something about having your food on a stick that instantly makes it more fun and seemingly exotic. This dish is both of those things.
I've been wanting to make a chimichurri sauce for awhile now. I've seen Rachael Ray make them several times on her shows. Whether it was drizzled over steak or chicken, it always looked insanely good. I had yet to see this sauce drizzled over fish though, until I was watching Melissa d'Arabian make this meal on her show Ten Dollar Dinners.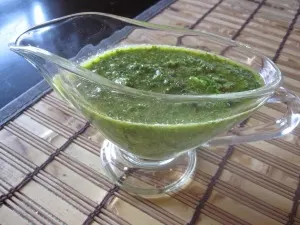 From the marinade, to the skewer ingredients, to the chimichurri sauce (I dare you to say chimichurri ten times fast) this dish is easy, affordable, and so aromatic. As Josh commented while we were washing the few dishes that it took to make this meal, this dish tastes exactly the way you think it's going to taste after you smell it. It's hard to describe specifically, but suffice to say, smelling the dish is a lot like tasting the dish.
I can't promise this is going to be a dish your kids are going to love. Surprisingly, mine did. My girls are pretty good about trying new things at least once. They happened to adore this dinner. Eden was practically drinking the sauce and begging for more fish and Grace helped herself to seconds and maybe even thirds. By the end of the meal, all the food was gone except for a little bit of rice, which I will say complimented this dish really well. So if you're looking for an easy dish that tastes like something you might order on an island paradise vacation, try this!
Cod & Vegetable Skewers with Basil Chimichurri
For the Marinade:
1/4 cup chopped white onion ( I used 1/2 of a large shallot)
1 clove garlic, minced
1/4 cup vegetable oil
juice of 1/2 lemon (about 2 TB)
2 TB white wine vinegar
Kosher salt and freshly ground black pepper
For the Fish Skewers:
10 ounces firm white fish, such as cod (about 1-inch each)
3 small zucchini and/or yellow squash, about 1 1/4 lbs, cut into 1-inch pieces (used both veggies)
10-20 cherry or grape tomatoes (the amount depends on how much you like to load your skewers up with veggies-we like a lot of veggies)
For the Chimichurri Sauce:
1 1/4 cups fresh basil leave, coarsely chopped
3/4 cup fresh parsley leaves, coarsely chopped
1 TB finely chopped sweet onion (we used a shallot because that's what we had on hand)
1 clove garlic, minced
pinch crushed red pepper flakes
Kosher salt and freshly ground black pepper
1/3 cup olive oil
juice of 1/2 lemon (about 2 TB)
1 TB white wine vinegar
8-10 (wooden skewers, soaked in water for at least 30 minutes.
For the marinade: In a medium glass bowl, mix together the onion, garlic, oil, lemon juice, vinegar, salt and pepper, to taste. Add the fish and squash and marinate at room temperature, about 15 minutes.
For the chimichurri sauce: Combine the basil, parsley, onion, garlic, red pepper flakes, salt and pepper, to taste olive oil, lemon juice, and vinegar to a food processor bowl and pulse until the ingredients are just combined and chunky. (A blender would probably work just as well)
Pre-heat the grill on high.
For the fish skewers: Thread the marinated fish and squashes, and tomatoes onto the soaked skewers. Place on a well-oiled grill and cook until lightly charred on the outside and the fish is just cooked through, about 3-4 minutes per side. While the fish is still warm, drizzle with a little chimichurri sauce and serve more on the side for dipping.
Serve over a bed of rice.