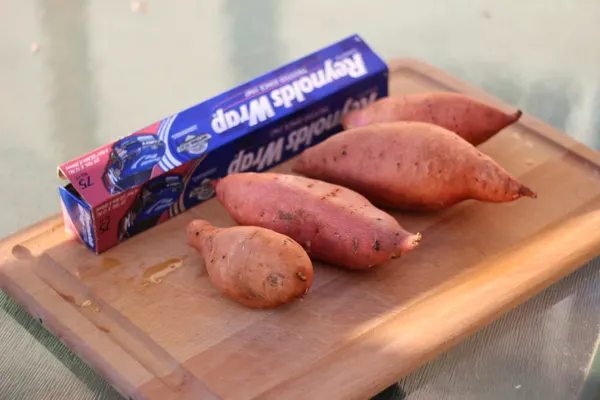 It's a blast to be able to grill an entire meal. For example, when you're grilling steak, you certainly need a side. Do you really want to have to run back and forth, in and out, from the kitchen to the patio, just to ensure you have a side? Perhaps you're fortunate and have a handy sidekick (that would be Gracie for me – or occasionally Chels, but I don't normally refer to her as a "sidekick") who can do some of the running for you, but regardless, wouldn't it be better to just handle it all on the grill? What's a good side for steak? Why, potatoes, of course! What if you're grilling some teriyaki (why can I never spell that word correctly on the first try?) skewers? While the rice may be tough to pull off on the grill, you can certainly handle some corn on the cob. Point being, we have a tendency to focus on grilling a main entree, whereas the reality is you can grill just about anything, including a wide variety of sides. Today, we'll start with something super simple – sweet potatoes.

As you know, we've recently made the switch from gas to charcoal grilling here at Catz. For sweet potatoes, charcoal is considerably easier, simply because of the long cooking time. Generally, when using gas, I tried to avoid grilling things that took longer than 30 minutes or so, primarily because it just used a lot of propane. With a charcoal grill, chances are your briquettes are going to be nice and hot for over an hour anyway, so why not use up a good portion of that time with a slow-cooking side like potatoes?
For grilling sweet potatoes, you need to begin by building a two-zone fire. On a gas grill, you can do this by lighting half the burners. If you have four, light two on one side, if you have two, light just one, etc. On a charcoal grill, you can do this two ways. First, you can simply move all of your briquettes to one side of the grill, creating a "hot half" and a "cool half." Personally, I've started using Weber's "Char Baskets," which hold your briquettes in place for more precise heating. If you're using a set of briquette baskets, you can either spread them out (one on each side of the grill, creating a "cool zone" in between), or push them tightly together (creating an area of intense direct heat in the center of the grill, with a "cool zone" all the way around the outside).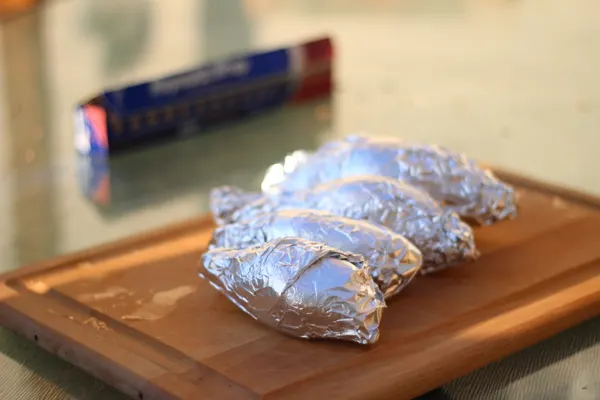 Once your fire is built, you're ready to grill sweet potatoes, and, wow, is it ever simple. Puncture them repeatedly with a fork, wrap them tightly in good, strong foil (shout out to Reynolds!), and place them over direct heat (the "hot half") on your grilling surface. Close the lid, and let them really heat up for about 10 to 15 minutes. At this point, move them to indirect heat (the "cool half"), turn them as best you can (they're round, so this can be challenging), and give them another 15 minutes with the lid closed. After the time has elapsed, it's time for one more round. Turn them again, still over indirect heat, and they'll be ready after a final 10-15 minute set with the lid closed. Altogether, they should run about 40-50 minutes. You can check their doneness by stabbing them gently with a grilling fork (this is one of the only times I'll ever recommend you use the grilling fork, so savor the moment). If you feel little or no resistance, they're about ready! Cautiously unwrap, cut open, and serve with brown sugar (the brown sugar is a must – it elevates grilled sweet potatoes in a ridiculous way). Doesn't get much simpler than that, does it?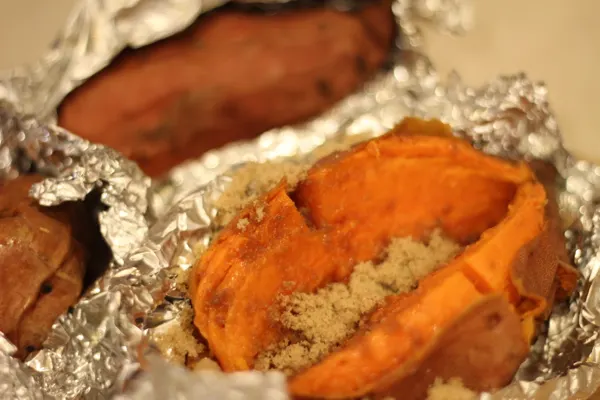 Grilled Sweet Potatoes
Need a sweet, smoky, filling side to go with your grilled entree? Look no further.
Serves: 4
Prep Time: 5 minutes, not counting charcoal warm-up
Cook Time: about 45 minutes
Total Time: about 50 minutes
Ingredients
4 sweet potatoes
brown sugar
Directions
Preheat grill for two-zone grilling.
Puncture sweet potatoes thoroughly and deeply with a fork, then wrap tightly with foil.
Grill over direct heat with lid closed for 10-15 minutes (shorter time for medium sized potatoes, longer for large potatoes).
Turn potatoes and grill over indirect heat with lid closed for 15 minutes.
Turn potatoes again and grill over indirect heat with lid closed for a final 10-15 minutes, or until a grilling fork will easily puncture the potatoes to the center.
Unwrap and slice open carefully and serve immediately with brown sugar.