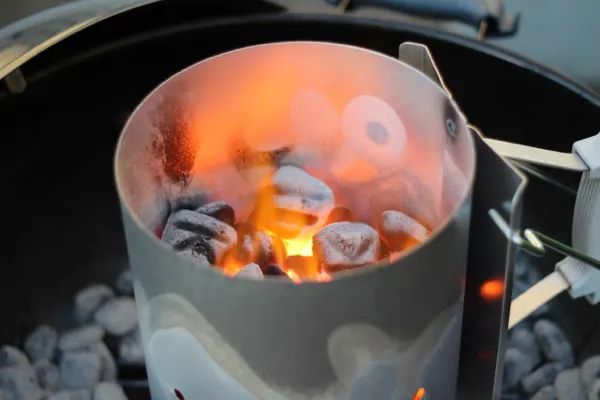 As anyone who reads Catz more than, oh, once a decade is aware, I love to grill. It's my favorite way to prepare a meal, hands down. Certain aspects of grilling I've become quite skilled at, and many, many more I have yet to master or even attempt, but all in all, it's an awesome way to kill time outdoors. For the first five or so years that Chels and I were married, we grilled only occasionally, using a "patio" style gas grill by Charbroil that my parents got us for our wedding. When we outgrew that, I grabbed a larger, four burner Charbroil on clearance at Home Depot, and, boy, did we ever stretch that grill as far as it could go, both in life expectancy and capability. Truly, this was a low-end model designed for hotdogs and hamburgers, but we tricked it into grilling flatbread, pizza, skewers, steaks of all shapes and sizes, and even baskets of fish! Eventually, though, we got to the point where it needed some parts replaced, and we needed something more capable.

I did a lot of research as to what was available on our limited budget (we were looking to keep the price tag well below $500), and eventually settled on a stainless steel Kenmore that was on clearance at our local Sears. It was originally a $600 grill, but the clearance sale had it down to $300 – not a bad deal at all. Gas grills, as anyone who has ever shopped for one knows, range in price from about $200 up to roughly infinity. Seriously. Want to spend $10,000 on a new gas grill? Someone can make it happen. In the more pedestrian universe I inhabit, Home Depot and Lowe's max their floor models out at around $1500, usually in the form of a top-of-the-line Weber. For me, the Kenmore's $300 price tag left some room to get a cover and a new propane tank.
After getting my new grill home in February, I naturally didn't have much of a chance to use it right away. After a week or two, a nice day began to pop up here and there, and I would sneak out to fire up the grill and cook a chicken breast or two. My disillusion started almost immediately. It appeared I may have gotten a lemon. Sure enough, as a few more weeks passed, issues began to arise. One of the burners wouldn't light on a regular basis, the hood began to warp, and the stainless steel handle began to bend. Now, Kenmore is a long-standing brand with a great reputation – I own other Kenmore products that have served me well for years – but this particular grill must have either endured some abuse on the showroom floor, or was indeed simply a lemon. Regardless, I wasn't getting stuck with it. Sears graciously accepted my return of the used grill based on the defects I experienced, and I was back on the hunt for my new outdoor cooking companion. At this point, ten years into gas grilling and fresh off a disappointing gas grill experience, I was more open-minded than I had been earlier.
As I began my research again, I began to notice that many of the my most-revered names in grilling (there are many, but I read some pieces specifically from Alton Brown, Bobby Flay, and Steven Raichlen) were actively propagating the benefits of charcoal grilling over gas. This is not a new argument, but it's one I hadn't been paying attention to up to now. While I will readily agree that charcoal-grilled food tastes better than gas-grilled food, my primary concern was time-related. I don't generally have 45 minutes to wait around for the charcoal to heat up. Mr. Flay had the answer to that – Weber's Rapidfire charcoal chimney. Again, not new information, but new to me! The Rapidfire will literally have charcoal ready to cook on in 10-20 minutes. Sold.
Oh, did I mention price? My $600 Kenmore, even at full price, was at the low end of the gas grilling price spectrum. Realistically, to get something with solid, quality stainless construction and features to match, you're looking at $1000. While charcoal grills can get spendy as well, it's much harder to get there. The most expensive, highest-end commonly available charcoal grill is the Weber One-Touch Gold, at $149. That's for the 22.5 inch kettle – the 26.5 inch one is huge and double the price, but the 22.5 inch has plenty of grilling space. Side by side whole chickens? No problem. Again, sold.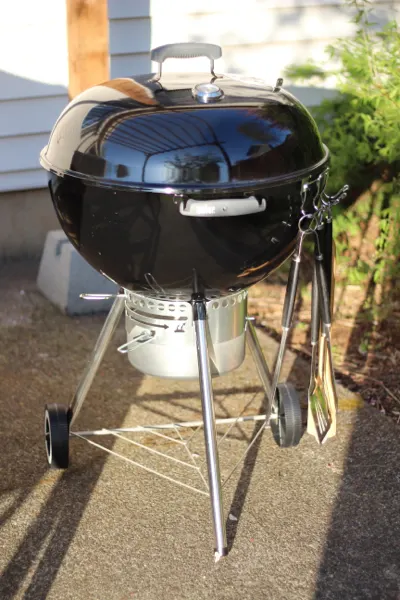 So, I took my refund from the Kenmore and picked up the Weber grill, grilling mits, a very manly black and red Weber apron, a grill cover, an accessory holder, 40 pounds of Kingsford charcoal, the Rapidfire chimney, a bamboo grill brush, and some Firestarter cubes (no lighter fluid on my charcoal, thank you very much), and still had money left over. You can bet I was feeling good about this decision at that point! I felt even better when I opened up my new copy of Bobby Flay's Barbecue Addiction cookbook (thanks, Chels!) and discovered that the One-Touch Gold is his grill of choice as well!
At this point, I've had the Weber for about a month, and I'm loving it. The Rapidfire chimney works exactly as advertised, the kettle is easier to keep clean than any gas grill I've ever worked with, the build quality of the grill itself lives up to its legendary reputation, and, most of all, the food tastes amazing. The weather's been good for a bit, and we've probably made ten or twelve meals on the grill – chicken, Hebrew Nationals, beef burgers, turkey burgers, steak, peppers, chiles, pizza, skewers, and even mangos. Look for some of those to start showing up on the blog in the coming weeks.
Bottom line? I would encourage anyone asking to make the switch. You'll need a few accessories to make it work from a time standpoint, but with the money you'll save over a comparable gas grill, you won't have any trouble affording them. Also, I hate to admit it, but I think I could end up with a bit of the same affinity for Weber products that I currently have for Apple's…what can I say? I like a quality name brand. (insert appropriate emoticon here)