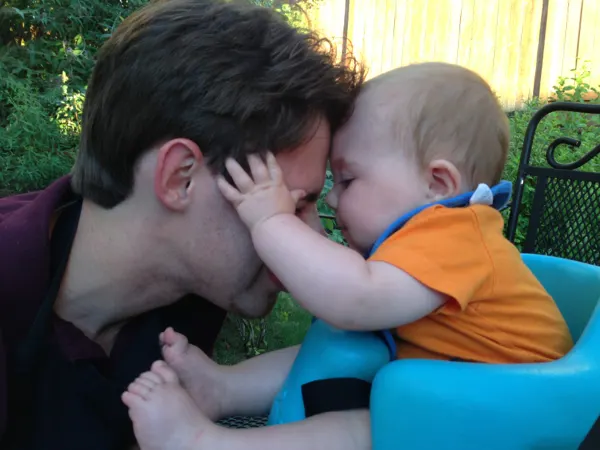 1. I just love this picture. Christian loves his daddy so so much. Asks for him all the time, and knows when his daddy is supposed to be home and starts asking for him then, too! I just love this!

2. Last week, I had two sick kids. I hate weird viruses!
3. Grace went to Apple Camp last week. She learned how to use garage band and make her own music. Shoot her own video, cut and edit the video and add the music in. It turned out pretty cute I think!
4. I found this strawberry brioche bread & butter pudding on pinterest today and not only am I completely in love with this picture but I need to make this! Like, this second!
5. Today, the girls are starting their Sunriver fund. Since they get allowance, I figure saving some money and throwing it in a decorated jar will make saving fun and it gives them something to look forward too.
6. Have you tried Tillamook Ice Cream's Fireside S'more flavor? OMG- So good! Go grab yourself a container of that and I just dare you to try and stay out of it.
7. I like to stockpile pantry ingredients when they are on sale. For example, during the fall and winter months, mayo doesn't go on sale as much as when it's spring and summer. So I've stockpiled a few containers of those away. Sunday, when I went grocery shopping, pasta was on sale. I grabbed four boxes for $1.51! I even had little notes written on the coupons on which pastas I already have a lot of and not to buy anymore of, ha!
8. I've decided not to buy anymore summer clothes. I'm already stocking up on my fall wardrobe. My American Eagle order should be here any day now! :)
9. I don't know about you, but Fall is starting to show its face here. I'm beginning to find leaves on the grass that the trees are shedding. I can't believe it!
10. I saw this Meme on Pinterest this morning. I laughed because it is so so true!