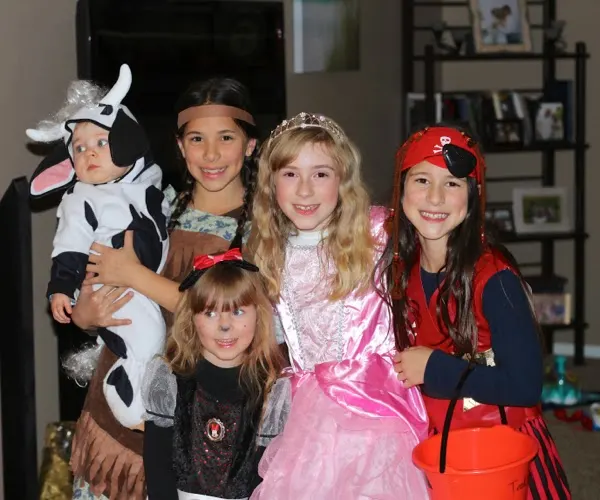 1. Last Thursday was Halloween!!! Our kids love hitting the streets with their best friends, Teah (the pirate), Emma (the Indian), and Malia (not pictured). Teah is just about 9 months older than Grace. Seriously! Her mom was pregnant and about to give birth when Josh and I got married. I got pregnant on our honeymoon and BAM, 9 months later…HELLO, GRACE! They were destined to be best friends.
2. Ever since I heard that Nicole Kidman was portraying Grace Kelly in Grace of Monoco, I knew I had to see it. Nicole Kidman is perfect for the role and Grace Kelly is like one of my all-time favorite actresses. You need to watch the trailer if you haven't already. P.S. I love Grace Kelly so much, that's where Grace got her name.
3. For the record, my husband is pretty much a saint. He doesn't do many things that irritate or grate on me. He picks up his clothes off the floor, doesn't leave the toilet seat up, cleans up most of the little hairs on sink after he shaves…but the one thing he does not do is put the silverware in the dishwasher correctly. He is always sticking the head of the spoons, knives, and forks face first into the dishwasher, leaving them dirty and spotty. I've talked to him about this. I've even joked with his mother about it, and she can't believe he does that either. It's a pet peeve. I'll break him of it soon.
4. Speaking of Josh, he's been sick since Saturday morning. Here's where he and I differ. When he is sick, he doesn't let it stop him from doing things around the house. He likes it when I rub his neck or give him hugs. He is helpful, gets up with the baby, etc. Me? Leave me alone. I want to sit on the couch or in my bed. I want to be waited on hand and foot, and don't even think about touching me unless it is to rub my head. The difference between us is it is still all about what he can do to make other people happy and for me, sadly, but truthfully, it is what can you do to make me happy! LOL!
5. I'm doing a 30 days of gratitude photo challenge on Instagram right now. If you aren't already following me, you should and join in on the challenge too! #gratitudechallenge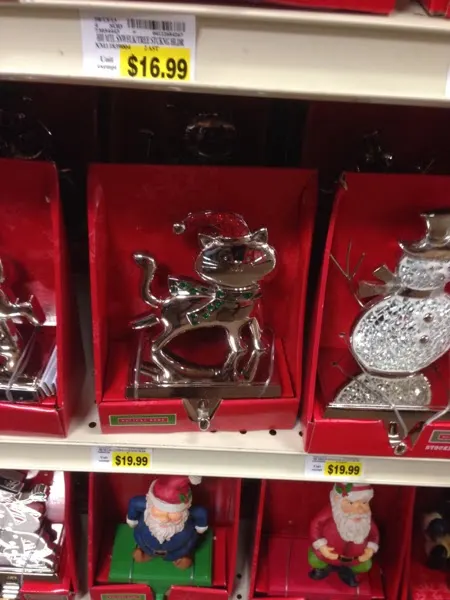 6. I saw this cat stocking holder in the Christmas section of our grocery store and I want it so bad! We need to get a new stocking holder for Christian, but our collection is of deer, not cats :(
7. We watched Monster's University and The Croods over the weekend. So cute! I enjoyed Monster's University more and I didn't want to see The Croods at all. But it was pretty good. Emma Stone has a great voice for animation!
8. My Sister. In. Love. was here in town weekend before last and gave me a sourdough starter to play with. I'm going to feed it for the first time tonight. How many of you have experience with sourdough starters and recipes you can use with it. I would love it if you would share some of your favorite tips or recipes with me in the comment section!
9. I think this bread pudding looks amazing!
10. What's your favorite Thanksgiving pie?