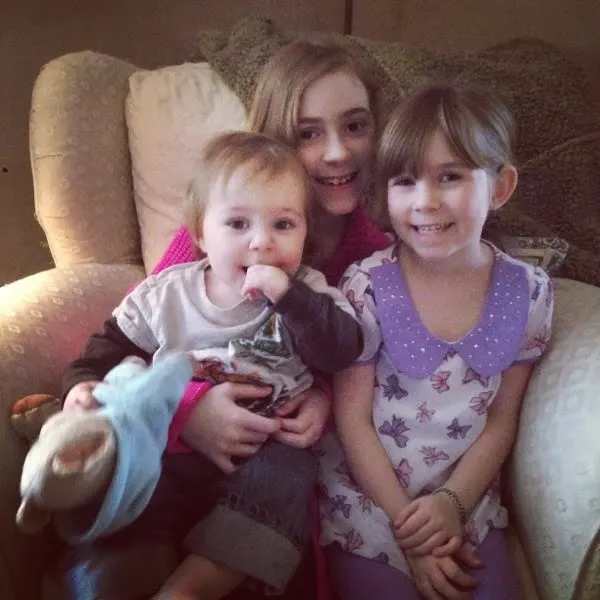 1. My funny little Valentines. I love this picture! They are ALL looking at the camera, they all have beautiful smiles! These are the moments we as mom's live for, haha! Just kidding. Actually, this is the first picture I've had of the 3 of them in awhile. It's now the lock screen picture on my phone.
2. I love weekends that have holidays on a Monday. It makes the week so much shorter and better.
3. Downton Abbey Season 4:episode 7- I liked this episode, but I didn't love it. I think it's kind of cute that Violet is trying to set up Isobelle with quite a dashing older gentleman. I think it's rather sweet. I'm glad Edith confided in Violet. Robert is back, yay! Tom is such a gentleman. He's come quite a long ways since Sybil died. Anna confided in Mary-thank goodness!!! And Mr. Green is DEAD! (BOM…BOM…BOM!!!!!) Do I think Bates did it? Heck Ya! He had honorable motive. Is that a thing? Honorable motive?? Anyways, Greens out and now Anna has a whole new set of worries. What do we say about Rose and Mr. Ross. I like the guy. He's a sweetie. But, it would be quite the scandal if those two went public. But let's face it, Downton is all about scandal!
4. It has been raining cats and dogs over here. All the little rivers in our town and ponds by our house are so high…between the melted snow and all the rain, we have a flood warning for our area. Is it bad that I think if a little, itty bitty flood were to happen that it would be kind of exciting?
5. Last week at Awana, one of Grace's friends was wearing like the cutest outfit ever. Dark skinny jeans, riding boots that made me envious, and the most darling little peplum sweater. Anyways, Grace has a pair of really cute boots, but she can only wear them with leggings or tights. I've been wanting to get her into a pair of skinny jeans for awhile, but she has always really hated them. She really just does not like tight things on her ankles. So I took her to Ross yesterday to look at new flats for her (which we didn't find) and to try on a pair of skinny jeans. I grabbed her a couple of pairs and this really cute top to try it on with and she ended up falling in love with these kids Jessica Simpson brand skinny jeans. They are a really dark blue, very nice stretchy material of jeans and the top with them…it was just the most darling outfit ever! Most importantly, Grace was in love with it! So she bought the jeans and the shirt for such a good price. Now to find her some ballet flats she likes. All of the flats she tries on either squish her toes or slip on the heels. The heels is the easy fix, but the squished toes is just no good.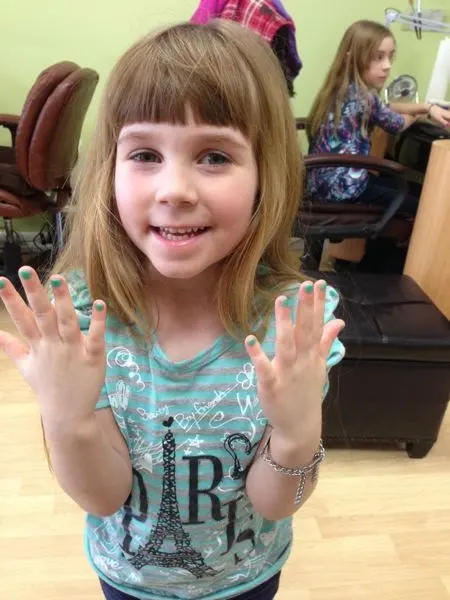 6. I never get my nails done, but my in.loves got me a mani-pedi gift certificate for my bday back in December, so I decided to cash it in on Sunday, so my nails would look nice for my Valentine's Date with my hubby. Josh and I decided to get the girls their nails done too for their Valentine's Day gift. They LOVED it! I knew they would. It was so much fun to do with them and they love their colors!
7. I think I'm ready for spring.
8. St. Patrick's Day is quickly approaching. Anything you would like to see me make? I'm starting a list now!
9. My Cat!!! I love her to death, but the thing likes to chew. We've discovered she's been chewing on our laptop charger again! We've already replaced it once. I'll be conserving the battery life on my computer today.
10. I'm in the process of switching all of my foodie emails to my catz email address. That's a lot of resubscribing and and unsubscribing. But hopefully, it will make my email a bit more organized.
Okay, signing off to preserve my laptop battery. Gah! Cat!