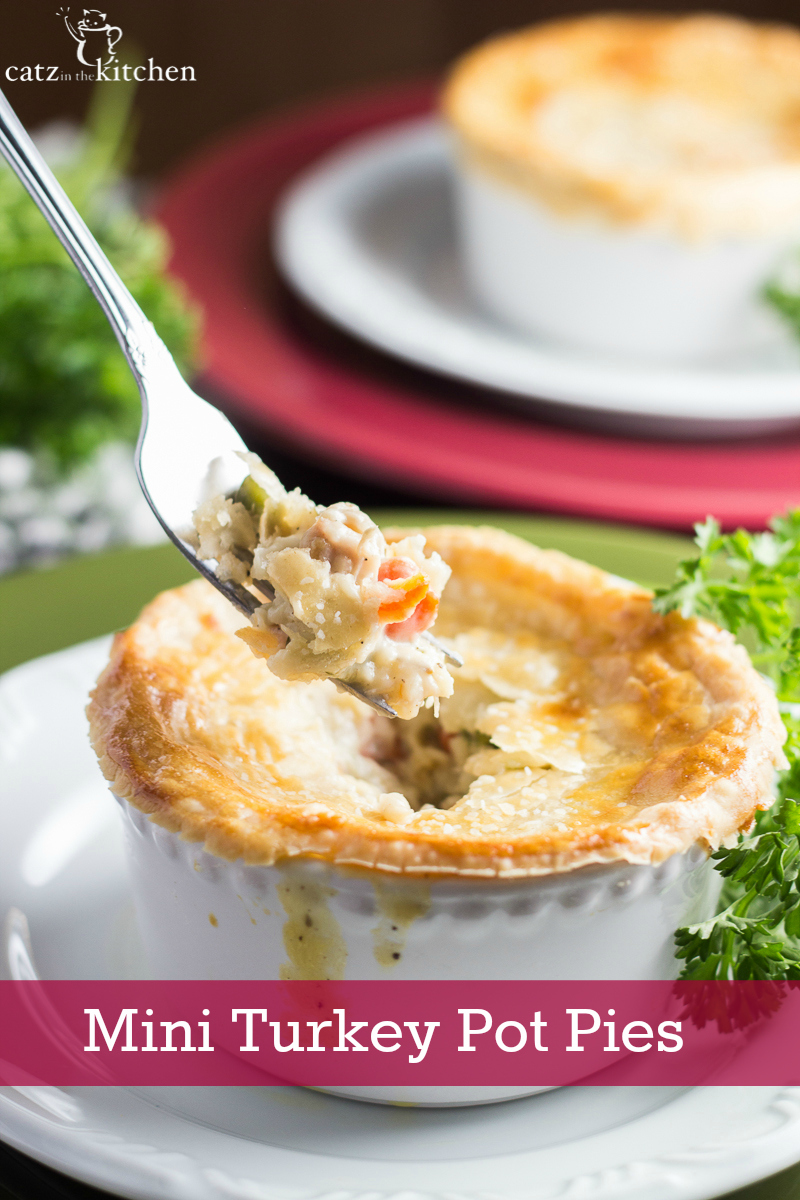 This post was originally published in January of 2012. We've re-photographed it and re-published it from the archives for you to enjoy with your leftovers from this Thanksgiving!
On Christmas Eve, Josh and I brined a turkey, and it was the most amazing turkey I have ever tasted. I was thrilled when we had turkey meat leftovers – and I knew just wanted I wanted to make with them. A Turkey Pot Pie, but not just any pot pie – a pot pie made in my cute ramekins. Ramekins are such an incredibly smart invention. So cute and tiny – but full of power. Power to create meals that will have you oohing and awing as if it were a newborn baby! Okay, maybe that's a bit extreme…but, if we're being honest here…the oohing and awing was exactly what I did when my little minis popped out of the oven! Yes, I'm ridiculous!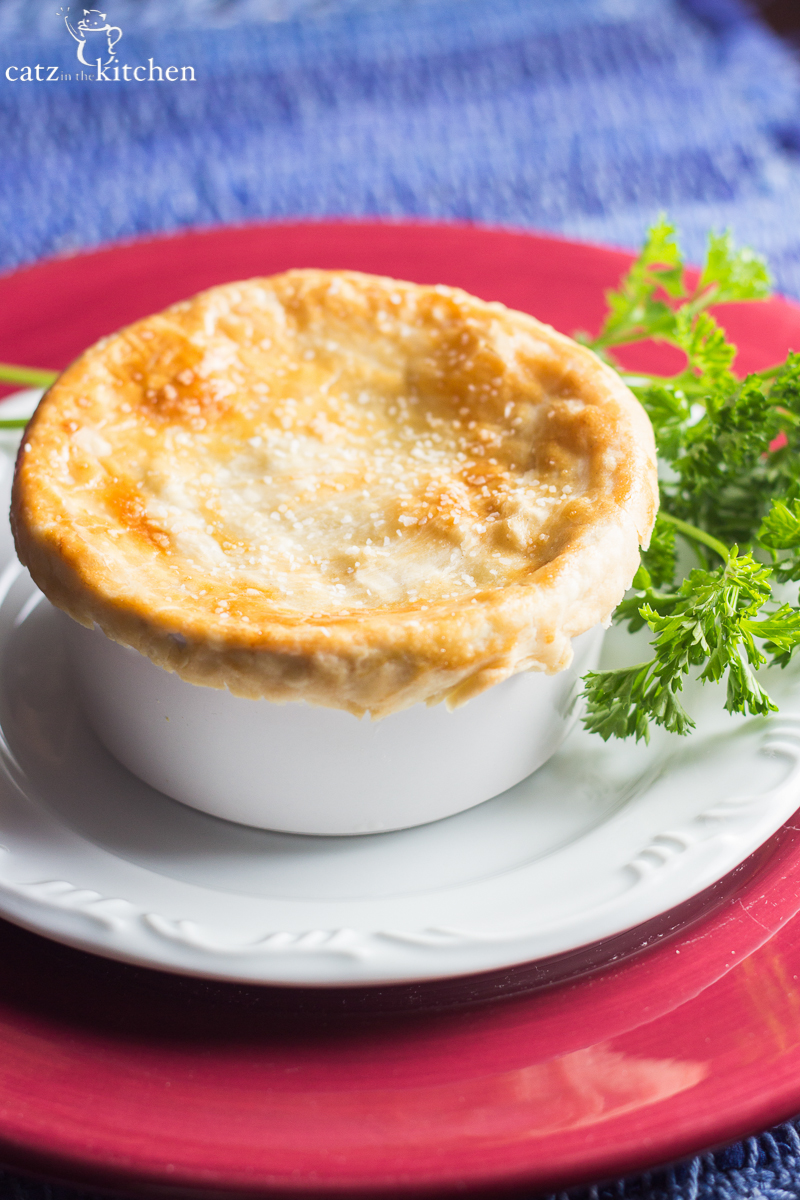 Do you see how cute that little bundle of joy is. Do you see??
Pot pies are one of my husband's favorite meals. Also one of my dad's favorite meals! I remember eating the frozen kind and not caring too much for them as a little kid. But there is nothing frozen or pre-made about this pot pie (except for the crust…because I was lazy…).
If you are short on time, because this meal is a bit involved, buying the pre-made crusts in the store isn't a big deal. In fact, we've used the Pillsbury pie crusts…and they're pretty dang tasty!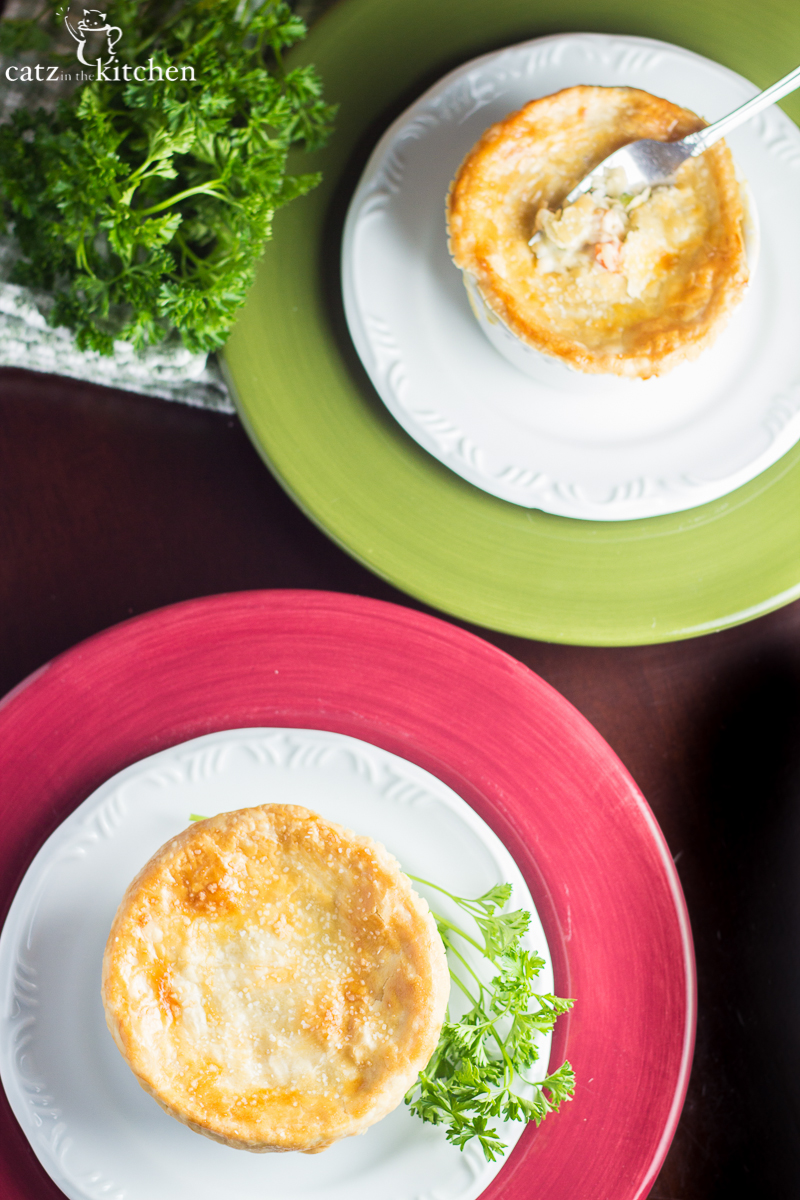 If you haven't yet played with ramekins, I highly suggest you do. You can do so many things with them. I found all of mine at Ross for super cheap and they are AWESOME! For this recipe, you'll be cutting out 12 dough circles. Six of the circles go inside the ramekins and the other six go on top of the food-filled little dish. But for the six that go on top, I would find a bowl slightly larger than the ramekin because otherwise I think the circles are too small to successfully cover the pot pie filling. I used my larger ramekins for the tops and they were perfect.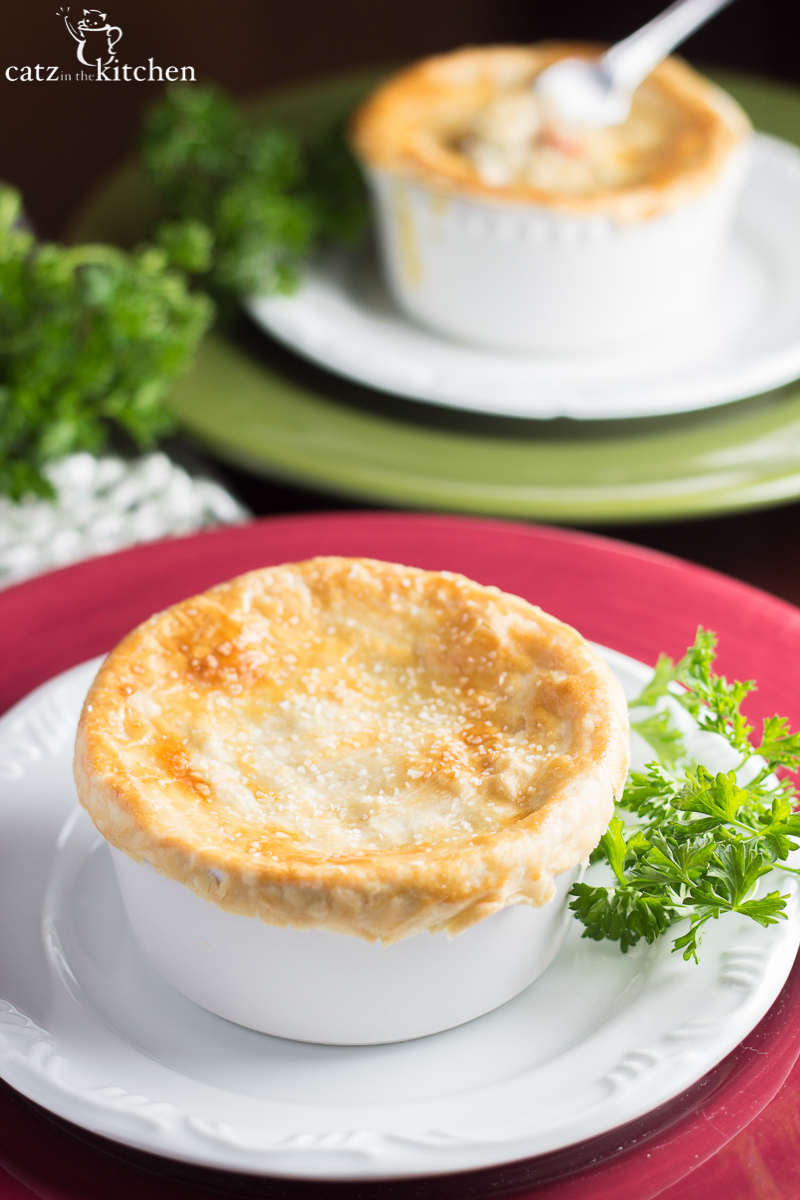 You could easily opt the turkey out for chicken, too, and it would still be delicious. Anything is delicious in a mini pot pie – I mean, let's be honest here!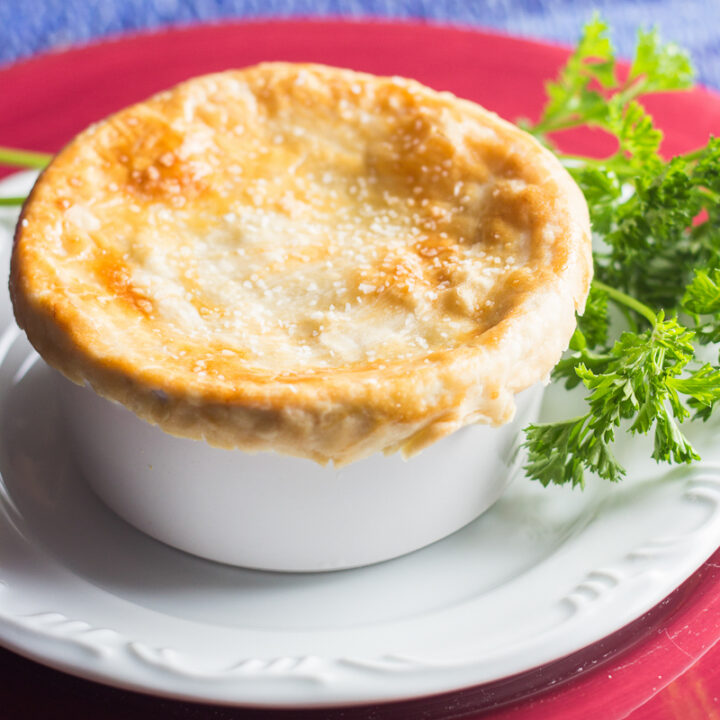 Mini Turkey Pot Pies
Total Time:
1 hour
10 minutes
These mini pot pies hit all the right notes - they use up Thanksgiving leftovers, they're super cute, they stay hot forever...and they're seriously yummy.
Ingredients
3-4 cups cooked turkey breast, cut into cubes
2 sheets of pie crust
4 tbsp unsalted butter
1 medium yellow onion, diced
2 celery stalks, thinly diced
3 carrots, cleaned & skinned, thinly diced
1/2 cup all purpose flour
1 1/2 cups milk
1 cup chicken stock
1 tsp dried thyme
1/4 cup dry sherry
1/2 cup frozen green peas
1 tbsp fresh flat leaf parsley, finely chopped
salt and pepper to taste
1 egg, beaten for brushing on top of pie crust
kosher salt
Instructions
Pre-heat oven to 400 degrees.
Gently roll out pie crust and lightly flour them. Take a ramekin and press into the dough, gently cutting into it. Repeat this process with sheets of pie dough until you have 12 pie dough circles for your 6 ramekins. Lightly butter the inside of the ramekins and take a pie dough circle and place inside the ramekin, pressing to form the shape of the ramekin. Reserve the remaining six pie dough circles.
Place the ramekins on a baking sheet and place in the oven for 8 minutes. Remove them after the 8 minutes and allow to cool.
For the filling, add butter to a large pot and slowly melt it. Add in your onions, celery, and carrots and allow to cook for 10 minutes, stirring on occasion. Add in your flour, and stir for another couple of minutes. Whisk in your milk and continue to whisk until smooth. Stir in the chicken stock and sherry. Bring to a low heat and cook down for another 10 minutes. The sauce will begin to thicken at this point. Then stir in the thyme, parsley, peas, turkey, and salt & pepper. You need to taste it after you season it until it's seasoned the way you want it.
Fill each ramekin to the top with the turkey mixture and top each ramekin with the larger pie dough circle. Seal the top of the pie dough by pinching down the edges. Brush the beaten egg onto the top of each ramekin and sprinkle with kosher salt.
Place the ramekins back in the oven for 25-30 minutes, or until they are golden brown.
Plate and dinner is served!
Nutrition Information:
Yield:

6
Serving Size:

1
Amount Per Serving:
Calories:

985
Total Fat:

38g
Saturated Fat:

15g
Trans Fat:

0g
Unsaturated Fat:

20g
Cholesterol:

273mg
Sodium:

961mg
Carbohydrates:

63g
Fiber:

5g
Sugar:

7g
Protein:

93g
Nutrition information isn't always accurate.