Special occasion, holiday dinner, family get together? Keep it low stress without sacrificing the wow factor with this slow cooker pot roast au jus recipe!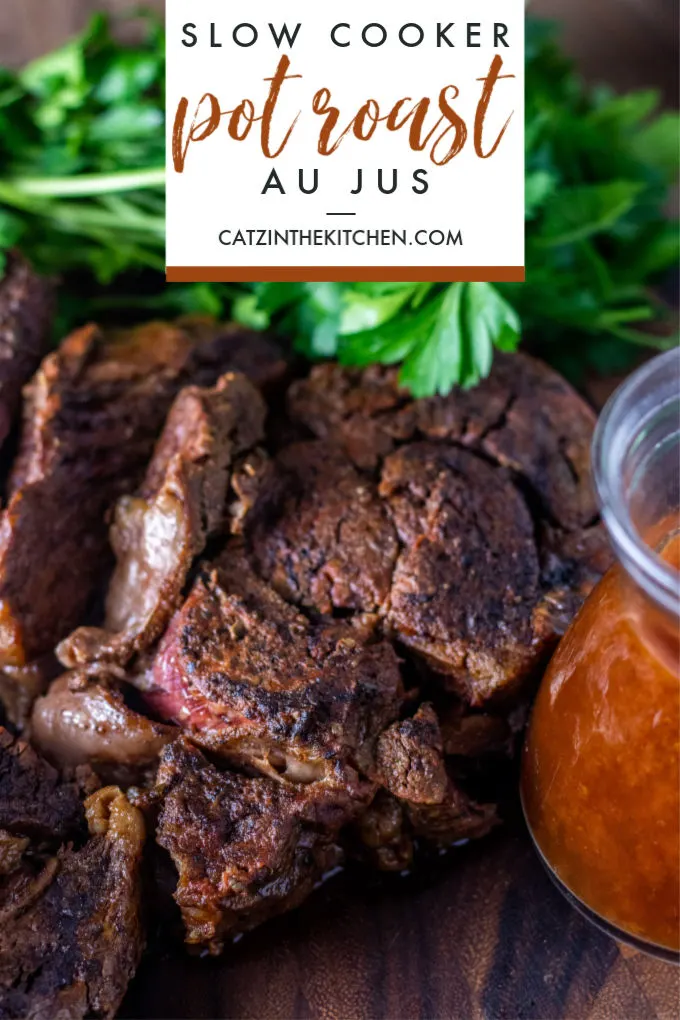 I can't remember one time in my childhood when my mom made a roast for dinner. Occasionally the exception was made for fast food like Taco Bell or McDonalds, but as a family, we just never cooked with red meat. We ate a lot of fish, chicken, and meatless meals – which was great! Honestly, this isn't complaining because my mom was and is a fantastic cook who rarely got a night off or help in the kitchen, so I commend her cooking the great food she did!
The first time I ever had a roast was when I spent Christmas with Josh's family. It was such a new experience for my taste buds and I loved it…I've been hooked ever since!
For me, a roast cooking in the slow cooker is total comfort food. The house begins to smell warm and cozy, the kids get excited when they know I'm serving it, it's relatively fuss free, and it's a great meal to have people over for. The meat just seems to stretch and stretch – and yet I never seem to have any leftovers!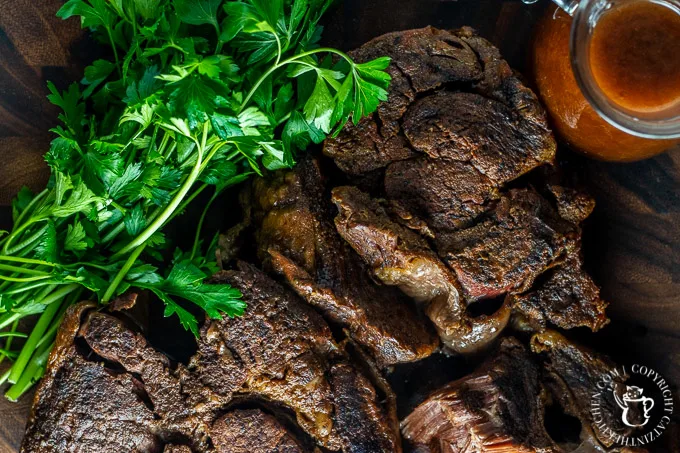 I have one slow cooker roast on my blog and it is super simple. I call it the "Busy Mom Dinner" and it's that one meal I can always count on if I'm in a rush because it only requires three ingredients and absolutely nothing else. Also, it comes out perfect every time!
This roast is another slow cooker wonder, though it requires a bit more prep than the other recipe because we're rubbing the meat with a simple spice mixture and then searing the roast in a pan to lock in that flavor (I recommend a cast iron skillet for the searing), but the flavor is a bit deeper and flavorful in this recipe.
Instead of three ingredients, we're up to eight, and instead of making a gravy, you have an au jus (French for "with juice") which is basically a brothy gravy that hasn't been thickened. In this case we're skimming off the fat and using the flavor of the drippings to create your brothy gravy. It is so, so simple to make – but if you're like me and absolutely hate skimming the fat off of liquid, I highly recommend you buy one of these "fat strainers" (such a terrible name for it) because it makes the job so, so easy!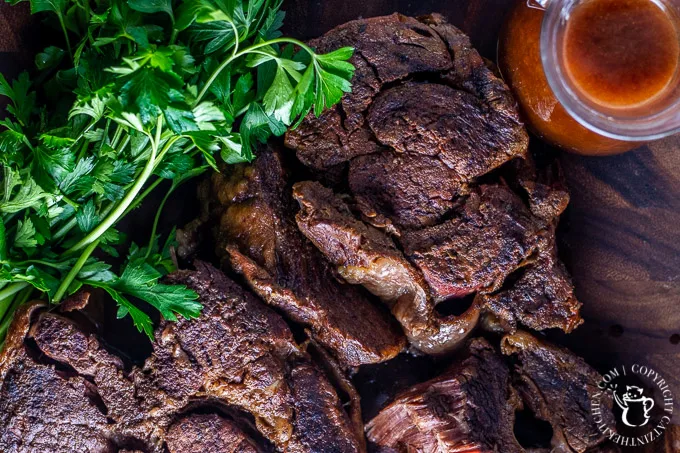 I keep a meal like this pretty simple. I'll serve it with a salad or roasted sweet potatoes or maybe I'll ask my oldest daughter, Grace, to make her rustic mashed potatoes – which are heavenly!
I've made this roast several times now and it is quickly becoming as much of a favorite as the Busy Mom Dinner roast. I recently served it for a bible study at our house and yeah, again, no leftovers.
Depending on how you like your Christmas dinners, you could always make a roast (this one, perhaps…) like Josh's family. Otherwise, you can make the Slow Cooker Chai Ham (also super easy, simple, and delicious).
Regardless of whichever way you choose to make your dinner, your Christmas evening will be more relaxed because your slow cooker is doing all the work, only requiring you to sit back and relax and enjoy your holiday!
Slow Cooker Pot Roast Au Jus
Total Time:
10 hours
15 minutes
Special occasion, holiday dinner, family get together? Keep it low stress without sacrificing the wow factor with this slow cooker pot roast au jus recipe!
Ingredients
4 lb boneless beef chuck roast
1 tbsp steak seasoning
2 tbsp olive oil
1/4 cup beef broth
1 cup black coffee
1 (8-oz.) can tomato sauce
4-5 tbsp Worcestershire sauce
1 tsp. dried oregano
*Optional: freshly chopped parsley for topping
Instructions
Rub roast with steak seasoning on both side. Heat oil in a large skillet (cast iron is best) over medium-high heat. Sear roast for about 5 minutes per side. Transfer to a slow cooker.
In a bowl or measuring whisk gently beef broth, coffee, tomato sauce, and worcestershire sauce, and oregano. Pour over roast.
Cook, covered for 6-10 hours on low or 3-5 hours on high, until meat is tender. Pour the drippings into a fat separator or skim off the fat using a spoon. Serve with potatoes and a salad, garnish with parsley if you like.
Notes
Recipe Source: AllRecipes.com
Nutrition Information:
Yield:

8
Serving Size:

1
Amount Per Serving:
Calories:

606
Total Fat:

38g
Saturated Fat:

15g
Trans Fat:

2g
Unsaturated Fat:

21g
Cholesterol:

188mg
Sodium:

871mg
Carbohydrates:

10g
Fiber:

0g
Sugar:

5g
Protein:

56g