Looking to bring middle eastern flavor to your bird, or brighten it up with a citrusy sauce? This elegant pomegranate molasses glazed turkey is a must-try!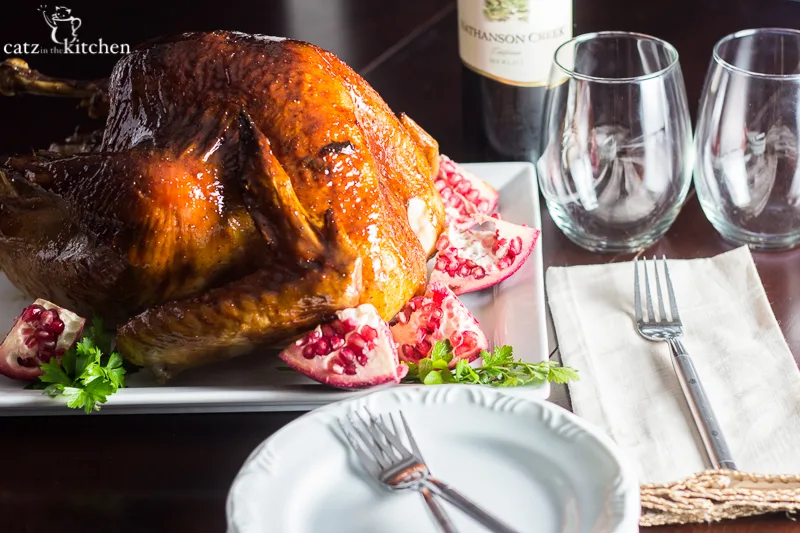 Thanksgiving turkey is something we have experimented with just a little bit. It's kind of scary. If you mess up an omelet, you're out two eggs and a bit of milk, and you start again, right? A pie is worse – some flour and a decent amount of work out the window. A steak is really the pits – all of that beautiful meat (and money) for nought! But a whole turkey…even when you get it for free because you exceeded your grocery budget so dramatically the store felt obligated to bless you with a bird, messing it up just feels like you dishonored the turkey's entire life, its very existence rendered meaningless by your culinary ineptitude.
That's heavy.
But enjoying food, and certainly writing a food blog, is about trying new things. Last year we wrote about why we had determined that brining was our favorite turkey preparation method, and that may still be true. But there's a whole world of turkey prep ideas out there, and it seems a shame to dismiss them all just because you found one you like!
Enter Bobby Flay and his delectable-sounding black pepper and pomegranate molasses turkey.
Actually, it sounds so good and looks so tasty it takes a minute to realize you have no idea what pomegranate molasses is, where to get it, what it tastes like, or why it even exists (I speak for myself – the rest of you may have a glass before bed each night, for all I know). Reinforcing our suspicions that this was no ordinary ingredient was the fact that it could not be found on the shelves of any of our local grocery stores. Rather than give up, though, we did what we always do, and turned to Amazon. Finding a product called "pomegranate molasses" turned out to be a bit challenging (there were quite a few, but we try to order only Prime-eligible items if we can help it, and that was proving difficult), but I eventually found one called "pomegranate sauce," which we figured we could reduce to molasses if necessary. When Al Wadi's Pomegranate Sauce
arrived a couple of days later (wrapped so well it took two of us to open it!), we were delighted to discover it actually was pomegranate molasses, and, wow, did it smell like something you wanted to slather a turkey in! Any doubts about the wisdom of this turkey preparation experiment quickly went out the door with the first whiff of that stuff. Maybe we should drink a glass before bed, after all. And bathe in it.
Anyway.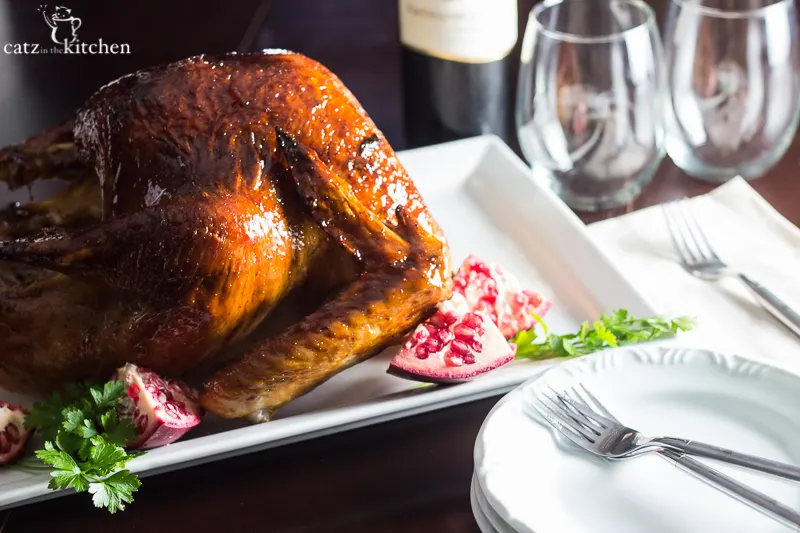 The bottom line with this turkey preparation method is that it's not so out there that you have to relearn everything you know about making a turkey, for Thanksgiving or just because. Most of the cooking and serving and what-have-you is par for the course. And the glaze? It's almost ridiculously easy to make. But the application of the glaze and the way it bakes into the turkey – well, that's what makes it special. Call it a bit of middle eastern flavor for your American holiday, or maybe just some citrusy cheer for your traditional bird – regardless, it brings something new, different, and really, really tasty to the dinner table.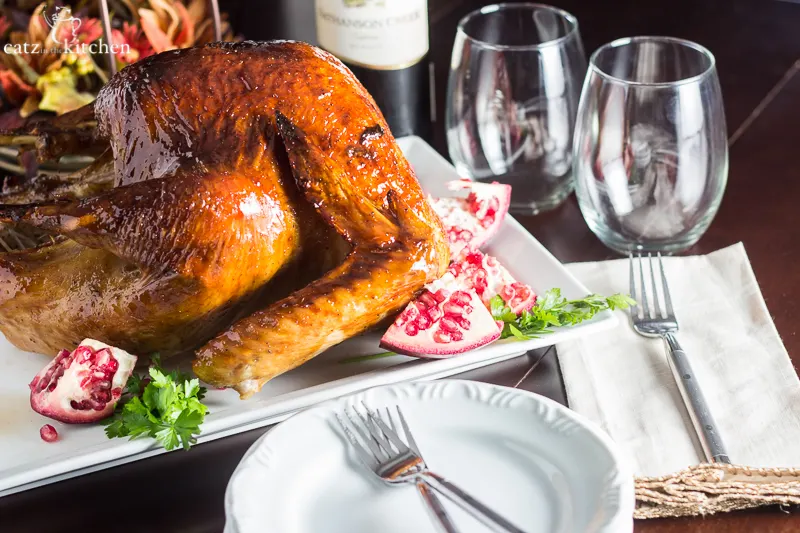 So, why no pictures of the turkey sliced and served? Simple answer to that one, I'm afraid: I'm a terrible bird carver. I need practice. Possibly tutoring. Or maybe just better hand-eye coordination. At any rate, my sliced and plated turkey is not a beautiful thing to behold, so I'll leave you with this lovely whole bird.
And the pomegranates. I can cut those.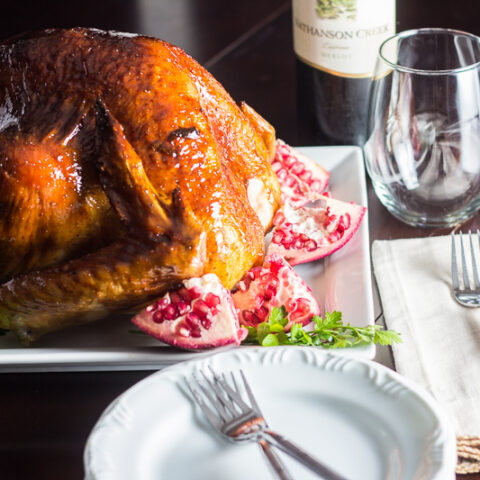 Pomegranate Molasses Glazed Turkey
Total Time:
2 hours
20 minutes
Whether you're looking to bring a little middle eastern flavor to your traditional bird, or just brighten things up with a beautiful citrusy sauce, this easy, elegant pomegranate molasses glazed turkey is a must-try!
Ingredients
Turkey
1 turkey (12-15 lb)
1/2 cup (1 stick) softened unsalted butter
salt and pepper
1-2 cups low sodium chicken broth
Glaze
3/4 cup horseradish
3 tbsp dijon mustard
1/2 tsp kosher salt
1 1/2 tsp black pepper
Instructions
Preheat oven to 450 degrees.
Remove gimlets from inside of turkey. Rinse turkey inside and out with cold water. Pat dry. Rub the entire surface of the turkey with butter. Season well inside and out with salt and pepper. Place breast-up on a rack in a roasting pan.
Cook for 45 minutes, and then reduce heat to 350 degrees.
While cooking, prepare the glaze in a medium bowl. Whisk together molasses, horseradish, mustard, salt, and pepper. Let sit at room temperature for about 30-45 minutes before using it, allowing the flavors to meld.
After reducing the oven's heat, begin basting the turkey every 15 minutes with the chicken stock, for about another hour.
For the last 15 minutes, baste the turkey with about 3/4 of the glaze, and allow to finish cooking, or until the thigh temperature reaches about 160 degrees.
Remove from the oven, baste with remaining glaze, and tent with foil, allowing turkey to rest before carving for about another 15 minutes.
Nutrition Information:
Yield:

12
Serving Size:

1
Amount Per Serving:
Calories:

107
Total Fat:

1g
Saturated Fat:

0g
Trans Fat:

0g
Unsaturated Fat:

1g
Cholesterol:

4mg
Sodium:

311mg
Carbohydrates:

24g
Fiber:

1g
Sugar:

22g
Protein:

2g