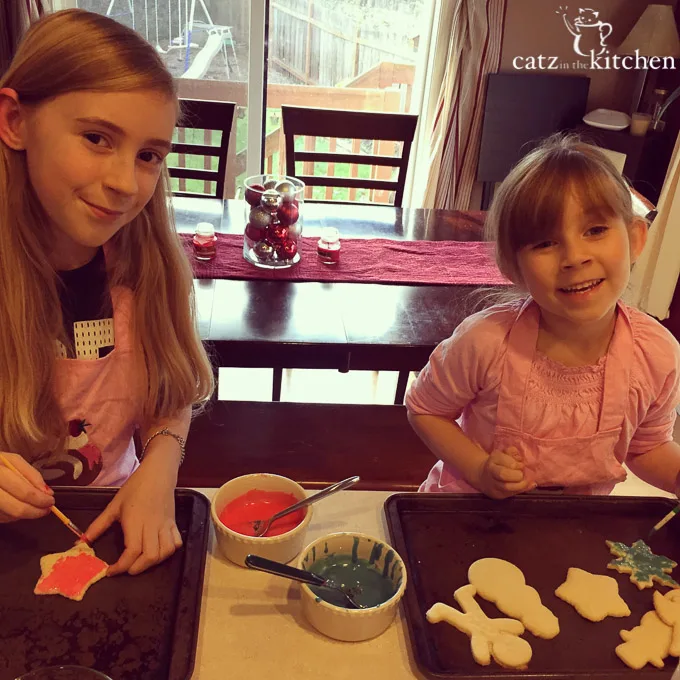 We (Chels and Josh) are each going to share five things for today's Tuesday's Tidings because…why not?
Chels' Five:
1. The girls and I made sugar cookies for Awana last week. I tried a brand new icing recipe and it was awesome! We used paintbrushes from a water color set so it took awhile to ice all of those cookies, but they sure were delicious.
2. This is our last week of school before Christmas break starts. We are ALL excited for a little holiday break.
3. Fake trees or Real trees. I'm a real tree person all the way.
4. Believe it or not (I still have a hard time believing it) my son does not like cake very much. But he does love cookies! So I made Picky Palate's Perfect M&M cookies and guess what, they were perfect and I'm passing the recipe onto everyone!
5. Have I told you about the most amazing pillows Josh ordered for us? He bought us really nice hotel pillows and it is like sleeping on a cloud every time I lay my head down. Getting up in the morning has become the hardest thing in the world now.
Josh's Five:
1. I know that by now, Straight No Chaser's Under the Influence Holiday Edition is undoubtedly old news, but it's one of my favorite Christmas albums. I also love The Nutcracker, but if you haven't heard their take on going to see this classic Christmas ballet, well…you need to.
2. Not to go all-videos-all-the-time on you, but this is actually incredible. Some supermarket in Germany planned this elaborate surprise for its customers, involving many of their employees – it's heartwarming. Guaranteed to give you a good healthy dose of the holiday spirit! :)
3. So, The Maze Runner comes out today. Did I miss something, or does this appear to be a really cool plot idea? I remember seeing the trailer way back when, but I just assumed it would be another teen movie fad flop (a la Divergent). Turns out it got good reviews and made a decent amount of money. I think we'll rent it, and I'm actually pretty stoked that it might be decent!
4. Speaking of movies, I continue to be irritated that there isn't a clean version of Love Actually available to purchase. It's a sweet, hilarious movie with tons of good acting, and about 103 scenes that need fast-forwarding. I think the reason I'm actually frustrated by that is two-fold: (a) the clean version exists – they show it on the ABC Family channel, etc – you just can't buy it, and (b) I want to share it with my family and kids, but that's a stressful "will I fast forward at the right times" experience. No thanks. Ah, well. I suppose there are sightly more important things to worry about…
5. Christian is hilarious. One of his favorite things to do right now? Scrunch up my face so my cheeks puff out, and then slam my cheeks with his hands so I blow all the air out. He laughs so hard he cries. And his laugh is the best. I have to get that on video!