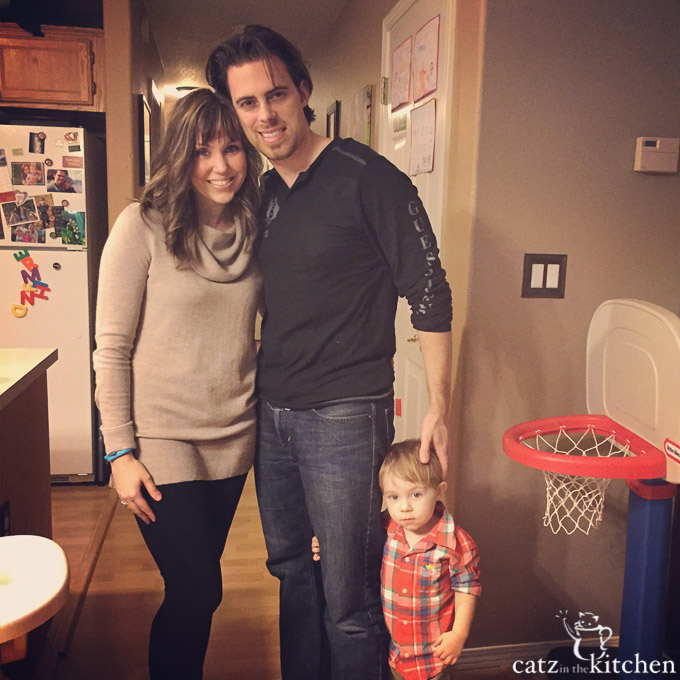 Hers
1. This month's Hospitality & Homemaking Class was rather small because most of our dear friends couldn't make it. So the four of us who were there chatted and ate and hung out. I'm so blessed to call these amazing godly women and the ones who were unable to make my friends!
2. I successfully managed to make Josh's favorite cake for his birthday and not ruin it. The first time I made it was a few years ago and I didn't have the right measurements for one of the ingredients and the frosting was very sweet. This time, it was perfect and tasted just like when his mom bakes it!
3. If you guys haven't checked out the killer sale at Loft, then you need to get there before it disappears. I honestly don't shop there unless it is a crazy sale and I've got some money to spend (I usually pick up my Loft items at Goodwill, Ha), but I couldn't pass up this sale. Josh and I browsed Saturday evening (yes, my husband went shopping for me on his birthday) and I got a gorgeous skirt, two sweaters, and a tank. All the stuff will work in spring too, so I'm thrilled.
4. I just finished reading "Redeeming Love" again by Francine Rivers. My sister-in-love, Jessica got it for me for my birthday and I was reminded of how much I love this book! It's kind of like the story of Hosea, but written around the Gold Rush. The leading male character, Michael, reminds me completely of my husband. If you haven't read it, I highly suggest you do!
5. I'm in love with this comforter set. I refuse to buy it until I have successfully talked Josh into buying me a king size bed though.
His
1. Well, it finally happened. I turned 30. Cool thing about birthdays, though – you get gifts (and cake). My awesome little ones picked me up a new Steven Curtis Chapman album (been an SCC fan since I was about 13), which I listened to all day in my car on Monday – that man can write.
2. Sort of a tie-in to the above, but being done with school means I can read again! Man, have I missed having the time to just read whatever I want. Finishing 41 right now, a gift from my lovely bride at Christmas, and moving on to a couple of birthday gifts next – Unbroken, which I am totally stoked about, and Killing Patton, which has been…forgive me…killing me with curiosity. The perennially never-finished book in my GoodReads? That would be The Making of the Atomic Bomb, which would be easier to understand if I were a theoretical physicist, but is still a fascinating book. I'll reach page 896 someday.
3. Chels and I had planned to do a traditional dinner and a movie date night on Saturday night for my birthday, but when the time came, I (a) didn't feel like making a reservation or waiting around for a table, or (b) sitting silently in a dark theater. So, instead, we just went out, without a real plan, hit some stores, browsed around, talked, and ended up eating appetizers together at the CPK bar. And you know what? It was perfect. Turns out time together was what we wanted…
4. Okay, obligatory movie trailer. THE NEW AVENGERS TRAILER IS OUT.

5. Lastly, because this is a food blog after all, we went to La Provence for my birthday breakfast (quickly becoming a tradition), and…wow. I'd never heard of Meurette Benedict before, but now I'll never forget it. Caramelized onions, candied bacon, and mushrooms, served on a croissant and topped with eggs poached in a burgundy reduction? I just…I don't even. Must try.