It's hearty, it's tasty, it's warm, it smells amazing, and it's really, really good for you. You are completely out of excuses for not making this black bean & lentil chili!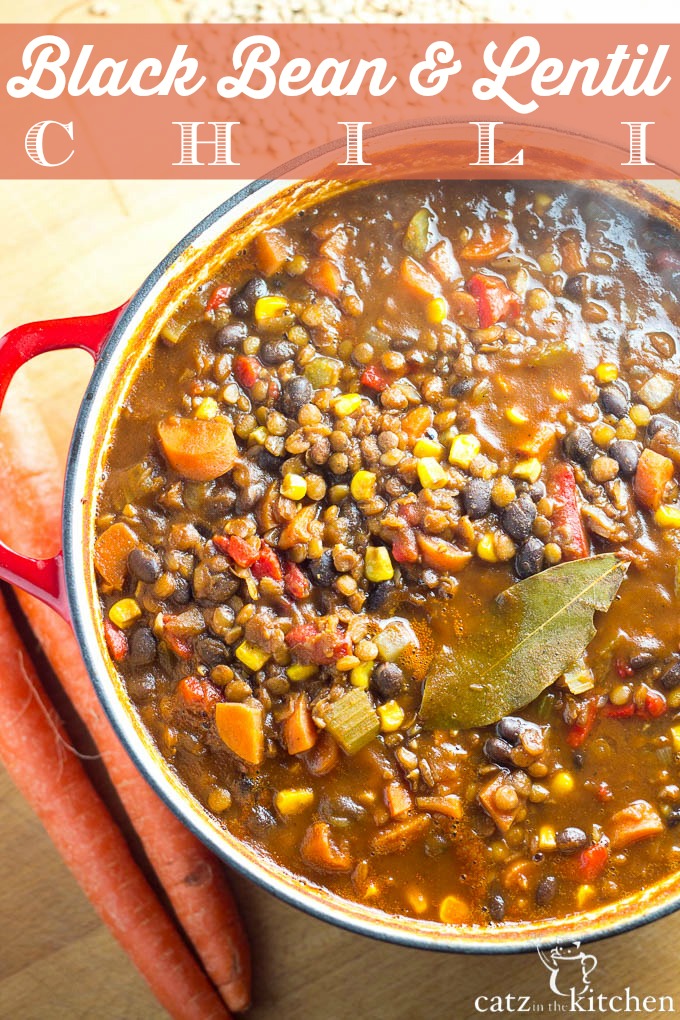 Shall we talk about chores for a few moment? I don't know about you, but I don't particularly enjoy them (though I do love being a homemaker). You tell me how many stay-at-home moms enjoy scrubbing bathroom toilets on their knees? I have yet to meet even one!
I do however enjoy the vacuuming, the sweeping (of course, if you know me, you know I'm an obsessive sweeper), the mopping, the dusting, and, of course, the laundry!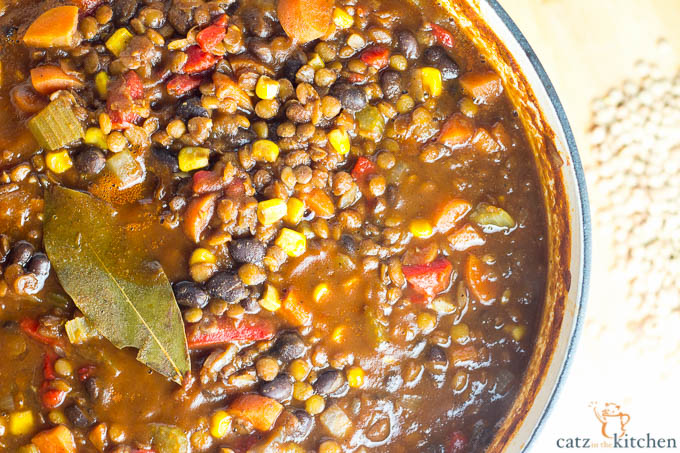 The laundry is my very favorite chore of all. While I can fold three loads of laundry in about 30 minutes, I tend to just take my time with it. I take a step back and retreat into my room for about half an hour and fold laundry. Sometimes, I'll watch a show to make the time pass. Other times I'll fold in silence, and just think.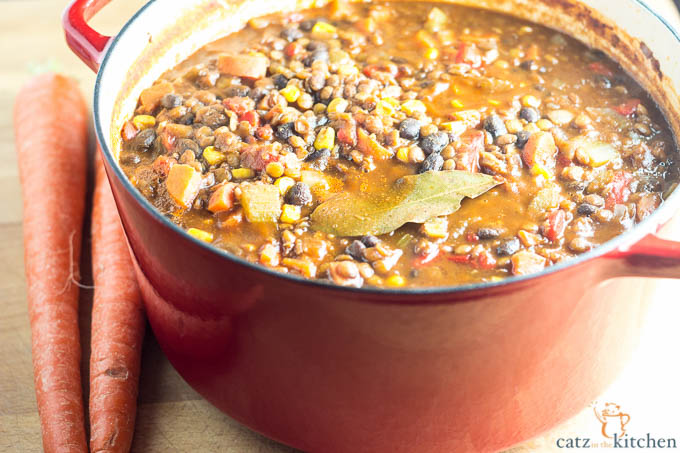 My mind just drifts to my mental "to-do" list, or conversations I've had, things I may have wished I had or hadn't said, the kids…the list goes on.
Do you ever do that. You know, get lost in thought?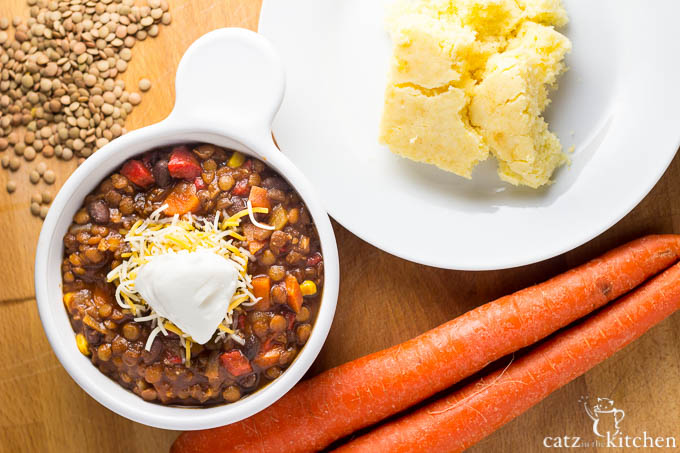 So when my dryer caught on fire last week (yes, I said fire. I promise it isn't as exciting or dramatic as it sounds), I was crushed because folding laundry is my favorite (is this bizarre?)! And then when we went to the store and discovered that not only did that dryer not fit in our SUV, but that it also couldn't be delivered until Wednesday of the following week (the dryer was delivered yesterday)! I had a mini meltdown. Silently, of course, because what sane woman freaks out over getting out of laundry duty? Me, that's who. Clearly, I have issues.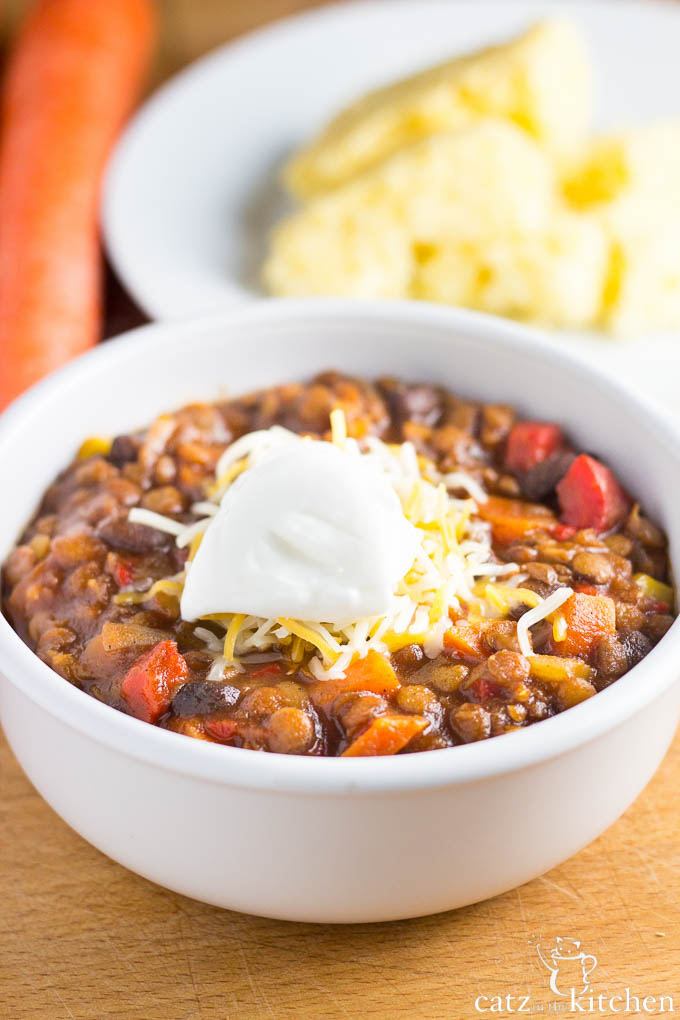 So there is my dryer story. My dryer is here now and I'm happily working on several loads of laundry and just as happy as a clam and as it turns out that little dryer story has absolutely nothing to do with this chili. But it's my blog and I can write what I want to. Haha!
It's cloudy and kind of chilly at times here…which is reminding me of fall and I think it is still completely acceptable to be posting chili recipes even though summer is like three weeks away. Do you agree? I happen to love any excuse to eat chili and cornbread.
Anyways, this chili is super yummy. Here's what I'm loving about it. First of all, it is extremely healthy. There is like nothing bad for you in this entire pot. It's also filling, because beans and lentils equals tons of filling fiber nutrients. And it's a one pot meal! I get requests for one pot meals a lot, and I don't make them often enough. So here ya go – I promise you are going to love this one.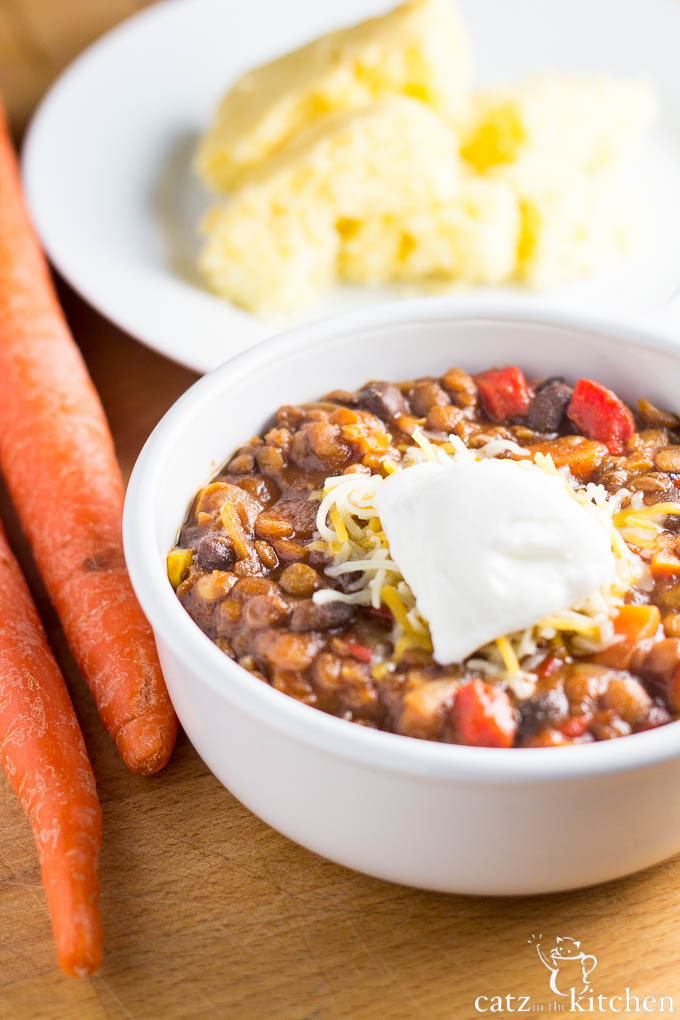 Black Bean & Lentil Chili
Total Time:
1 hour
5 minutes
It's hearty, it's tasty, it's warm, it smells amazing, and it's really, really good for you. You are completely out of excuses for not making this black bean & lentil chili!
Ingredients
3 tbsp extra virgin olive oil
1 large sweet onion, diced
2 stalks celery, diced
4 carrots, diced
4 cloves garlic, minced
2 tbsp chili powder
1 tsp allspice
1/2 tsp cumin
1 bay leaf
5-6 cups vegetable broth, low sodium
2 cups lentils, sorted and rinsed
28 ounce cans tomato sauce
28 ounce can black beans, drained and rinsed
1 cup frozen corn kernels
12 ounce jar roasted red peppers, drained and chopped
1-2 tsp hot sauce
1 tbsp honey
salt and pepper to taste
Instructions
In a large dutch oven over medium-high heat, add the olive oil and sweet onion, celery, and carrots. Sauté until the onions have softened. Add the garlic and continue cooking for one minute. Then add spices through the bay leaf. Cook for two minutes longer.
Add the broth, about 5 cups first. Then add the lentils and tomato sauce and raise the heat to high, bringing the broth to a boil. Once the broth is boiling, reduce the heat to medium-low and simmer for about 30 minutes to get lentils tender.
Add the black beans, red peppers, corn, hot sauce, and honey and continue to simmer for an additional 20 minutes. If the broth looks like it has reduced to much add the extra cup of broth. Serve with your favorite chili toppings.
Notes
Nutrition Information:
Yield:

8
Serving Size:

1
Amount Per Serving:
Calories:

397
Total Fat:

8g
Saturated Fat:

1g
Trans Fat:

0g
Unsaturated Fat:

6g
Cholesterol:

0mg
Sodium:

1558mg
Carbohydrates:

69g
Fiber:

18g
Sugar:

19g
Protein:

18g
Nutrition information isn't always accurate.