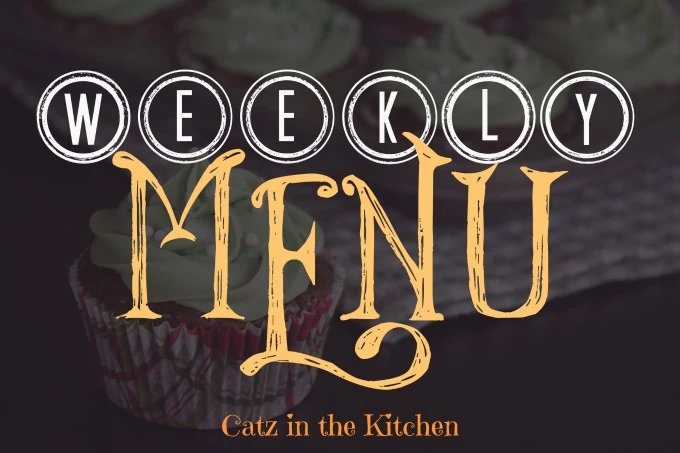 Hey guys! How was your weekend? Ours was busy! We have several family members in town so we're making sure we spend a lot of time with them because they all leave on Tuesday. Last night, we had our second party in our new house and it was so much fun. We decided to go grill baby back ribs, hot dogs, corn on the cob, and barbecue chicken. I think our stomaches were so full we barely had room for dessert! But there is always room for dessert…right?
For about two months now, I've been playing with the "new" weekly menu idea. I went from posting what my actual dinner menu was to just picking and choosing things on the blog to inspire you. I'm not very sure how many of you have found this helpful. But, I like to keep things real, and after a lot of thought and talking to Josh, we've (I've) decided to go back to my old way of posting – sharing my actual menu with you…including links.
The weekly menu is still a post I want to play with. In time, maybe providing a printable grocery list??? I'm not sure. But hang in there with me as I continue to figure out how I want this specific post to function. Here's this week's menu at my house!
Monday
Leftovers with family (our last night all together before everybody heads home)
Tuesday
Three Bean Tacos with a Side Salad
(We love this meatless taco meal. It always fills us up.)
Wednesday
Skinny 3 Cheese Penne with Balsamic Roasted Brussel Sprouts
(I've made this before for my family and it's delicious)
Thursday
Skinny Honey Lemon Chicken with Quinoa and Salad
Friday
Dinner out – Josh and I have tickets to see Phantom of the Opera!
Saturday
Coffee-Rubbed Blue Cheese Burgers with Sweet Potato Fries
(I don't have a link for this burger recipe because Josh and I are recipe-testing it out)
Sunday
Fried Egg Sandwiches and Smoothies