It's easy to multitask while putting this delicious & healthy recipe for red chicken enchiladas on the table! Sub in a rotisserie chicken & make it even easier!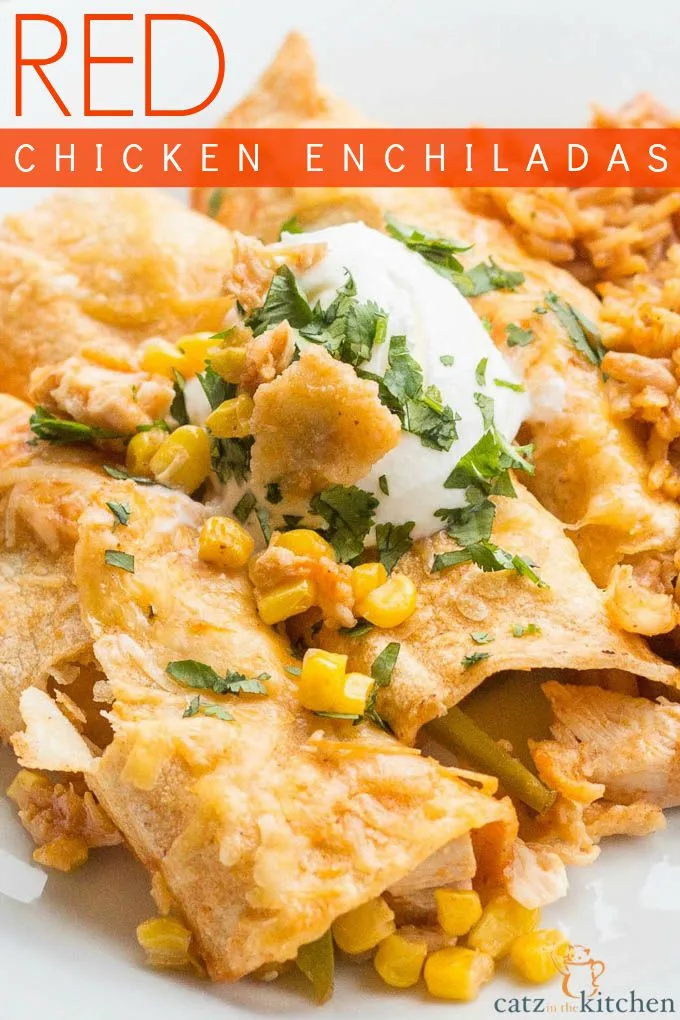 I'm having one of those weeks. You know, the week that seems to zoom by and you've got a million things to get done and but you're so overloaded that there aren't enough hours in a day to get it all done? You know what I'm talking about?
I have my week completely planned out by the day and all the tasks that need to be done on each day. I was doing well until last night when I realized some of the projects I had hoped to have finished haven't gotten finished. In fact, somehow, I've fallen behind.
How did that happen?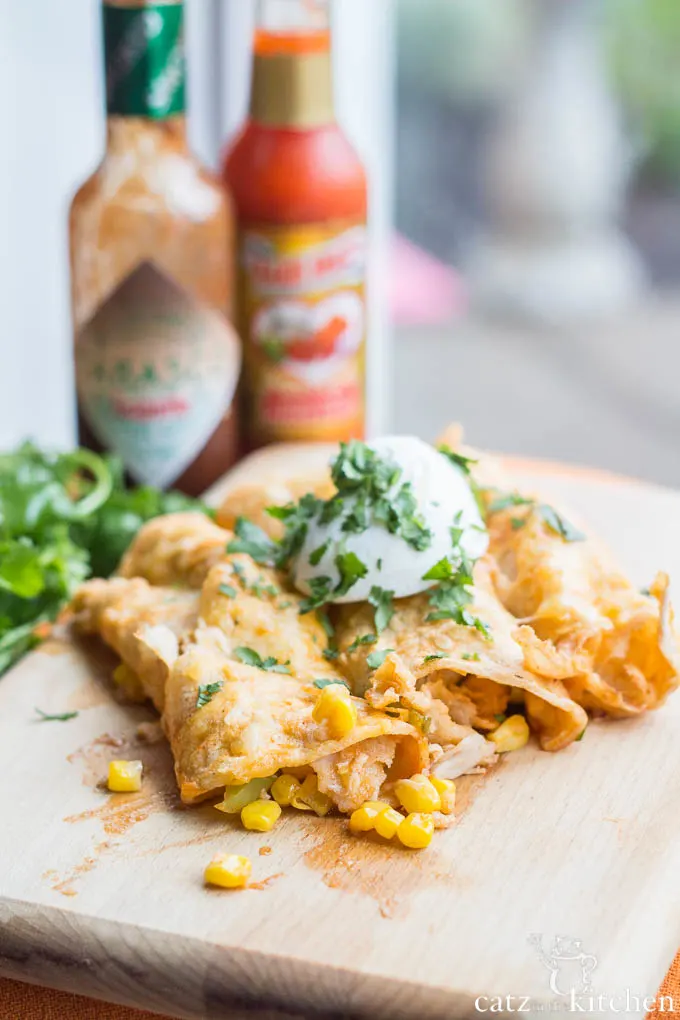 Mondays usually get the better of me, but this Monday, I showed it who was boss and ruled the day; it helps that I was home all day. And then I was gone most of the next two days – all for really wonderful reasons that I'm glad I got to be a part of, but my To-Do list has now grown with the things I didn't get done and new things that got added to it.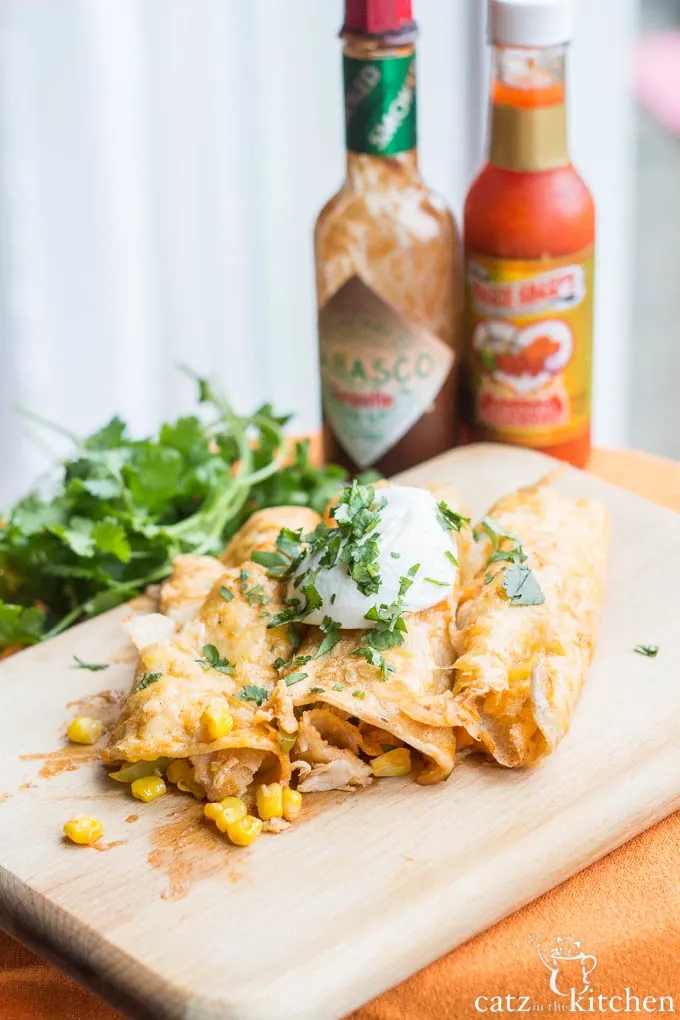 But, hey. I'm a mom! We're supposedly queens of multi-tasking and I'm going to get everything done, because that's what moms do. Or it will be as soon as I pull myself up out of my corner of solitude and find my big girl pants.
Things that make a Queen's multi-tasking job easier are easy and "healthier" dinners like these Red Chicken Enchiladas. And you all know how I love an enchilada…I just can't say "no" to those suckers! I simplified this recipe even more by using cooked rotisserie chicken instead of roasting it and I would do it again!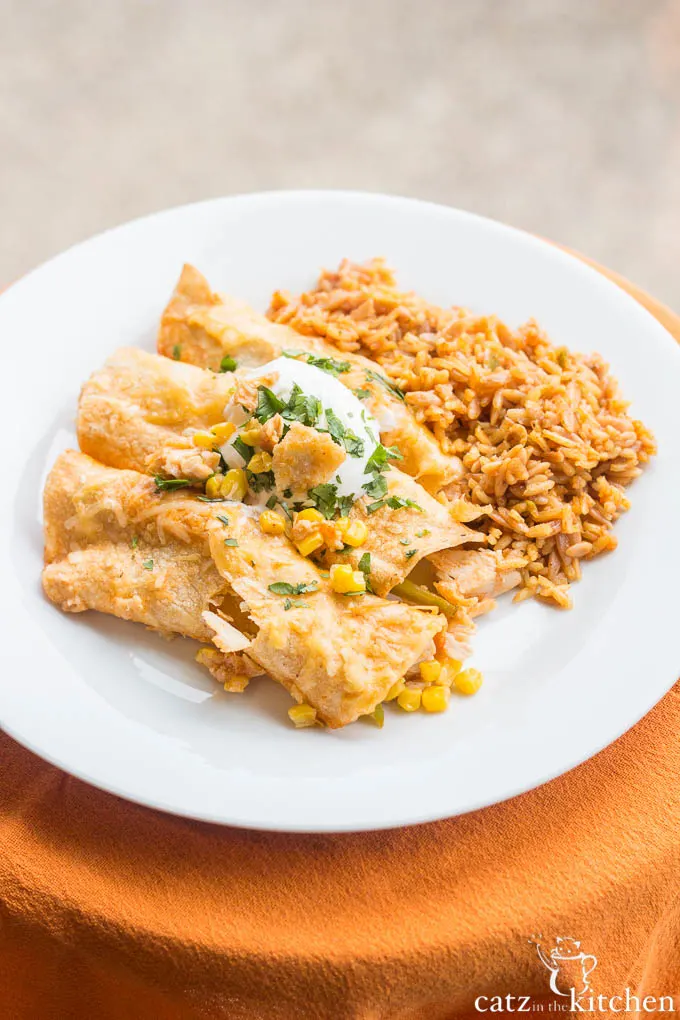 I love the flavor of these enchiladas. The corn and bell pepper provide a great "pop of bite" and the flavor of the enchilada sauce is just so yummy, I could drink it. But I won't. But I could! (Name that movie!)
So if you are in the multi-tasking mood and are needing to get dinner on the table, make these Red Chicken Enchiladas. Easy to make and super delicious to eat.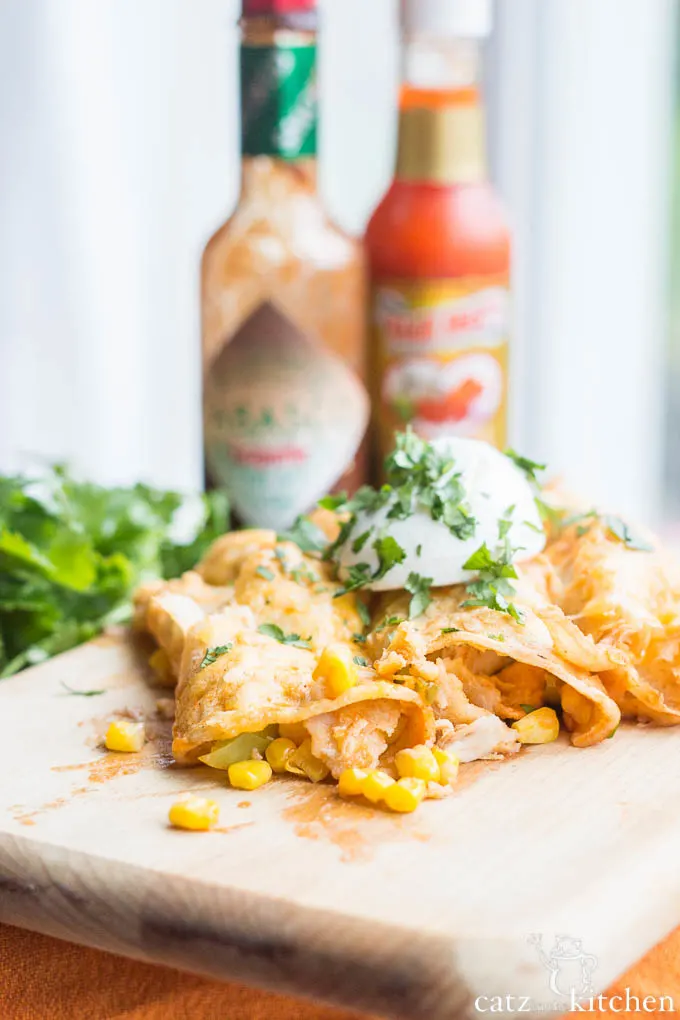 (P.S. If you guessed the movie Rio, you're correct.)
Red Chicken Enchiladas
It's easy to multitask while putting this delicious & healthy recipe for red chicken enchiladas on the table! Sub in a rotisserie chicken & make it even easier!
Ingredients
3/4 lb boneless, skinless chicken breast cut into bite-sized pieces- I used 2 cups of chopped rotisserie chicken.
1 1/2 tbsp peanut oil
1 green bell pepper thinly sliced
1 cup frozen corn kernals, thawed
1 tbsp whole wheat pastry flour or all-purpose flour
1 15 oz can red enchilada sauce
3/4 cup low sodium chicken broth
8- 6 inch corn tortillas, warmed
1/4 cup monterey jack cheese
1/4 cup chopped fresh cilantro
Instructions
Pre-heat oven to 450 degrees. In a bowl, toss the chicken (if using raw chicken) with 1/2 tbsp of peanut oil. Stir in the vegetables and place on a rimmed parchment paper lined baking sheet and roast until chicken is cooked, about 15 minutes. Place the chicken and vegetables in a bowl. (If using a rotisserie chicken, don't bother roasting the chicken...just throw it in the bowl when the vegetables are done.)
Reduce the oven temperature to 350 degrees. In a medium sauce pan, whisk the remaining tablespoon of oil with the flour over medium heat until it bubbles, about 2 minutes. Whisk in the sauce and broth. Increase the heat to high and bring to a boil, whisking until the sauce thickens, about 1 minutes. Turn off the heat.
Stir about 1/3 cup of the sauce into the chicken mixture. Spread 1/2 cup of the sauce into a greased 9x13 baking dish.
Working one tortilla at a time, dip each tortilla into the skillet holding the remaining amount of sauce and transfer to a plate. Fill the tortilla with the chicken mixture and roll the tortilla up placing seam side down into the baking dish.Top with the remaining sauce and cheese. Bake until the sauce bubbles and cheese has melted, about 25 minutes. Sprinkle with cilantro.
Nutrition Information:
Yield:

8
Serving Size:

1
Amount Per Serving:
Calories:

468
Total Fat:

13g
Saturated Fat:

4g
Trans Fat:

0g
Unsaturated Fat:

7g
Cholesterol:

99mg
Sodium:

768mg
Carbohydrates:

50g
Fiber:

4g
Sugar:

7g
Protein:

37g
Nutrition information isn't always accurate.