This summer, I was thinking about all the different kinds of categories I have here on my blog. We've got burgers, crockpot dishes, soups, desserts, and we've got chicken, beef, pork, and turkey. There are also a whole bunch of Mexican and Italian recipes. In fact, those seem to be my our family's favorite. But it occurs to me that there are not many Asian-inspired dinners on here.
To be honest, aside from Panda Express and our local (favorite) Chinese restaurant in our new town, I don't have a ton of experience with the flavors, textures, and ingredients (other than soy sauce) in these recipes.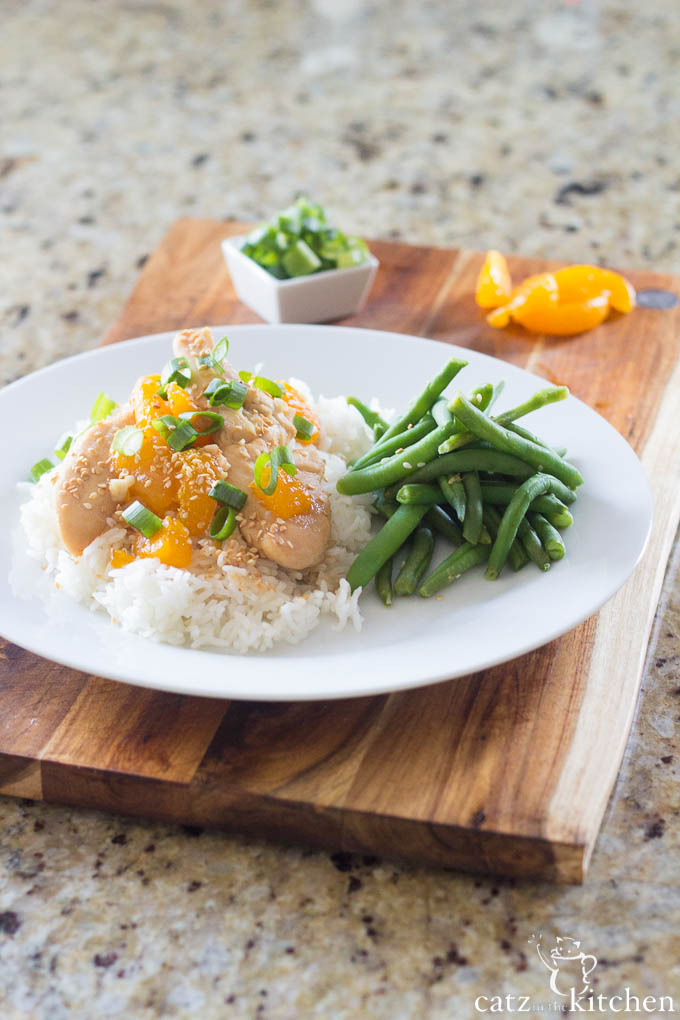 However, my step-mom is Chinese, from Shenzhen, in fact, and she makes the most amazing Chinese food I've ever tasted. They way she extracts flavors from simple ingredients like carrots, green onions, fresh ginger, and ground beef or pork is amazing to me!
When Jen comes to town and offers to make dinner for us (which is actually more like suggesting she make dinner for us), we crowd around her in the kitchen and watch her slice, cut, dice, and knead. She always makes homemade dumplings, and I have no idea how she manipulates water and flour to make these beautiful meat-filled beauties!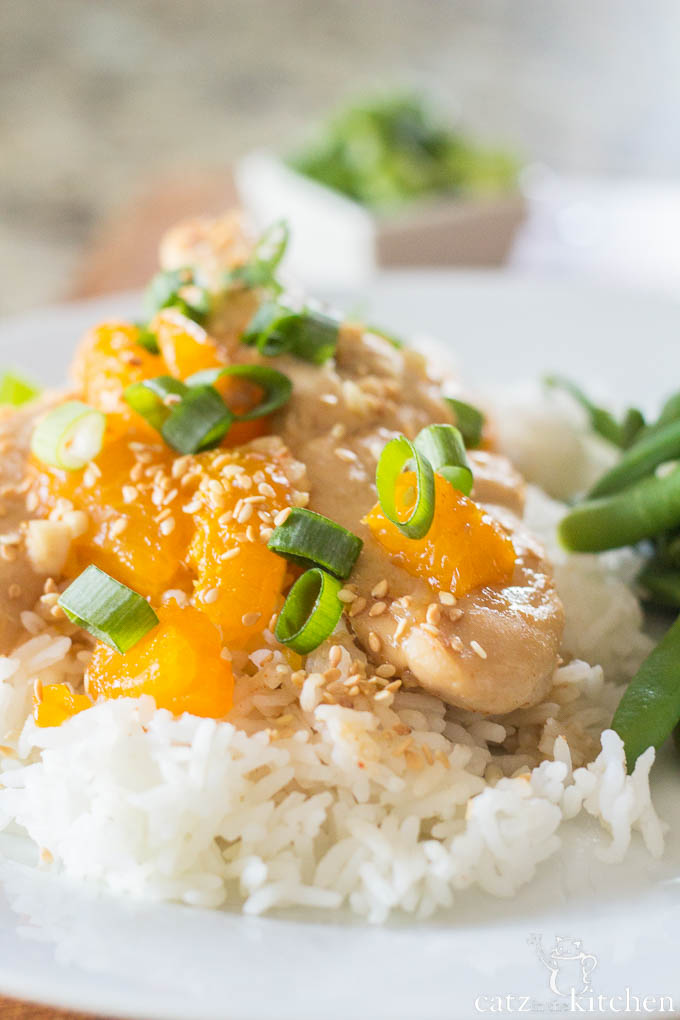 Since I cannot make homemade Chinese dumplings, I thought I would impress my family with some Honey Mandarin Chicken. Our very own at-home take out!
Not only did it satisfy my Chinese food craving, but it was so simple to prepare. All you have to do is whisk together the sauce, pour it over some chicken in a baking dish, top with mandarin oranges, and throw it in the oven to bake – cook up some rice, and you're in business!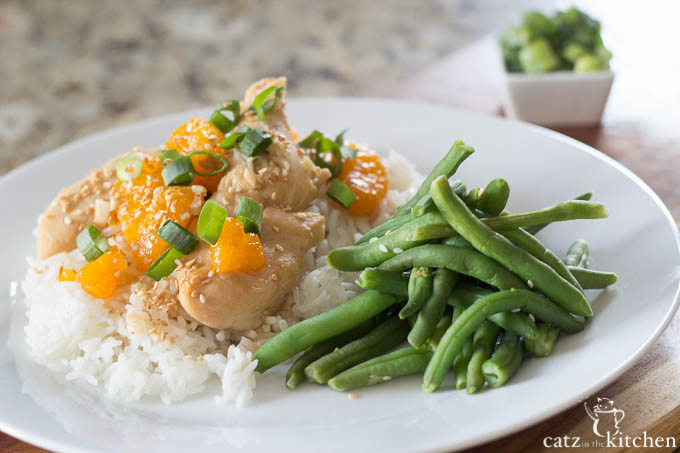 Dinner comes together like "Snap! Crackle! And Pop!" And in the end, making your own Chinese food is a lot cheaper than running out to grab Panda Express – and a lot tastier, too!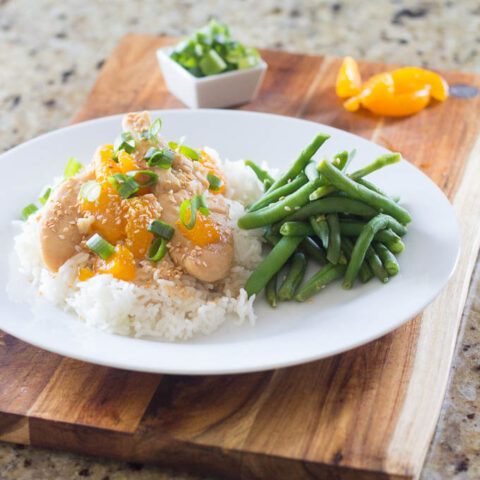 Honey Mandarin Chicken
Avoid making the run for Chinese takeout with this easy, quick Asian-inspired recipe for Honey Mandarin Chicken!
Ingredients
1 lb. (6-8) boneless, skinless chicken tenders
1 can (15 oz) mandarin oranges (1/2 cup juice reserved)
1/4 cup honey
2 tbsp soy sauce - low sodium
1 tbsp sesame oil
2 garlic cloves, minced
2 tsp fresh ginger, grated
1/4 tsp cayenne pepper
Green onions, sliced - for topping
Sesame seeds, toasted - for topping
Instructions
Pre-heat oven to 350*.
In a small bowl, add the reserved 1/2 cup mandarin juice, honey, soy sauce, sesame oil, garlic, and ginger. Whisk to combine.
Add the chicken and oranges to a 9x13 baking dish and pour the sauce over the chicken, making sure everything is evenly coated. Bake for 20-25 minutes, or until juices run clear.
Serve over rice and top with sliced green onions and toasted sesame seeds.
Nutrition Information:
Yield:

4
Serving Size:

1
Amount Per Serving:
Calories:

255
Total Fat:

11g
Saturated Fat:

2g
Trans Fat:

0g
Unsaturated Fat:

8g
Cholesterol:

35mg
Sodium:

547mg
Carbohydrates:

27g
Fiber:

2g
Sugar:

21g
Protein:

14g
Nutrition information isn't always accurate.