This flavorful, creamy Tuscan Tomato White Bean Soup recipe elevates traditional tomato soup in every way, and is perfect for the fall season!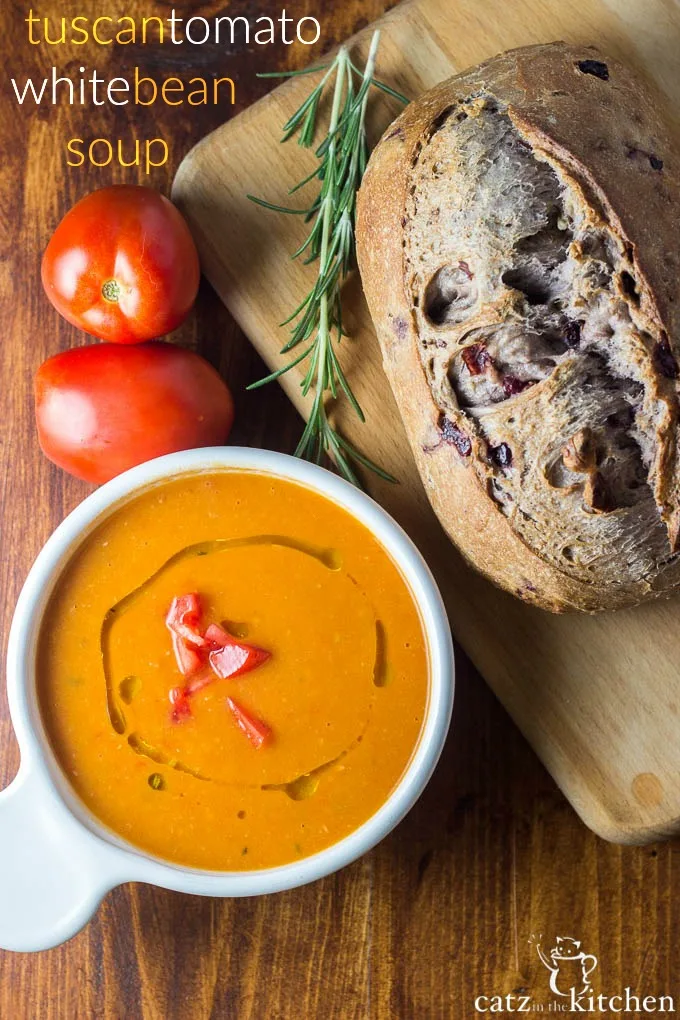 If you follow me on Instagram then you probably know that we got a new kitten (not that I've formally introduced her to you yet). She's beautiful, sweet as can be, tiny, and I named her after my favorite actress, Audrey Hepburn.
Of course, Noel (our other cat) has her nose out of joint (someone please tell me what that even means) and is adjusting to having a younger frisky feline in the house. For the past two weeks Noel has been punishing us. It has only been within the last two or three days that Noel has warmed back up.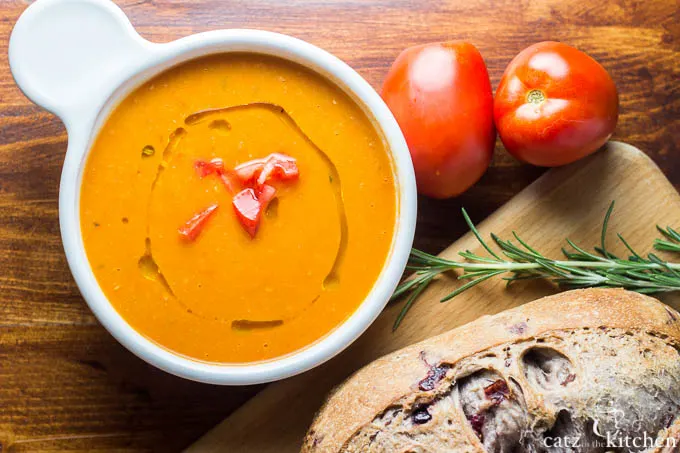 What I mean by warming up is that she is finally letting us pet her, is jumping up on our laps, and is being kinder to the kitten…at times. She did smack her in the face the other day (thank goodness for kitty caps. If you haven't tried them yet, they are awesome) and Audrey just looked at her, stunned!
I did forget one little thing about having a baby kitten in the house.
They are a lot like newborns!
Baby kittens like to be held. Audrey likes to stand by my feet in the morning when I'm doing my hair and make up and just meow. Which sounds a lot like the baby velociraptors in Jurassic Park. No joke!
Audrey also likes to roam around our bed at night eventually falling asleep on top of my head. Seriously! She takes turns switching from my head to Josh's head. If I don't wear my hair in a messy bun to bed, she tries to burrow into my hair. When she's not sleeping on top of my hair or making a rat's nest of it, she is trying suck on my earlobe. Super creepy, by the way!
You know what's not creepy? This soup! It's amazing! Josh even thinks so, which is a miracle in itself! Josh isn't a soup guy AT ALL! But this, he likes, loves, and goes back for seconds. I haven't seen him react so strongly to a soup since the Sweet Potato and Butternut Squash Soup. (Which, by the way, is amazing, too.)
You've got garlic, rosemary, white beans, tomatoes, and just a pinch of red pepper flakes, which just finishes the soup for ya. It's like the zing at the end of the bite…er…slurp? This soup is also a cinch to make, especially if you've got the onion, garlic, and tomatoes already prepped and ready to go.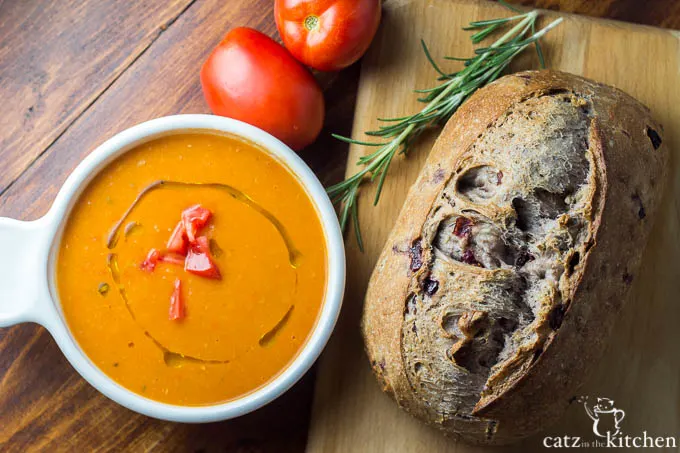 If you need one more testimony to convince you this soup is legit, my 2 1/2 year old son loves this, too. If my family loves it, I promise yours will, too. Oh, and if you can find some of this fabulous cranberry walnut bread to go with it…do it.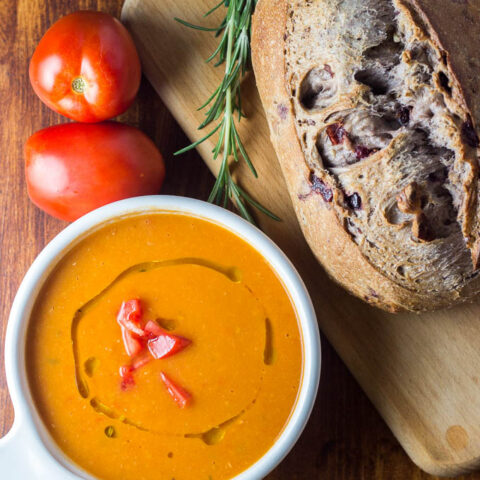 Tuscan Tomato White Bean Soup
This flavorful, creamy Tuscan Tomato White Bean Soup recipe elevates traditional tomato soup in every way, and is perfect for the fall season!
Ingredients
1 tbsp extra-virgin olive oil, plus more for drizzling
1 large onion, chopped
4 garlic cloves, smashed
Pinch of Kosher salt
2 tbsp tomato paste
2 lbs tomatoes, chopped (I used Romas)
2 (15 oz) cans white beans, drained and rinsed
1 quart low-sodium vegetable or chicken broth
1 sprig rosemary
1/4 tsp red pepper flakes
Instructions
Heat 1 tablespoon olive oil in a Dutch oven or large pot over medium-high heat. Add the onion, garlic, and Kosher salt. Cook, stirring occasionally, until the onion is softened, about 5 minutes. Add the tomato paste and cook for another minute, stirring occasionally. Add all but 1/2 cup of the chopped tomatoes, the beans, broth, 1 cup water, the rosemary sprig, 1/4 tsp red pepper flakes, and 1/2 tsp salt.
Bring to a boil. Reduce the heat to medium and simmer for 20 minutes. Discard the rosemary sprig and working in batches, transfer the soup to a blender and puree until smooth. Season with salt. Return to the pot and and cover and keep warm.
Top each bowl with the reserved chopped tomatoes and drizzle with olive oil.
Nutrition Information:
Yield:

4
Serving Size:

1
Amount Per Serving:
Calories:

247
Total Fat:

5g
Saturated Fat:

1g
Trans Fat:

0g
Unsaturated Fat:

4g
Cholesterol:

1mg
Sodium:

546mg
Carbohydrates:

43g
Fiber:

12g
Sugar:

13g
Protein:

13g
Nutrition information isn't always accurate.