If you're a cheese lover, this Garlic Three Cheese Pizza recipe is for you! It's quick & easy with a delectable blend of cheese flavors and textures!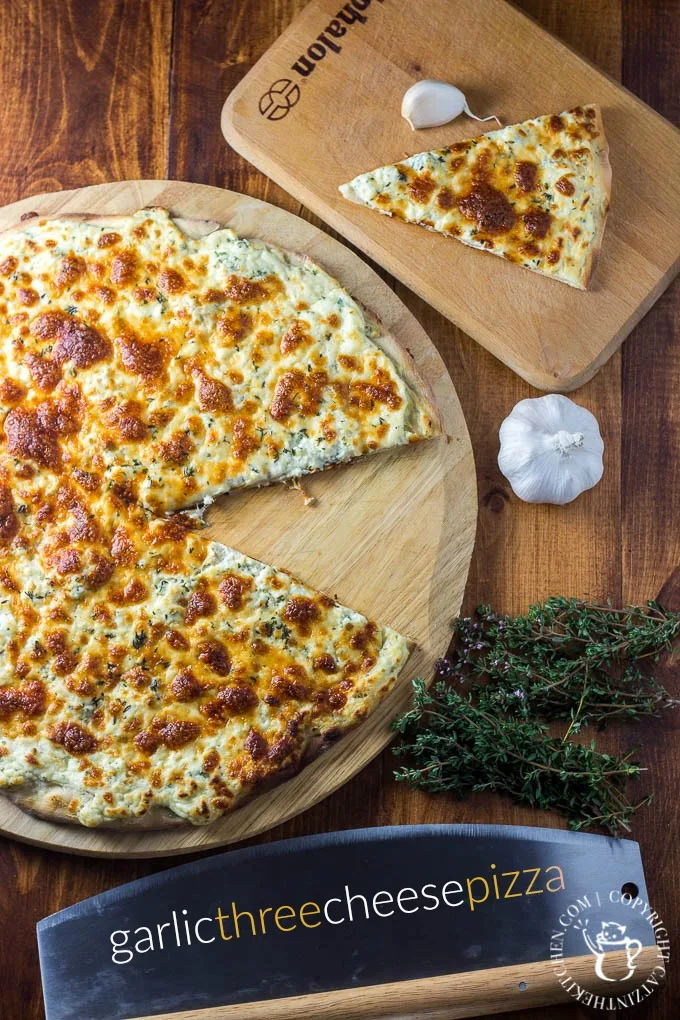 Another three cheese recipe in one week?
What can I say, I like cheese? Who doesn't?
Actually, I can promise you that I didn't actually plan on sharing this post with today.
Oh, I was going to share it with you soon, but I had a couple of other posts I wanted to share…they weren't quite ready.
But that's okay, because on Fridays at our house, we eat pizza…and since today is Friday, it only seems fitting that I share this completely amazing pizza recipe with you. I promise, you're going to love it!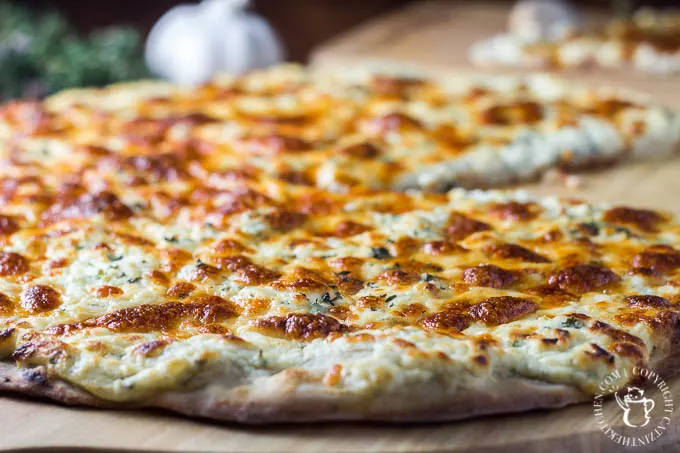 I've been carrying around this recipe for years! Back in the day when I was just beginning to get into cooking (and what I mean by getting into it is really learning, having fun, and enjoying trying new recipes), I came across an episode of Rachael Ray's 30-Minute Meals.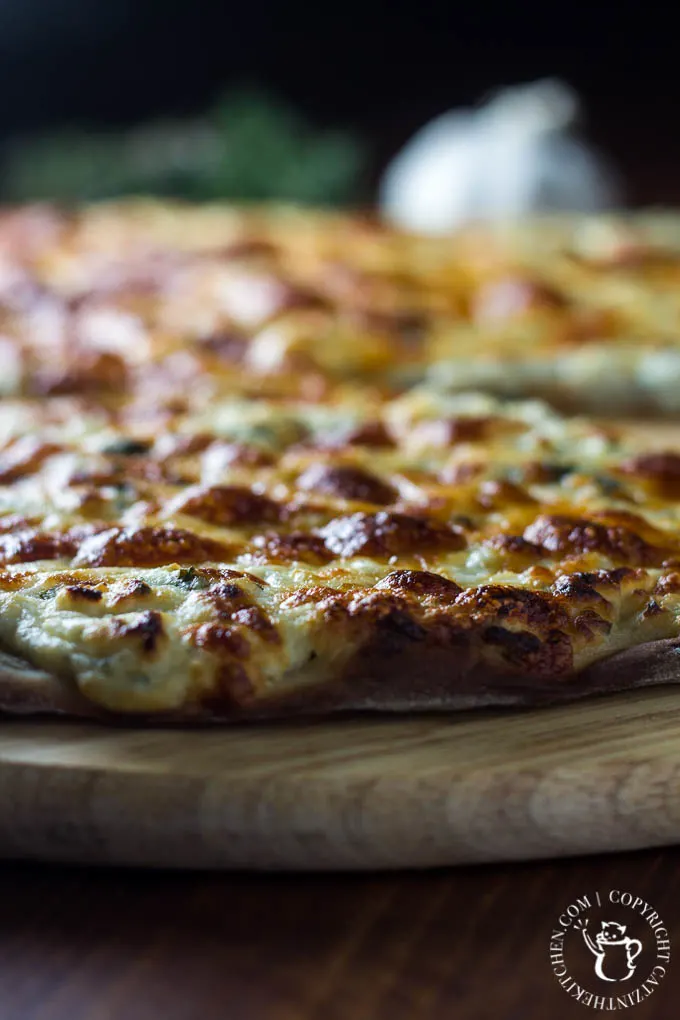 I can officially say that aside from my mom, Rachael Ray is the one who really sparked my interest in cooking. I sat down on the couch one afternoon with Grace (who was my only kid at that point) playing on the floor, turned on the television, and there was Rachael on her daytime show. I instantly became a fan and soon found myself DVR-ing every episode of The Rachael Ray Show and 30-Minute Meals.
Oh, the days of DVR. How I miss them… (I guess we're cord-cutters now?)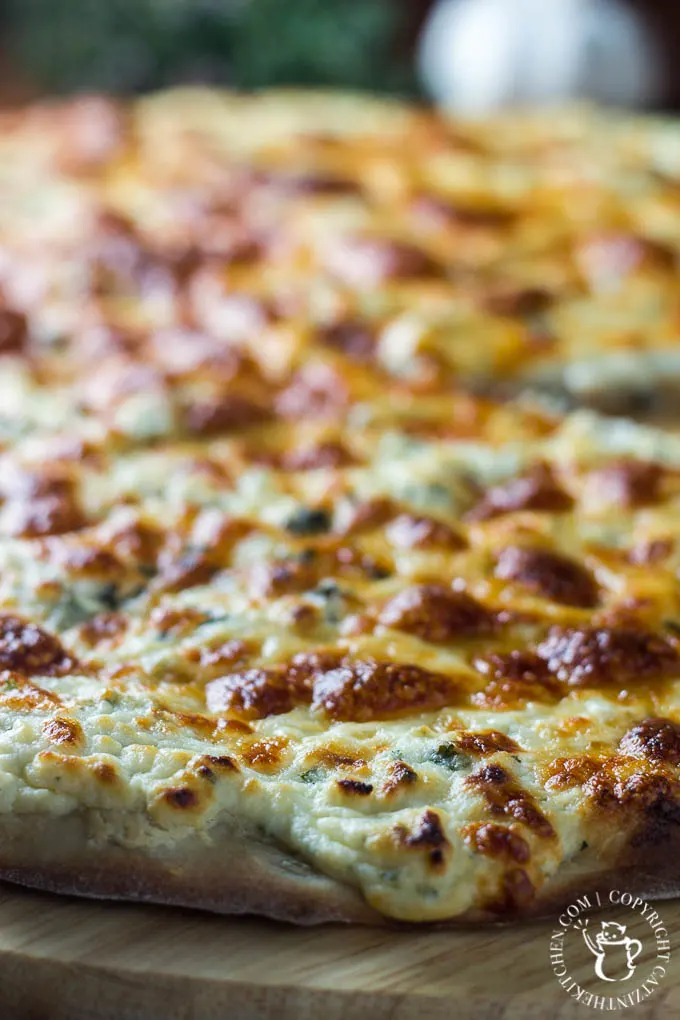 While Julie Powell may confess that Julia Child is the person who taught her to cook (and eat), Rachael Ray is that person for me. I don't think cooking and preparing meals for my family would be the same if it weren't for her.
With that, I give you this Garlic Three Cheese Pizza. Unless we're sick (which my family has been lately), we usually eat dinner at our formal dining room table that Josh built us. On Fridays, though, we eat in the kitchen nook and start a movie while we enjoy homemade pizza and a fresh salad (okay, sometimes the salad is bagged…).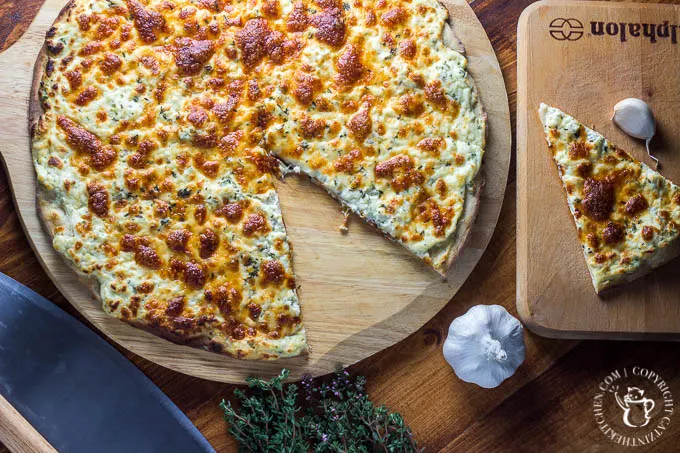 This pizza is incredibly easy, full of flavor, and if you love cheese, then this is the pizza for you – it has got some really nice soft yet strong-flavored cheeses in there that just blend together so nicely. If you haven't tried making homemade pizza dough, I've got a great recipe for you, but you can of course always buy some from the store, and we've done that in a pinch too.
Make this pizza the next time you have a movie and pizza night in at your house!
Garlic Three Cheese Pizza
If you're a cheese-lover, this recipe for Garlic Three Cheese Pizza is for you! It's quick and easy, with a delectable blend of cheeses with different flavors and textures.
Ingredients
1 lb homemade or store bought pizza dough
2 cloves garlic, finely chopped
1/3 cup parsley leaves. finely chopped
1 cup ricotta cheese (I used part-skim)
1 (5 oz) round soft cheese with herbs, crumbled (Boursin is the brand I used)
1 tsp lemon zest
2 cups shredded provolone cheese
A few sprigs fresh thyme, leaves chopped or 1/2 tsp dried
Instructions
Preheat oven to 425 degrees.
Stretch dough out and form a thin circle. Use a little flour or cornmeal on your hands if dough is sticky and place it on a pizza pan that's been dusted with cornmeal.
Mix the garlic, parsley, ricotta, herb cheese, and lemon zest together. Spread the soft cheese over the pizza dough just to the edges, then top it the cheese mixture with an even layer of provolone. Scatter the thyme over the cheese mixture.
Bake until crisp and bubbly-brown on top, 18-20 minutes.
Notes
If you have a local Trader Joe's, I find that the cheese section is a lot more affordable than the grocery store and you can usually find the cheese at half the price other stores sell it for.
Nutrition Information:
Yield:

8
Serving Size:

1
Amount Per Serving:
Calories:

310
Total Fat:

14g
Saturated Fat:

8g
Trans Fat:

0g
Unsaturated Fat:

6g
Cholesterol:

34mg
Sodium:

527mg
Carbohydrates:

29g
Fiber:

1g
Sugar:

1g
Protein:

16g
Nutrition information isn't always accurate.