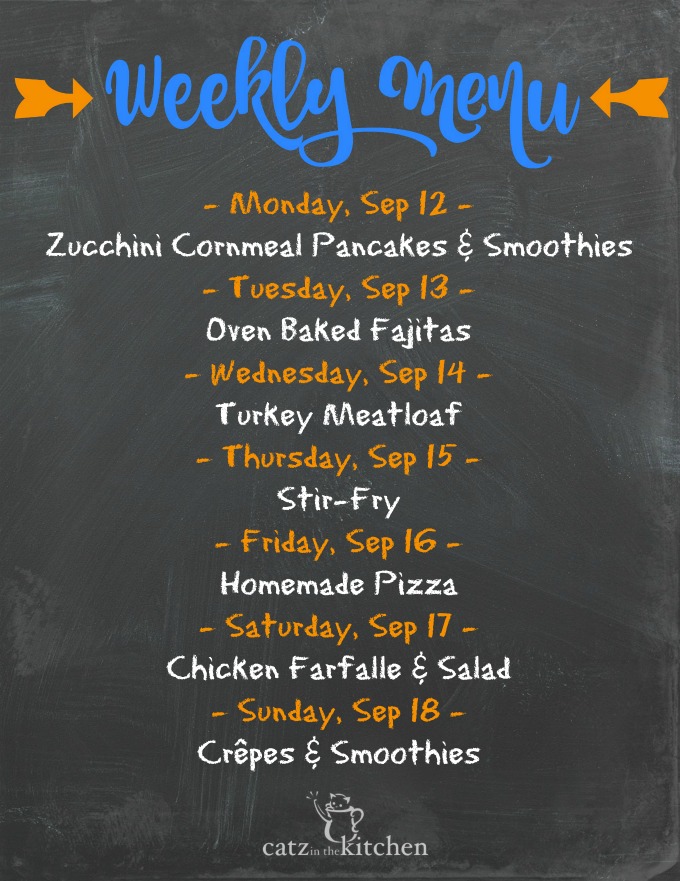 Okay, we've officially entered the middle of September. You're doing great!!! If back to school schedules have got you in a daze already, can I please just urge you to do at least one nice thing for yourselves this week? Take a bubble bath with some relaxing music and a glass of your fav and just soak. Even if all you've got is 15 minutes minutes, I promise it will help. Sometimes, I like to light some candles and do a little yoga before bed. Or you know what – even going to bed early can feel like a treat! Just do something!
When I first started this blog, a weekly menu was just always something I posted about – always sharing what we as a family were eating. I don't remember a lot of people sharing their menus back then, but now it's a huge thing and I think that's awesome! Menu planning for a family can be hard and I love following some of my favorite bloggers like Lauren's Latest (you need to subscribe to access the menu), Confessions of a Cookbook Queen, and Cafe Delites (who does a round up with a team of bloggers) for new dinner ideas. This past week Cool Mom Eats shared our Mediterranean Grilled Honey Mustard Chicken on her meal plan along with four other delicious looking recipes. Josh is crushing hard on the pepperoni pizza waffles, while I'm swooning over the creamy caprese quinoa bake!
This Wednesday, Josh has dinner plans…which means the remaining four members of the family can actually eat and enjoy meatloaf! You guys know that Josh despises meatloaf, of course! Our daughters are also leaving us later this week for a camping trip, but we're still going to cook like usual for the rest of us…or at least that's the plan!
I hope you enjoy this week's menu. Feel free to browse around past menus for other great dinner ideas. I hope you all have a wonderful, tasty week!