Make this recipe when it's cold outside and you're hungry inside! Chicken Rigatoni is easy, quick, flexible to what you have on hand, and yummy!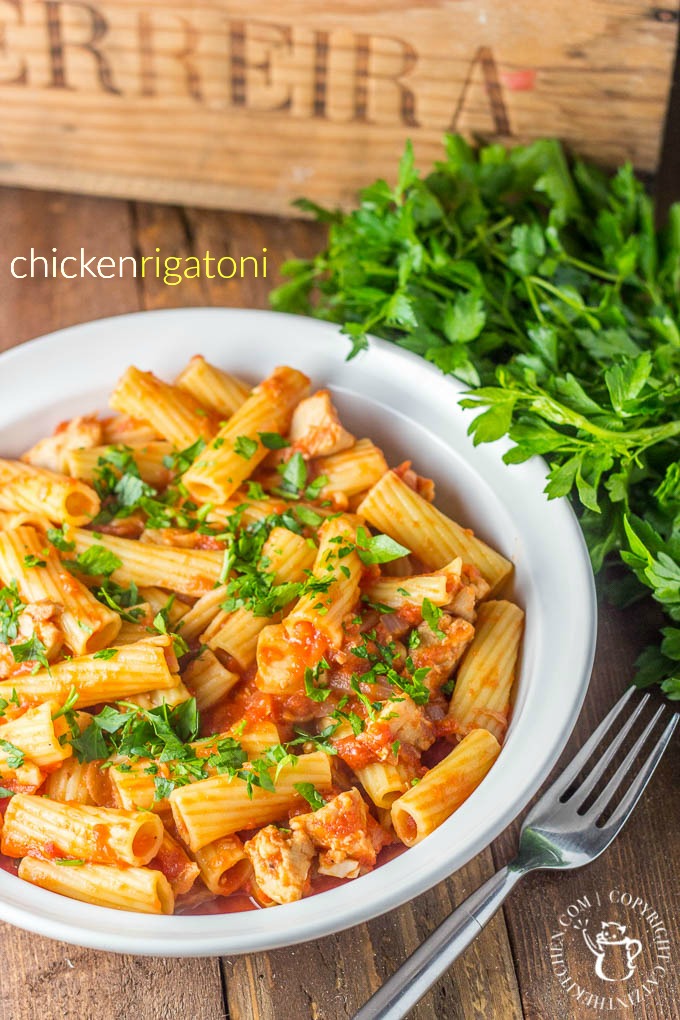 You guys, it is so darn cold outside!!! I cannot stop shivering! Currently, it's 27 °F and I think that is just way way too cold! I typically enjoy the winter season, too, but it's hard to enjoy when you turn into a popsicle every time you go outside. Of course, I'm hearing that it's close to zero in central Oregon and where my sister-in-love lives near the Canadian border…can you imagine?!
Also, I'm finding that because it's freezing outside that I have zero motivation to get dressed in the morning. I basically only want to live in two options: 1) pajamas because it's comfortable and convenient, meaning that I don't really have to change at all. Or option 2) sweatpants. Which is the option I've been opting for. Sweatpants with socks, slippers, and long sleeve shirts. Of course, this is all until it is actually time to go outside, at which point there are really more appropriate options for bundling up, thank goodness!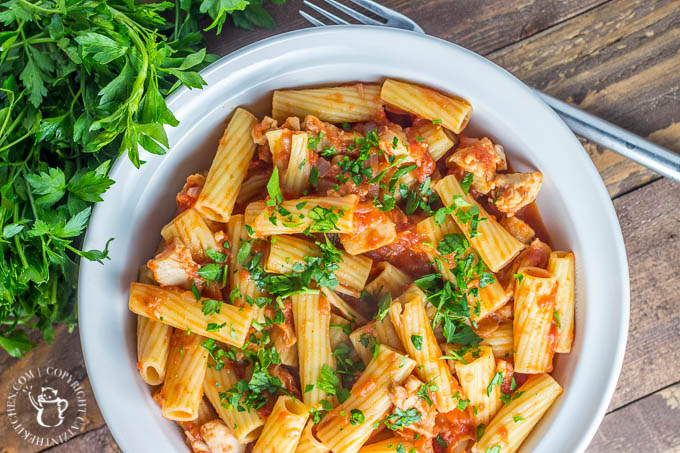 Our gas fireplace, which actually puts out quite a bit of heat, is on all day long, and if the cats or my youngsters aren't hogging the hearth, well, that's where you can find me. With a book and a blanket!
I'm pretty much always cold, but like I've said these temps aren't doing me any favors. Josh on the other hand is dying in the heat of the house because he's been working hard all week on ripping up the old carpet and hardwood and laying down laminate. Basically, while we freeze, he's working up a sweat.
The good news is, the flooring installation is almost done. We only have one more room of carpet to pull up and then it's just reinstalling the baseboards, caulking, paint touchup, and I think we're done!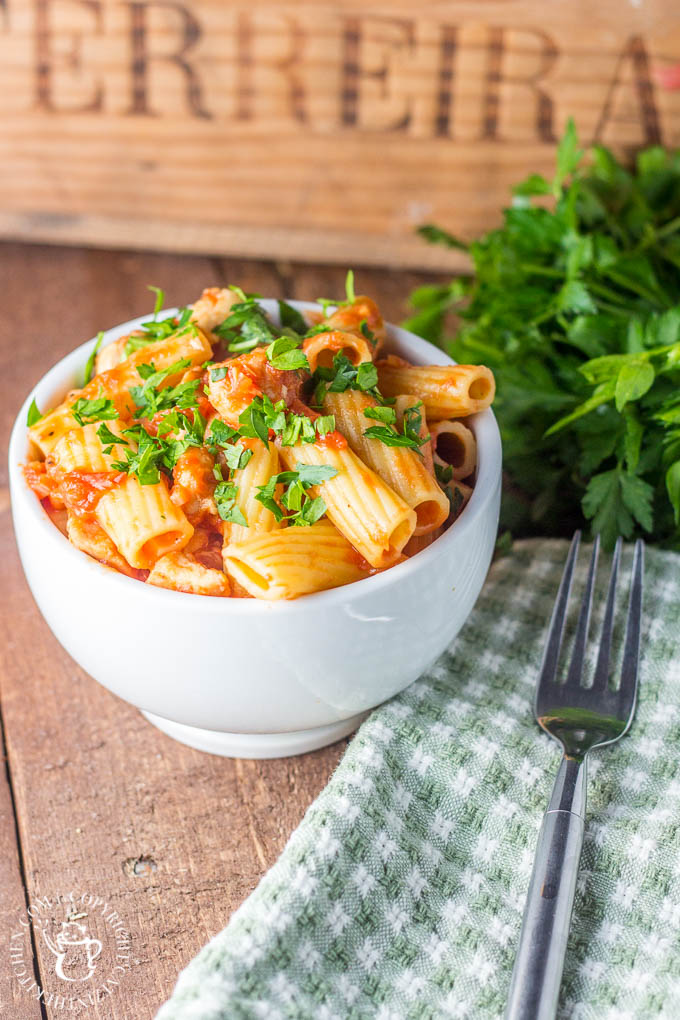 Maybe it's just me, but when it's cold outside, I just really crave warm, delicious food (Okay I know it's not just me…). Usually something with pasta. One Saturday awhile back, the kids and I were watching The Pioneer Woman on Food Network and she made a chicken and pasta dish that it just looked yummy. And warm. And easy. And perfect for cold temps.
Simple ingredients thrown together to create a warm, hearty bowl of pasta.
You tell me, what's not to like about that?
Nothing. There is nothing not to like about that. Double negative usage justified.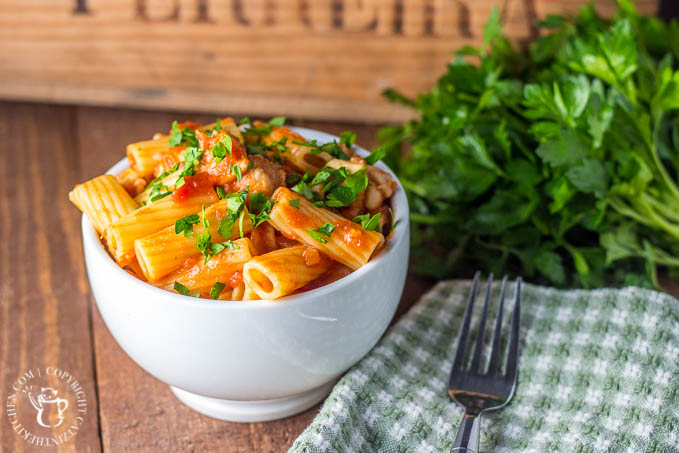 Technically, this is a "two pot" meal, but I've decided to not count the pot the pasta boils in. Let's just go with the "one pot" meal theme here for a moment okay? While your pasta working its way to al dente (or while you're waiting for the water to boil), you heat up everything you need in another pan. All the good things in life – garlic, onions, wine, crushed tomatoes. Oh, and chicken! You'll want that browned, though not necessarily completely cooked through all the way – you'll do that later, and want to avoid overcooking in the meantime. Then you'll remove the chicken and begin working on the sauce, which is simple and yummy, and not at all lacking in flavor!
While the chicken thighs in this recipe add a lot of flavor, you could sub in chicken breast. If you don't have rigatoni, don't sweat the small (round) stuff – toss in another box of pasta you have on hand. Don't drink wine, so therefore don't have any wine? I would argue you should still keep some around for cooking if you can, but chicken broth works, too! Don't like onions or "chopping" onions? Use a shallot – they happen to be a little more mild and a bit sweeter.
See, so many options for you to throw this together and not one reason why you shouldn't! Make this dinner one night when you're cold. Or hungry.
Or, you know, both.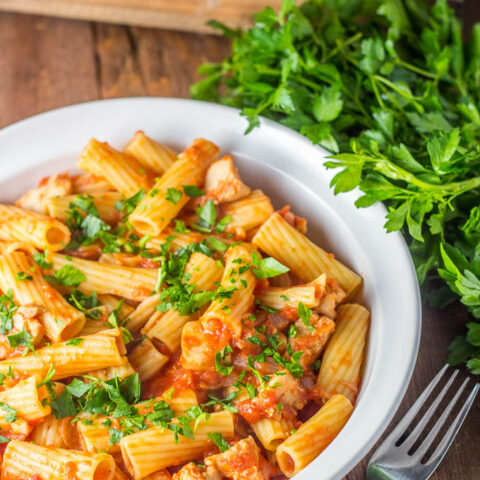 Chicken Rigatoni
Total Time:
1 hour
30 minutes
Make this recipe when it's cold outside and you're hungry inside! Chicken Rigatoni is easy, quick, flexible to what you have on hand, and yummy!
Ingredients
1 package rigatoni (or your fave pasta)
Salt
2-3 tbsp extra-virgin olive oil
8 boneless, skinless chicken thighs, cut into small pieces
3-4 cloves garlic, minced
1 small - medium onion, chopped
1 cup white wine (or chicken broth)
1 (28 oz) can crushed tomatoes
Freshly ground black pepper
Pinch of sugar
Fresh basil, torn into pieces as needed
Graded Parmesan, for topping
Instructions
Bring a pot of lightly salted water to boil and add the pasta to it. Cook until al dente (or tender). Drain and set aside.
Heat a large skillet until very hot and then add olive oil, swirling to coat the pan. Add half of the cup up chicken, spreading them out as you add them. Let the chicken stand in the pan before stirring so it can begin to brown. After a couple of minutes, flip the chicken and allow to brown on the other side. Remove chicken to a plate and set aside. Repeat with the second half of the chicken.
Add a tablespoon or so of olive oil into the hot skillet (if needed) and throw in the garlic and chopped onion. Stirring, pour in the wine, whisking to deglaze the pan. Cook until the liquid reduces by half. Add the crushed tomatoes and stir to combine. Add salt and pepper, to taste and a pinch of sugar. Reduce the heat and simmer of 15 minutes.
Add the chicken (and any juices) to the tomato mixture and continue simmering for another 15 minutes. Towards the end of the cooking time, chop or tear some fresh basil and add it to the sauce, stirring to combine.
Put the cooked pasta in a large bowl and cover with sauce. Top with Parmesan cheese.
Nutrition Information:
Yield:

8
Serving Size:

1
Amount Per Serving:
Calories:

336
Total Fat:

19g
Saturated Fat:

4g
Trans Fat:

0g
Unsaturated Fat:

15g
Cholesterol:

137mg
Sodium:

313mg
Carbohydrates:

8g
Fiber:

1g
Sugar:

1g
Protein:

29g
Nutrition information isn't always accurate.