These Basil Garlic Burgers are easy to make and packed with flavor! Plus, when you serve them on an English muffin, they are cute and fun to eat!

It has to be said that we haven't really been on our burger A-game this summer. Usually, we've posted one, maybe two burger recipes for you by now. Um…do you know how many burgers we've shared with you so far this summer?
None!
I know, I'm kind of disgusted with myself, too. We've eaten and made several burgers this summer, like these Mediterranean turkey burgers and more recently these herb & cheese burgers. Both equally flavorful and calling for relatively simple ingredients.
Beef has been one of those things I've craved during my pregnancy (I blame it on my low iron), and the burgers that I'm sharing with you today are insanely craveable. Juicy, fresh, and perfect for summer! You could make these during the colder months in a grill pan, too. I prefer to have them cooked over the outdoor grill, of course. You just can't beat that smoky flavor that imparts itself to every incredible morsel.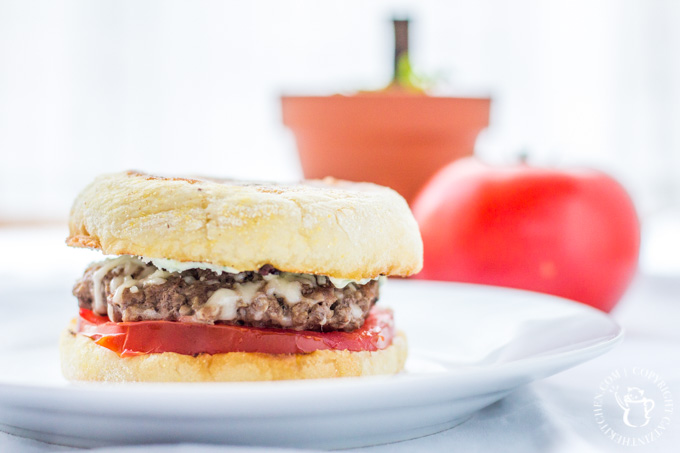 So, these burgers are incredibly simple to throw together and even easier if you've got a burger press – a kitchen/grilling tool I think every grill master needs. And, of course, because I feel like you need this, here's your chance to enter to win one for yourself. Trust me and just enter – it is one of those kitchen gadgets that you really will use!
But now, onto the burgers. While the burger patties themselves are truly delicious and simply made with just a bit of salt and pepper…if you want to up the flavor ante, might I suggest grating a little onion into the patty mixture. Only a suggestion!
The star of this burger's show is the basil sauce. Basil happens to be one of my favorite herbs and there is no substitute for it in this sauce. Buy the fresh basil unless you happen to be growing some in your garden (in which case, good on you!). The sauce consists of mayo, salt and pepper, Worcestershire, garlic, sour cream, and fresh green onions. And our beloved basil.
You can certainly make this sauce in your blender, but if you've got one of those handy little hand blenders, that works like a dream, too!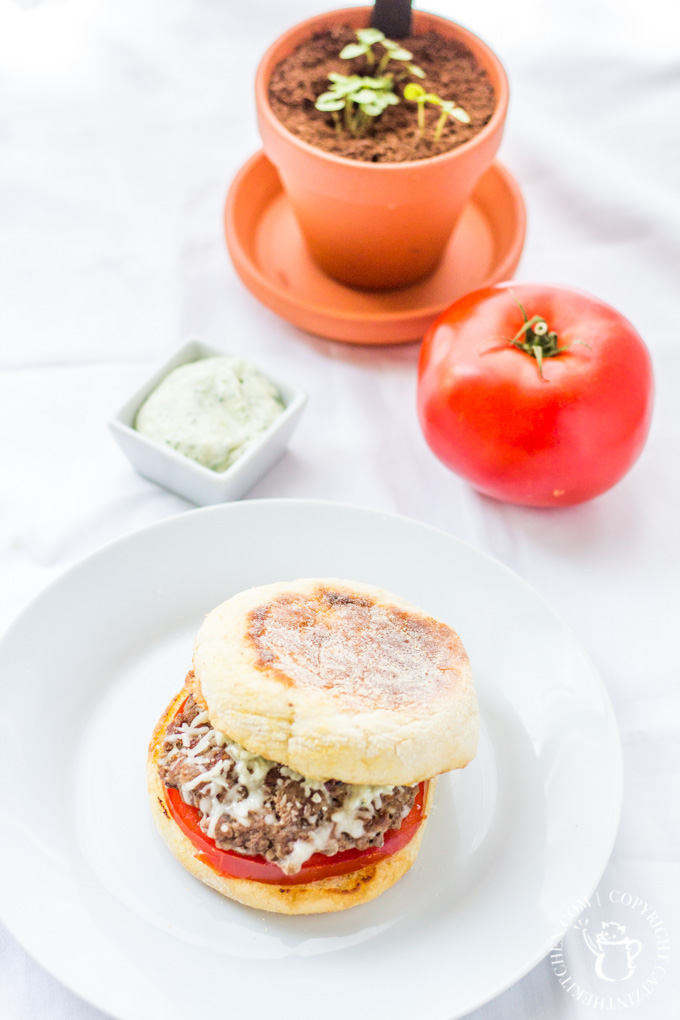 When it comes to assembling this burger, choose a good bun – we went with the English muffin because it's sturdy enough to hold up to the sauce and cheap enough to make this an affordable burger option for lunch or dinner. Also, it's fun.
The only thing I would caution you about this burger is the flavor of the sauce – because the predominant flavors are basil and garlic, if you're going to eat one of these bad boys, you better make sure you have some gum handy or make sure the cutie you're going to be smooching eats one, too…because you know…it's the rule!
Also, if you're feeding this to little kiddos, you can either leave the sauce off the burger entirely and let them dunk the burger, like they would fries, or cut the burger into smaller portions, which is what we do for our little guy. A whole burger, even on an English muffin, is quite a mouthful for him, haha!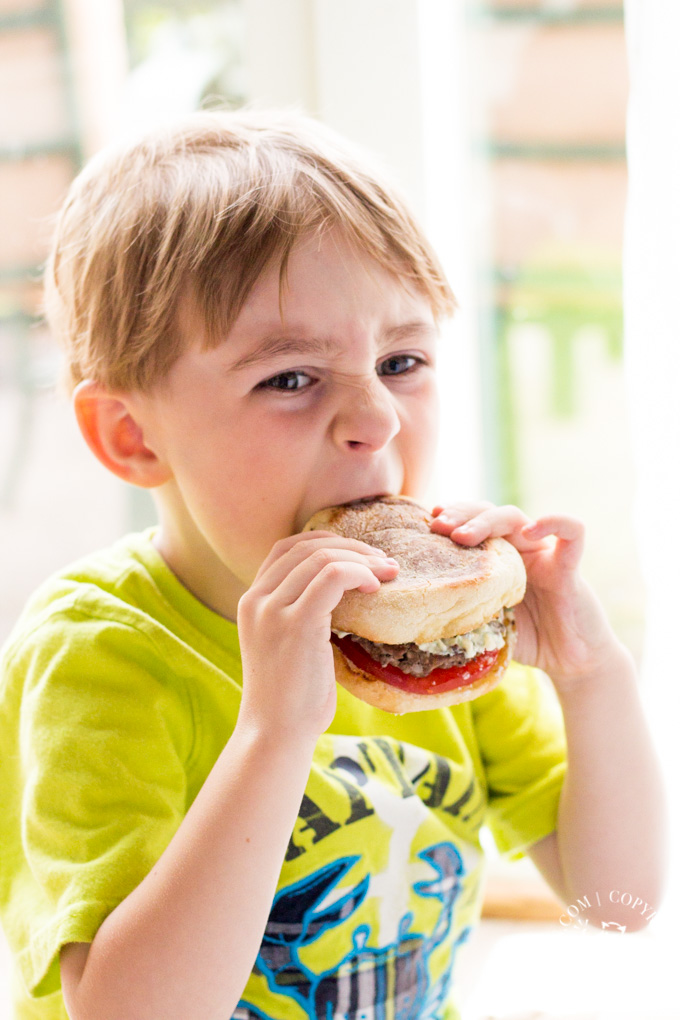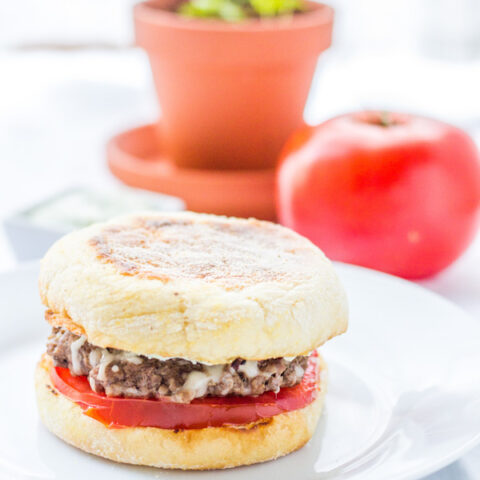 Basil Garlic Burgers
These Basil Garlic Burgers are easy to make and packed with flavor! Plus, when you serve them on an English muffin, they are cute and fun to eat!
Ingredients
1 1/4 lbs ground beef
Kosher salt and pepper
1 tbsp vegetable oil
1/4 cup shredded mozzarella
2 tbsp grated parmesan cheese
1 tomato, sliced
4 English muffins, sliced horizontally and toasted
Basil Garlic Sauce
1 green onion, chopped
1 large clove garlic, minced
3 tbsp roughly chopped basil
1/2 cup mayo
3 tbsp sour cream
1/2 tsp Worcestershire sauce
Kosher salt and black pepper
Instructions
Divide the beef into 4 equal portions and using a burger press or your hands, form into a patties. Season with salt and pepper and brush each patty with vegetable oil.
To make the sauce, throw the ingredients into a blender and blend until smooth. Set aside.
On medium-high heat, grill each burger for about 4 minutes on each side. Top with mozzarella cheese a few minutes before serving so the cheese has a chance to melt.
To assemble the burgers, lay one tomato slice on the bottom of each toasted English muffin. Place your cooked beef patties on top of each tomato. Spread a dollop of sauce over the patty and top with a sprinkle of grated parmesan cheese before placing the top of the English muffin on top of the sauce and cheese.
Serve right away with fries and fresh fruit.
Nutrition Information:
Yield:

4
Serving Size:

1
Amount Per Serving:
Calories:

792
Total Fat:

53g
Saturated Fat:

15g
Trans Fat:

1g
Unsaturated Fat:

33g
Cholesterol:

149mg
Sodium:

881mg
Carbohydrates:

30g
Fiber:

2g
Sugar:

2g
Protein:

46g
Nutrition information isn't always accurate.