Simple linguine with lemon & sun-dried tomatoes along with olives, fresh basil, & garlic. Oh, and a little cheese & olive oil because…that's a must!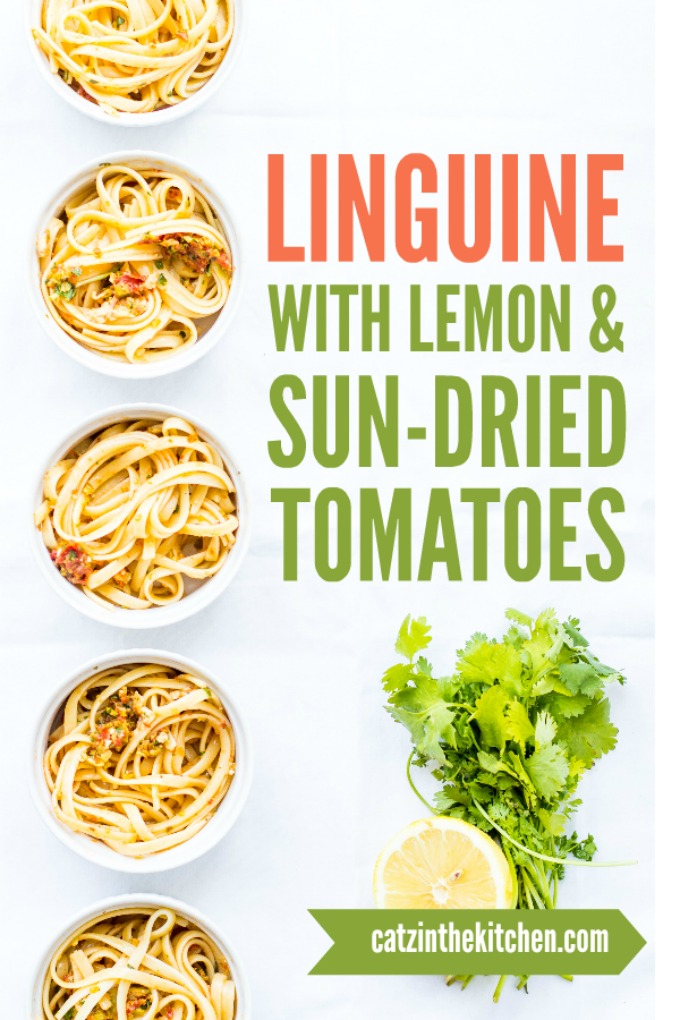 Well, it's kind of mortifying, but this pregnancy has turned me into a klutz! I can't see my feet, so I'm carefully trying navigate stairs and different areas around me. I have to literally roll out of bed, oh, at least a half a dozen times each night as I stumble through my darkened bedroom in search of the bathroom. Let's not even talk about how I resemble a mummy on the treacherous walk back to find my bed…
…And then there was the most recent klutz moment, which thankfully no one was around to see (though I'm apparently going to share it here…). I was trying to climb back into my chaise lounge after my 20th restroom run of the day and somehow I lost my balance and the chaise knocked into the little table next to it, knocking one of my plates off the table, which broke into two even pieces.
Thankfully, I'm down to the wire and there are only a few weeks left of this sort of behavior from me.
I hope.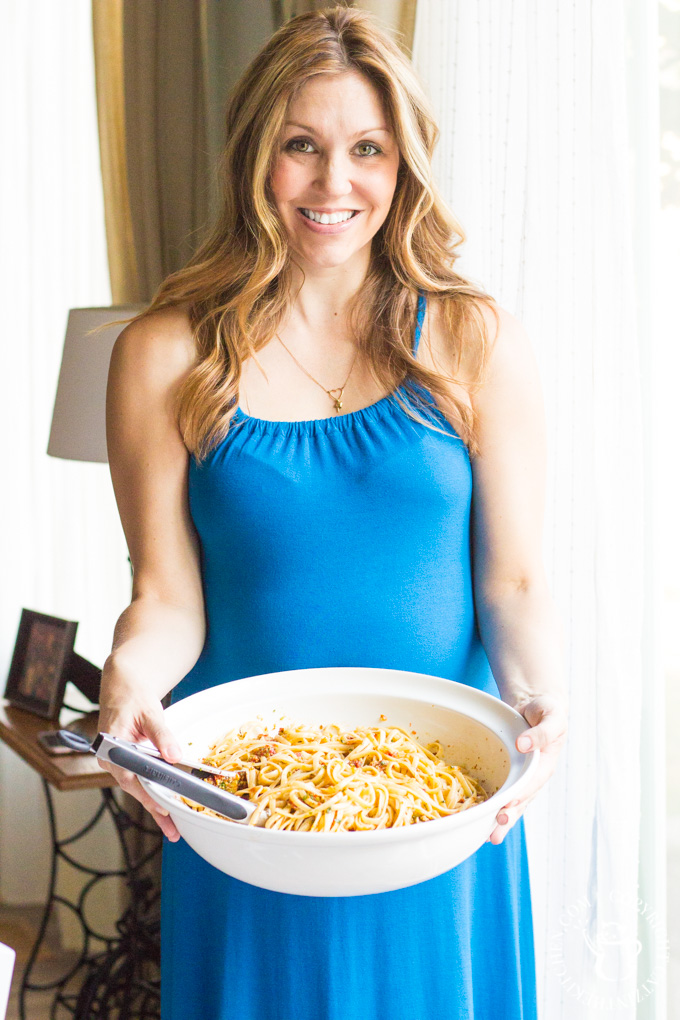 Since I do better with things that are simple and totally uncomplicated right now, my dinners have got to be the same way, at least if I'm in the kitchen doing the cooking. Which leads me to pasta. I'm not one for heavy pasta meals during the summer, especially when I AM SO DANG PREGNANT! The lack of room in my stomach really makes hard to eat too much. Which is why this summery pasta is so perfect!
No heavy cream sauces. No cooked meats. Just simple cooked linguine pasta that's covered in an easy dressing of sun-dried tomatoes, olives, lemon, fresh basil, and garlic. Oh, and a little cheese and olive oil because…that's a must!
This pasta will become your favorite end of summer meal, because it's easy (we're talking a 20-minute dinner), it makes a lot of food, has loads of flavor…and leftovers reheat beautifully!
I'm particularly a fan of the 20-minute-or-less aspect of this dinner, because the less time I have to stand on my sore feet in the kitchen, the better. Which, coincidentally, also makes this a nice "back to school" dinner option as well.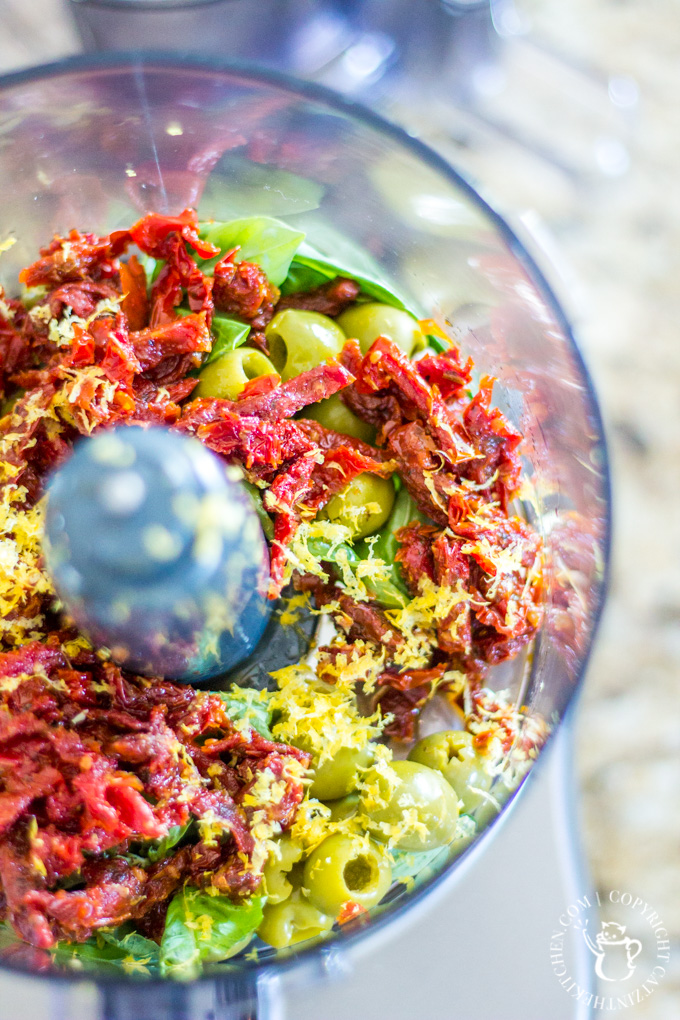 I think what's cool is that it also introduces some other dinner ingredients or flavors with which your family may not be too familiar. My kids love black olives, but don't have too much experience with green olives, and while they are used to me throwing lemon and parmesan in a lot of meals, the sun-dried tomatoes created a different flavor and texture they weren't as used to.
But they loved all those flavors, so in the end, this meal paid off! Plus, it's just pretty to look at. If you need this to be a gluten-free meal, simply sub the pasta for one of the gluten-free varieties, and while it's not vegan…(because of the cheese) it is vegetarian, which is always a great option if you're looking for more meatless meals.
Basically, you can't go wrong with this dinner! So go ahead and make it!
Linguini with Lemon & Sun-Dried Tomatoes
Simple linguine with lemon & sun-dried tomatoes along with olives, fresh basil, & garlic. Oh, and a little cheese & olive oil because...that's a must!
Ingredients
1 lb. linguini pasta (use gluten-free pasta for GF version)
1 cup starchy cooking water, reserved from pasta pot
1 cup (6 ounces) chopped sun-dried tomatoes in oil, drained
1 cup (4 ounces) medium green olives, pitted
1 cup fresh basil, packed
1 clove garlic, chopped
1/3 cup extra-virgin olive oil
1 lemon zested + juiced
3/4 cup grated parmesan cheese
Salt and freshly ground pepper to taste
Instructions
Bring a large pot of salted water to boil and cook pasta according to package directions. Reserving one cup of hot starchy cooking water before draining pasta. Set aside.
While pasta is cooking, combine sun-dried tomatoes, olives, basil, garlic, oil, lemon zest and juice into a food processor and pulse until combined, but still chunky.
Place cooked pasta in a large serving bowl and toss with parmesan cheese. Pour the tomato mixture on top of the pasta and toss, while adding some of the reserved starchy water to loosen the noodles and tomato mixture up. I ended up using the whole cup of water. Season with salt and pepper to taste.
Nutrition Information:
Yield:

8
Serving Size:

1
Amount Per Serving:
Calories:

235
Total Fat:

12g
Saturated Fat:

3g
Trans Fat:

0g
Unsaturated Fat:

9g
Cholesterol:

8mg
Sodium:

215mg
Carbohydrates:

24g
Fiber:

1g
Sugar:

0g
Protein:

7g
Nutrition information isn't always accurate.