This recipe for baked Italian sausage penne is one of the most tried and true in our home kitchen! We've been making it for years – its simple, warm flavors and heartiness make us happy when it's cold and rainy out!
Mar 2018 update: This tried-and-true recipe was one of the earliest ones to go up on this blog, back when it was just Chels and a blogspot URL. We've been making it during the colder months (here in the Pacific Northwest, that's something like October – May) for the last eight years, and we've finally decided to update the recipe card and give the photos a real shot (ha ha puns). The basic concept is the same – it's outrageously easy, with simple ingredients, but it's warm, hearty, and delectable! The post, on the other hand…it's a little on the zany side.

Oct 2013 update: This post is from the Catz archives (Nov 2010). Unfortunately, the original pictures were just terrible. The new ones aren't amazing, but they're a significant improvement! The primary issue is, this is a meal you make late on a cold fall or winter evening…when the lighting is bad. Problems of the food blogger lifestyle, I suppose… At any rate, three years later, this baked penne continues to be a Rief family favorite. It's easy, it's foolproof, it's warm, and, most importantly, it's yummy. Pardon the zany writing, and give it a try if you haven't already.
Just when you thought it was safe to return to cyberspace…
You notice the guest blogger is back, but with alliteration! I can't help it, I'm afraid. A predisposition to alliteration is an inherited trait, in this case, on my father's side. Whether it makes sense or not, we just can't help but jump at the opportunity to set the first letters of words in titles and slogans to the same point of alphabetic alliterative arete. There it goes again. Dang genes.
So, it's been a couple of months since my last foray into the wonderful world of the web-bound wordsmith, also known as the blogger. It was summer then, and I was grilling. Sadly, the rain has set in. Although I am definitely that guy that you all stare at and occasionally voice suspicions of creeping senility about as I stand on my deck in the pouring rain and freezing cold tending to my barbecue, the outdoor cooking definitely does not get as much attention now that the winter months are upon us. As such, I return to my robust repertoire of warm and occasionally spicy meals of Italian origin. We have a pair of primary passions in the Rief household where the culinary craft is concerned, and they are Mexican and Italian. I grant you, we are open to almost any and all ideas, and we frequently stray from these two genres, but they are definitely what we have grown to prefer. That being said, winter is for Italian food. Food with sausage and olive oil and pasta and tomatoes served in bowls. Yes, bowls. Two of my favorite winter Italian dishes are served in bowls, at least here. They just seem more indulgent that way!
With out further ado, my lowly league of larder (Editor's note: Original picture. One of our first apartments! Memories…):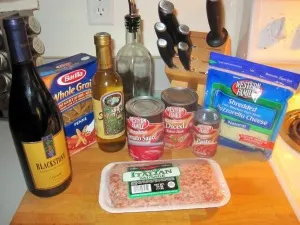 As you can see, nothing too fancy here, many items of canned origin, and, yet, that is one of the many, many wonderful things about Italian food – although it can be, it does not have to be complex to be delightful. You will notice, I recommend a glass of wine with this meal – we chose a 2007 Blackstone Syrah – but I know that some do not partake of wine, understandably. For that lot, I recommend – wait for it – milk! In all seriousness, this is an indulgent, comforting meal. Milk is a fantastic way to go. Sipping a small glass of wine during the preparation is a very relaxing, even romantic (depending on one's company – mine was my lovely wife, of course) way to help the time go by. (This is a very strange recommendation. Drink water. Also, the idea of me making wine paring recommendation is, to put it mildly, ridiculous.)
First things first, of course. Why do we say that? If the first things weren't first, they wouldn't be first! I believe I do possess the inherent ability to drive myself insane. Moving right along. First, I brought the water for the penne noodles to a boil and began browning the mild Italian sausage in the olive oil. This recipe calls for a full box of penne and a full pound of sausage, so I recommend a large pot for the penne and a large, deep pan for the sausage. Later in the recipe, you will be adding many more ingredients to the pan currently pulling browning duty, so use one of the largest you have available. Also, you'll want to have the oven preheated to 350.
The cooking of the penne noodles is, of course, extremely straight-forward. Follow the directions on the box for al dente pasta, and you'll be in good shape. Why does everything with Italian names sound delicious? Think about it. Roma tomatoes. Roma. It's literally one letter away from being aroma. How did that happen? So, yeah, that was a very random example. What about formaggio? The way it rolls off your tongue makes you wish you were eating it. I'm German, and I like German food, so no disrespect, but where did they come up with bratwurst? Seriously? You have to overcome the sound of the name and regain your appetite before the eating can begin. We Americans aren't much better. Hot dog? Really? Grilled Cheese? Did we have an imagination deficit running at some point in our history? I digress, as usual, but…macaroni. Lasagna. Tiramisu. Risotto. Agnolotti. Parmesan. Ricciarelli. Cappuccino. Panino. Pizza!
Anyhow. Once the sausage is browned, you'll need to drain the excess grease (there shouldn't be much) and deglaze the pan with a half cup of white wine stirred in with the sausage for about a minute. After this, stir in your three cans of various tomato applications, and simmer for about 10 minutes. I'll post the exact times from the recipe below.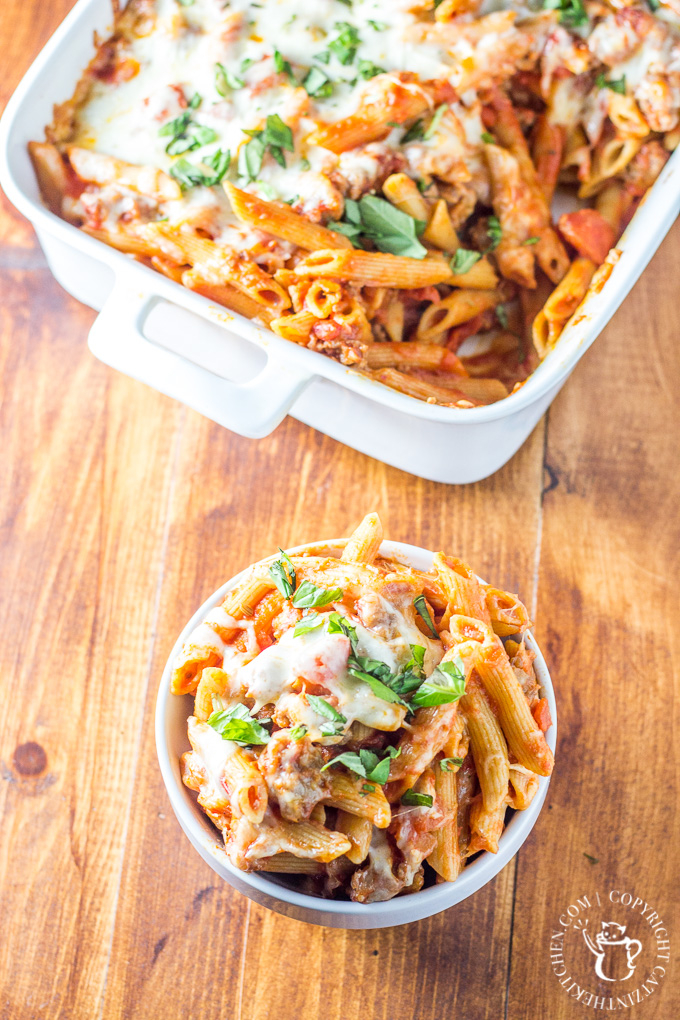 Once the simmering is complete and the noodles are all al dente-d up (say that 10 times fast), you'll need to toss the mixture and the penne in the pot together.
Make sure the pasta is totally coated with the tomato-sausage mixture, and then transition the whole delightfully decalescent discombobulation to a waiting 9×13 glass baking dish. Once the pasta is spread out in the dish, cover the penne with mozzarella cheese (I believe the recipe call for 2 cups shredded, but you could use as much as you like – it's mozzarella cheese – where are you going to go wrong?).
And this is really the best part. That's it! Throw it in the oven for 20 minutes, and you're done! Now, certainly, you could add a starch side dish to this, and it would be wonderful. Or a salad, and that would be marvelous. But honestly, once you take it out of the oven, scoop it in to a bowl, grab your favorite seat on the couch in front of the fireplace, and indulge in the coming of winter. I'm not a fan of the cold and the rain by any stretch of the imagination, but meals like this make me secretly, ever so discretely, barely noticeably, resist that much less.

In closing, I would highlight that this is a radically flexible meal. It can be incredibly romantic if it's just the two of you alone in the house with the rain battering against the windows and logs crackling in the fireplace (mine's natural gas, so sub in whatever romantic sounds natural gas makes), but it can also be a great meal for the guys if they're over to play poker, or for the girls to watch some overly sappy movie or whatever it is you girls do when you get together. I'm going to avoid delving too deeply into that one, as I don't wish to be labeled the sexist guest blogger, and I may be getting close already. ;)
In short, it's not gourmet, but it tastes great. It's not formidable, but it is fruitful. It's not fancy, but it is flexible. Next time, look for less alliteration, and perhaps a goofier mood (hey, it's happened before, though I'm not guaranteeing any Jamaican proverbs), when I get around to blogging my
vodka penne
!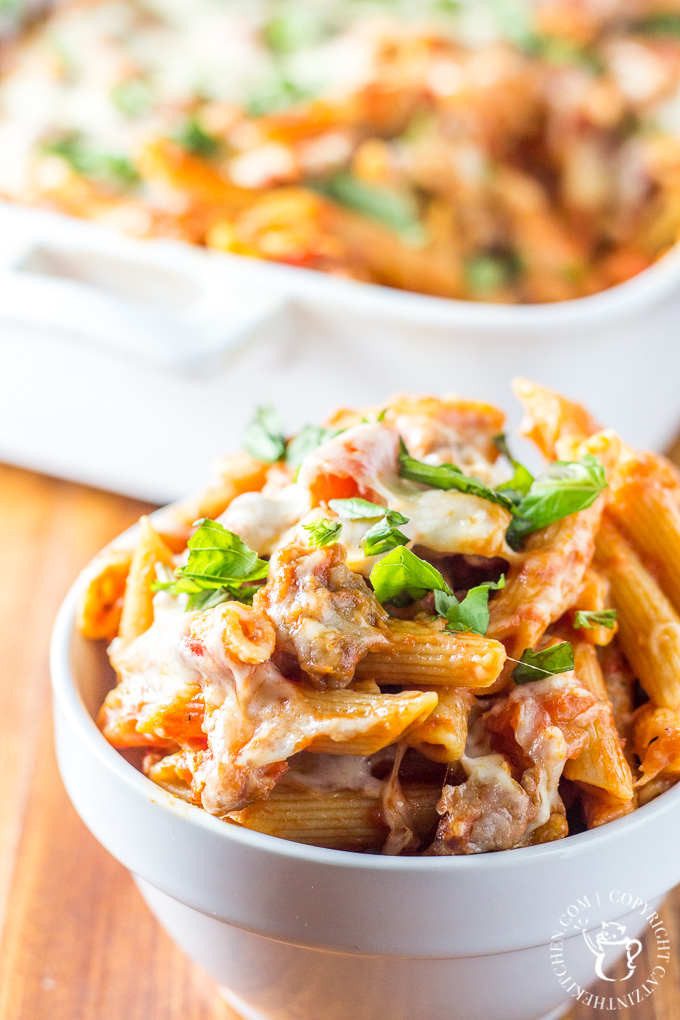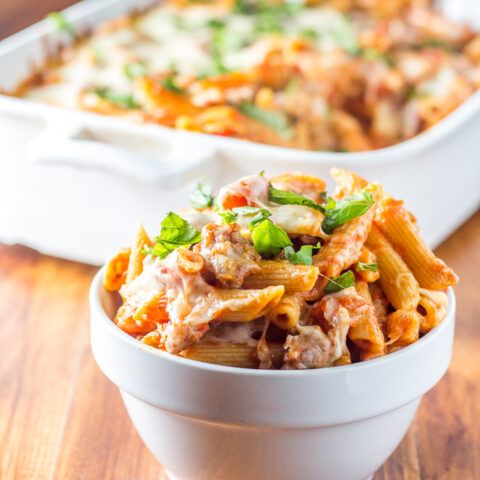 Baked Italian Sausage Penne
This recipe for baked Italian sausage penne is one of the most tried and true in our home kitchen! We've been making it for years - its simple, warm flavors and heartiness make us happy when it's cold and rainy out!
Ingredients
1 pkg (12 oz) dry penne pasta
2 tsp extra virgin olive oil
1 lb mild Italian sausage
1 cup chopped onion
1/2 cup white wine
1 can (15 oz) tomato sauce
1 can (14.5 oz) diced tomatoes with garlic
1 can (6 oz) tomato paste
2 cups shredded mozzarella cheese
Instructions
Preheat oven to 350 degrees F (175 degrees C).
Bring a large pot of lightly salted water to a boil. Add pasta and cook for 8 to 10 minutes or until al dente; drain.
Heat oil in a large, deep skillet. Place sausage and onion in the skillet and cook over medium high heat until evenly brown. Drain excess fat.
Pour in wine, and cook for 1 minute, stirring, to deglaze the pan. Stir in tomato sauce, diced tomatoes and tomato paste. Simmer for 10 minutes, stirring occasionally.
Toss with cooked pasta, and place in a 9×13 inch baking dish. Sprinkle top with mozzarella.
Bake in preheated oven for 20 minutes, or until cheese is melted.
Nutrition Information:
Yield:

10
Serving Size:

1
Amount Per Serving:
Calories:

265
Total Fat:

17g
Saturated Fat:

7g
Trans Fat:

0g
Unsaturated Fat:

11g
Cholesterol:

37mg
Sodium:

514mg
Carbohydrates:

11g
Fiber:

1g
Sugar:

3g
Protein:

14g
Nutrition information isn't always accurate.
This recipe is linked to: