This is not your typical salad. It's got blue cheese. It's got potatoes. It's got steak. If you want a hearty, tasty dinner…cowboy steak salad!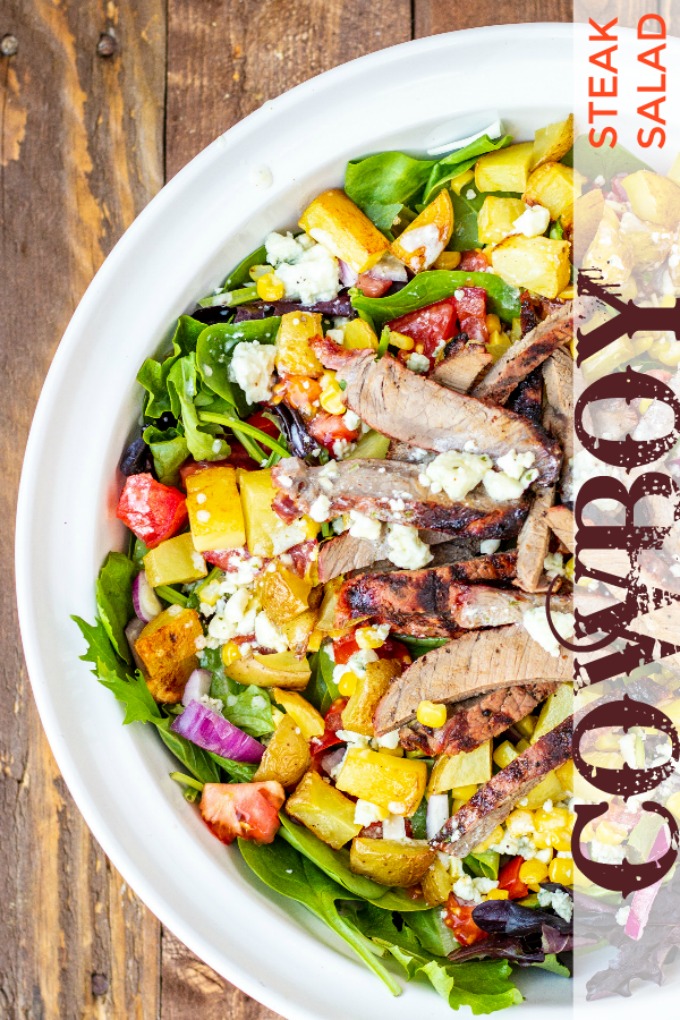 When someone loves salads, you would think that they make salads a lot for lunch or dinners at home. Maybe that is true for some people, but not for me. You see, I love love love salads. I craved them constantly when I was pregnant with Ruby, but usually the only time I eat a salad is when I go out and order one!
Which I've been doing A LOT lately.
I had a delicious salad at Chick-Fil-A over the weekend and the weekend prior I had a grilled fajita salad which I want to recreate here at home.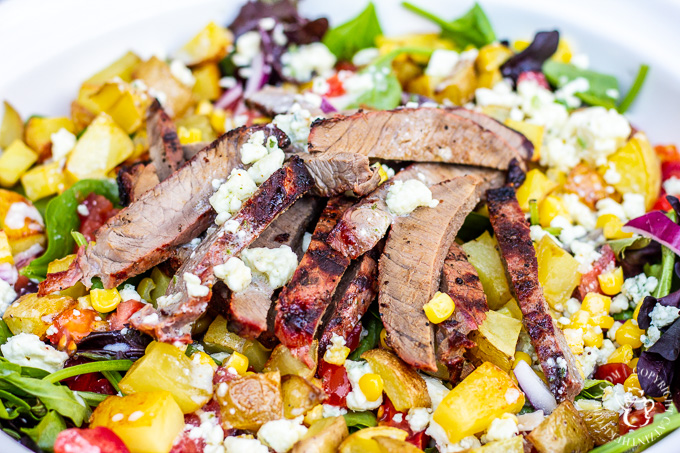 Making salads at home is something I want to do more of. I struggle with it a little bit, not because I'm bad at making salads (because I'm not, really). But…because I know it's not Eden's and Christian's favorite thing to eat.
They make a good effort at eating it and trying to enjoy it, though, which, as the main cook in the family, I appreciate.
Recently I was approached to see if I would like to review Rachel Hollis' new cookbook Real Life Dinners. I wasn't familiar with who Rachel Hollis is (she's the founder of TheChicSite.com and a lifestyle blogger who shares recipes and party planning advice), but I was definitely familiar with what a real life dinner is…because I have four kids in my household…and so I was definitely interested in the book. I say "YES" to more real life dinners! I don't often have time for fancy, involved meals right now during this season of life.
Do ya feel me? Are you with me? I bet you are. I bet were standing in the same boat right now. Hey, we can take turns rowing if you like! Rowing and standing…in boats…mixed metaphors for the win!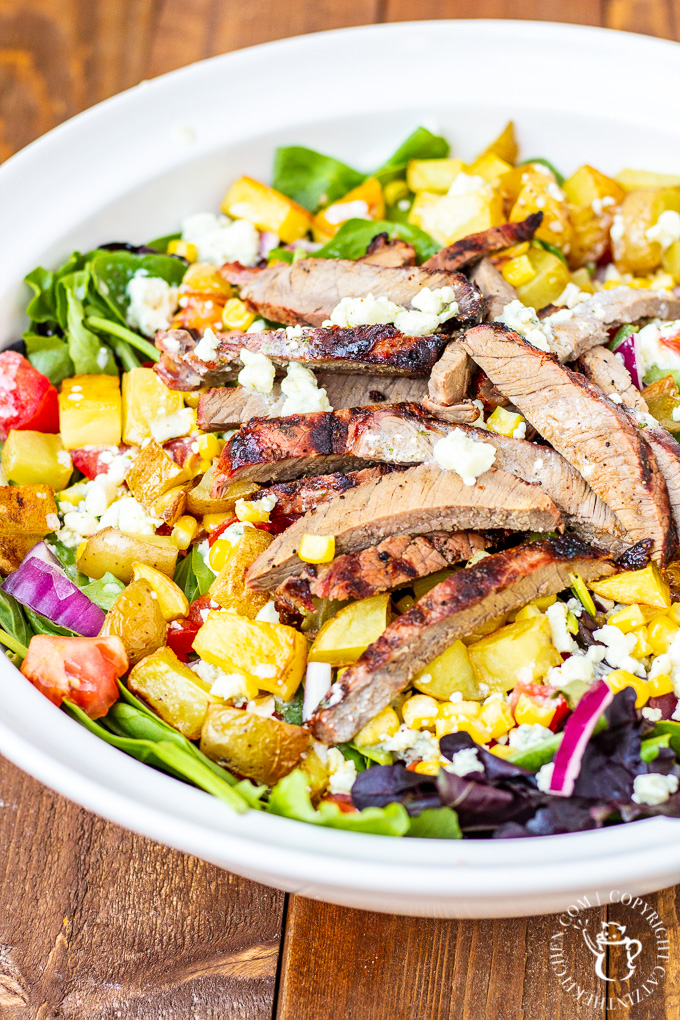 I probably looked through this cookbook a dozen times trying to figure out which recipe to choose to share over here on Catz. Everything looked so colorful and fairly easy, but I eventually chose the Cowboy Steak Salad because we're headed into the warmer months here in the Pacific Northwest and I like to add more salads as meals during this time and I actually don't have a ton of salad recipes here on my blog and…one of the ingredients in the salad was potatoes.
Which just intrigued me, like, a lot.
Guess what!? The salad was a hit! Not only is this a relatively inexpensive meal to make, but it made a ton of salad – Josh had I believe three helpings and loved it! This salad is fresh, meaty, but light and filling without being heavy. I threw some crescent rolls into the oven to go with the salad, which always makes my kids happy. #winning
Based off of what I've seen in this cookbook, I think many of the recipes will have that reaction.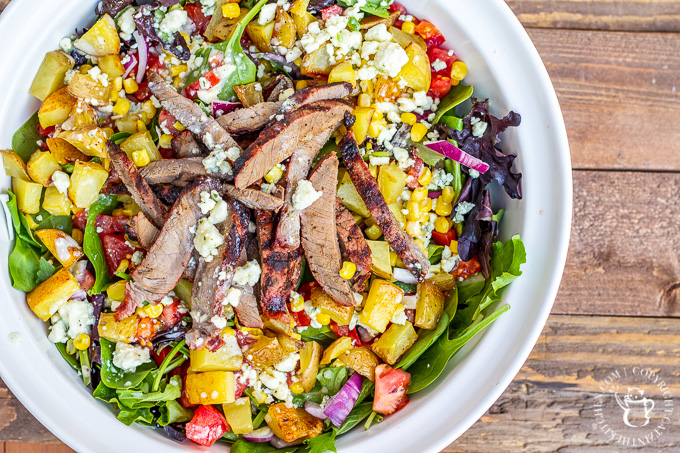 Before I go ahead and share the recipe for this Cowboy Steak Salad, let's talk about the cookbook for a second. I really appreciate that this book has a picture for every recipe. That's 92 recipes with pictures, and instructional pictures, too! The categories for the book are great – a lot like the kind of categorical thinking I do in my own home, for example: breakfast for dinner, make-ahead dinners, kid friendly dinners, etc.
This is a cookbook that lends itself to, well, real life. People need meals they can make ahead or dinners they know their kids will eat without a fight. Soups that will warm your body if you've got a cold. It's got all of it.
Some of the recipes I'm eager to try are:
Grilled Pizza Party
Hawaiian Chicken
Freeze ahead breakfast burritos & sandwiches – I see these being helpful on Sunday mornings!
This cookbook feels like the kind of cookbook moms and dads need in their arsenal.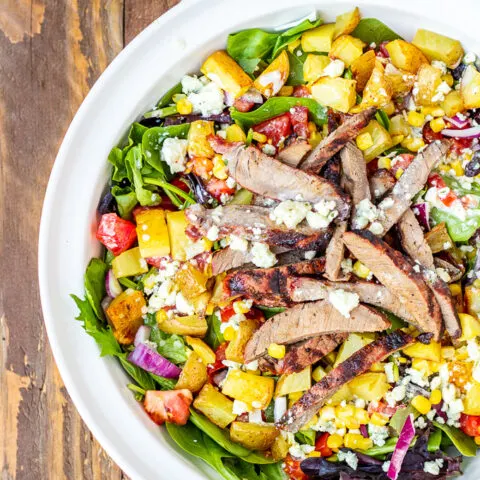 Cowboy Steak Salad
This is not your typical salad. It's got blue cheese. It's got potatoes. It's got steak. If you want a hearty, tasty dinner...cowboy steak salad!
Ingredients
1 lb. (about 4 medium-sized) Yukon or gold potatoes, cut into bite-sized pieces
1 tbsp extra-virgin olive oil
1 cup frozen corn
1 lb. steak - sirloin works very well for this recipe
6 cups mixed greens
1 small red onion, thinly sliced
2 cups chopped roma tomatoes
1/4 cup blue cheese crumbles
Creamy Jalepeno Ranch Vinaigrette
1/4 cup white wine vinegar
1 tsp ranch dry seasoning packet
1/2 tsp ground coriander
1/2 tsp ground cumin
1/2 tsp chili powder
1/8 tsp cayenne pepper
1 tbsp minced jalapeño
1 garlic clove, minced
1/4 cup buttermilk
1/4 cup olive oil
1 tsp salt
1/4 cup blue cheese crumbles
Instructions
In a small bowl, whisk together all the ingredients for the vinaigrette and set aside.
Preheat the oven to 400 degrees and line a baking sheet with parchment paper. Spread the potatoes evenly on the baking sheet and drizzle with olive oil roasting until tender 20-30 minutes. When the potatoes are done, turn the oven off and add the corn to the baking sheet with the potatoes and let it cook in the leftover heat of the oven for minutes.
While the potatoes are cooking, grill the steak over medium-high heat, turning at the halfway through. Cook until the steak has reached your desired doneness, about 6-8 minutes per side for medium to well-done. Set the steak aside to cook while assembling the salad.
In a large serving bowl or platter, placed the mixed greens down, along with the onions, tomatoes, and blue cheese. Top the salad with the roasted potatoes and corn. Spread thinly sliced steak over the top of the salad.
Drizzle the salad with dressing or if it's your preference, serve the dressing on the side.
Nutrition Information:
Yield:

6
Serving Size:

1
Amount Per Serving:
Calories:

449
Total Fat:

31g
Saturated Fat:

10g
Trans Fat:

0g
Unsaturated Fat:

18g
Cholesterol:

95mg
Sodium:

677mg
Carbohydrates:

14g
Fiber:

3g
Sugar:

5g
Protein:

29g
Nutrition information isn't always accurate.
SaveSave
SaveSave