Made on the grill or the campfire, this Grilled Blueberry French Toast is smoky & decadent, but still fresh and sweet, thanks to the blueberries and syrup!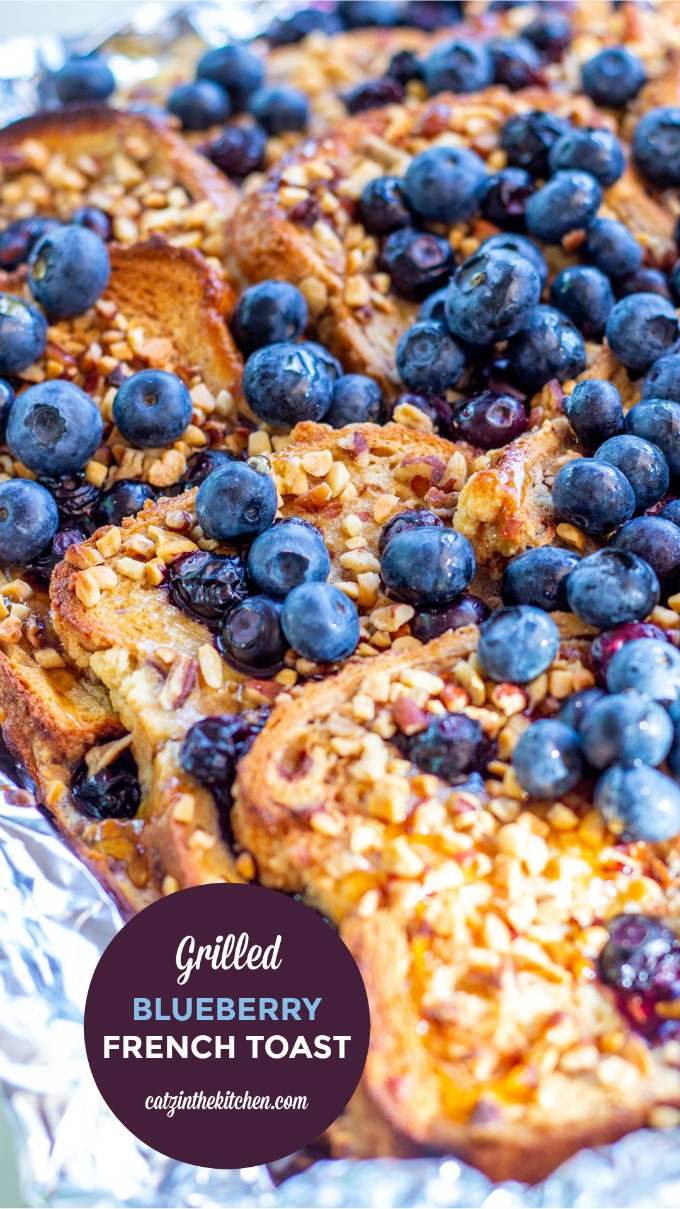 It's July in the Pacific Northwest, which means the sun is more reliably out, the average temps are pushing the mercury higher (quite a bit higher this week, actually), and our summer is really beginning to feel like a proper summer. Sometimes we get some summer in May or June, but you really can't count on it until the latter part of July, and sometimes even August. But, regardless, with the sunshine…comes the grilling!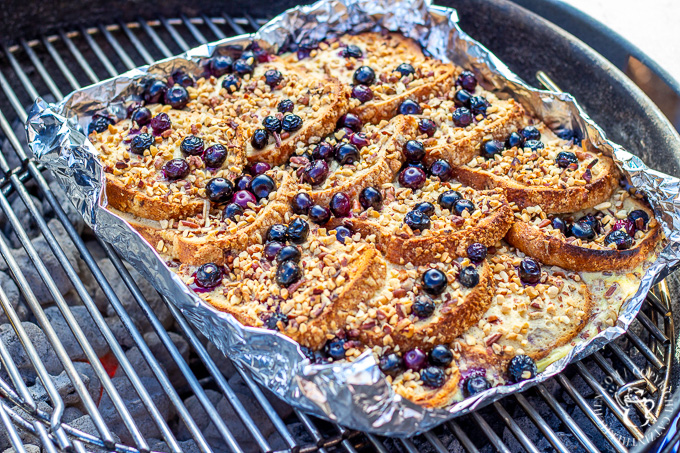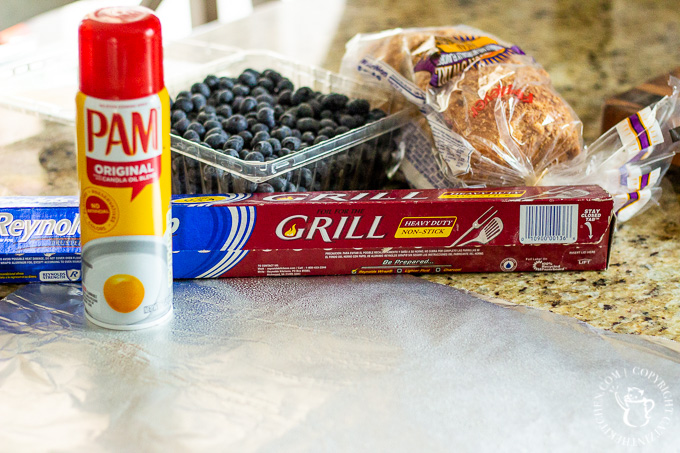 We love to grill, as any regular reader of Catz will know. Classic stuff like burgers, ribs, steaks, chicken, and fish are a must, of course, but so is pizza, skewers, sweet potatoes, corn, and much more. So, yeah, we've thrown just about anything we could think of on the grill (usually with good results), but there is one meal we've never tried over the coals…breakfast.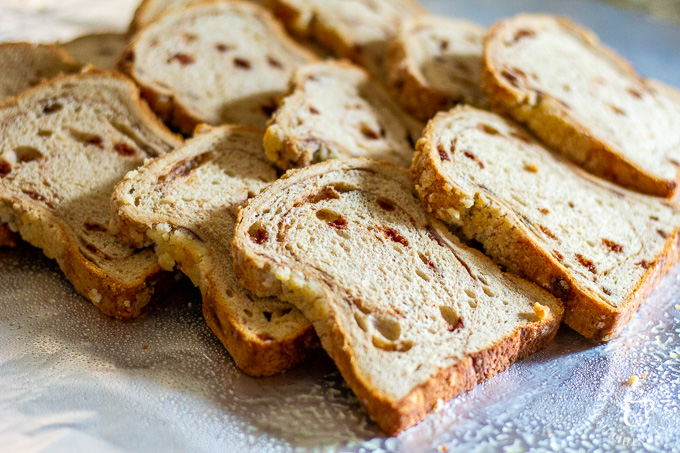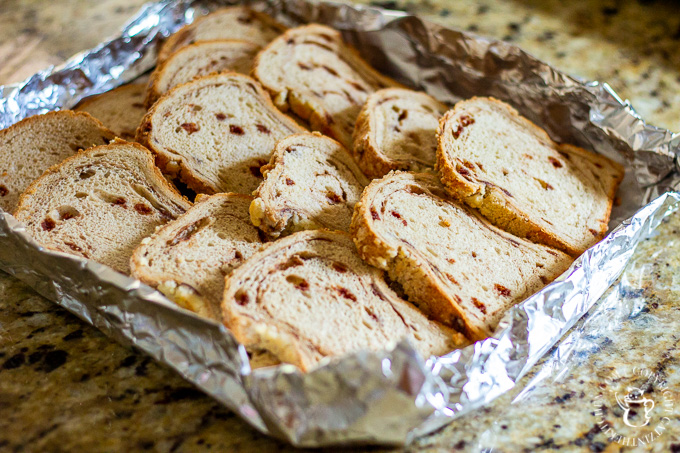 Breakfast on the grill? Is that a done thing? Not that it matters, of course, but is there some kind of precedence here? Well, of course there is. Turns out people grill just about every breakfast food you can think of, though that's often over a very particular type of rather rustic grill. That would be the campfire, of course. Gotta have breakfast while you're camping!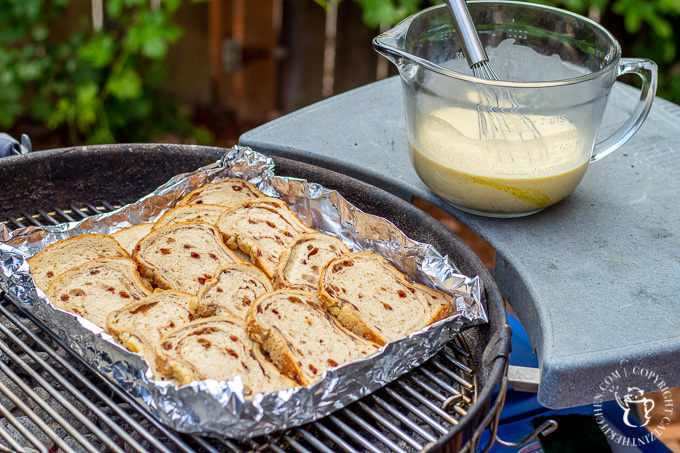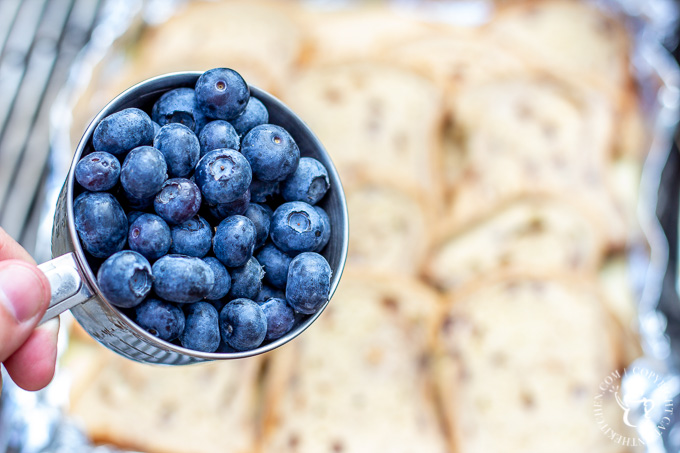 Chels found this recipe in Taste of Home magazine, and the intention there was for this to be made over a campfire. We made a very minor modification to it and grilled it on our classic Weber kettle, which was, frankly, delightful. The only real change we made here was leaving the foil open, to get a little crispy texture around the edges of the French toast, and shortening the grilling time (the Weber is naturally going to cook faster and more evenly than a campfire).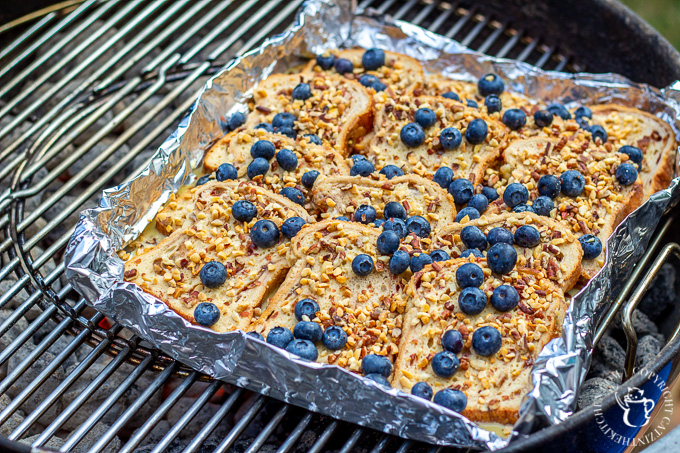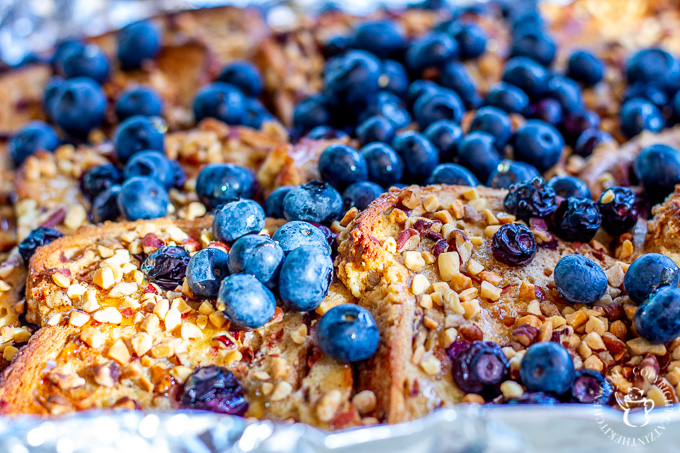 It's hard not to eat an ungodly amount of this grilled blueberry French toast when it's done. Blueberries are not particularly hard to get ahold of most times, but right now they are in season, which equals big, beautiful, and oh-so-blue berries that are quite literally bursting with flavor. The grilled ones have a sweet, syrupy flavor to them, and the fresh ones added at the end retain just a bit of tartness. The French toast is a little smoky and crispy around the edges, while the center is soft, eggy, and decadent. A little pure maple syrup (shout out to our favorite – Ben's Sugar Shack!) and some chopped nuts on top are something akin to the icing on the proverbial cake. This recipe was an instant family favorite.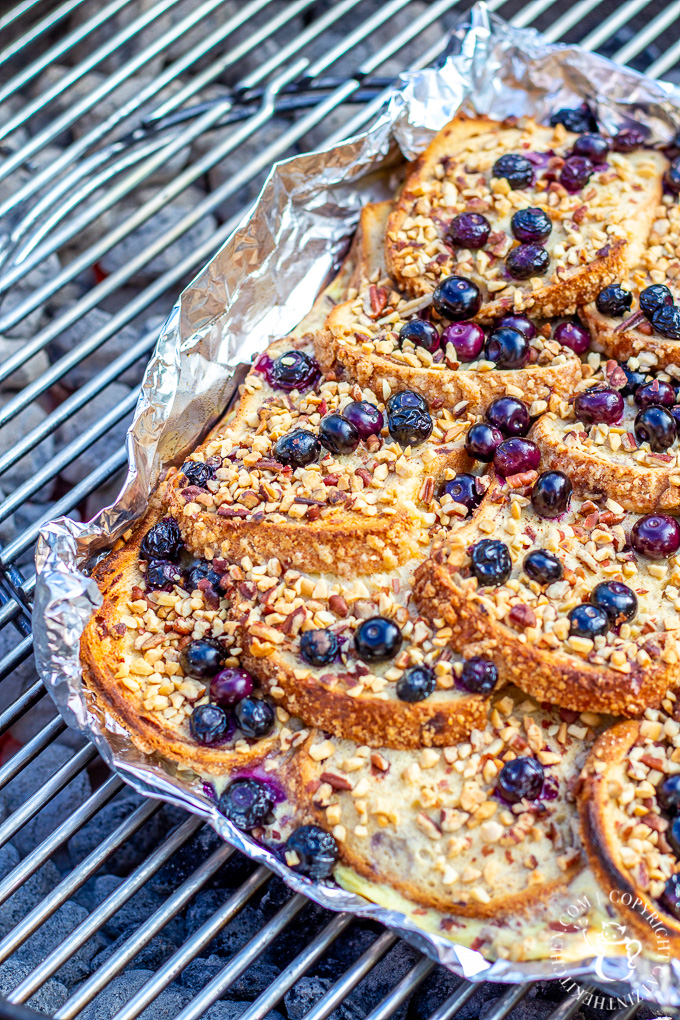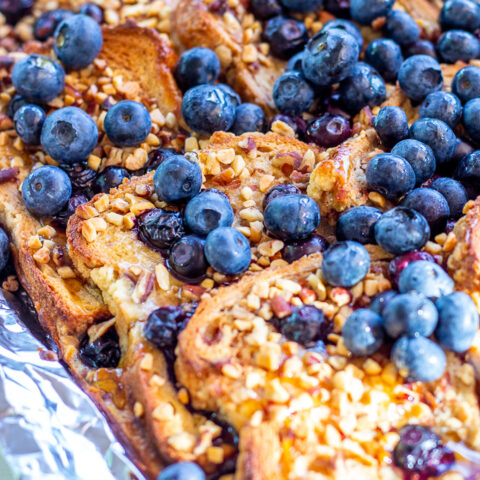 Grilled Blueberry French Toast
Yield:
about 12 pieces of French toast
Made on the grill or the campfire, this Grilled Blueberry French Toast is smoky & decadent, but still fresh and sweet, thanks to the blueberries and syrup!
Ingredients
1 loaf cinnamon swirl bread
1/2 cup milk
1/2 cup heavy cream
1 tsp vanilla
1/2 cup chopped nuts (pecans, walnuts, or macadamia recommended)
2 cups blueberries
6 eggs
real maple syrup
Instructions
Preheat grill for indirect medium heat (on charcoal grill, coals to one side; on gas grill, only one side of burners on), or, for a campfire, low heat.
Lay out doubled-up foil and spray with cooking spray. Place bread on foil, slightly overlapping. Fold up edges of foil around bread to form a foil "baking dish".
Whisk eggs, milk, cream, and vanilla together and pour evenly over bread. Sprinkle with the chopped nuts and 1 cup of the blueberries.
Place foil "baking dish" on unheated side of grill and close grill (for a campfire, you might need to cover with an additional sheet of foil to cook through).
Cook for about 10 minutes, then check for evenness of cooking. If the side closest to the heat is getting done too fast, rotate foil "dish".
Close grill and cook an additional 10 minutes, or until eggs are well set.
Remove from heat and let stand about 5 minutes, then top with remaining cup of blueberries.
Top with real maple syrup and serve immediately.
Nutrition Information:
Yield:

12
Serving Size:

1
Amount Per Serving:
Calories:

135
Total Fat:

9g
Saturated Fat:

4g
Trans Fat:

0g
Unsaturated Fat:

5g
Cholesterol:

105mg
Sodium:

71mg
Carbohydrates:

8g
Fiber:

1g
Sugar:

4g
Protein:

5g
Nutrition information isn't always accurate.