This easy recipe for one pan honey apricot pork chops is not only tasty and healthy, it's a winner all year long, with fresh fruit or canned!
Happy 2019 everyone!
I know it's a pretty popular idea to make resolutions each year or even choose a word or phrase of the year. I never do this. I don't really know why – it's just never been a thing I do. There are so many things I would like to work on, and choosing too many things can be overwhelming. I don't think I can do all things well…but how do I choose just one thing?
Hmm, maybe I'll think on this and get back to you.
I do know that the beginning of a new year is a popular time for a lot of people to work on the healthiness of their lifestyle. I can't do much about the fitness part here on this food blog (though I do have a post coming about what my fitness routine looks like, since I don't go to the gym). Only you can get you to work out! I can, however, attempt to help inspire you to cook and eat better! (A side benefit is that it helps and inspires me!)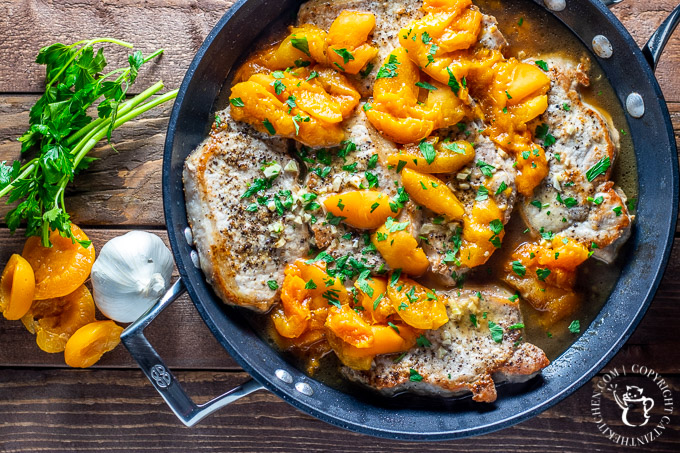 Our family doesn't have any diet restrictions, so I know you don't see a lot of gluten-free or paleo or keto recipes here, but as we make recipes, we do find that they are compliant with some of those diet lifestyles and I love sharing those with you.
Today, I'm sharing a really quick dinner that you can make any night of the year (with the help of canned apricots)…that is also healthy! Everything in this recipe can be made in one pan, to make your dinner time hustle a little more productive. This dinner is also really helpful because, at least for me, I have most of the ingredients on hand already. If you don't keep canned fruit in your pantry, well, you should. I usually keep an assortment of canned mandarins, peaches, pineapples and apricots in the pantry, and I use them for salads, pizza, breakfasts, and so on. (P.S. I always rinse the fruit off in a colander to get off any of that sugary syrup because we don't need that stuff!)
(I am using a nonstick skillet in this recipe – I have this one and LOVE IT – but any large skillet with a lid will work.)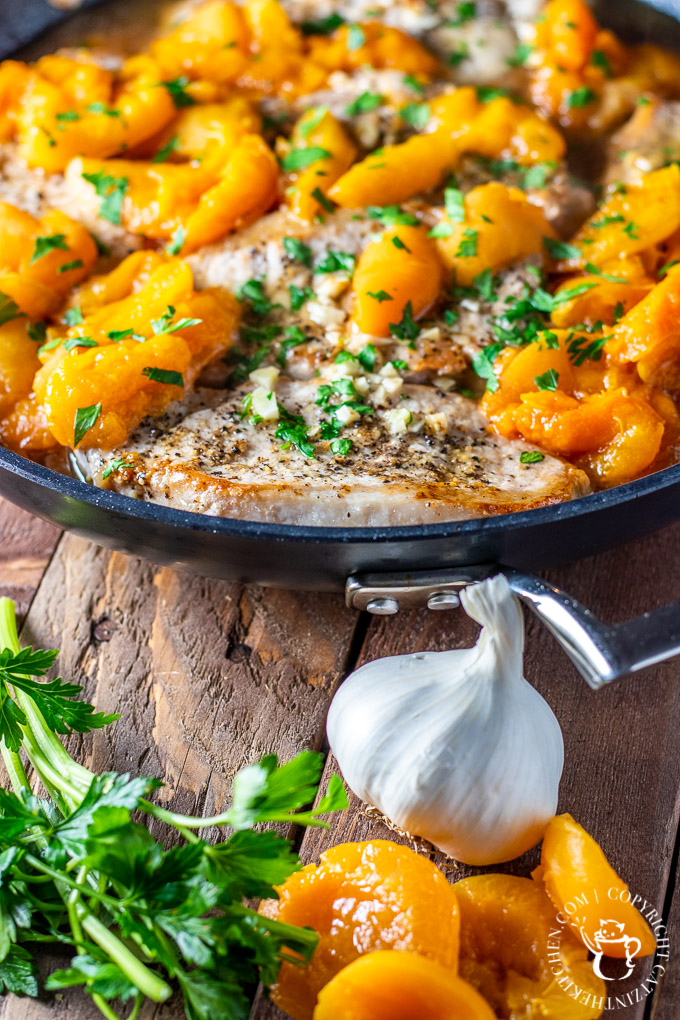 I don't cook with pork chops a lot because they are so easy to overcook and they dry out so easily. I love pork chops, though. They're a great alternative to chicken (Hey, I guess that's why they call it "the other white meat!"). I think the secret to making these chops so perfect is that they simmer in the most delicious apricot sauce, which means they are just taking in so much moisture and flavor.
I served the pork chops with mashed potatoes, but you could make some rice and serve it alongside that as well. Keep it simple, ya know!
Speaking of keeping it simple, I'd like to make this a little easier for you to make by giving you one of these non-stick Calphalon pans I used to make it. I love this pan (not sponsored!)! Enter here – good luck!
Calphalon Classic Ceramic Nonstick Fry Pan with Lid, 12″

Another great reason to love this recipe is that if you make it during the summer, you can use fresh peaches or apricots and then in the off season, canned or frozen would work well, too! Speaking of summer, if you don't have air conditioning, this recipe only uses the stove top, so you're not heating up your house!
What can I tell you, this is just one of those wonderful recipes that has your back ALL. YEAR. LONG.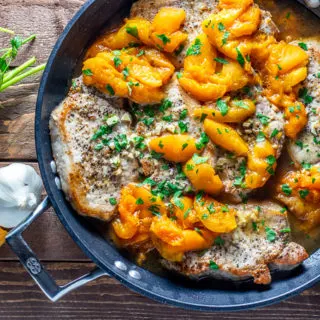 One Pan Honey-Apricot Pork Chops
This easy recipe for one pan honey apricot pork chops is not only tasty and healthy, it's a winner all year long, with fresh fruit or canned!
Ingredients
4-6 (7- to 8-ounce) boneless pork chops, about 1 inch thick
1/2 tsp kosher salt
1/2 tsp black pepper
1 tbsp olive oil
3 (15 oz) cans pitted apricots drained & rinsed then sliced
4 cloves garlic, minced
3 tbsp honey
2 tbsp chopped fresh parsley
Instructions
Pat pork chops dry with paper towels, then sprinkle both sides with salt and pepper.
Heat oil in a large skillet over medium-high heat; brown chops on both sides, 3-5 minutes per side.
Remove pork chops to a plate and add sliced apricots, garlic, and honey. Whisk the sauce until slightly thickened and place the pork chops back into the pan. Reduce heat to medium-low and simmer, covered, until pork is tender and an instant-read thermometer into centers registers 145 degrees F, about 5 minutes. Sprinkle with parsley.
Notes
Make sure you carefully brown the pork chops for their recommended time on each side - that will help you not overcook them and use a meat thermometer to make sure it's cooked to a perfect 145 degrees.
Nutrition Information:
Yield:

6
Serving Size:

1
Amount Per Serving:
Calories:

477
Total Fat:

27g
Saturated Fat:

9g
Trans Fat:

0g
Unsaturated Fat:

17g
Cholesterol:

137mg
Sodium:

353mg
Carbohydrates:

10g
Fiber:

0g
Sugar:

9g
Protein:

49g