This is so easy, it's barely even a recipe! Instead of plain ole' hotdogs, why not punch it up with some bacon wrapped cheese dogs?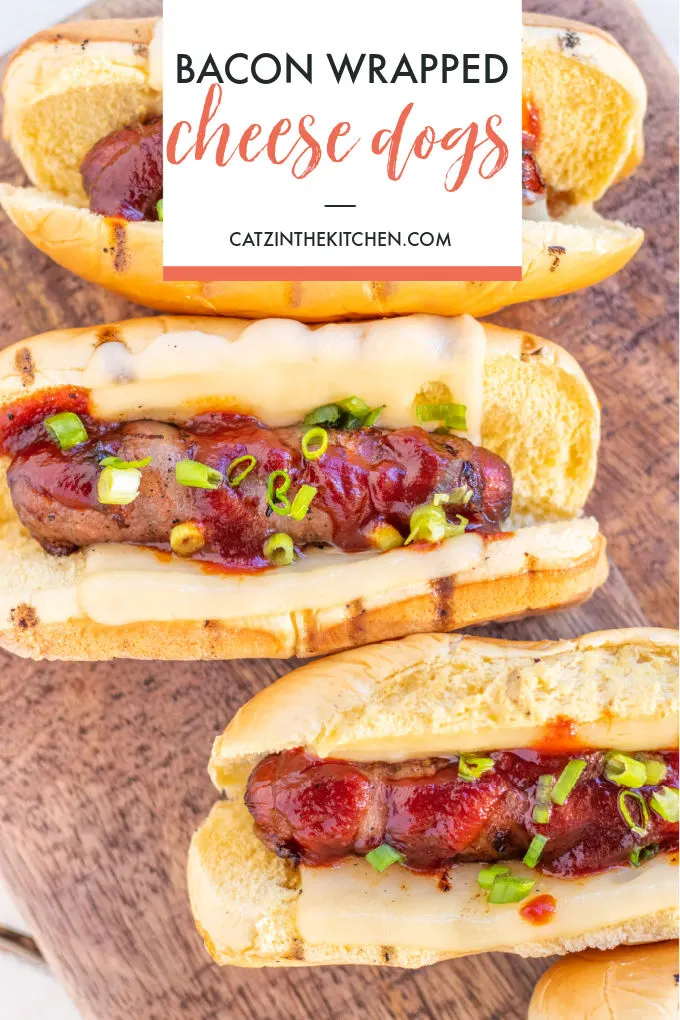 There's a degree to which this feels like cheating. Is this even a recipe? I mean, if you take a good quality all-beef hotdog and wrap it in bacon and then add cheese…have you done anything other than what everyone should obviously be doing with their hotdogs all of the time? I mean…I guess you could potentially be held off by the intimidation of wrapping something in bacon (so fancy). Or knowing what kind of cheese to use (it doesn't matter, but…Swiss is a fun choice).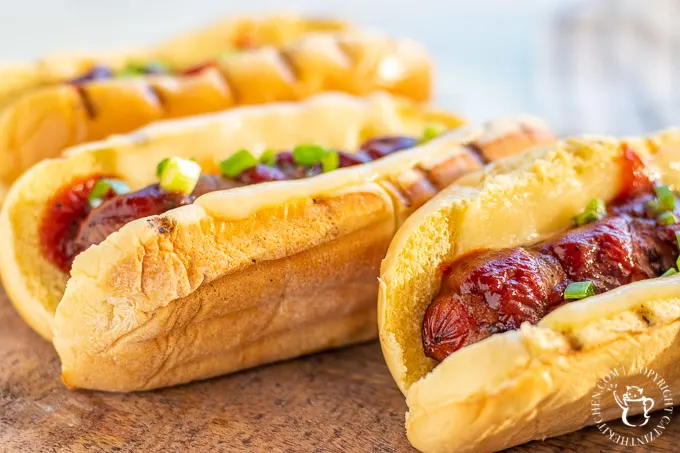 Well, if you do have any kind of inhibition about wrapping bacon around hotdogs and dropping them into cheese slices…it's time to get over it and give it a go. Recipes, if that's what this is, don't get much simpler. You buy some decent hotdogs. You wrap them in decent (but I would say not too thick) bacon. And then you grill them.
They will take quite a bit longer than normal hotdogs, because, well, bacon. And while it's hard to mess this one up, I do have a couple of recommendations. First, toast the buns. Don't skip this step – it adds a lot of texture and helps the buns stand up to the extra grease of the bacon and cheese. Secondly, when the dogs are done and the buns are toasted, add the cheese to the bun and lay the dogs inside, then throw them back on the grill for just a moment or two to melt the cheese.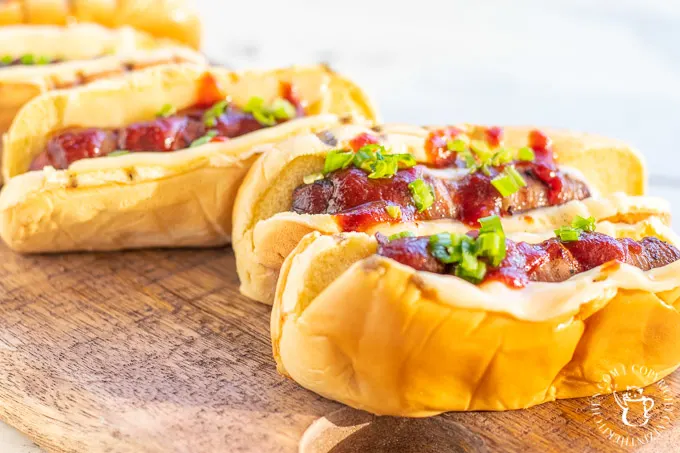 To say this "recipe" was popular with our family would be an understatement. Everyone from little Ruby on up gobbled it up. How could you not? I mean, I get it – if you're a vegetarian, look elsewhere. But otherwise…get to grillin'.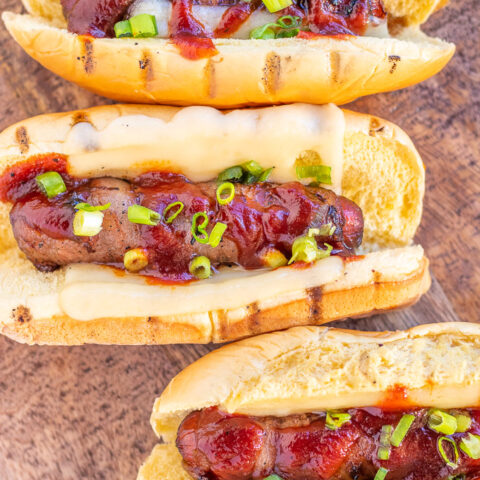 Bacon-Wrapped Cheese Dogs
This is so easy, it's barely even a recipe! Instead of plain ole' hotdogs, why not punch it up with some bacon wrapped cheese dogs?
Ingredients
8 good quality all-beef hotdogs
8 slices thin-cut bacon
8 slices Swiss cheese (use another melty cheese if you have a preference)
8 good quality hotdog buns
1/2 cup barbecue sauce (if desired)
2 sliced green onions (if desired)
Instructions
If using charcoal or gas grill, prep for indirect medium heat (for charcoal, place coals on one side of grill grate; for gas, only light burners on one side). If using pellet grill, preheat to medium high (roughly 350 degrees). You may wish to arrange to catch drippings from bacon by placing a drip pan underneath unlit side of grill, if possible. If this is not practical, consider using a broiling pan to catch grease.
Wrap your hotdogs with a slice of bacon each, and use toothpicks to secure it in place on each end. Place on grill (or broiling pan), over indirect heat, and grill with the lid closed, turning periodically, for about 15 minutes, or until bacon achieves desired level of doneness.
Move to direct heat and grill briefly to finish browning hotdogs (not necessary on pellet grill, but grilling time may be longer).
Open buns, lay cut side down on grill, and toast lightly. Remove buns from heat and add a slice of cheese to each. Place hotdog into bun, on top of cheese, and return to grill. Close lid and grill briefly, just to begin melting the cheese.
Remove from heat, top with barbecue sauce and green onions if desired, and serve immediately.
Nutrition Information:
Yield:

8
Serving Size:

1
Amount Per Serving:
Calories:

360
Total Fat:

17g
Saturated Fat:

8g
Trans Fat:

0g
Unsaturated Fat:

7g
Cholesterol:

41mg
Sodium:

736mg
Carbohydrates:

34g
Fiber:

1g
Sugar:

10g
Protein:

17g
Nutrition information isn't always accurate.