Okay, it's not healthy, but every once in awhile you really just need butter, cream, garlic, pasta, and cheese…you need homemade fettuccine alfredo.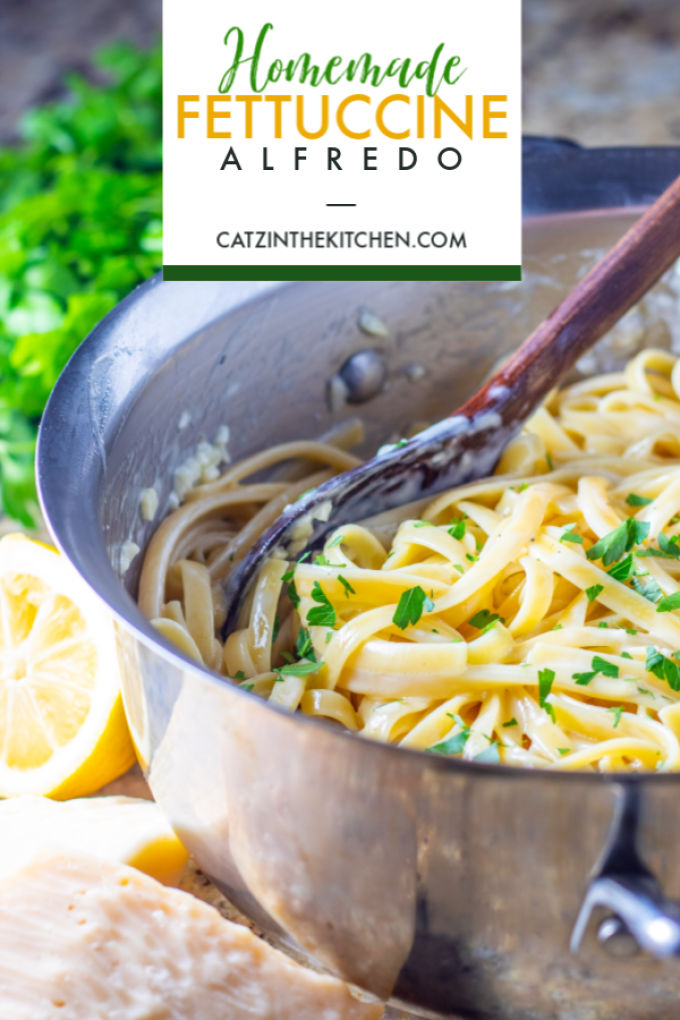 I don't recall eating a lot of pasta as a kid in our house. Of course we had spaghetti once and awhile and my mom's baked macaroni and cheese, or even tuna casserole. But I loved it when she would make fettuccine alfredo. She never made her spaghetti sauce or alfredo sauce from scratch. I think for her, as it often is for me, it was just easier to buy it already made from the store. I'm not going to fault her for it. I get it, and frequently do the same! There is almost always some good quality jarred spaghetti sauce in my pantry. Sometimes, going that extra step at dinnertime just feels like too much for the day you're in.
I'm just here to tell you that making Alfredo Sauce from beginning to end is not hard, difficult, or even that time consuming. It is actually really easy. Is it as easy as opening a jar, pouring the contents into a saucepan and heating it up? Well, no. But it is almost as easy as that.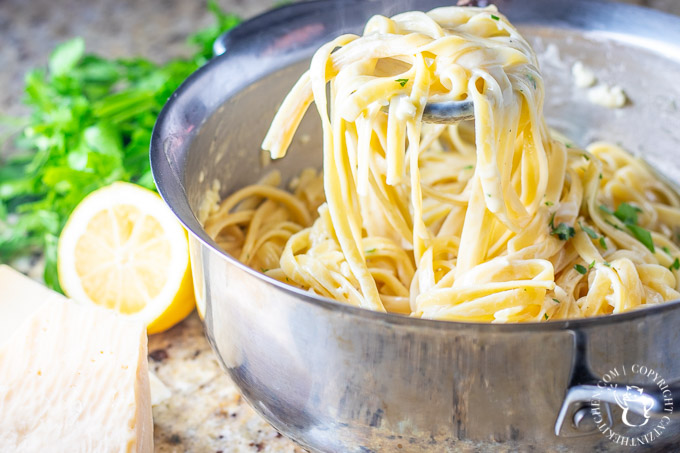 Before I get into the recipe, let me just state a few things. Alfredo sauce is not healthy. For us, it is one of those things we enjoy a few times a year…probably. But you aren't eating it to be healthy, you're eating it because it tastes good. Second, you control the ingredients in a homemade sauce vs. something from the jar. My biggest complaints about jarred sauces (typically) is the amount of salt (among other things) that is in one of those jars of white sauce and how much sauce you're using because you actually don't need a lot of sauce to evenly coat your pasta.
Now, let's get into the recipe. You obviously need pasta, butter, heavy cream, cheese, garlic (you can skip this…but don't), and cheese – I used two blends in my recipe, and I added a bit of lemon to brighten the whole thing up a bit. I love a squeeze of lemon. It just adds a little pop of flavor that doesn't crowd the dish, but compliments it. The alfredo sauce itself comes together fast. I mean, I would say you could have this whole dish made in 20 minutes. But let's be honest, we all know that the part that takes the longest is getting the water to boil. I basically don't even start the sauce until the pasta water is boiling. But that wait gives you a chance to get all of your ingredients prepped…garlic minced, cheese grated, parsley chopped, lemon sliced, etc. You might even have time to set the table if the kids aren't around to do it.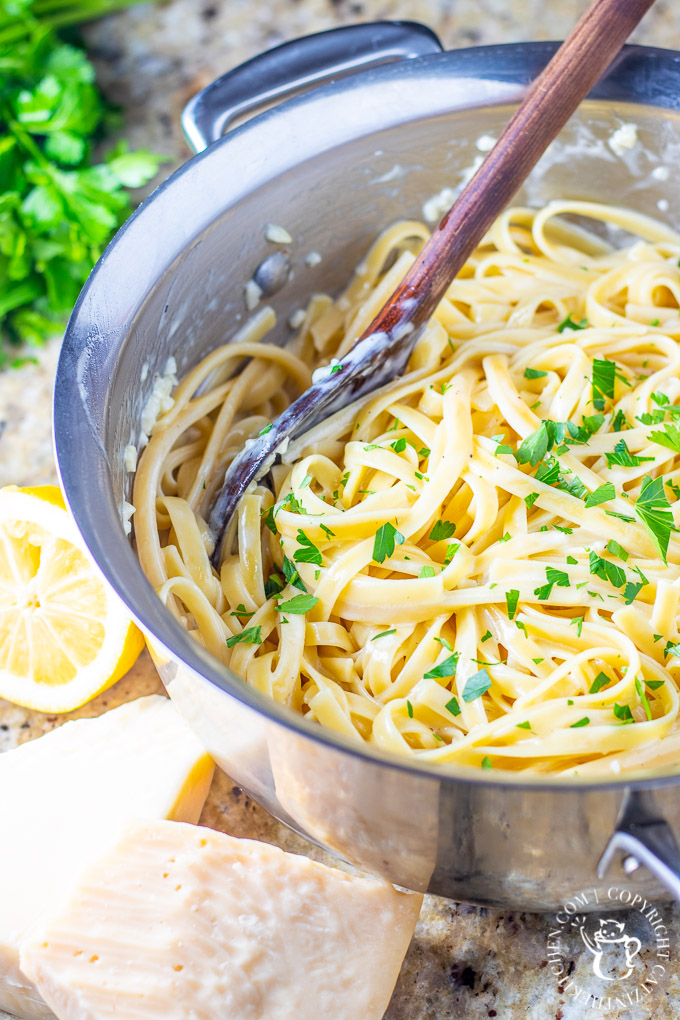 I used two different kinds of cheese in this dish because I like the flavors. Pure and simple. You could skip the Romano cheese and just use parmesan. That would be fine, but, oh, it is so good with both of the blends. Plus adding a little to the top when the dish is finished? Perfection.
I would recommend not draining the pasta once it is finished cooking because you may want the starchy pasta water to thin the sauce out a bit once you add the cooked noodles. It can get a little stiff, especially if you're waiting on the family to show up so you can serve – because it is better if served right away when it is nice, hot, and creamy!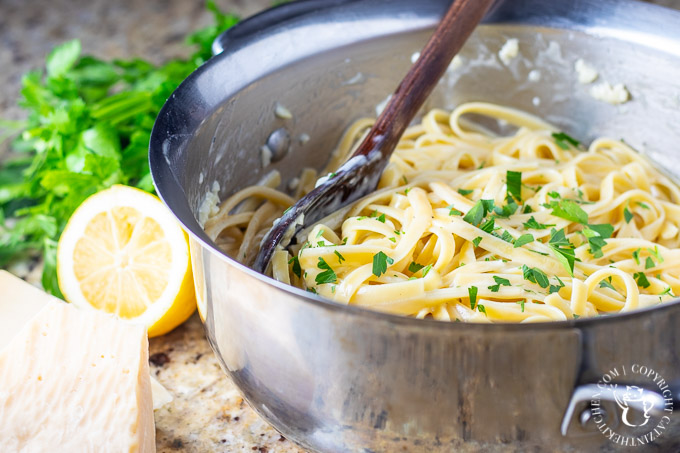 I like serving pasta dishes like this because they do become a good meatless Monday dish. To jazz it up you could always add roasted broccoli, grilled chicken, or cooked shrimp. My mom always used to add shrimp to our fettuccini alfredo when I was growing up and I loved it. But, there isn't anything wrong with eating it without embellishment either. I mean, it's butter, cream, and garlic, so you pretty much can't go wrong!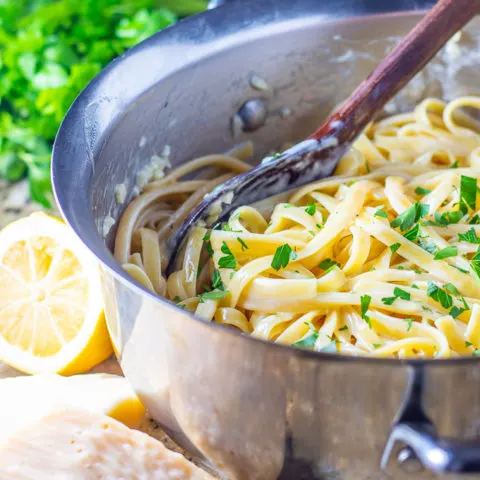 Homemade Fettuccini Alfredo
Okay, it's not healthy, but every once in awhile you really just need butter, cream, garlic, pasta, and cheese...you need homemade fettuccine alfredo.
Ingredients
1 lb. (1 box) Fettuccini pasta (Don't drain the pasta, you're going to want to reserve some of the starchy pasta water)
1/2 cup butter, unsalted
3-4 cloves garlic, minced
3/4 cup heavy cream
Salt and Pepper to taste
3/4 cup freshly grated Parmesan cheese
1/4 cup freshly grated Romano cheese
1-2 tbsp fresh lemon juice
1/4 cup fresh parsley, chopped
Instructions
Bring a large pot of salted water to a boil and cook pasta according to the package directions.
While the pasta is boiling, melt butter in a high-sided skillet and sauté garlic over medium-low heat, until butter has melted and garlic has softened and fragrant, about 3-5. Add the heavy cream, salt, and pepper and stir for another 3 minutes. Stir in lemon juice and grated Parmesan and Romano cheese until melted and sauce has thickened slightly.
Transfer hot pasta into the sauce and toss until the noodles are evenly coated. If the sauce is too tight or thick, add a little bit of reserved starchy pasta water to loosen the sauce up a bit. Sprinkle with chopped parsley and serve immediately.
Nutrition Information:
Yield:

6
Serving Size:

1
Amount Per Serving:
Calories:

519
Total Fat:

32g
Saturated Fat:

19g
Trans Fat:

0g
Unsaturated Fat:

10g
Cholesterol:

89mg
Sodium:

339mg
Carbohydrates:

46g
Fiber:

2g
Sugar:

2g
Protein:

13g