Gracie whips up these pancakes nearly every Friday morning – they're easy, quick, fluffy, and delectable. They're Friday Morning Pancakes!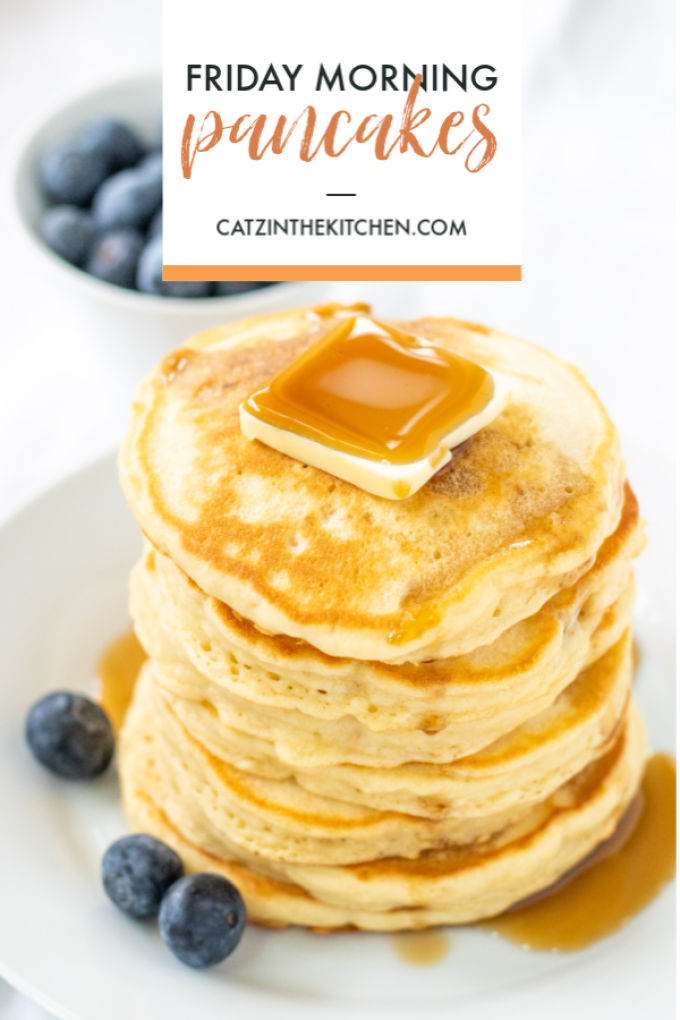 I am so pleased to be writing another post! Especially this one! I am very excited about these.
My siblings and I are homeschooled, as I'm sure you already know; we end school a little earlier than most kids. We have school Monday-Thursday. Friday is my family's chill out day, or pizza day, depending on who you ask. It's the day when we wind down and prepare for the weekend ahead. Recently, pancakes from scratch have become our Friday morning tradition! We get up a little later then usual (although I still get up at 7), and I get myself ready for the day (I know, I know – I still like to look nice, especially in the morning). The kids come down in their pjs usually, and depending on how early Ruby wakes up, she comes down, too. Then, sometimes we put a show on, other times we just chat or they read books, and I start making pancakes.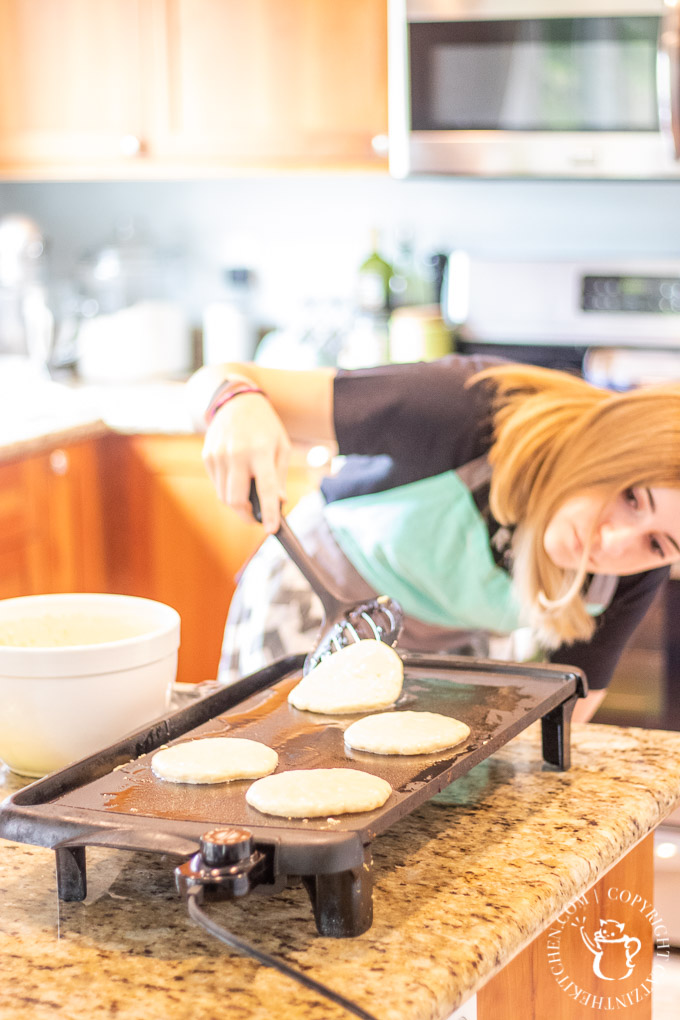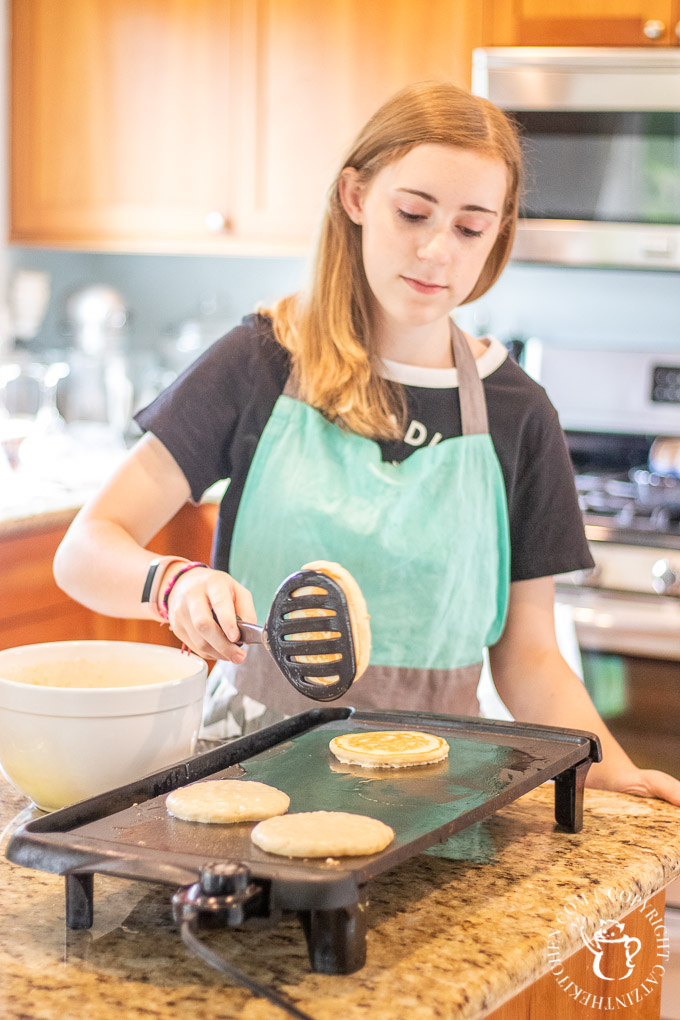 Taking Fridays off has always been one of my favorite parts of homeschooling, I'll admit. It makes the week so much easier. All of us look forward to it (except Daddy, I suppose, who still has to work…but he likes pizza, too!). I'm not exclusively homeschooled anymore, as I do take outside classes. I really enjoy them, but at this point, I think everyone is looking forward to school being over. I actually enjoy my classes for two reasons. One, the actual school part, and two, my dad drops me off at school two mornings a week, which gives us a little time together.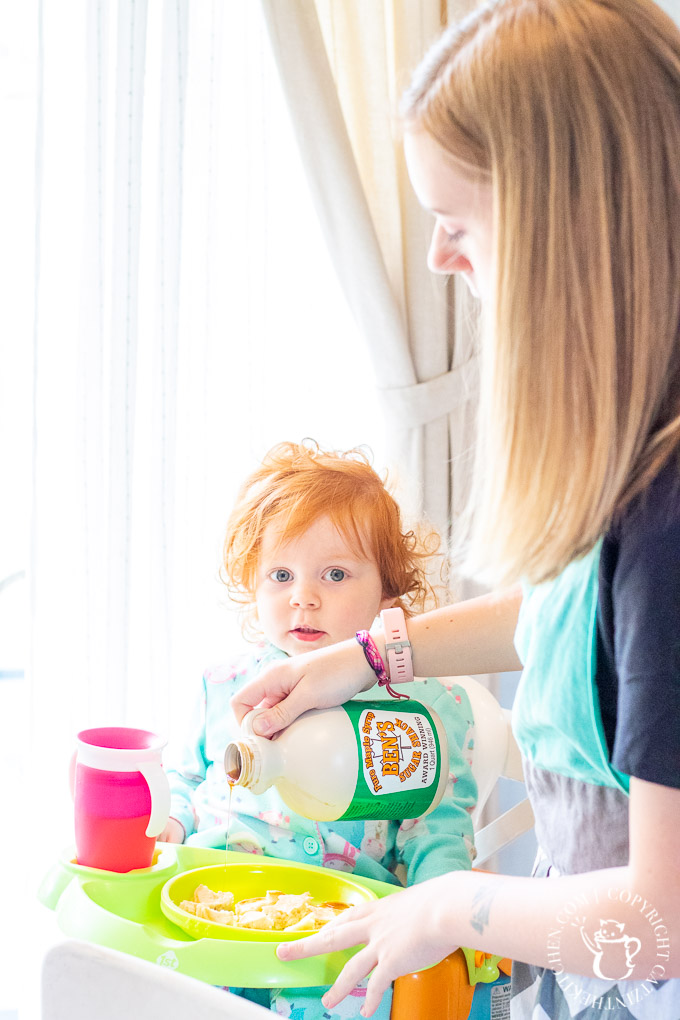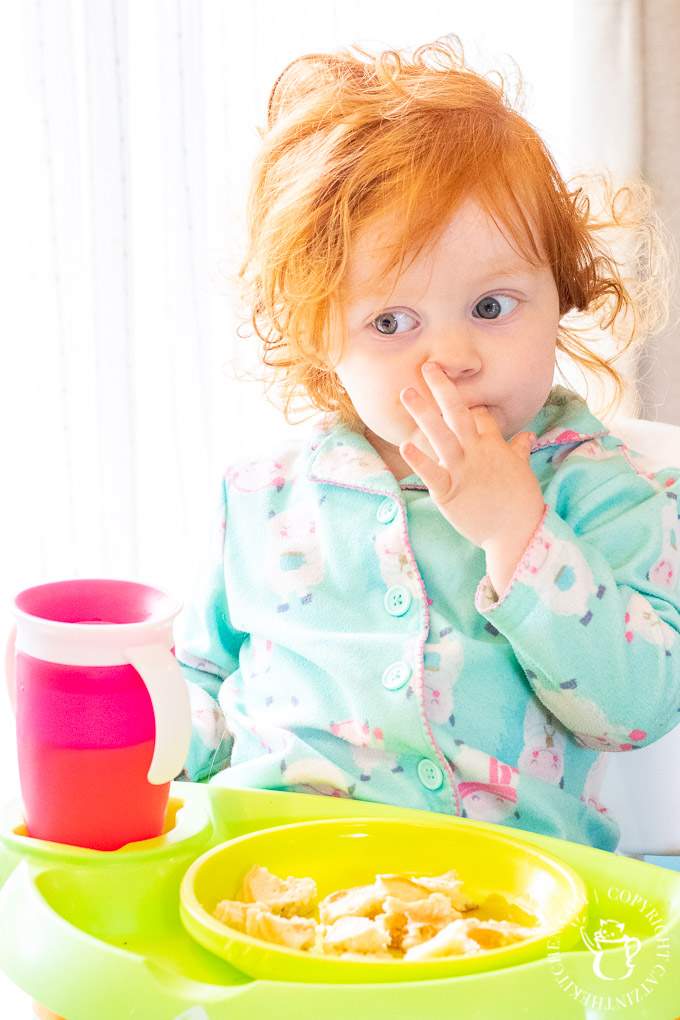 Anyway, back to the Friday Morning Pancakes – sorry about my rabbit trail there! These pancakes are really good and super simple. They aren't actually my recipe, but I did add vanilla. Who doesn't need a little more vanilla in their life? The cookbook came from a store inside Disneyland a few years ago. Surprisingly, I still use the cookbook all the time! The hummus recipe on the blog came from that book, so did the healthy cookies! I actually have the recipe memorized at this point!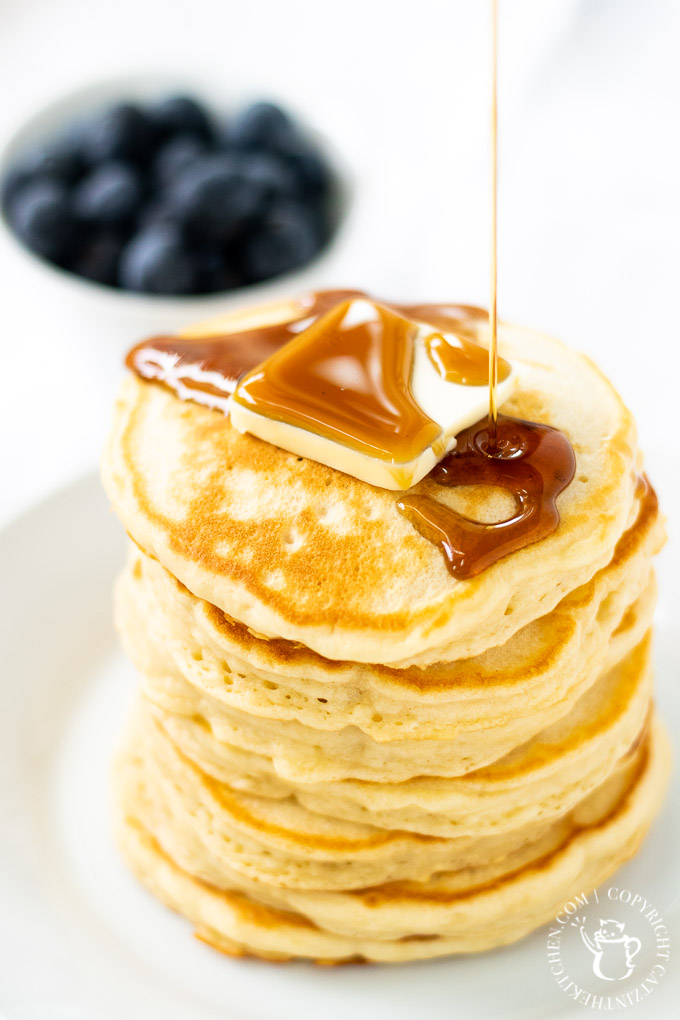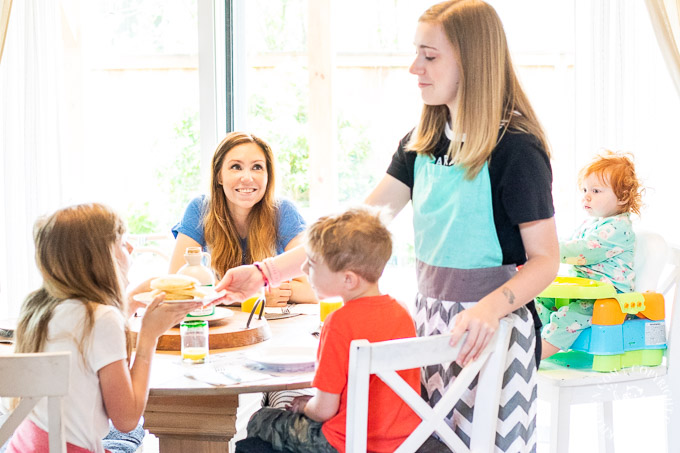 I think that if you are looking for a seriously easy and basic pancake recipe that gives you all the flavors you want, without a ton of work, then these could be a good candidate. I mean, easy….I just turned 15! If I can do it, then you can. Make these Friday or Saturday morning, they are super quick and easy, but taste like they take longer than they actually do. In my opinion…of course.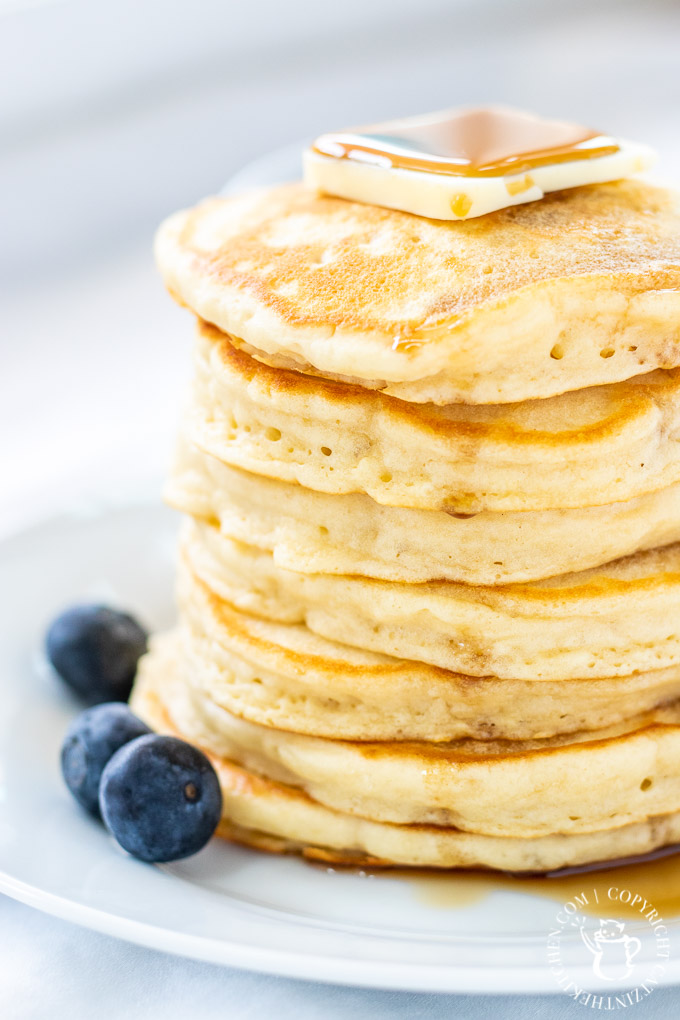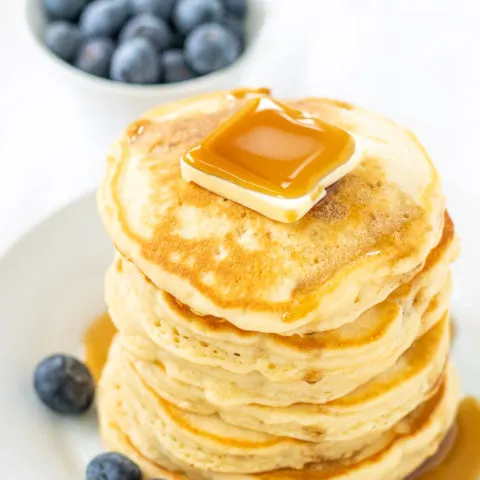 Friday Morning Pancakes
Yield:
approx 15 pancakes
Gracie whips up these pancakes nearly every Friday morning - they're easy, quick, fluffy, and delectable. They're
Ingredients
2 cups flour
4 tsp baking powder
1/2 tsp salt
2 eggs
2 tbsp pure maple syrup + extra for serving
4 tbsp canola oil
1 tsp vanilla extract
1 1/2 cups milk
Add blueberries, grated apple, or chocolate chips, if desired.
Instructions
Get out griddle/pan, and preheat to 350 degrees or turn on to medium heat, and preheat the oven to 200 degrees.
Add the dry ingredients to a small bowl and whisk together. In a large bowl, whisk together the wet ingredients.
Add dry ingredients to the wet mixture, and whisk until relatively smooth. A few lumps are okay.
Take a 1/4 measuring cup and scoop the batter onto griddle/pan. Add as many as will reasonably fit.
Check under the pancakes occasionally using a spatula, if they are golden brown and bubbling on top then they are ready to flip. Serve immediately or place in the oven until ready to serve,
Keep repeating those steps until all the batter is gone.
Finish off with a little syrup and/or butter, and enjoy!
Nutrition Information:
Yield:

5
Serving Size:

3
Amount Per Serving:
Calories:

432
Total Fat:

18g
Saturated Fat:

4g
Trans Fat:

0g
Unsaturated Fat:

13g
Cholesterol:

80mg
Sodium:

693mg
Carbohydrates:

59g
Fiber:

3g
Sugar:

14g
Protein:

11g