This one pan sausage dinner recipe includes lots of bright, flavorful, and healthy summer vegetables, and it's easy to prepare – just chop those veggies!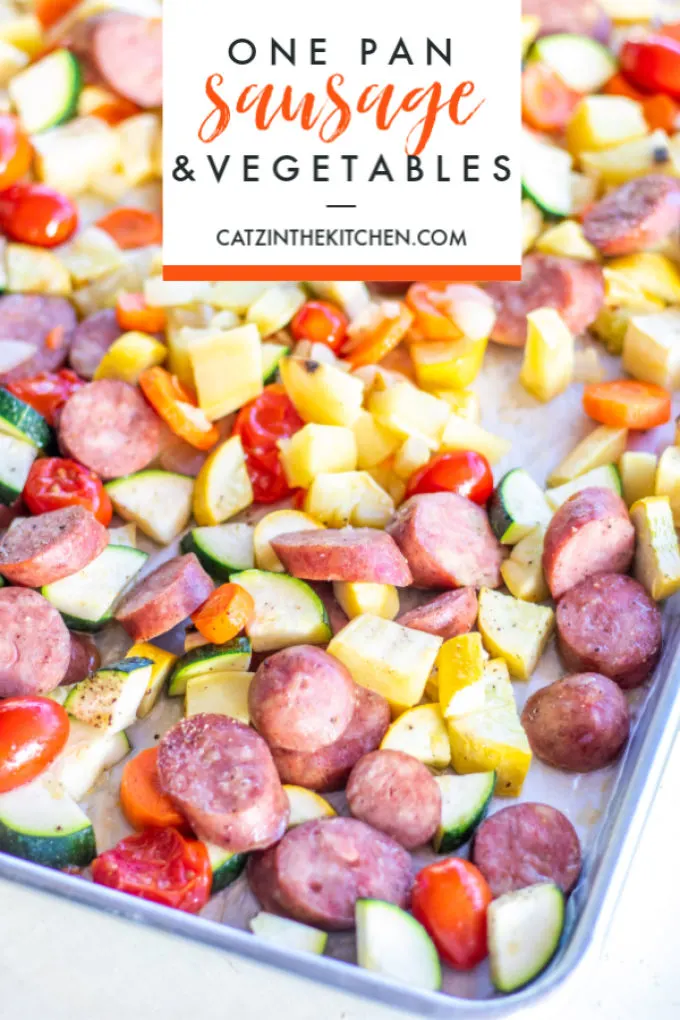 I feel really badly that we haven't taken the kids to our Farmer's Market yet this season. It's one of our favorite things to do with the kids, but this year it hasn't happened. It's been a busy season for us, as it has for a lot of people, and Josh and I are paying more attention to finding ways to slow down more and just simply rest. (Editor's Note: we've since been to the farmer's market with the kids twice! Yay!)
That being said, if you happen to have a garden or do head over to the farmer's markets on a regular basis, this dinner is for you because it features a lot of beautiful summer produce that tastes amazing when it's roasted in the oven. Also, this would be a great back to school dinner because it's all in one pan and the most time consuming part of this whole recipe is going to be…the chopping.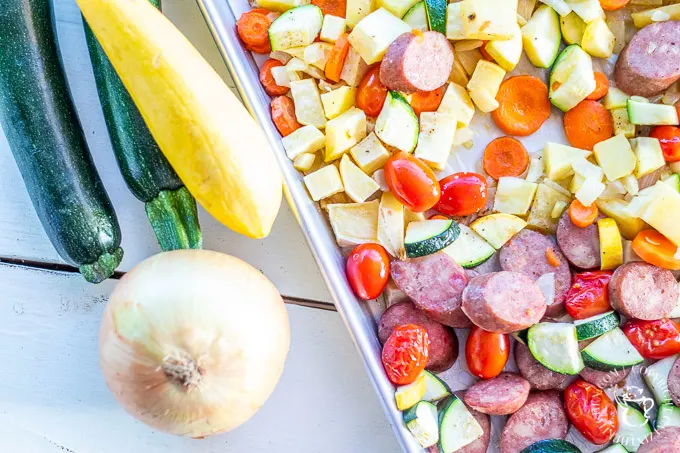 Unless you're a master chopper who can really make a chef's knife dance, or you buy all of your veggies precut and sliced (which can be a lot of money), there generally isn't a way to get past that. My suggestion is to tell the kids to go outside and play, turn on some of your favorite tunes, open a can of La Croix (hesitant to encourage drinking wine while wielding a large sharp object) or grab a glass of iced tea and settle in. If you're going to be standing there chopping, you might as well make it a bit enjoyable for yourself, right?
Speaking of one pan, I'm a big fan of one pan/pot meals – I mean, what busy adult isn't, and this one pan is similar to the one pan chicken sausage with roasted asparagus and potatoes recipe I posted a few months back. But this one is a little bit different. For one, this meal centers around summer produce – grape tomatoes, zucchini, yellow squash, carrots, and onions. I used Aidells Pineapple Bacon Chicken Sausage (not an affiliate or paid link – we just love it!) in the version because the pineapple and bacon flavors felt more like summer to me. Feel free to use any kind of sausage you like – but the pineapple bacon is pretty sweet and tangy here which tastes so good with all of those veggies. (Editor's Note: Costco is a good place to buy this particular sausage, at least when they carry it.)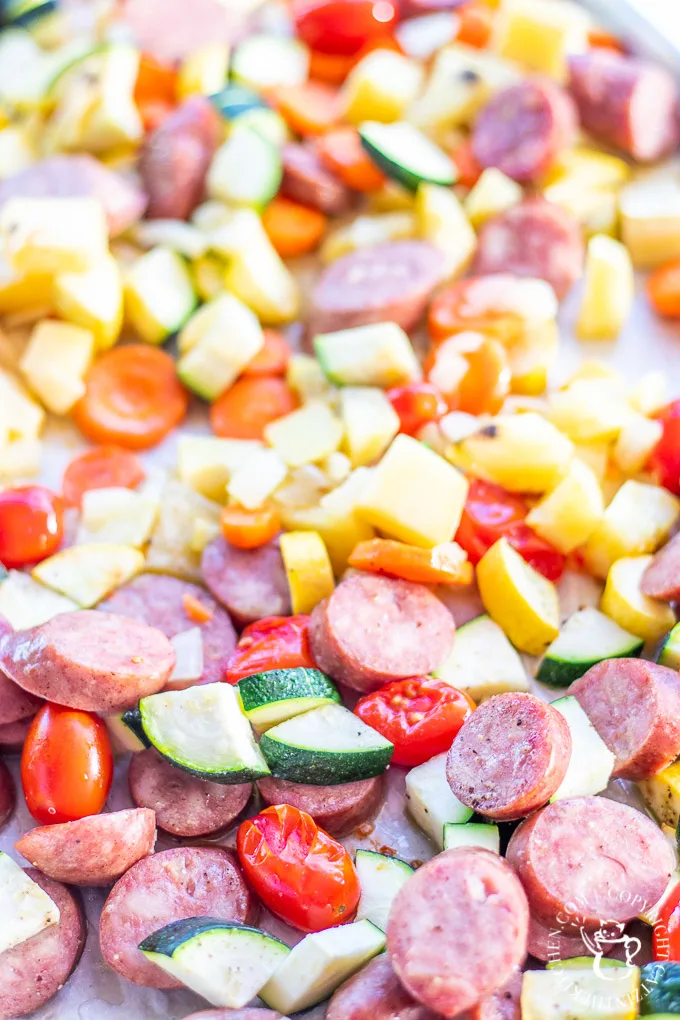 Another note worth mentioning is that when I went to buy the ingredients for this recipe, my grocery pickup person grabbed the wrong kind of sweet potatoes. I had wanted the orange ones that look like yams and what I got were the whiteish-golden colored ones…but you know what, I'm not hating the flavor or the way it turned out. Any potato would work here, but a sweet potatoes complement the roasted sweetness of the other veggies. And the tomatoes were purely an after thought! I had bought them for another recipe and then ended up not using them, so instead of letting them go to waste, I threw them onto the baking sheet whole (I didn't even bother slicing them) because when they are roasted like this, they blister up and get so sweet inside and just kind of explode with every bite. If you've never had roasted grape tomatoes…you're in for a treat!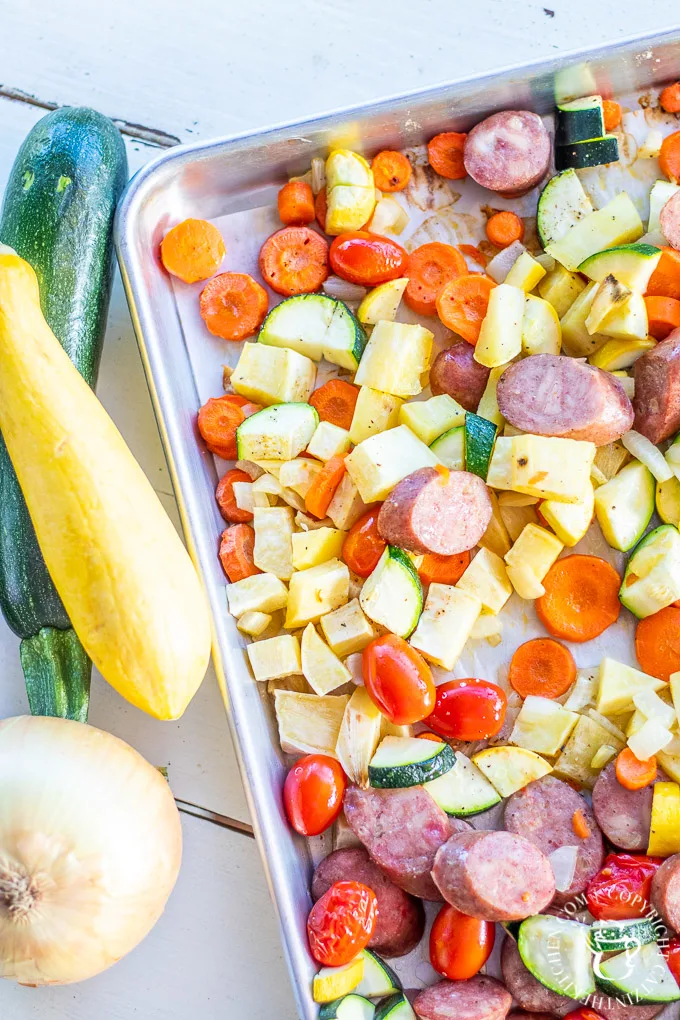 I would also like to mention how inexpensive this meal is. Cooking for a growing family of six (meaning the six people in my family are growing – we as a family are not growing by members – not a pregnancy announcement) can get expensive because at some point you have to start doubling portions, but buying or growing seasonal produce is pretty cost effective and an easy way to stretch the buck when your family's appetites increase! I don't know about you, but I'm always down for recipes that are inexpensive, healthy, and easy enough to double.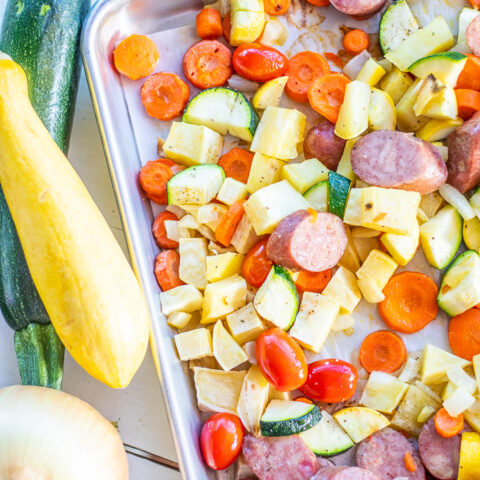 One Pan Chicken Sausage with Summer Vegetables
Total Time:
1 hour
5 minutes
This one pan sausage dinner recipe includes lots of bright, flavorful, and healthy summer vegetables, and it's easy to prepare - just chop those veggies!
Ingredients
3 "white" sweet potatoes, peeled and chopped into 1' pieces
1 large sweet onion, cut into 1' pieces
3-4 medium carrots, sliced into 1' slices
2 medium zucchini, cut & quartered
1 yellow squash, sliced and quartered
1 (10 oz) container grape tomatoes
1 (12 oz) pkg. Aidells Pineapple Bacon Chicken Sausage, sliced
3 tbsp extra-virgin olive oil, divided
1/2 tsp sea salt
Freshly ground pepper
Instructions
Preheat oven to 400 degrees. On two large baking sheets, divide the potatoes, carrots and onions evely on both pans. Drizzle with 1 tbsp olive oil, 1/4 tsp salt and pepper, tossing to coat. Roast for 25 minutes.
Add sliced zucchini, squash, tomatoes, and sausage to both hot pans, season with the remaining olive oil, salt and pepper, toss gently to coat and roast for an additional 15-20 minutes, until vegetables are tender.
Nutrition Information:
Yield:

6
Serving Size:

1
Amount Per Serving:
Calories:

221
Total Fat:

11g
Saturated Fat:

2g
Trans Fat:

0g
Unsaturated Fat:

8g
Cholesterol:

17mg
Sodium:

420mg
Carbohydrates:

25g
Fiber:

5g
Sugar:

12g
Protein:

8g