This recipe for sweet corn & thyme cornbread cake is simple, perfect for fall, & rather unexpected…because it's a dessert, topped with lemon curd & honey!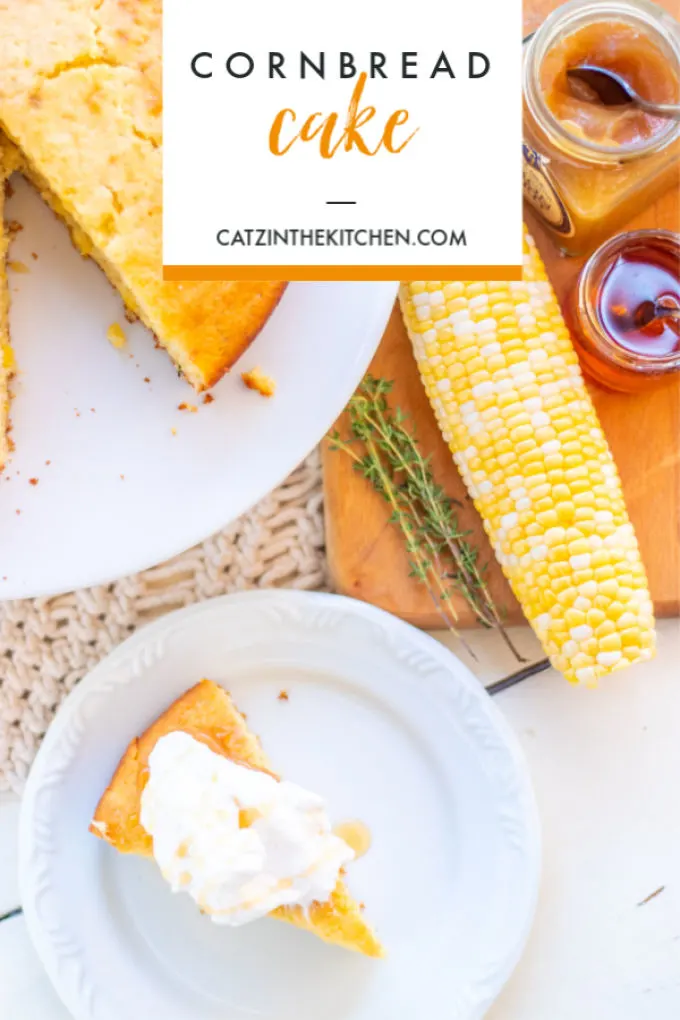 Fall is basically here (a little early) in the Pacific Northwest and I'm trying really hard to get in the autumn spirit. Generally this is not a hard thing for me to do because I am all about #pumpkinflavoredeverything, fall clothes, the chill in the air, the colors, the "fall" decor (not to be confused with halloween decorations), and the food. I'm all about that comfort food!
The last two years, I'll admit, I've just really struggled with getting excited about the changing of the seasons. I wonder if it's because the weather in Oregon, after summers that are spectacularly beautiful, gets so cloudy, grey, and wet. It gets dark and the days get short, and with four kids in the house, shuffling them here and there in and out of the rain, it just begins to feel oppressive. However…I have gotten a few "fallish" things for the front porch, like a new wreath, some pillows, and a rug for under our welcome mat – and this all has helped me brighten things up and get a bit more excited for fall.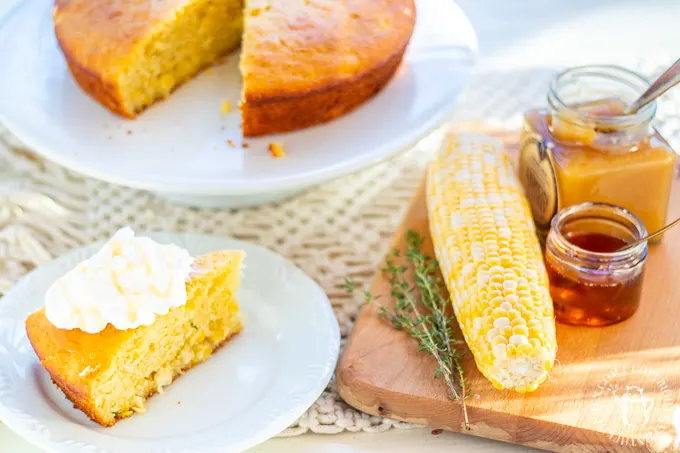 One of the things my family loves about fall is the return of chili and cornbread. Particularly this cornbread recipe which is my absolute favorite ever! We're big cornbread fans over here, which is why I thought this cornbread cake would be such a fun and unexpected dessert.
A few things I love about this recipe…it's a great pantry dessert. I already had all of the items on hand except for the thyme and fresh corn. You could use frozen corn, but I would make sure that once it's thawed that it's not wet – you want it to be patted down and dried – or you could buy that pre-packaged corn on the cob that you can buy in the produce section. Either one would work. If you don't keep lemon curd on hand, you should, especially the Trader Joe's lemon curd because it is so perfect. It's about as homemade as you're going to get it (you know, without making it at home).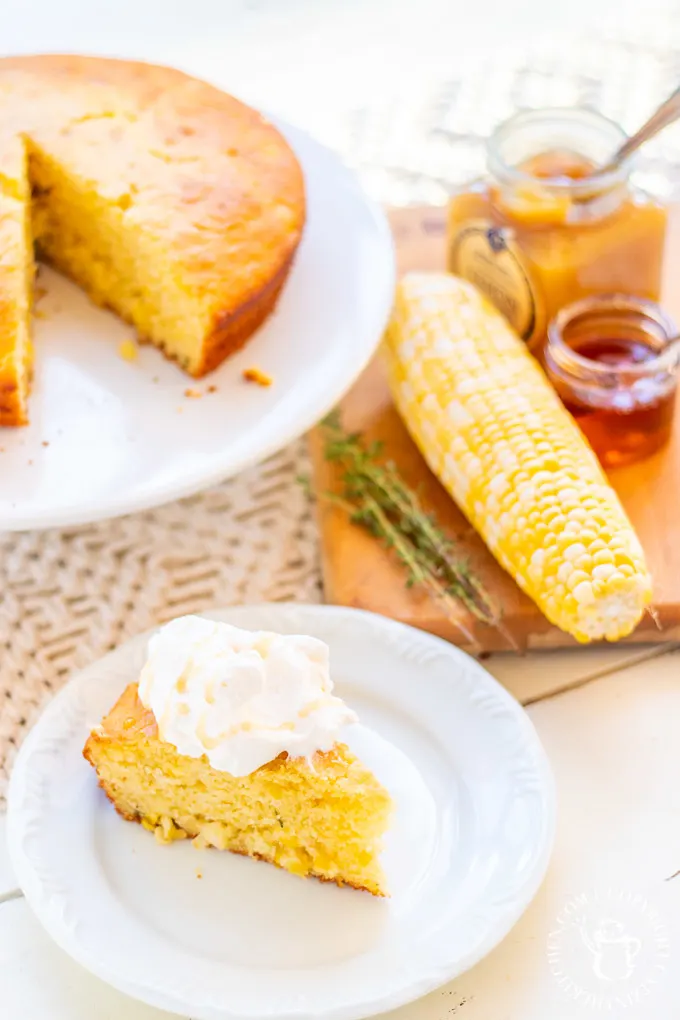 Also, this is an easy cake to make. Literally, guys, one bowl aside from the cake pan that you're going to use. I mean, how many desserts can you make with one bowl? Don't answer that – I know that there are a few, but this one totally counts.
I'd like to also call out this dessert as a great meal ministry dessert. I love that it's not too sweet and that it's not frosted. Simply bring the cake in a reusable cake pan from the Dollar Store and add to your meal a jar of lemon curd and a can of whipped cream in one of those aerosol cans! Dessert is done and it's so simple, yet slightly elegant and rather unexpected.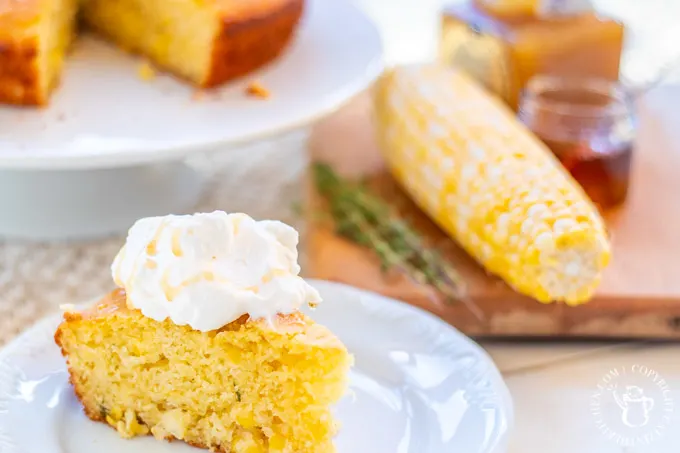 I really love this dessert because I think it is one that you could get away with all year round, and would be an easy dessert to add to your meal ministry list of recipes you can count on – and you can totally count on it. It's beautiful and tasty.
Let me know if you make it and tag me on Instagram with #Catzinthekitchen
Sweet Corn and Thyme Cornbread Cake
This recipe for sweet corn & thyme cornbread cake is simple, perfect for fall, & rather unexpected...because it's a dessert, topped with lemon curd & honey!
Ingredients
1 1/2 cups flour
2/3 cup sugar
1/2 cup cornmeal
1 tbsp baking powder
1/2 tsp salt
2 eggs, lightly beaten
1 1/4 cup milk
1/3 cup olive oil
3 tbsp butter, melted
1 tbsp honey, plus more for garnish
1 tsp fresh thyme leaves
1 cup fresh sweet corn kernals
1 (9 oz) jar lemon curd (I like Trader's Joes)
1 cup whipped cream
Instructions
Preheat oven to 350 degrees. Grease a 9-inch round cake pan. Line bottom of pan with parchment paper.
Stir together flour, sugar, cornmeal, baking powder, and salt in a large bowl. Add eggs, milk, oil, butter, and 1 TBSP honey; stir just to moisten. Fold in corn and thyme.
Pour batter into cake pan; bake until top starts to brown and crack and a toothpick inserted near the center comes out clean, about 45 minutes.
Cool completely on a wire rack, about 1 hour. Transfer to a serving platter and cut into 6 slices. Spread with lemon curd and top with whipped cream. Garnish with additional honey.
Nutrition Information:
Yield:

8
Serving Size:

1
Amount Per Serving:
Calories:

474
Total Fat:

22g
Saturated Fat:

9g
Trans Fat:

0g
Unsaturated Fat:

12g
Cholesterol:

108mg
Sodium:

460mg
Carbohydrates:

63g
Fiber:

2g
Sugar:

33g
Protein:

8g