This easy recipe for a quick baked spaghetti is perfect for a family meal at home, or better yet, bringing a meal to someone who needs one!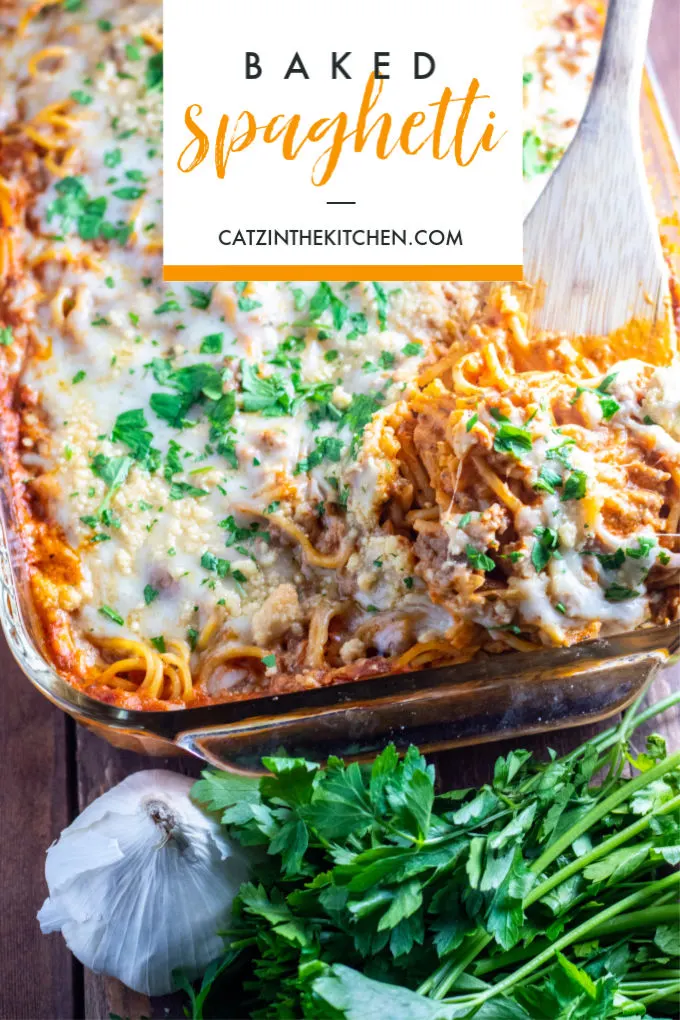 I love dinnertime. You might say that it is my favorite meal of the day. It's not necessarily because of what has been made, although that certainly makes it even better, but I love dinnertime because it is the one meal out of the three main meals where everyone is (usually) gathered together. Spouses come home from work, kids come home from school, in some cases grown children invite over their parents for a family dinner, or perhaps in a church setting small groups come together to study the Word and "break bread" together.
When you think about it, it's a beautiful event that can happen daily. It just invites closeness with people you love to be around and opens up so many discussions with those people. I firmly believe that dinnertime is the one meal where no one should eat alone (when it can be avoided!).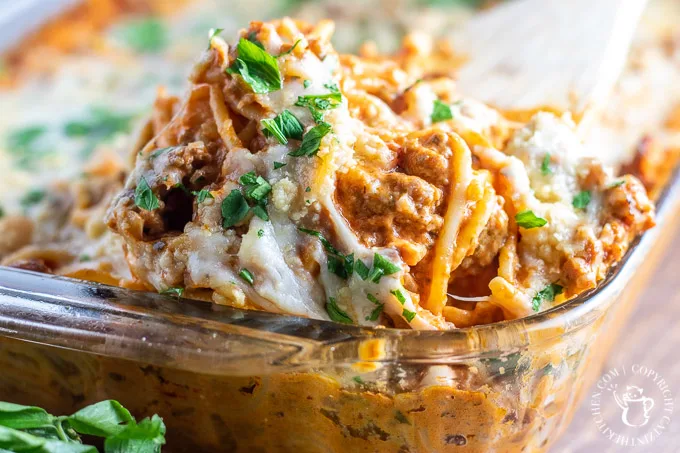 Recently, I had the privilege of sharing this baked spaghetti with a young couple in our church who just had a baby. I remember everyone who brought us a meal those first two weeks of being new parents – they are forever imprinted in my mind as being the first to bless us in such a simple, practical, meaningful way as a new family of three. Our little fresh-from-heaven Grace swaddled in Josh's right arm as he figured out how to eat one handed (and left handed!)…something he's gotten much better at over the years!
I was reliving those first few weeks of meals as a brand new family while I made this sweet new family's dessert of choice (Lemon Cream Pie, if you're curious – Gracie would strongly recommend!) and couldn't help thinking what a blessing it was to have a chance to pass on the kindnesses we received to another young couple entering this new stage of life.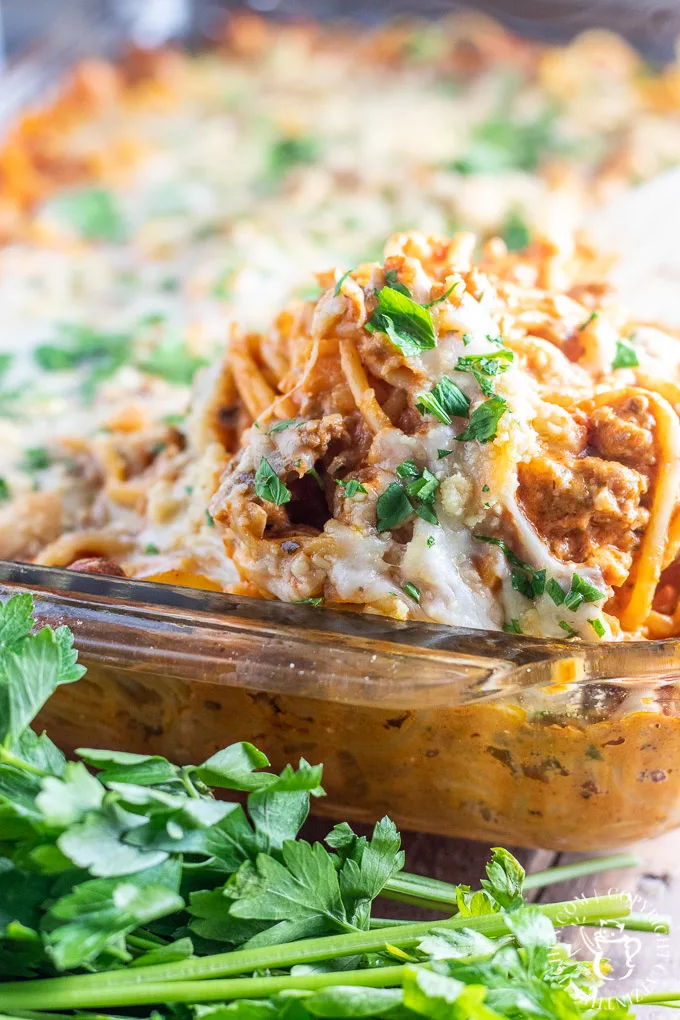 Privileged. Humbled. Honored. Those three words describe how I felt as a new young mom when food was brought to us, and they describe equally well how I felt bringing food to this family. Food is a love language that doesn't need words.
This baked spaghetti is a really easy meal to prepare and bring to someone or simply make for your own family. In fact it has quickly become a favorite in our household, much to my surprise.
The next time you think of someone who would benefit from a meal, consider making this one. It's a great recipe to keep the ingredients on hand for at all times!
Baked Spaghetti
This easy recipe for a quick baked spaghetti is perfect for a family meal at home, or better yet, bringing a meal to someone who needs one!
Ingredients
1 TBSP olive oil
1 lb. dry spaghetti
1 lb. ground Italian mild sausage
24 oz. marinara sauce (I like Prego)
1 small onion, finely chopped
2 cloves garlic, minced
1 tsp. Italian seasoning
1/2 tsp salt + pepper
8 oz. cream cheese, cut into pieces
2 cups shredded mozzarella cheese
1/3 cup grated parmesan cheese (the green container)
Fresh parsley on top
Instructions
Preheat oven to 350 degrees. Spray a 9x13 baking dish with nonstick cooking spray. Set aside. Bring a large pot of water to boil and cook spaghetti according to package directions. Drain Pasta.
Heat a high-sided skillet with olive oil and cook Italian sausage, onions, and garlic over medium heat, until cooked through and tender - about 5-8 minutes. When meat is cooked through, stir in marinara sauce, Italian seasoning, salt and pepper, and diced cream cheese. Reduce heat to low and stir until cream cheese is melted. Remove from heat.
Layer 1 cup of sauce onto the bottom of your prepared dish. Layer half of the cooked spaghetti on top, spreading it so it makes an even layer. Top with half of the sauce and mozzarella cheese. Repeat layers. Top with remaining shredded cheese and parmesan.
Cover with foil and bake for 20 minutes. Uncover and bake for 10 minutes longer. Garnish with chopped parsley.
Nutrition Information:
Yield:

8
Serving Size:

1
Amount Per Serving:
Calories:

637
Total Fat:

35g
Saturated Fat:

15g
Trans Fat:

0g
Unsaturated Fat:

16g
Cholesterol:

83mg
Sodium:

1361mg
Carbohydrates:

55g
Fiber:

4g
Sugar:

9g
Protein:

24g