This super simple, yummy, and elegant recipe for Sweet Slow Cooker Chai Ham goes in the slow cooker the night before, leaving you to enjoy your holiday!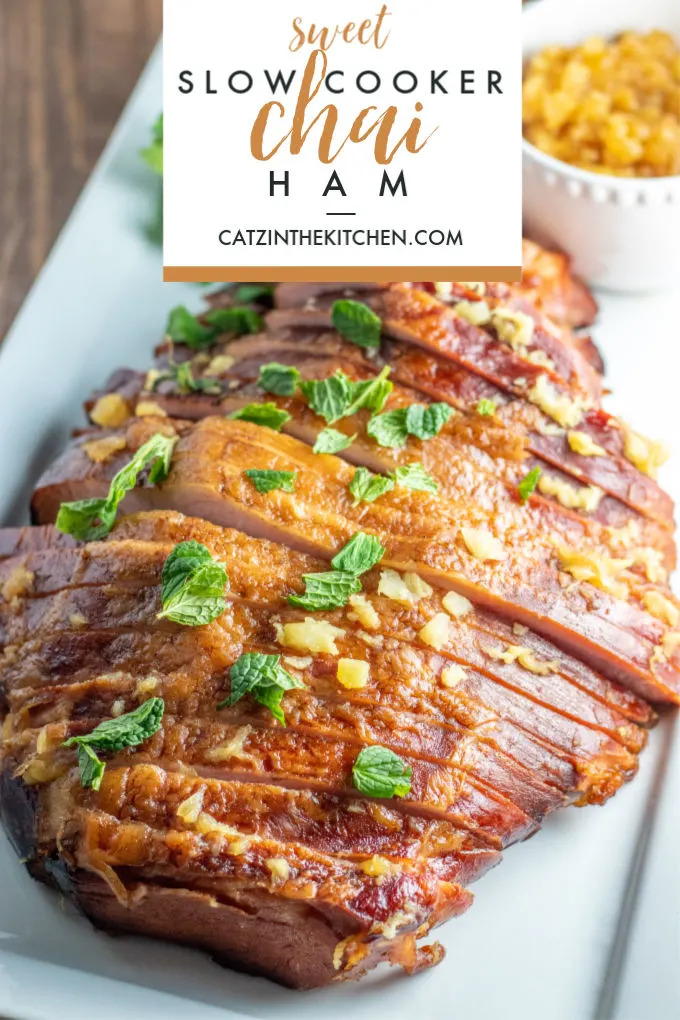 For years (and I mean years before I met Josh) our usual holiday meals consisted of turkey for Thanksgiving and turkey for Christmas. And that's fine and all, but turkey isn't my favorite. I mean, I like it, but after Thanksgiving I'm a bit over it. Since getting married, my family has been going the ham route for Christmas (YES) and Josh's family usually has a roast – so we're really mixing it up over here!
Lucky for me, I absolutely love ham and roast!
I have to tell you, though, a ham is not something I cook often…or ever. I mean, while I work with bacon, pork, and sausage, I don't usually cook a ham. But I tell you, after I made this tangy and sweet slow cooker chai ham in my crockpot, I feel like I need to throw a ham in the slow cooker more often! I remember my mom cooking a ham fairly frequently when I was still living at home and I always enjoyed it.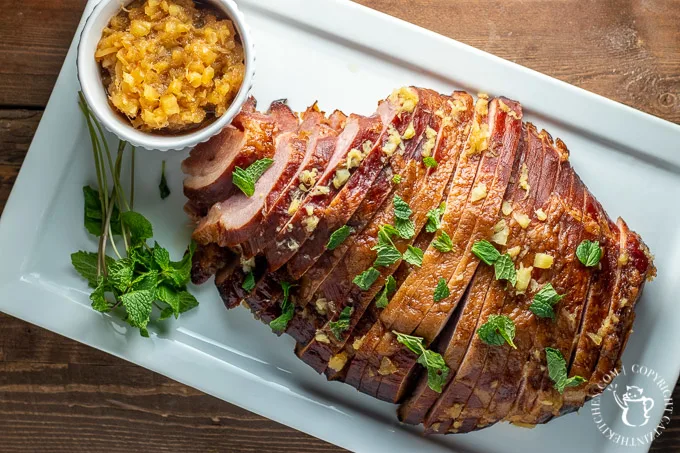 Here's what's to love about this recipe for your holidays. You basically prep it the night before in the crockpot. As in…place some brown sugar in the bottom of the crockpot. Put the ham on top and pour a can of crushed pineapple over the ham. Sprinkle with more brown sugar, pour a chai concentrate over the top, put the lid on the dish and throw that sucker in the fridge.
DONE!
You don't have to do anything else until the next day when you actually begin the cooking process…which is so perfect for Christmas Day. You have all this time in your day to open presents and relax with your family while the main course just cooks away in the slow cooker. Doesn't that sound amazing?!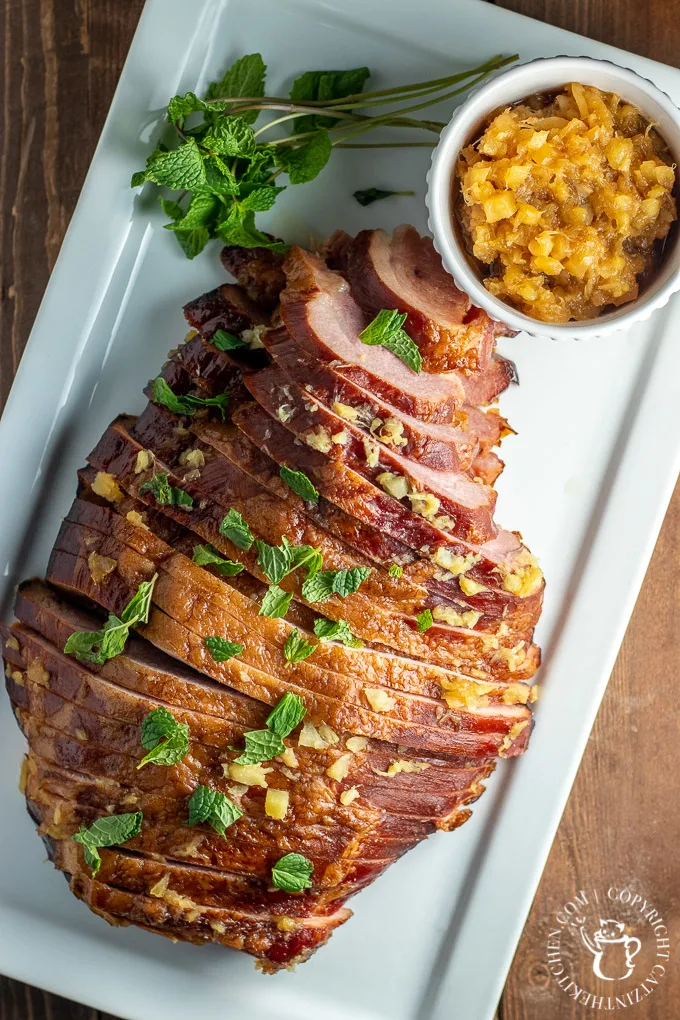 And it is. I know, because this was how it went the day I was testing it out. I had a really busy, crazy day, yet this wonderful ham was perfect and delicious that night for dinner.
I really appreciate how the ingredients are simple and easy to find, yet bring so much flavor to the ham. And the leftovers are WOW! Nothing beats leftover ham because there are so many ways to use it up. Not only does it taste insanely good cold, room temperature, or heated, but you can throw it into anything with eggs, soup, or even make a pot pie, panini, or quiche with it!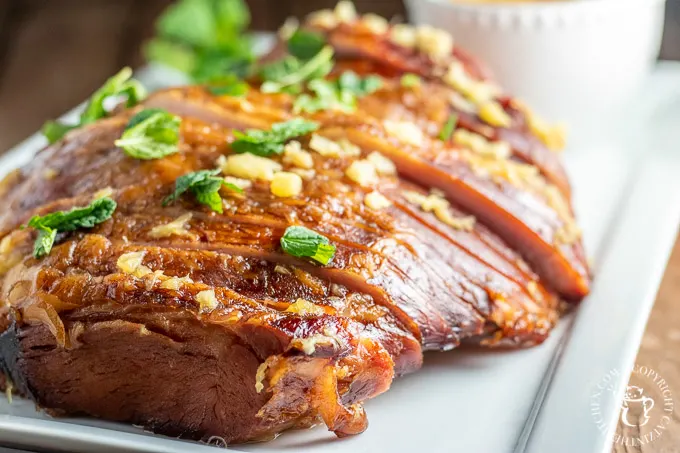 If you're anything like our family, you will also love the flavorful pineapple relish that you serve with the ham. It's a delectable, easy addition to such a simple and delicious main course.
I hope that this holiday season or Christmas Day, you make it easy on yourself and just serve a meal that doesn't require all your energy and time, but allows you to focus it all back on your family. Enjoy your holiday season, friends!
Sweet Slow Cooker Chai Ham
Total Time:
5 hours
10 minutes
This super simple, yummy, and elegant recipe for Sweet Slow Cooker Chai Ham goes in the slow cooker the night before, leaving you to enjoy your holiday!
Ingredients
2 cups packed brown sugar
1 (5 to 6 lb.) ham. You can use any kind spiral or carver ham ( I used a carver ham)
1 (20-oz) can crushed pineapple with juice
3/4 cup chai tea latte concentrate
Fresh mint leaves
Instructions
Put 1 1/2 cups brown sugar in a 6-qt. slow cooker insert. Place ham on top of the brown sugar, flat side down. Pour crushed pineapple with juice over ham. Press the remaining brown sugar into the top of the ham, and pour chai concentrate over the top. Chill, covered in the fridge 12-24 hours.
Cook on low 3-5 hours, or until a thermometer inserted in center registers 140 degrees. You can keep the ham warm in the slow cooker for about 2 hours before it begins to dry out.
Remove ham from slow cooker and strain the pineapple sauce. Discard the liquid and serve the pineapple relish with the ham and sprinkle with chopped fresh mint.
Notes
Recipe Source: Allrecipes.com
Nutrition Information:
Yield:

12
Serving Size:

1
Amount Per Serving:
Calories:

151
Total Fat:

1g
Saturated Fat:

0g
Trans Fat:

0g
Unsaturated Fat:

0g
Cholesterol:

8mg
Sodium:

122mg
Carbohydrates:

35g
Fiber:

0g
Sugar:

34g
Protein:

3g