This simple brunch recipe for Orange and Mascarpone Toast with blueberries and honey puts delightful breakfast food on the table in about five minutes!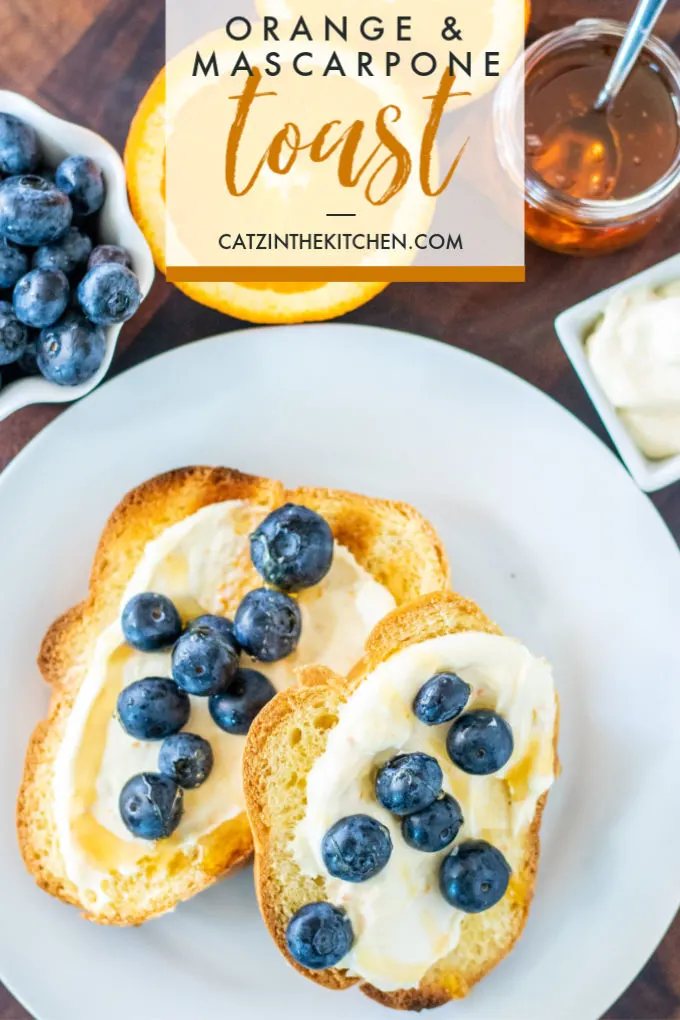 I love everything about this easy little brunch recipe. It's simple, only requires a few ingredients, and comes together a couple of moments. On the other hand, it feels slightly sophisticated, tastes delicious, and is as interesting to the kiddos as it is to the adults. Of course, I'm incredibly partial to the brightness of orange and orange zest in nearly any recipe, so perhaps this was all a foregone conclusion…
We're always on the lookout for fun brunch ideas. I'm not sure where we originally saw this Orange and Mascarpone Toasts with Blueberries and Honey (may have been an email), but Williams-Sonoma doesn't make too many bad recipe recommendations, so when this one came to my attention, I knew I had to give it a try.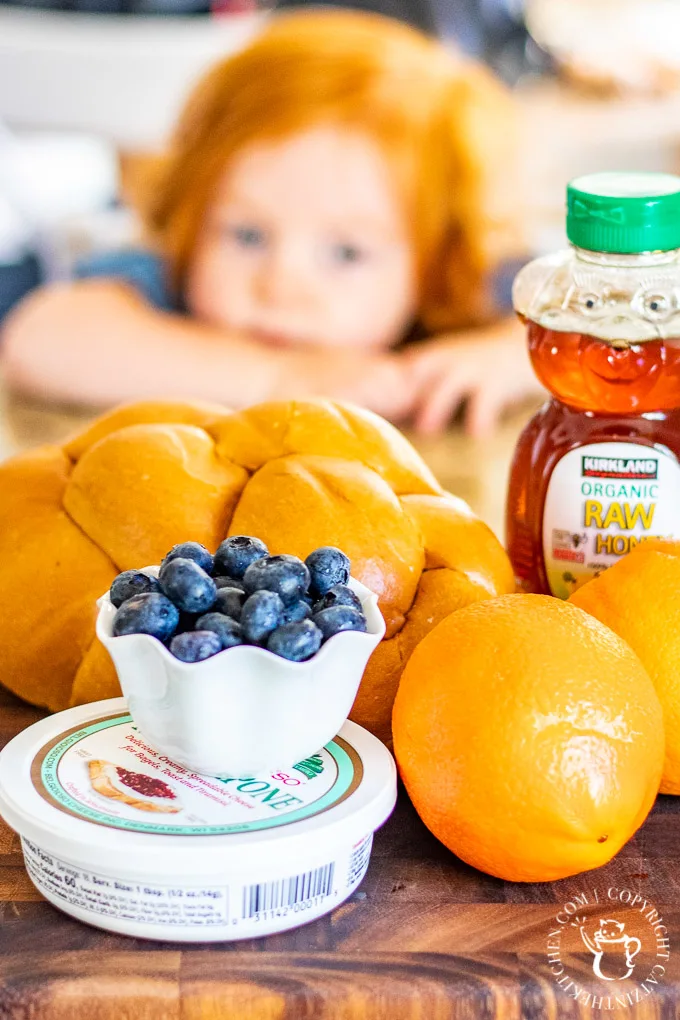 You can see in this picture, of course, that Miss Ruby is waiting rather impatiently for these delectable and colorful ingredients to get turned into something she can munch on. Lucky for her, she wouldn't have to wait long! This tasty little treat comes together in about five minutes – however long it takes you to zest and juice an orange and toast bread. It shouldn't take long!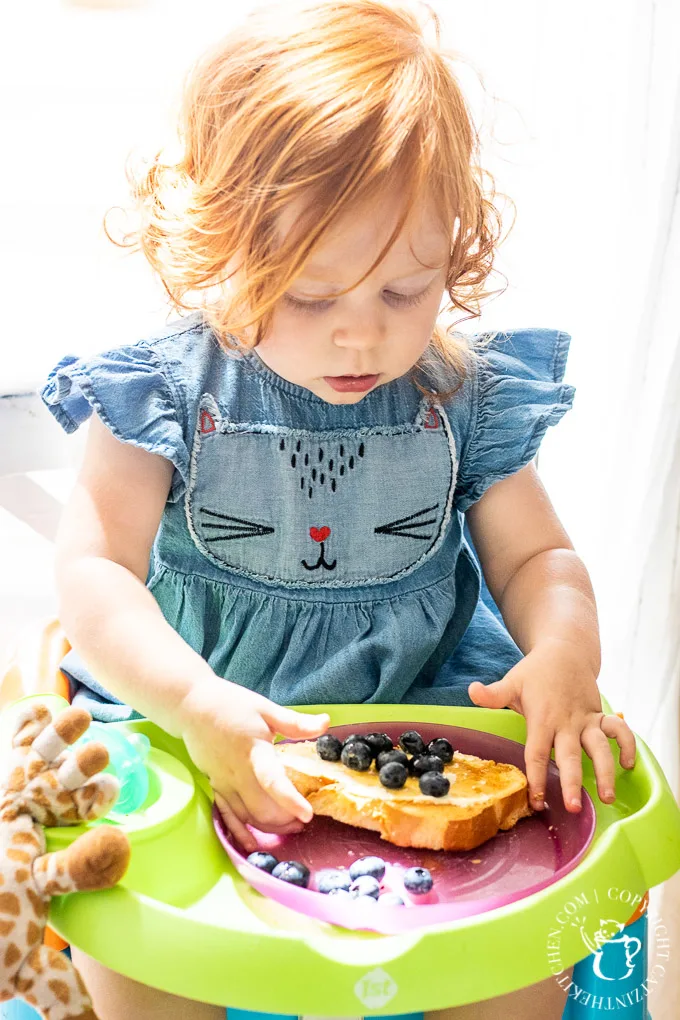 Some weekend mornings I feel like whipping up an elaborate brunch, but, I'll admit, more often than not, I'm looking for something easy to fill the kids' tummies and for me to snack on with my ever-present morning (afternoon…evening…) cup of coffee. This recipe certainly fulfills the latter need.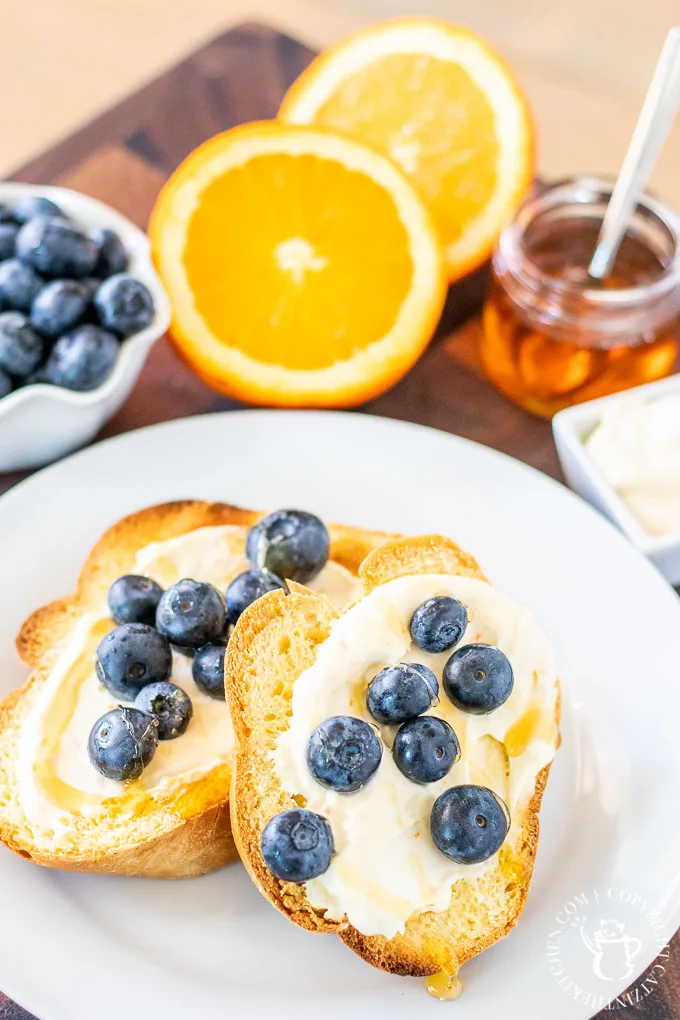 The reality here, I think, is that you don't even need to add the blueberries if you don't have them, can't find them, or they aren't in season. You could have these delightful toasts with blackberries, certainly, perhaps raspberries or strawberries, or even without any berries at all – the combination of mascarpone cheese, orange, and honey is surely enough to stand on its own when needed!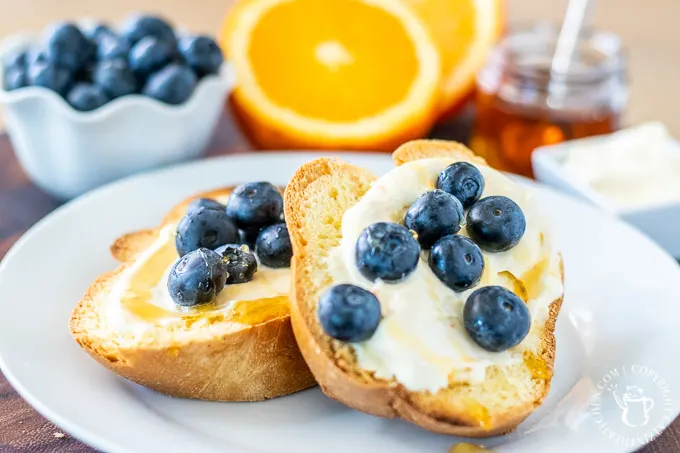 I'd be remiss if I didn't close by saying this – don't be intimidated by the mascarpone cheese or the "zest" here. If you don't have a zester, grab this one. We've had the same one for years, and we love it. You'll zest all the things. As for the mascarpone cheese, we don't publish a ton of recipes that call for it (you'll need it for this Lemon and Pea Alfredo, this Chocolate Danish, and, of course, Chels' favorite Tiramisu Cake), as it can be hard to find depending on the types of supermarkets you have nearby. However, many markets do carry it in their specialty cheese area, and Trader Joe's sells it at a much better price than most other retailers! You could get by with a softened cream cheese here if all else failed. Enjoy!
Orange and Mascarpone Toast
This simple brunch recipe for Orange and Mascarpone Toast with blueberries and honey puts delightful breakfast food on the table in about five minutes!
Ingredients
1 cup mascarpone cheese
Zest and juice of 1 orange
8 slices of challah bread, roughly 1/2 inch thick
1 cup blueberries (blackberries or other berries can be substituted)
honey
Instructions
Mix zest and juice of orange together with mascarpone cheese in a small bowl.
Toast bread to desired doneness, either in a toaster or under a broiler.
After bread has cooled slightly, spread mascarpone orange mixture evenly across toasts.
Top with berries and drizzle with honey.
Nutrition Information:
Yield:

8
Serving Size:

1
Amount Per Serving:
Calories:

402
Total Fat:

28g
Saturated Fat:

16g
Trans Fat:

0g
Unsaturated Fat:

9g
Cholesterol:

97mg
Sodium:

414mg
Carbohydrates:

32g
Fiber:

2g
Sugar:

11g
Protein:

7g