This easy, pantry-friendly recipe for One Pan Roasted Rosemary Mustard Chicken is tasty, affordable, and comes together quickly!
I have Eden to thank for this chicken dish – because it is amazing! I also have Eden to thank for destroying this dish the day we were going to originally photograph this dish, but I'll get to that story in a bit. It's pretty adorable and funny!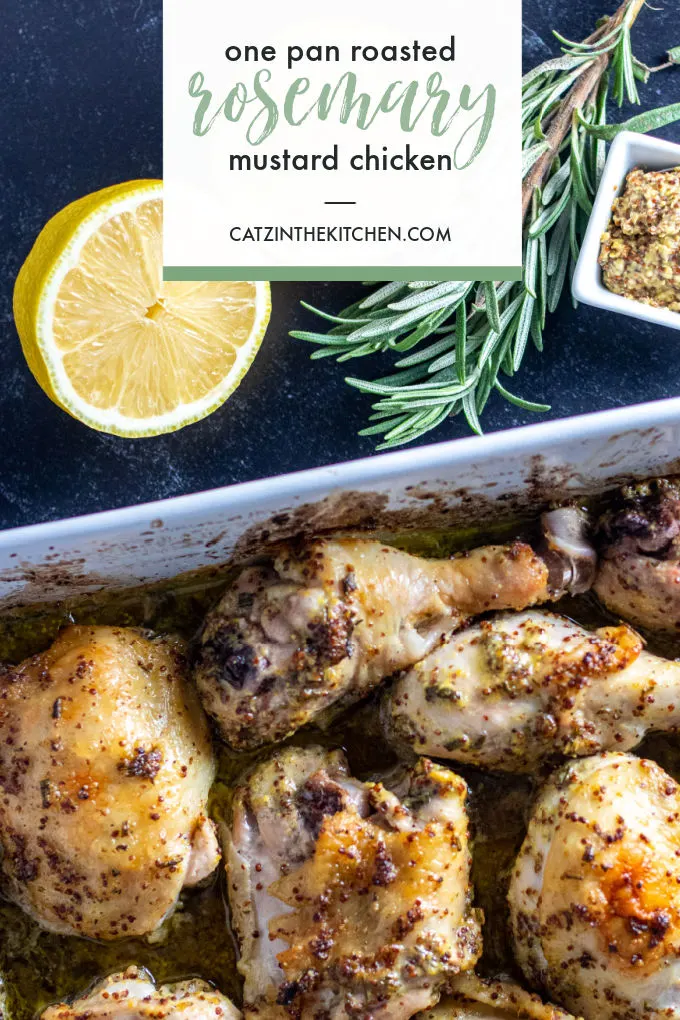 Eden is my child that once she gets hung up on an idea, she doesn't let it go. She will find any way possible to make that idea happen. The way she goes about that may mean that she just dives right in without a plan, asks, begs, and pleads, starts doing said idea without permission, or waits impatiently until we say, "okay."
This recipe, she originally found in her American Girl cooking book, which is a great book for kids between 8-14 to cook from, I'd say. We've made a lot of recipes out of this book and ALL of them have been delicious. With this particular chicken dish, she came to me and said, "I want to make this recipe + two others." Yes, she wanted to not only make the main course, but the two side dishes as well. She wrote down all of the ingredients on the grocery list, checking the pantry and freezer to see what we already had, and proceeded to wait until grocery shopping day came.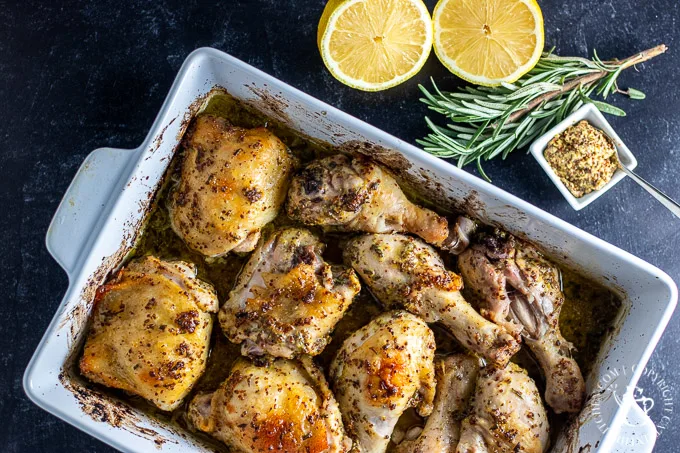 Eden is still a beginner cook in a lot of ways and one of the first newbie steps she forgot to do when she went to originally make this dish the very first time (back in quarentine) was read the recipe directions all the way through. Which, if I'm honest, may not necessarily be a newbie mistake, because sometimes, I forget to do it, too! But for her, that mistake was kind of a big deal because the chicken needed time to marinate for one hour to overnight. We didn't have one hour at the time, so we went ahead and marinated over night for the following evening and I'm glad we did that – the chicken was so flavorful because it had been soaking in herbs and grainy mustard for eight plus hours!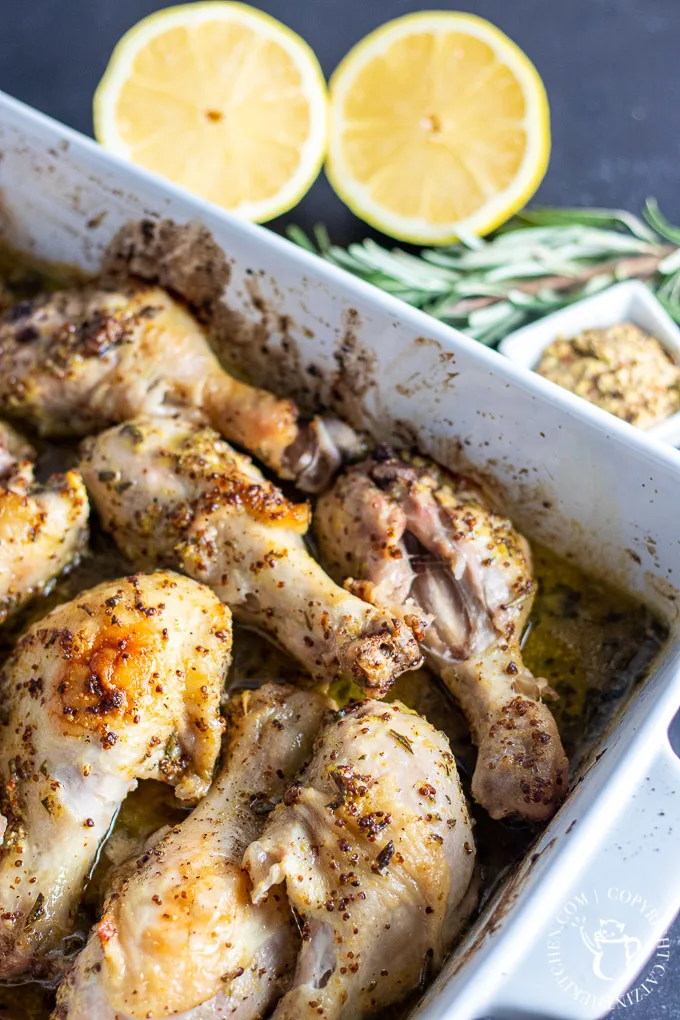 Now, I'm going to tell you the funny story that happened a few months back when we went to photograph this recipe the first time. I had gone ahead and prepped the chicken the morning that we were going to roast it. I'd covered the baking dish with plastic wrap and threw it in the fridge to do its thing. When the time for it to go into the oven came about, I was actually reading a book to the kids, so I asked Eden to place the baking dish in the preheated oven, which she did. Fast forward nearly an hour later and I'm pulling the chicken out of the oven and there is something odd about it. I can't place my finger on it. The chicken looked fine…but there was a weird melty film on the side of the baking dish and the sauce the chicken was sitting in looked off.
I was assisting Josh with the photos and he kept making comments about the dish and what could have happened, so I began relaying what I did…and then I realized what it was. I had Eden put the chicken in the oven. I had put the chicken in the fridge with plastic wrap on it. Eden took the chicken with the plastic wrap on it and put it directly into the oven. She never removed the plastic wrap!!! Each piece of chicken was individually "shrink wrapped" in melted plastic wrap. Yum.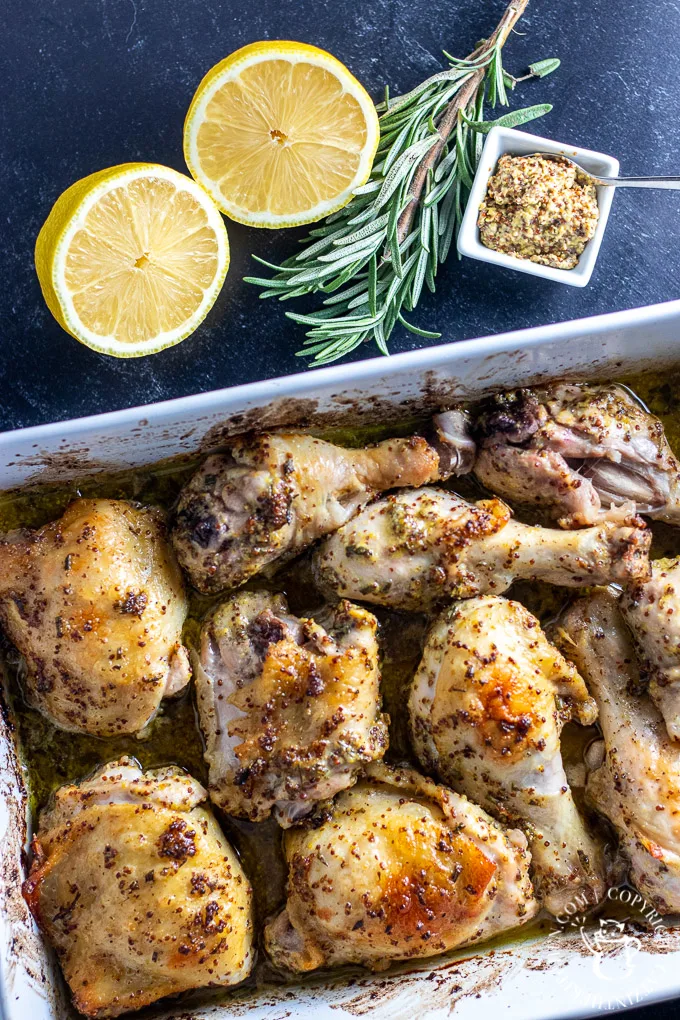 Obviously, we couldn't eat it, lol! I think we went and got burgers that night instead. We all had a good laugh, and then the next day, I remade the whole recipe without the plastic wrap in the oven and we photographed it right.
I mean, totally a beginner's mistake and like I said, an adorable one at that! And it will make a great story to tell to her one day future husband!
Regardless of the plastic wrap incident, this roasted chicken dish is one I think you will all love! It's a one pan, pantry friendly meal that you can get on the table rather quickly. Simply prep the chicken in the morning with only a few ingredients and then place the dish in the oven an hour or so before you want to eat. Side dishes can be as simple or fancy as you like. I think I made baked potatoes when I cooked it and paired it with a salad.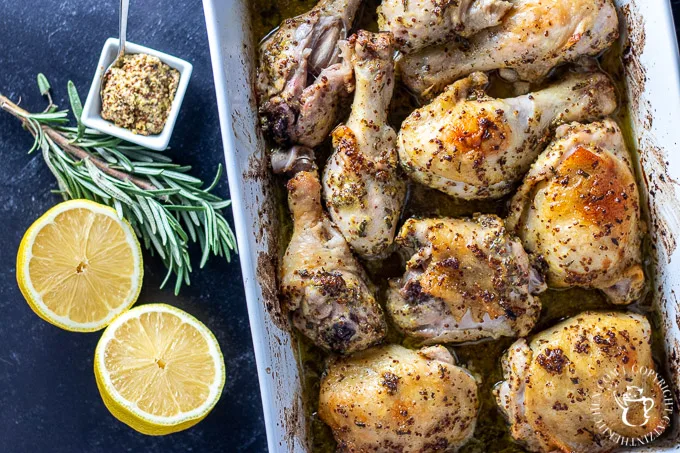 Another thing I love about this recipe is that you can adapt the flavors to what you have on hand. Don't have whole grain mustard? Use dijon. Don't have fresh rosemary? Use tarragon or sage – or even thyme! You could add garlic cloves if you want; you could dice an onion and throw it into the marinade. You can make it your own and that is why I really love this dish. Also, bone-in chicken is a really affordable cut of poultry. You could do all legs or all thighs! I did a variety because I had it on hand.
Go ahead and add this dinner to your menu for the next week and come back and tell me how you liked it and what changes you made to it if you made some!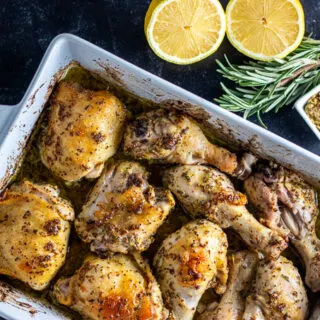 One Pan Roasted Rosemary Mustard Chicken
Additional Time:
1 hour
30 minutes
Total Time:
2 hours
40 minutes
This easy, pantry-friendly recipe for One Pan Roasted Rosemary Mustard Chicken is tasty, affordable, and comes together quickly!
Ingredients
Juice of 1 lemon
1/4 cup olive oil
3 tbsp whole-grain mustard
2 tbsp chopped, fresh rosemary leaves
Salt and Pepper to taste, about 1/4 - 1/2 tsp of each
3 chicken drumsticks
3 bone-in chicken thighs
Instructions
In a large baking dish (glass or ceramic), whisk together the lemon juice, olive oil, mustard, rosemary, and salt and pepper. Add the chicken pieces and use tongs to turn and coat the chicken in the sauce. Cover the baking dish with plastic wrap and refrigerate for 1 hour or overnight, turning the chicken pieces, once.
Remove the baking dish from the fridge and uncover. Turn the chicken so it is all facing skin side up and allow the chicken to sit at room temperature for 30 minutes. After about 15 minutes, go ahead and preheat the oven to 400 degrees.
Put the baking dish in the oven and roast the chicken until the skin is browned, about 50 minutes. Remove the dish from the oven and check the internal temperature with a thermometer - you want the chicken to register at 165 degrees F. If the chicken is not fully cooked through, place back in the oven for another 5-10 minutes and then test the temperature again.
Use tongs to remove the pieces of chicken from the baking dish and serve on a platter. Spoon some of the cooking juices over the top and serve right away.
Nutrition Information:
Yield:

6
Serving Size:

1
Amount Per Serving:
Calories:

310
Total Fat:

22g
Saturated Fat:

5g
Trans Fat:

0g
Unsaturated Fat:

17g
Cholesterol:

141mg
Sodium:

267mg
Carbohydrates:

1g
Fiber:

0g
Sugar:

0g
Protein:

27g
Nutrition information isn't always accurate.