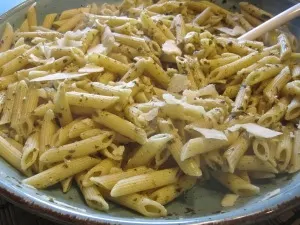 You know how sometimes you stumble upon a recipe that is so easy and such a no brainer, that you go,"Gee, now why didn't I think of that?" Well that is this recipes. Honestly, it is so so easy, my 8 year old could make this entire meal, and she hasn't even really begun to cook yet.
What I loved about this dinner, was that it was using up ingredients I already had on hand around the house. I always have a couple boxes of penne pasta lying around, because it's Josh's favorite and jarred pesto is pretty much a pantry staple too. If I don't have any jars in the pantry, I can guarantee there is one already opened in the fridge.
The hardest part about this meal, is waiting for the water to boil for the pasta, that's it! So in about roughly 10-20 minutes, you can have a delicious pasta dinner at your beck in call and ready for you to devour!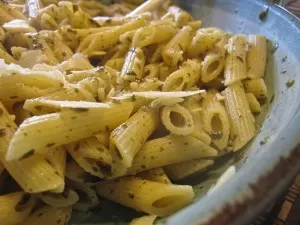 Penne with Creamy Pesto Sauce
1 box, penne pasta
1/2 cup pesto
1/4 cup milk
Shaved or shredded Parmesan cheese (I prefer the shaved)
Fresh basil leaves, torn for garnish
Boil the penne noodles, according the directions on the package. Drain, and rinse with cold water.
In a mixing bowl, combine the pesto and milk together. Toss with the pasta.
Top the pasta with the shaved/shredded parmesan cheese and basil.
Serve right away!