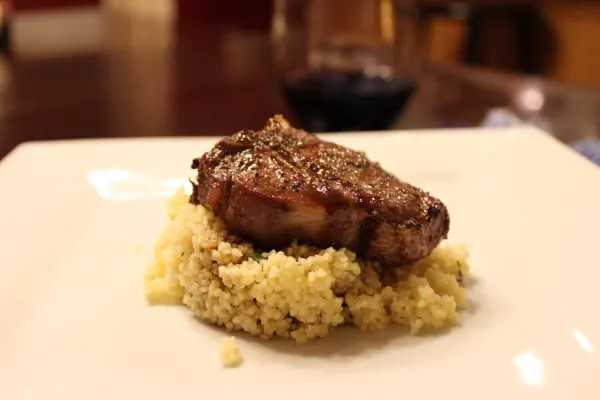 When you spend an inordinate amount of time in the kitchen, every holiday is really just an excuse to try out themed recipes, and St. Patrick's Day is no exception. Of course, most St. Patrick's Day recipes seem to simply feature lots of green things. That's not a bad thing, generally speaking. Green is a beautiful color to cook with and eat, but there are certain things that just shouldn't be green, and St. Patrick's Day seems to give everyone an opportunity to test the limits of what those things might be, both in cooking and apparel. It's all in good fun, of course, but we decided to try going a different route with this recipe.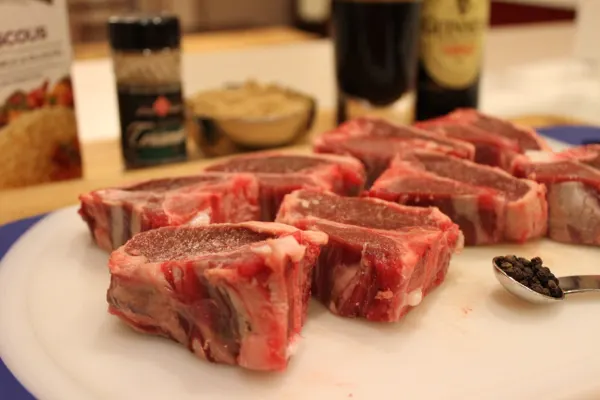 There aren't many things more Irish than Guinness – it's right up there with shamrocks and leprechauns. Even if you don't drink it (I usually don't), its unique flavor lends itself to cooking rather perfectly. "Stout" is the word prominently placed on the labeling, and it's definitely as good a word as any to describe the strong, earthy flavor of this dark Irish brew. As it turns out, there a good many recipes out there for those of us wishing to exploit the culinary opportunities afforded by this particular drink-turned-ingredient. I stumbled across this particular one in the middle of the grocery store a couple of weeks ago. I was browsing the marked-down meats in the butcher's case, looking for something to take home and cook up right away (A word to the wise – most stores move meats reaching the end of their very short shelf lives to a marked-down section towards the end of the day. This area can be a boon if you're looking to freeze or cook the meat immediately. Hoping to save it for a rainy day? Outside of the freezer, not such a great idea.). I came across lamb loin chops, something Chels and I have been wanting to try for several years, but never quite had the gumption or extra cash to get around to. In this case, the markdown was extreme – the lamb chops were from the "health food section," natural, with no added hormones, etc, and were going to be unsellable if not sold and used that day or the next. From an original price of around $20, I picked them up for only about $6. Now I needed a recipe – thanks to the ever-handy
Epicurious app
, I found this one.
Now, as I mentioned, this was my very first experience cooking lamb, and one of my first eating it. My understanding is that it's fantastic on the grill, and I intend to try it that way just as soon as the weather begins to turn (a couple of months yet, here in the rainy Pacific Northwest). For the time being, however, this is a decidedly unintimidating way to prepare lamb, and pretty tasty as well! If you're looking for an easy way to try your hand at preparing some lamb chops with a festive Irish flair, this is great place to start.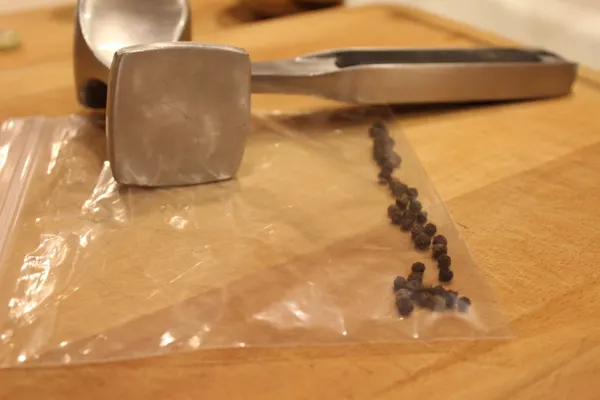 Crushing peppercorns is easy with a meat mallet and a sandwich bag!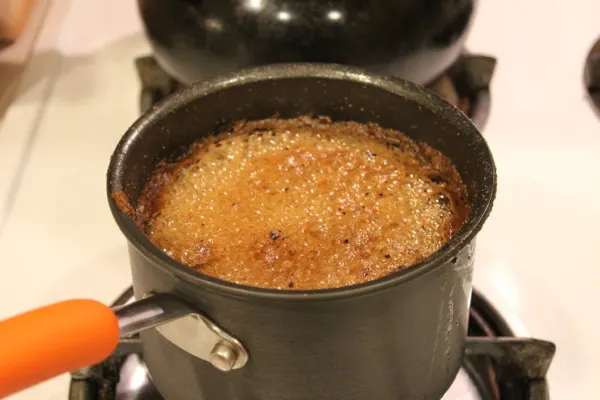 Guinness is still foamy, even out of the bottle and in the pot!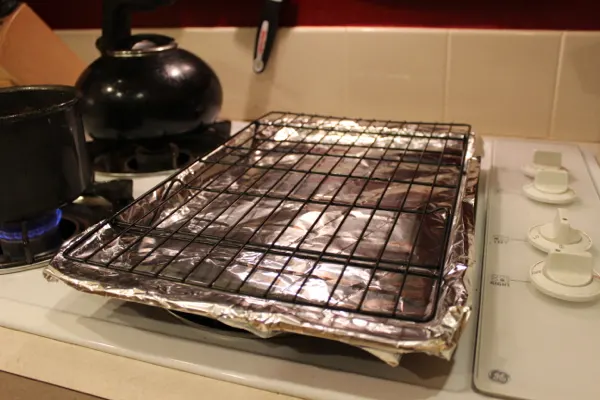 Don't have a broiler pan? Make one on a cookie sheet using foil and a baking cooling rack!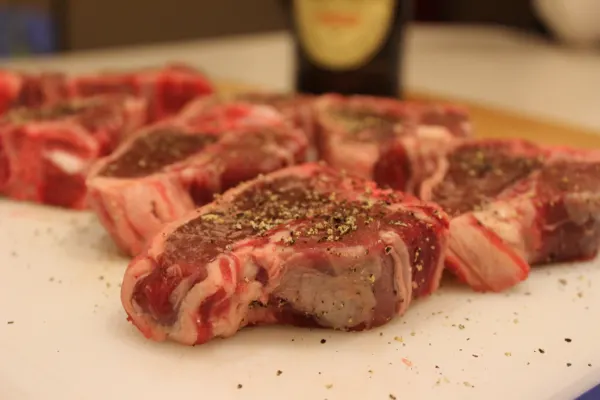 If you have a pepper mill, grind fresh pepper over your lamb before brushing on the glaze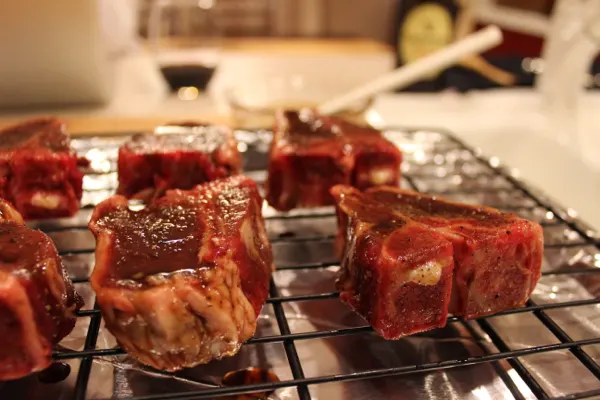 There should be enough glaze to brush it on generously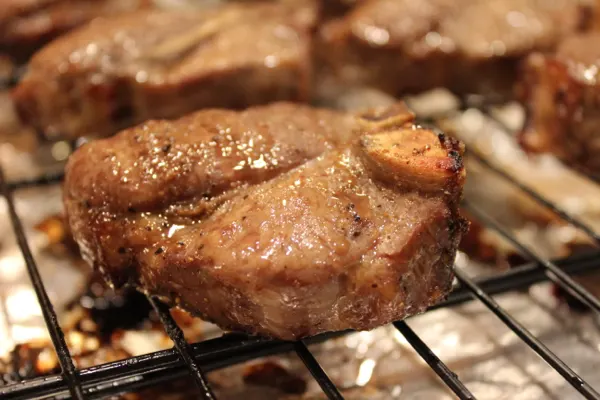 You'll have no trouble telling when they're nearing done!
One last note before we get to the recipe. I served this with couscous – don't do that. I'm sure lamb can be served quite wonderfully with couscous (they share some common ethnic background traits, at least), but for this glaze/sauce, couscous was the wrong choice. The Guinness glaze needs a strong, absorbent starch (if you're serving as a main course), and couscous isn't that. A white rice would probably work better. We'll have to try it again with a different starch and see what works! Let us know if you find something in the meantime, of course!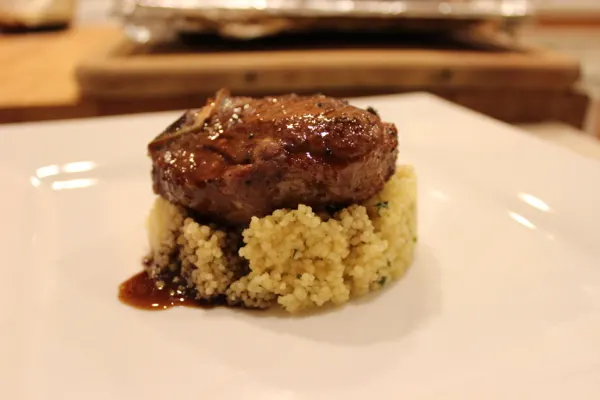 Broiled Lamb Loin Chops with Guinness Glaze
Looking for a festive way to celebrate St. Patrick's Day without turning everything on your plate green? Try cooking with a little Guinness!
Servings: 2-4 (depending on number and size of chops)
Prep Time: 5 minutes
Cooking Time: 40 minutes
Total Time: 45 minutes
Ingredients
8-16
lamb
loin chops or lamb rib chops
1/2 teaspoon crushed black peppercorns
1/4 tsp salt
Directions
Measure out required amount of stout without including the "head" (the foamy part), and add to saucepan with brown sugar, crushed black peppercorns, and coriander. Dissolve sugar by stirring, and bring to a boil. Reduce mixture to about half a cup, with a thick, syrupy consistency, about 30 minutes. Strain through a mesh sieve and divide between two small bowls.
Preheat broiler.
Season raw chops with salt and pepper and arrange on a broiler pan. If you don't have a broiler pan, see note on photo above to make a substitute. Use the glaze from one of the bowls to brush both sides of each chop.
Broil 4-6 inches from heat, 5-7 minutes per side, until done. To check doneness, use a meat thermometer, bringing to a temperature of 135-140 degrees under the heat (145 degrees after resting) for medium rare. Serve over a starch of your choice, using remaining bowl of glaze as a sauce/drizzle.