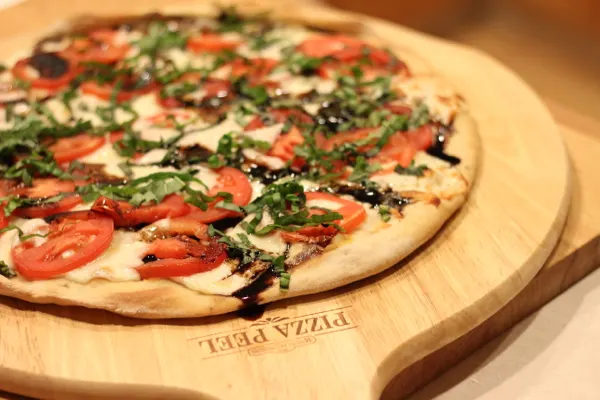 As anyone who reads Catz even occasionally knows, pizza is a staple in the Rief household. Yes, it's right up there with bread and milk. Making a very nearly weekly appearance on our menu and a holding forth a constant presence in our freezer (the dough, that is), pizza is one of our all-time favorites. Why? It's variety, of course! Taco pizza, cheese pizza, Hawaiian pizza, peach pizza, white pizza, pesto pizza – is there anything you can't do with pizza? I think not. One of our most frequently made pizzas, however, is the caprese. It's simple, beautiful, and ridiculously tasty. Haven't tried it? Here's your chance.
The ingredients for a caprese pizza are simply lovely. Bright red tomatoes, lively green basil, and pure white mozzarella – it doesn't get much more Italian than a meal that's basically an Italian flag on your kitchen counter! A couple of notes about the ingredients – first, nothing can be substituted for fresh basil here. Dried basil absolutely won't cut it – don't even try. Second, you can use almost any type of tomato (there are a couple of different types in our photographs here), but romas are best. Lastly, the mozzarella needs to be of the block variety, meaning no shredded. The little round "rolls" of fresh mozzarella that many supermarkets carry are perfect. We buy ours in big two pound blocks from Costco because we use it so much, but anything that isn't shredded should work. If you can't cut it into slabs, you won't be able to get the coverage and browning that you need for this sauceless pizza.
One last note before we get into the recipe – let's talk balsamic vinegar. Whether or not you choose to top this pie with a balsamic reduction is up to you. It will be delicious and light without it, or more indulgent and bold with its inclusion. I struggle, even after many meals with it included, to always get my balsamic reduction to turn out right. If you have the same struggle, don't sweat it – if it doesn't turn out, eat the pizza without it. It will still be fantastic!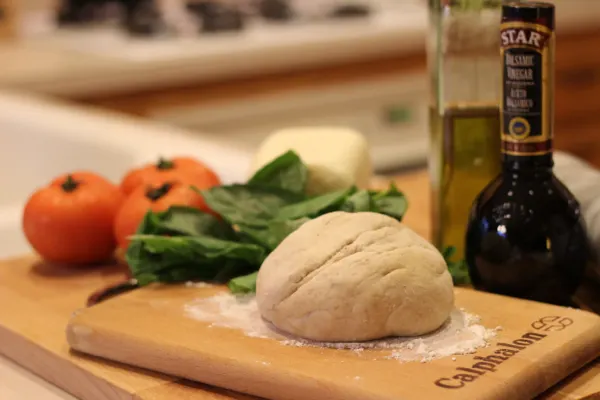 The Italian flag in your kitchen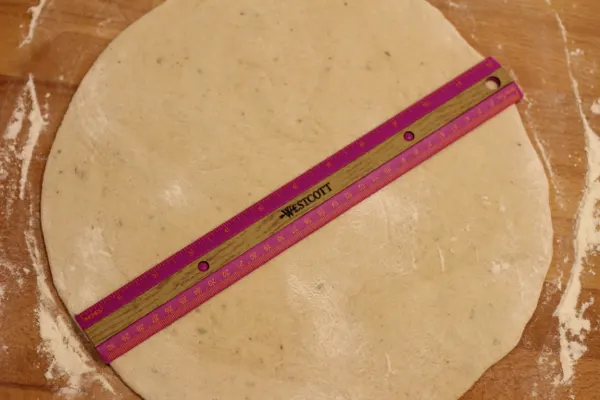 Yes, I physically measure my dough to exactly 12 inches!
Olive oil really does make everything better…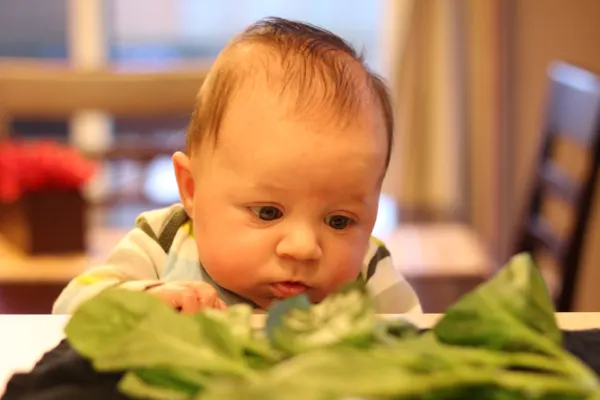 Christian really wanted in on the basil
For a simple sauceless pizza like the caprese, par-baking is a must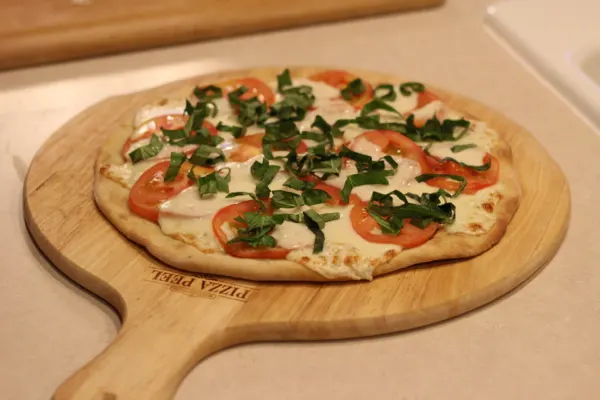 Topped with fresh basil, waiting for this pizza to cool before eating it is almost impossible
Try this out, and I'm quite certain that it will be a staple in your household in short order as well. Oh, and for those of you with small children, did I mention there's no sauce? Leave the balsamic reduction off, and you have the least messy pizza ever served to a child! Score one for less cleanup!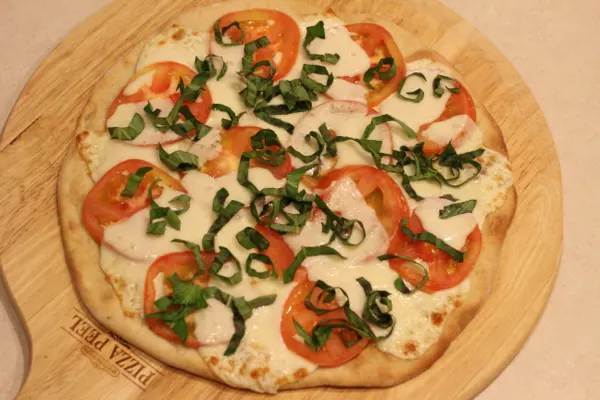 Caprese Pizza
This simple Italian classic will become a weekly guest on your menu in short order!
Servings: about 4
Prep Time (not including dough prep): 10 minutes
Cook Time: 12 minutes
Total Time: about 25 minutes
Ingredients
Catz pizza dough
1-2 large tomatoes or 2-3 medium romas
8-10 fresh basil leaves, chiffonade
10-15 slices of mozzarella cheese
extra virgin olive oil
(optional) 1 cup of balsamic vinegar
Directions
Preheat oven to 425 degrees. Place pizza stone sprinkled with corn meal in oven during preheating.
Roll out the pizza dough on a floured surface into a roughly circular shape about 12 inches in diameter. Brush both sides with extra virgin olive oil. Transfer to hot pizza stone, and return to oven to par bake for about 7 minutes, or until crust is lightly golden brown.
Remove crust from oven and top with alternating slices of tomato and mozzarella, overlapping slightly. Return to oven for an additional 5-7 minutes, or until mozzarella is browned and bubbling.
Remove pizza from oven, transfer to pizza peel, and top with chiffonade basil leaves. Let cool for 2-3 minutes and serve. If possible, cut with a rocking pizza cutter to avoid disturbing ingredients.
Optional: Reduce 1 cup of balsamic vinegar in a small saucepan until about half remains. Drizzle over completed caprese pizza for a more indulgent and bold flavor.