This tomato-salad topped grilled pizza is one of those super-fresh and summery dinners that just beg to be eaten outdoors!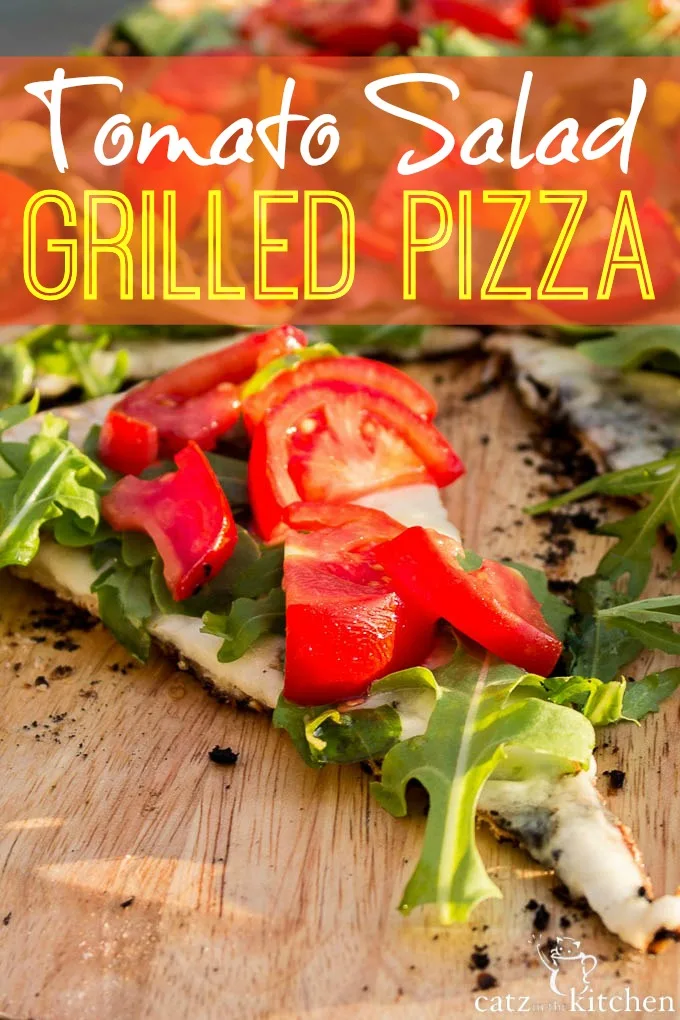 Nearly every Friday night, it's pizza and a movie night in our house. It's one of the only nights that I allow us to gather around the coffee table and eat dinner while we watch a movie. Last Friday, it was Eden's actual birthday (I know, you guys have been hearing me talk about her birthday for almost two weeks now. Can't help it. Can't stop. Won't Stop…). I love celebrating birthdays!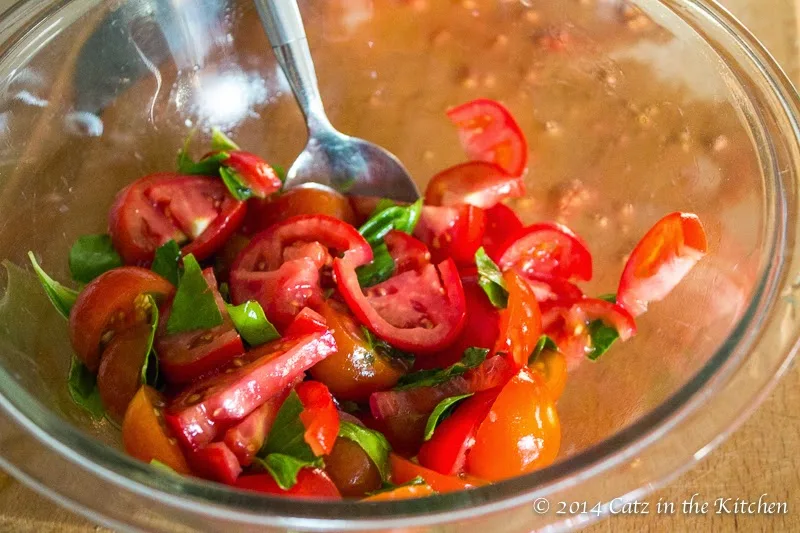 I also love pizza. Grilled pizza, to be exact. I look forward to the smokey, slightly charred crust so much. There is so much flavor in the crust when it's grilled, it is just unreal. If you haven't had a grilled pizza – stop what you're doing and make it tonight.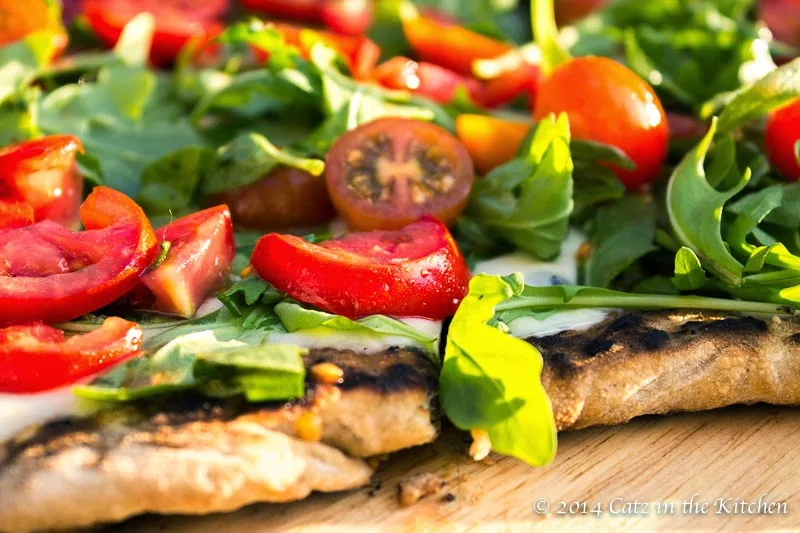 This pizza is just incredibly light and flavorful. At first, looking over the ingredients you might think that it would be a little dry, but all the sliced tomatoes make up for the lack of sauce. The melted mozzarella cheese is like a little bit of heaven, and the spicy arugula makes the whole pizza feel so fresh.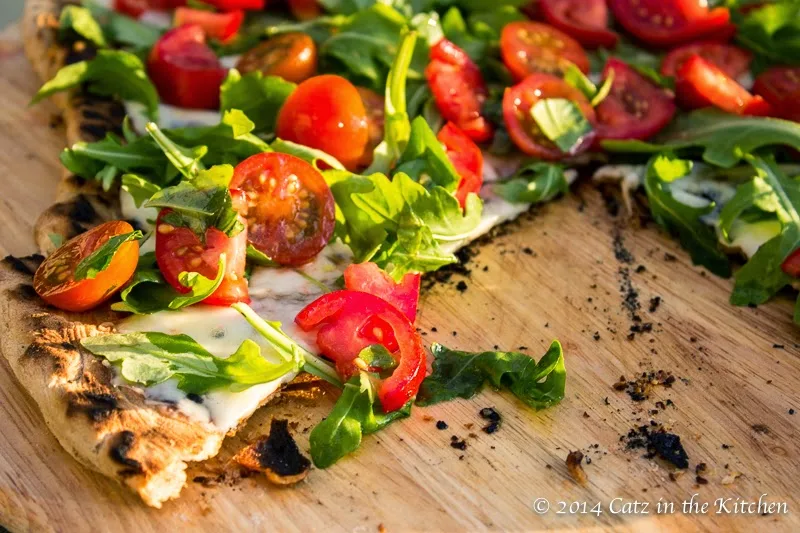 The only bad thing about this pizza is that I waited until August to make it! I am going to have to make this again before summer is over. It's too good to pass up.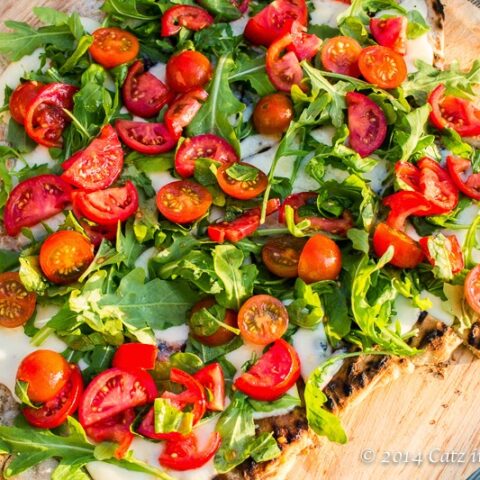 Tomato Salad-Topped Grilled Pizza
This tomato-salad topped grilled pizza is one of those super-fresh and summery dinners that just beg to be eaten outdoors!
Ingredients
1 tbsp extra-virgin olive oil, plus extra for rolling dough
1 1/4 cup halved cherry tomatoes
1 tsp lemon juice
1/4 tsp kosher salt
6 fresh basil leaves, roughly torn
4 oz mozzarella cheese, thinly sliced and quartered
2 cups arugula
Instructions
Rub a little olive oil onto a cutting board to lightly grease the surface. Place the pizza dough on the cutting board and turn over so both sides are lightly oiled. Cover with a kitchen towel and set aside for 30 minutes.
Heat one side of a charcoal or gas grill to medium-high heat and the other side to medium-low heat (if using a charcoal grill, bank most of the coals to one side while leaving a few hot coals on the other side).
Place the tomatoes in a bowl. Add the lemon juice, salt, basil, and the 1 TB olive oil. Toss to combine and set aside.
Using a rolling pin to roll the dough into a circle about 1/16 inch thick. Carry the cutting board and all of the remaining ingredients plus the tomato salad out to the grill and place the dough on the hot side of the grill. Grill until the underside is browned and has grill marks, 1-2 minute. Using a grilling spatula to turn the dough over onto the cooler side of the grill. Place the mozzarella on top of the pizza, cover the grill (if using a charcoal grill make sure the vent holes in the cover are open), and cook until the mozzarella is melted, 2-3 minutes longer.
Transfer the pizza to a pizza peel or cutting board and slice. Top with arugula. Use a slotted spoon to transfer the tomato salad to the pizza and serve.
Nutrition Information:
Yield:

8
Serving Size:

1
Amount Per Serving:
Calories:

333
Total Fat:

15g
Saturated Fat:

5g
Trans Fat:

0g
Unsaturated Fat:

9g
Cholesterol:

11mg
Sodium:

485mg
Carbohydrates:

42g
Fiber:

2g
Sugar:

2g
Protein:

8g
Nutrition information isn't always accurate.